Cranston Johnson On The Unusual Way He Met Director Antoine Fuqua In High School - Exclusive
Cranston Johnson is currently starring in The CW's latest superhero offering "Naomi," in which he plays the ever-mysterious Zumbado. Prior to joining The CW, Johnson appeared in a plethora of popular shows, such as "Filthy Rich" alongside Kim Cattrall, "Hap and Leonard," and "Truth Be Told." 
Discussing his role in "Naomi," Johnson told Looper in an exclusive interview, "we're approaching some things that I think are going to be very unique, as far as asking these questions of the individual, of the viewer, to kind of change the perspective on what you've been conditioned to think or what you've grown up to be accustomed of thinking."
Before he became an actor, Johnson had a chance meeting with director Antoine Fuqua that inspired him to pursue acting. Looper sat down with Johnson to find out when he met the famous director, and the influence Fuqua has had on his career as an actor ever since.
An unexpected meeting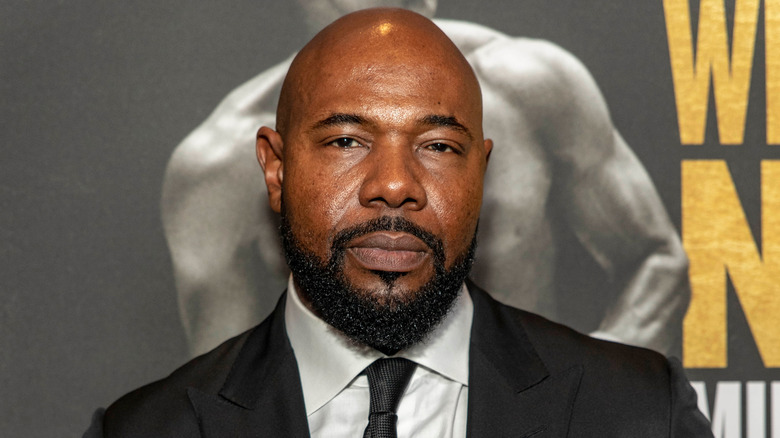 Eugene Powers/Shutterstock
Opening up about his inspirations, Cranston Johnson told Looper, "Antoine Fuqua is a director that I would love to get the opportunity to work with in the future — and not only because I enjoy his work and the things that he's directed, but he's someone that I met in high school." Johnson continued, "I don't want to date myself too much, but I met him when I was in high school when I was working as a background talent on a music video in my hometown of Gastonia, North Carolina, and he was directing that video."
This chance meeting with Fuqua, who has directed movies such as "The Equalizer," "Southpaw," and "The Magnificent Seven," made a lasting impression on Johnson. "I remember small talking, me and my best friend at the time, we were small talking with him one day at craft services," Johnson explained. "Because we lived in this small town, and this production was coming to our town, we had never seen anything like this. We are wide eyed and bushy tailed and we're asking all these questions and he was so welcoming and he was telling us a little bit about everything and also small talking with us and it was so cool. At that time, I had no idea that I would be acting. I had no desire to do it. I was playing sports in high school and that was my whole world." Unsurprisingly, Johnson's entire career path would later change.
Becoming an actor
Discussing his desire to collaborate with Antoine Fuqua, Cranston Johnson told Looper, "For it to come back full circle, for me to be an actor now, to be a fan of his work — and I've auditioned for a couple of his projects, but it would be so cool to get to work with him." The actor continued, "Then, for me to share that story, like, 'Do you remember when you did this?' I think that would be so cool ... Maybe he'll see this and be like, 'Hey, I'm going to hire that guy.'"
Johnson also recalled the exact moment that he realized Fuqua's influence, telling Looper, "I do remember walking away from that and just having this new vision of like, 'Wow, this is cool. Hollywood came to Gastonia, North Carolina, our little small town.'" With his role in The CW's "Naomi," and a plethora of other projects in the works, Johnson's career is heading in an exciting direction. A future collaboration with Fuqua is most definitely not out of the question.
New episodes of "Naomi" air Tuesday nights on The CW and are available to stream on the website and app the following day.