The Most Pause-Worthy Saul Moment On Better Call Saul Season 5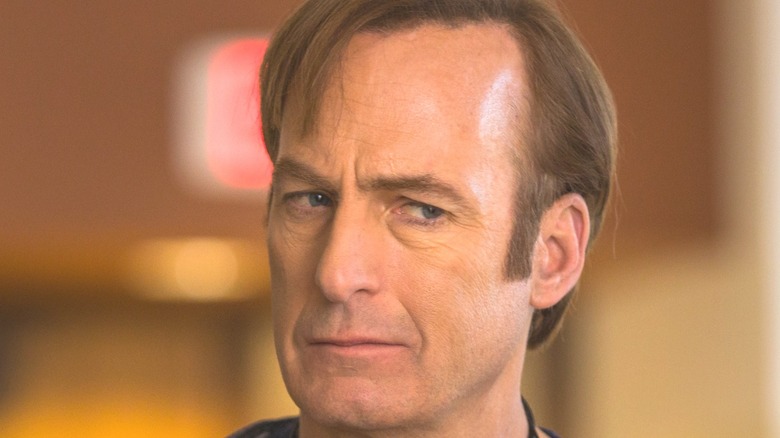 Michele K. Short/AMC/Sony Pictures
Over its run, "Better Call Saul" has proven that the story of Jimmy McGill, aka Saul Goodman, is much more layered than anyone might have expected back when the character was first introduced in "Breaking Bad." As portrayed by Bob Odenkirk, Jimmy's slow descent from a flawed man trying to be a good lawyer to the "criminal" attorney we see in "Breaking Bad" is incredible to behold, made all the more tragic by the fact that since "Better Call Saul" takes place before that show, the story can only end one way. Inevitably, Jimmy is going to end up on the run for the rest of his life, managing a Cinnabon and looking over his shoulder.
Season 5, the second to last in the series' six-season run, turned up the heat for nearly every character, as the New Mexico sun beats down on lawyers and cartel members alike. But one moment in particular brought Jimmy near death, and fans couldn't get enough of the scene.
Fans agree the desert shootout with Mike is a grade-A moment for Saul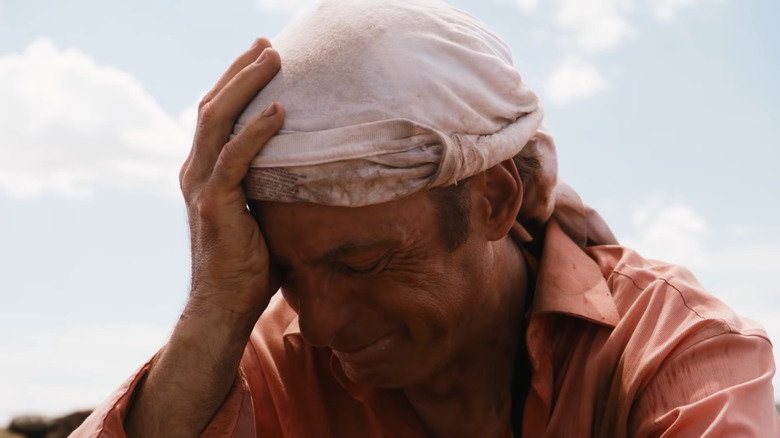 AMC/YouTube
Season 5 sees Jimmy use his Saul Goodman alter-ego to represent the Salamanca cartel, now led by Lalo (Tony Dalton), and pick up $7 million in cash to pay Lalo's bail. But after securing two duffel bags of cash from the fearsome Salamanca cousins (Daniel and Luis Moncada) in a remote location, Jimmy is waylaid by a group of bandits. Luckily, Mike Ehrmantraut (Jonathan Banks) has been keeping tabs on Jimmy and the Salamancas, and is there to take all but one of the robbers out with a sniper rifle.
The two men find themselves stranded in the desert after Jimmy's car breaks down, and they are forced to hike in order to make it out alive. Out of water, Jimmy carries a bottle of his own urine, though he refuses to drink it yet. Mike spots the gunman's car in the distance, still hunting them, and Jimmy creates a distraction while Mike readies his rifle. The bandit accelerates, appearing intent on running Jimmy over — but before he can, Mike gets the shot. The car flips and crashes, but Jimmy doesn't even look back. He just sits down on his duffel bags, grimaces, and drinks the urine. He's finally realized what it takes to survive.
Fans in the official post-episode discussion on Reddit were blown away. One user wrote, "That truck flipping hurt my soul. I thought that was their way out." u/MattTheSmithers remarked, "If this episode doesn't earn Odenkirk a much deserved Emmy, nothing will."