The Most Pause-Worthy Mike Moment In Better Call Saul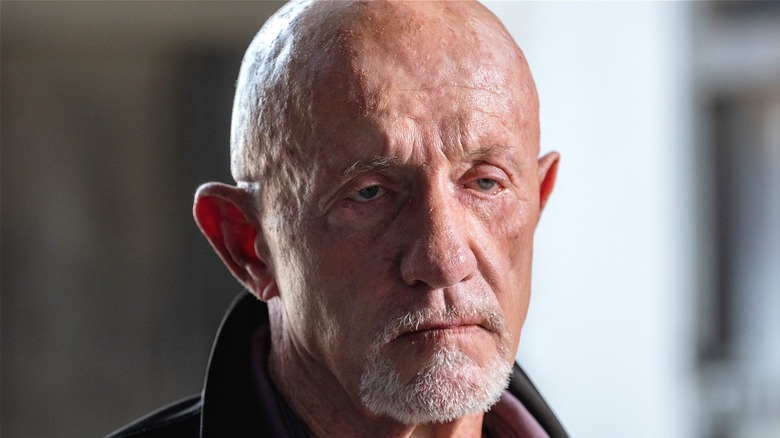 Greg Lewis/AMC/Sony Pictures Television
When Jonathan Banks first appeared in the role of Mike Ehrmantraut on "Breaking Bad," it was an unplanned decision behind the scenes. According to Showbiz Cheat Sheet, as a supporting actor on the show, Bob Odenkirk (who played Saul Goodman) couldn't make it to set one day, so the showrunners decided to introduce a new character to fill in the plot. Mike was a huge hit with audiences, who loved his deadpan, all-business attitude toward the gruesome things he was hired to do.
In the "Breaking Bad" prequel spin-off, "Better Call Saul," Mike was elevated to a main character alongside Odenkirk, who played a younger Saul, Rhea Seehorn as Saul's longtime lover Kim, and Michael Mando as ethically conflicted cartel member Nacho Varga. Now heading into its sixth season, "Better Call Saul" has given Banks ample time to provide fans with a repertoire of iconic Mike moments.
But after all is said and done, there's one scene fans of the stoic gangster keep returning to as the most pause-worthy Mike moment in "Better Call Saul" history.
Mike doesn't need a gun in a gunfight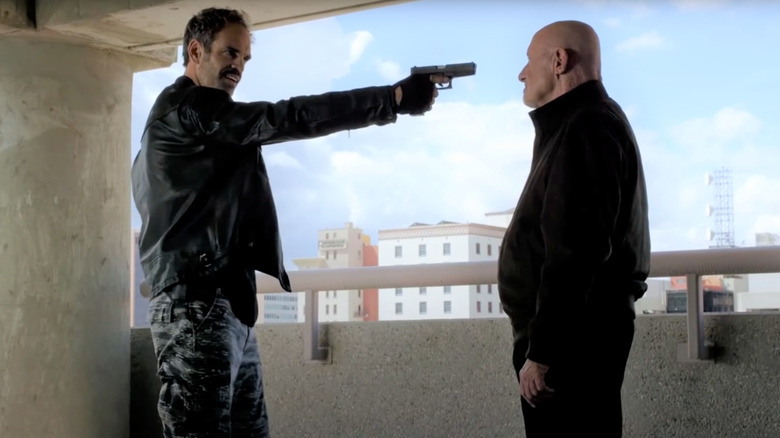 AMC
In the Season 1 episode titled "Pimento," an incompetent drug dealer named Nate (Mark Proksch) hires a team to accompany him to a sale as bodyguards. Mike takes the job, as does a brash mercenary named Sobchak (Steven Ogg) and the accurately named Man Mountain (David Mattey). Before they can begin, Sobchak questions why Nate wants to bring Mike, pointing out that he hasn't even brought a gun. When Mike counters that if he needs a gun, he'll take one of Sobchak's, the mercenary mocks him. "Take my gun from me. Let me see it. Here," he says with a sneer, holding a handgun in front of Mike's face, "I'll make it easy for you."
"You can make it not so easy," Mike says, and Sobchak points the weapon directly at Mike's forehead. Before he has a chance to react, Mike skillfully disarms Sobchak, discharges the clip from his gun, and strikes him in the throat with it. As Sobchak drops to the ground, choking, Mike methodically searches his body, taking all of his many weapons. Man Mountain simply runs away, and Mike climbs into Nate's car, informing him that he expects to be paid for all three men.
It's peak Mike, and a pause-worthy moment fans keep returning to as proof of the character's brutal efficiency. In a highly upvoted Reddit post discussing the scene, u/Swankified_Tristan wrote, "Characters don't get any more badass than Mike Ehrmantraut, and this scene from Better Call Saul is all you need to prove it."