Here's What Luke From The Book Of Boba Fett Looks Like In Real Life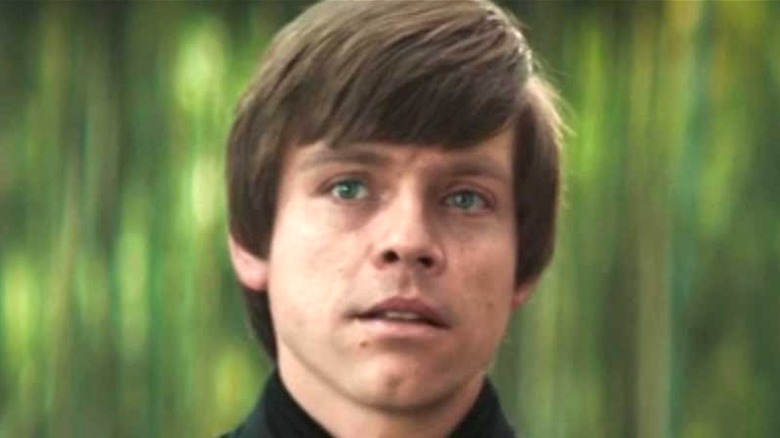 Lucasfilm/Disney+
"Star Wars" fans were treated to a number of exciting cameos in "The Book of Boba Fett"' Chapter 6, with Grogu, Ahsoka Tano (Rosario Dawson), Cad Bane (Corey Burton), and even Luke Skywalker (Mark Hamill) returning to the Disney+ screen. The episode immediately expanded the scope of what started as a Boba Fett (Temuera Morrison) spin-off series, teasing the development of Luke's new school for Jedi and Grogu's choice between walking the path of the Jedi or the path of the Mandalorian. Of course, Luke's return proved to be the surprise that riled up fans the most since it now marks the second time a younger version of the character has appeared in the Disney+ "Star Wars" chronology.
As it turns out, Lucasfilm is reducing Mark Hamill's role in re-creating a younger Luke Skywalker for appearances in new Disney+ shows. In fact, Skywalker's voice in "The Book of Boba Fett" was developed synthetically using an application called Respeecher. Hamill, well-known for his voice acting career outside of his "Star Wars" fame, did not organically voice the character at all, with the application instead using archival audio to learn his voice.
The technology behind bringing "Return of the Jedi"-ish-era Luke Skywalker to the screen is as impressive as it is unnerving. Fortunately, creating the character's appearance wasn't quite so artificial and involved actual actors — just not Hamill.
Two actors were used as body doubles for the episode
While Max Lloyd-Jones was credited as Luke Skywalker's body double in "The Mandalorian" Season 2 finale, "The Rescue," two different actors were used as doubles for the character's appearance in "The Book of Boba Fett" (via CBR). In "Chapter 6: From the Desert Comes a Stranger," Graham Hamilton stood in as Luke's body double, while a stunt double named Scott Lang (no, not that one) performed Luke's stunts — although, like Lloyd-Jones, they are just listed as "Jedi" doubles.
Graham Hamilton, who does bear a certain resemblance to Mark Hamill, posted shots of Luke from the episode on his Instagram to express his appreciation for the opportunity to help include the iconic character in "The Book of Boba Fett," calling it "one of the most magical and fulfilling creative experiences of [his] life."
"It's hard to express what this all meant for me, how unimaginably moving it was and still is," Hamilton wrote. "The 5[-]year[-]old kid who sat night after night in a basement in Missoula MT watching #StarWars is living his best life."
Now that Luke Skywalker has appeared on two different Disney+ "Star Wars" series, executive producers Jon Favreau and Dave Filoni have established that they're more than willing to make Luke Skywalker a recurring character moving forward. Whether that means they'll continue to use a combination of body doubles and CGI or eventually recast the part — many fans have clamored for Sebastian Stan to take the role — remains unclear.
Where you've seen these two Star Wars stars before
CGI may have been used to cover both actors' faces during the Luke scenes in "The Book of Boba Fett," but neither one is doing too badly for work. Both actors have extensive filmographies to the point where you've undoubtedly seen them in other projects in the past.
First, Graham Hamilton has appeared in a number of TV shows prior to "The Book of Boba Fett." Some of his most high-profile work comes in the form of appearances in the likes of "Grey's Anatomy," "NCIS," and "The Orville." Most recently, you might've seen him in the 2019 miniseries "Unbelievable" as James Massey. He's also done quite a bit of work in video games, providing voices for "Mafia III," "The Last of Us: Part II," and others. When he's not busy acting, Hamilton is an active member of the Surfrider Foundation, which works to keep beaches clean (via Urban Outfitters).
Meanwhile, Scott Lang is a seasoned stunt performer. He's worked consistently since 2011, breaking out in a big way doing stunt work for "Rise of the Planet of the Apes." In addition to working on the other two "Planet of the Apes" movies in the most recent trilogy, Lang has also worked on "Ad Astra," "Army of the Dead," and "Red Notice." "The Book of Boba Fett" isn't even his first time working in the "Star Wars" universe as he also performed stunts on "The Mandalorian," including being the stunt double for Temuera Morrison in "Chapter 16: The Rescue."
It remains to be seen if the actors' talents will be needed to bring young Luke to life in future "Star Wars" projects, but they're both doing just fine for themselves outside of the franchise.