The Real Reason Luke From The Book Of Boba Fett Sounds So Odd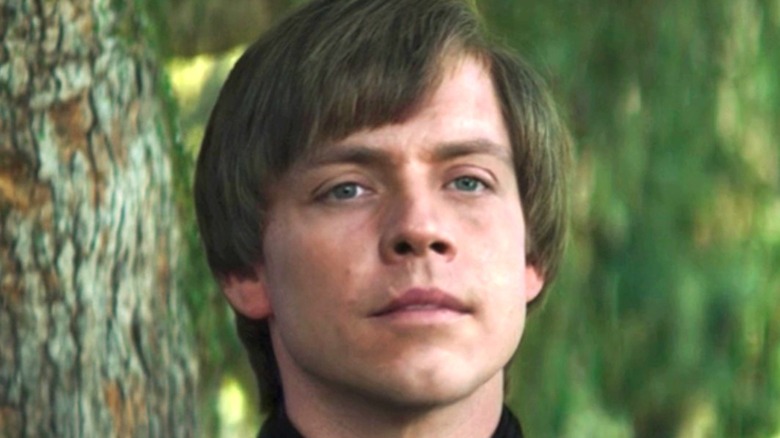 Lucasfilm/Disney+
The "Star Wars" universe has been full of surprises over the last few years, starting with baby Yoda's, aka Grogu, arrival back in "The Mandalorian" Season 1. Since then, it's been a whirlwind of Easter eggs, storylines pulled from deep universe lore, and jaw-dropping cameos. Season 2 also brings back Boba Fett (Temuera Morrison) himself, confirming that the legendary bounty hunter survives his ordeal in the sarlacc pit after "Star Wars: Episode VI – Return of the Jedi."
But the real surprise comes at the end of "The Mandalorian" Season 2, when Luke Skywalker (Mark Hamill) arrives to help Din Djarin (Pedro Pascal) save Grogu from Moff Gideon's (Giancarlo Esposito) dark troopers. The finale surprised "Star Wars" fans with the de-aged version of Luke, and although it didn't quite look completely convincing, it masterfully delivers a crowd-pleasing ending.
Fast-forward to 2022, and Luke returns again in "The Book of Boba Fett" Episode 6 as he trains Grogu in the ways of the Force. The CGI version of the legendary hero is a little cleaner this time around, as he leaps around a leafy-green forest with Grogu strapped to his back. However, it's fair to say that Luke's voice sounds a little wooden when he speaks to both Grogu and Ahsoka Tano (Rosario Dawson). That's because Mark Hamill isn't the one voicing Luke Skywalker.
An artificial intelligence created Luke Skywalker's voice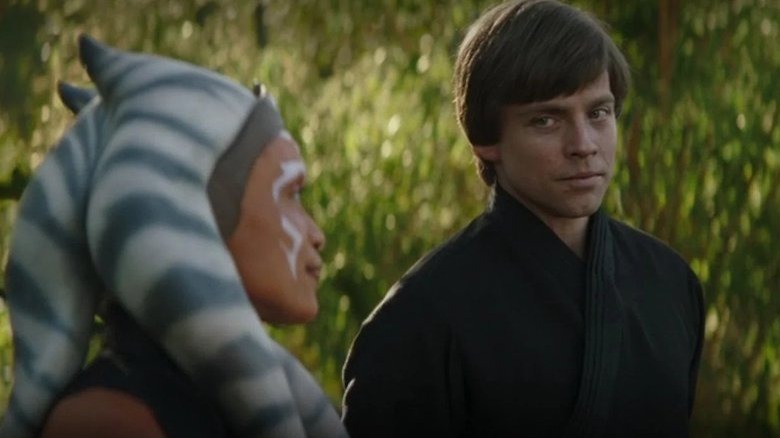 Lucasfilm/Disney+
Lucasfilm and Disney+ used an A.I. program to artificially replicate Mark Hamill's voice to create new lines of dialogue, which is why it sounds flat and emotionless (via Collider). It worked okay for the "Mandalorian" finale because Luke doesn't say much, but he has extensive conversations in "Boba Fett" when he teaches Grogu how to Force jump and seeks guidance from Ahsoka.
Sound editor Matthew Wood previously opened up about the technology in an episode of "Disney Gallery: The Mandalorian," saying, "It's a neural network you feed information into, and it learns. So I had archival material from Mark in that era." Wood said that they had plenty of recordings to use, adding, "We had clean recorded ADR from the original films, a book on tape he'd done from those eras, and then also 'Star Wars' radio plays he had done back in that time."
The editor then explained that the progran — called Respeecher — absorbs data to create new words and sentences: "I was able to get clean recordings of that [and] feed it into the system." It creates an interesting debate because Hamill would've been able to give a better performance than the A.I. even though he sounds older. Another option would have been to just recast the role with a younger star. In fact, fans have previously suggested Sebastian Stan should pick up Luke's lightsaber in the future.