Charlie Cox Knew Less Than You Think About His MCU Return In Spider-Man: No Way Home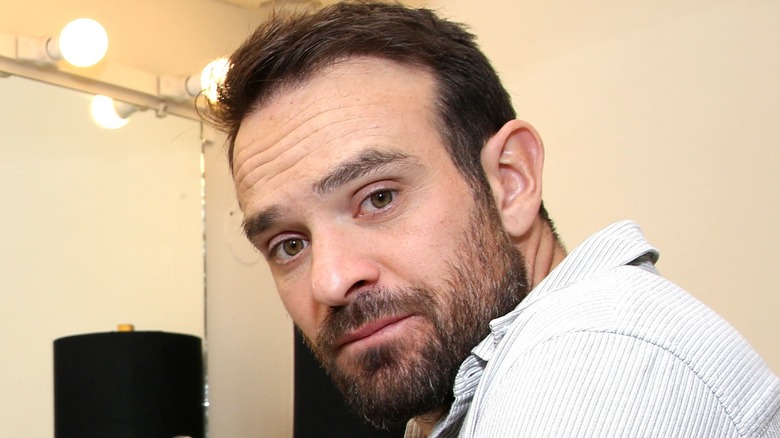 Walter Mcbride/Getty
In the months leading up to "Spider-Man: No Way Home," as the world reeled over Andrew Garfield's impressive efforts to passionately deny every single question that may have given the game away regarding him reprising his "amazing" Peter Parker role, at least one other cast member went through a similar struggle. This now very relieved actor is Charlie Cox, who reprised his role as the really good lawyer, Matt Murdock, aka Daredevil.
Murdock was a brief but equally enthralling appearance among the many comeback characters that returned in Tom Holland's epic threequel. Sure, he may not have adorned the horns, but based on the fan response, all he needed to get viewers howling was the cane and sunglasses.
In a recent interview, the returning Daredevil has finally confessed just how testing keeping his appearance a secret was, and spoken on what sort of future is in store for the Devil of Hell's Kitchen. 
Charlie Cox is back as Daredevil and doesn't plan on leaving any time soon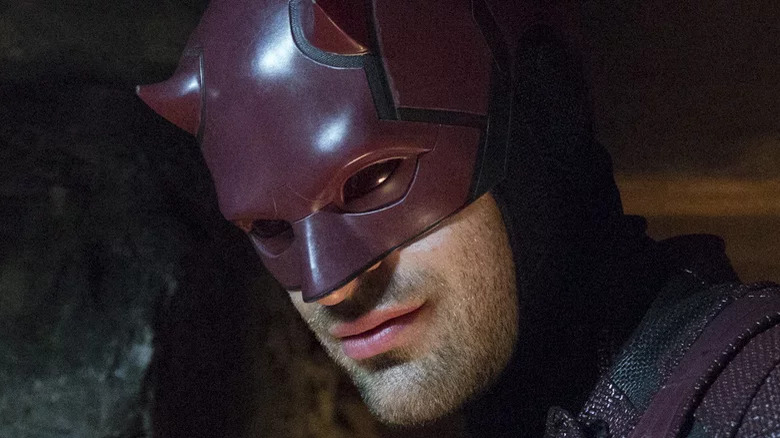 Marvel/Netflix
Describing his effort to keep quiet about Daredevil's return as being a "nightmare," Cox seemed unsure about the correct etiquette for appearing in top-secret Marvel projects. Speaking at the Supernova Comic-Con, he admitted "I still don't know what the rules are, but more than that, I don't know, and the little I do know, I'm obviously not going to say."
Cox quickly highlighted how grateful he was to be back as Murdock, and that he'd be happy to play the hero for as long as he'd be allowed. "I don't want to sound greedy," said our once and future Daredevil. "I hope I get to do loads more. I hope I get to be involved way, way more for many years. I hope it never ends. I hope it gets to the point where people are like, 'You are too old to be playing this part.'"
That would indeed be a fine thing, given that the hashtag #SaveDaredevil was a big deal after Netflix cancelled the series, with numerous Marvel fans campaigning for the beloved crime-fighting lawyer to return. Luckily, as confirmed by real-life Watcher, Kevin Feige, before the release of "No Way Home," should Daredevil appear in any other Marvel story, Cox would be the person to play him. 
The question now, though, is when — and where — could Daredevil appear next? Thankfully, the devil himself already has some ideas...
Cox wants more crossovers with other MCU heroes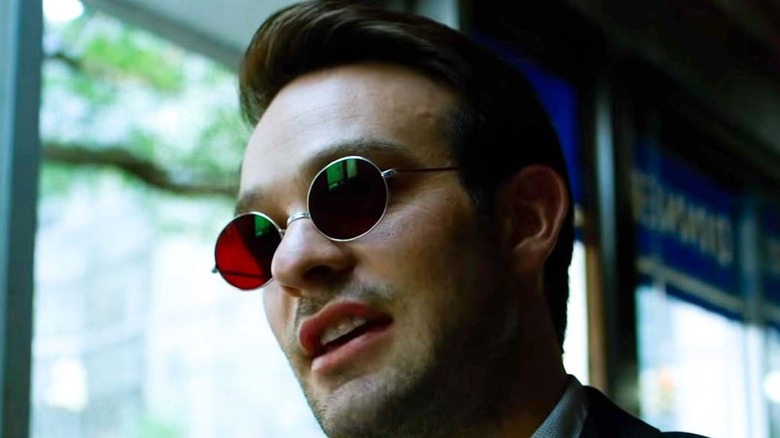 Marvel/Netflix
While Cox doesn't have the full details on where Daredevil might drop in next, he does have high hopes that Peter Parker (who?) won't be the only hero Murdock will meet up with whenever he's called back to the MCU. "The one thing that being in the MCU allows that we couldn't really do with the Netflix stuff, is that I can now interact with other MCU characters. So, that would be really cool," Cox theorized, clearly showing off his inner fan, and making every other fan around the world get excited, too. "Crossovers is the thing I would like to do next. I don't know what that looks like, and I don't know what they're planning and all that kind of stuff. But there are some really interesting stories there that I'd love for the character to explore."
Another Spider-Man crossover is something many viewers would like to see, of course — something Tom Holland has expressed interest in, as well. That said, it's quite likely Daredevil will interact with some other Marvel heroes, first.
Naturally, there are many theories about where, specifically, Attorney Murdock could return to. Being one of New York's finest lawyers, he could be in line to go to court alongside attorney Jennifer Walters in the Disney+ series, "She-Hulk." Given the Kingpin connections, it's easy to see him appearing in the "Hawkeye" spin-off "Echo." 
Wherever he shows his horns next, though, the man behind the mask has much of an idea of what the future holds for Murdock as we do. We should just thank the devil he's back.