Tom Holland Really Wants A Marvel Team-Up With This No Way Home Character
Tom Holland has been active in the entertainment industry since 2010, and the past 12 years have been very good to the young star. Things really started heating up when he made his first Spider-Man appearance in "Captain America: Civil War." Since then, he's starred in three of his own Spider-Man films, appeared in several more MCU movies, and even recently wrapped production on the live-action adaptation of the popular AAA video game franchise "Uncharted," in which he plays the titular character Nathan Drake. 
Even though Holland is starting to branch out, he's still very much enamored with the MCU. He's been given many opportunities to work with some amazing actors because of his role as Peter Parker, and there's one actor in particular who made a small cameo in "Spider-Man: No Way Home" whom Holland particularly enjoyed working with. In a recent interview, he gushed about how eager he is for his character to have more crossovers with this Marvel crime fighter in upcoming projects.
Tom Holland wants Spider-Man and Daredevil to team up again in the future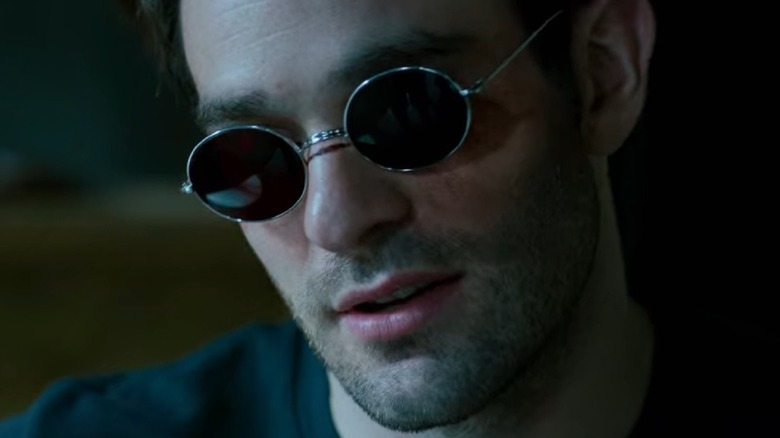 Netflix
Holland and Charlie Cox — who plays titular character Matt Murdock on Netflix's "Daredevil" series — had a great time working together on the Daredevil cameo in "Spider-Man: No Way Home." While by Holland's own admission it was a small cameo, the performance left a lasting impression on him, and has him hoping that he'll be able to see similar crossovers in the future. 
He said exactly that in a recent interview with The Hollywood Reporter. He gushed about how "working with Charlie was incredibly exciting," and emphasized how much of a fan he was of the "Daredevil" show. He said the scene "was pretty awesome," and that he hoped "one day we find a way for Spider-Man and Daredevil to team up again." 
Fans were devastated on social media when Netflix canceled the series in 2018 (the show still has an 8.6 approval rating on IMDb), so there's certainly a market for Cox's character to make a comeback. And if he teams up with Holland's Spider-Man, it'll be all that much the better.