The Most Pause-Worthy Mike Wolfe Moment On American Pickers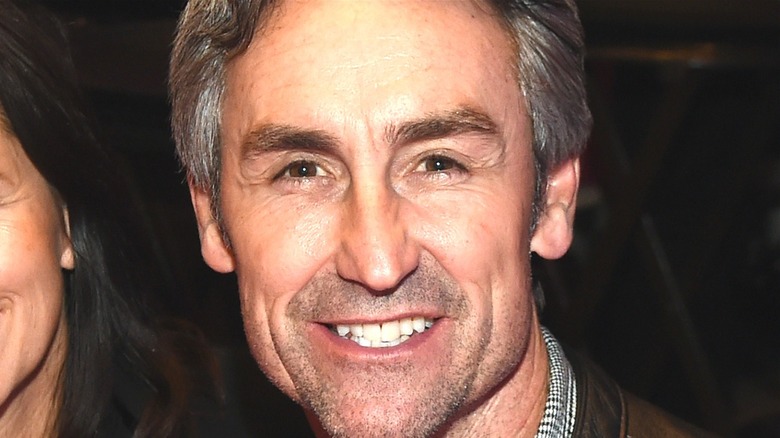 Rick Diamond/Getty Images for Scott Hamilton CARES
From the show's beginning in 2010, Mike Wolfe is on every episode of "American Pickers," scouring garages and storage sheds for gold hidden within everyday neighborhoods. Every so often, Wolfe and partner Frank Fritz come across an extremely rare item that is no doubt a piece of American history and usually worth a shiny penny.
In most cases, one person's trash really is another person's treasure as the pickers dig up items on people's property that they often forgot they had. The findings typically come with a story that touches on unique tidbits of history. Sometimes, the story is matched up with unrelenting enthusiasm from Wolfe as he can never get enough of old finds. Through the years, miles, and attic space, Wolfe's adventures have gotten him in some interesting situations. Lucky for those that watch the show, those situations can be paused and rewatched again and again. Here is the most pause-worthy Wolfe moment on "American Pickers."
Mike spent the big bucks on a few bikes
While in the Pacific Northwest, Mike Wolfe and Frank Fritz are out picking in the never-ending greenery of Oregon. They stop by the property of a gentleman named Zane and his mother Linda on the Season 17 episode "The $90,000 Question." Wolfe is well-known for being a motorcycle fanatic. Each time he comes across a rare or old bike, he seems to know its history off the top of his head. The collection of bikes and engines he finds on Zane and Linda's property is no different. Wolfe is so overcome with the gold mine of a find that he spends more on a pick than he ever has in the entire series.
These items are so rare and so sought-after that Wolfe offers $85,000 for the lot, to which Zane and Linda agree. This purchase is the most that Wolfe has ever spent on a pick, and viewers might need a minute to collect themselves and process why Wolfe would ever pay that much. However, old motorcycles and their parts are so valuable and hard to come across that if you find them, you can't afford to let them slip away. This astonishing price point is enough to make this Wolfe's most pause-worthy moment on "American Pickers."