The Real Reason Dante Left General Hospital
Dante Falconeri (Dominic Zamprogna) was a fan favorite character when he left the beloved ABC soap opera "General Hospital" in 2018. The detective has multiple strong ties to the show's canvas — he's the biological son of mobster Sonny Corinthos (Maurice Benard) and businesswoman Olivia Falconeri-Quartermaine (Lisa LoCicero), was the spouse of legacy character Lulu Spencer (last played by Emme Rylan), and is the father of Rocco Falconeri. When the character left the show, Dante and Lulu had been in the middle of discussing having a second child.
Thus, when Dante left Port Charles, fans genuinely mourned. It was an abrupt end for a series mainstay, and audiences didn't enjoy watching Dante put Lulu through so much heartbreak after all they'd survived together. He returned in 2019 to wrap up his storyline, suffering from PTSD and displaying unpredictable behavior that caused Lulu to file for divorce. When he returned for good in 2020, fans learned that he had been brainwashed under the orders of Doctor Liesl Obrecht (Kathleen Gati).
Though the actor is back to the show full-time now, fans might be curious to know why Dominic Zamprogna left "General Hospital" in the first place. Thanks to a recent podcast appearance, we now know the real reason why he — and Dante — disappeared from Port Charles.
Dominic Zamprogna hoped to round out his resume by leaving Port Charles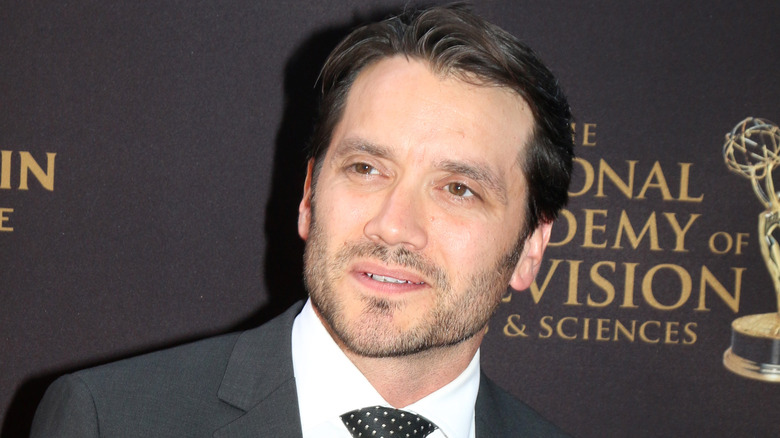 Kathy Hutchins/Shutterstock
Thanks to an appearance on "That's Awesome with Steve and Bradford" — a podcast co-hosted by Zamprogna's former "GH" co-stars Bradford Anderson (who played Damian Spinelli) and Steve Burton (who played Jason Morgan) — we now know the actor's departure was a matter of broadening his experience. 
The Canadian actor explained that he moved to California after landing the role of Dante without having taken on other jobs in Hollywood. "I came down to L.A. with that job. I knew nobody. I knew no casting directors, nothing." He wanted the opportunity to fatten his resume and be available for audition work.
But Zamprogna also admitted that he'd begun to "lose confidence" in his own work at the time of his departure. "I went from going up on that stage and having a great time to going up on that stage and stressing out and just not feeling like I was doing good work. That's the other reason why I wanted to step back. I felt like I needed to clear my head. The whole thing that I realized when I left is, 'Do I really want to act?' It affected me so much."
Instead of taking on further jobs, Zamprogna went to Italy with his family. Soon enough he heard the siren song of ABC calling him. The actor returned to the role renewed and once more confident in his abilities, and soon became a regular cast member on the soap again.