Who Are All The Actors In Nissan's Super Bowl 2022 Commercial?
There are few television events as widely watched as the Super Bowl. In 2022, the game will once again return to Los Angeles — the city that hosted the first installment of the sports tournament back in 1967 — with the LA Rams battling it out against the Cincinnati Bengals for this year's coveted Super Bowl LVI trophy, as well as the fame and glory that comes with it (KTLA.com).
Playing second fiddle to the action, however, will be the highly anticipated Super Bowl commercials. When you have around 100 million people watching the same program at the same time, the stakes are high to catch the audience's attention with a catchy and memorable advertisement. For some — especially those who aren't well-versed in the sport they're watching — the commercials are the main event. So, it's important for advertisers to get it right.
This year, Nissan is trying to dazzle audiences. Their nearly one-minute-long ad is a mini-action flick that sees their new sports car, the Nissan Z, being used for the kind of high-intensity stunts you'd expect to see in a "Fast and the Furious" movie. The ad also features some pretty famous Hollywood faces who you will likely recognize.
Eugene Levy is the action star you weren't expecting
The main star of this commercial is Eugene Levy. He and his signature bushy eyebrows are drinking coffee on set when another famous actor (more on her in a minute) pulls up in a yellow Nissan Z and tosses the keys at him, telling him: "Take it for a spin." He's hesitant at first, preferring to get his daily dose of excitement from his caffeine boost; but it isn't long before he's overtaken by the thrill of driving the Nissan Z and speed racing off the roofs of skyscrapers through dangerous explosions.
Levy has such a long and successful career, it's hard to succinctly mention all of his acting, producing, and writing credits without glossing over a lot of important gigs. Lately, he's best known for playing Johnny Rose in "Schitt's Creek," but you've likely seen him in scene-stealing cameos and supporting roles in dozens of other productions before that. He's well known for playing Jim's dad in the "American Pie" series, his work in Christopher Guest movies like "Best In Show," and the iconic sketch-comedy series "SCTV." 
Brie Larson dominates, as usual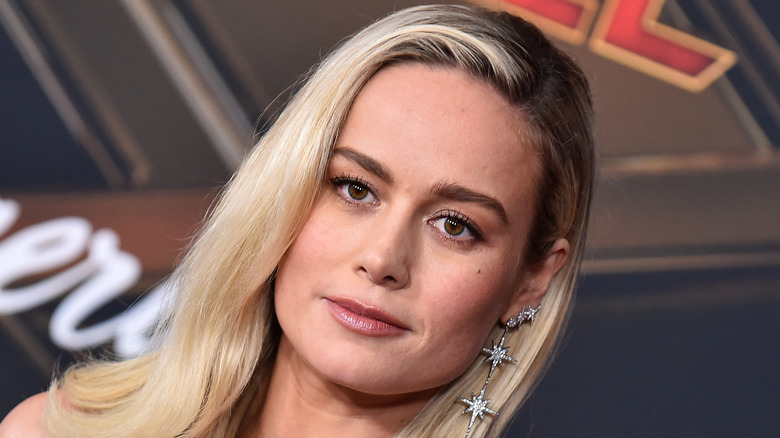 DFree/Shutterstock
The person who offers Eugene Levy a high-octane ride is none other than Brie Larson. She's seen tossing him the keys at the beginning of the commercial, then again walking out of a red carpet premiere with the other stars at the end. She changes outfits from smart business casual to a beautiful white gown, gently taking the keys back from Levy and insisting that she'll be the one driving them home.
Larson has certainly been keeping herself busy as of late. Between her starring role in "Captain Marvel," teaming up in "Avengers: Endgame,"  and the upcoming "The Marvels," she's one of the hottest talents in the MCU at the moment. But fans of Larson know that she was already well-established as an in-demand actor long before she ever donned the blue and red bodysuit. She played the floundering teenage daughter of the protagonist on "United States of Tara," the sister of Amy Schumer's character in "Trainwreck," and won an Oscar for her heartbreaking performance as a woman raising her son in captivity in "Room." 
Dave Bautista flexes his action star chops once again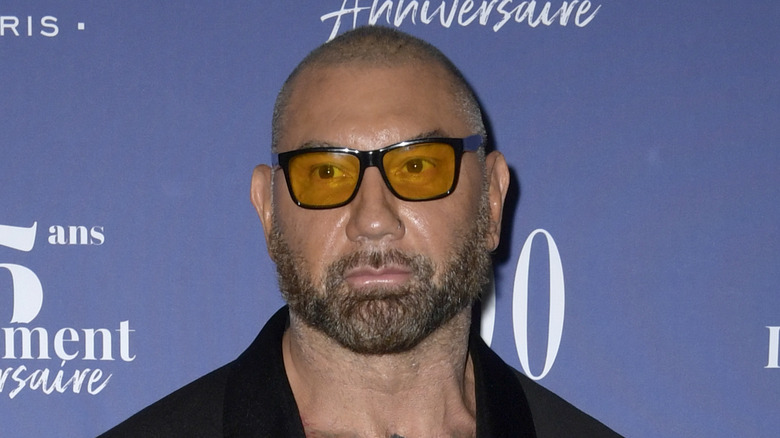 Kristy Sparow/Getty Images
Dave Bautista is also along for the action-packed ride, right alongside Eugene Levy and Brie Larson. He first appears about 22 seconds into the 56-second commercial sitting opposite Danai Gurira (more on her in a minute). He starts out just having a casual lunch at a cafe, then gets a little starstruck when he spots Levy zipping around town in the fancy Nissan Z. A beat later, he's on the back of a motorcycle and getting launched from the top of a skyscraper into the passenger seat next to Levy, and nearly makes the unforgivable mistake of spilling the man's coffee.
If you're a fan of the MCU, then you most likely recognize Bautista from his highly praised role as Drax in the "Guardians of the Galaxy" franchise and "Avengers: Infinity War." But there's more to his acting career than meets the eye. He's played important roles in dystopian sci-fi hits like "Riddick" and "Blade Runner: 2049." Before he gained recognition as an actor, though, he was a mega-popular WWE wrestler, one of several who has made the successful jump from the ring to the big screen.
Danai Gurira is as fierce as ever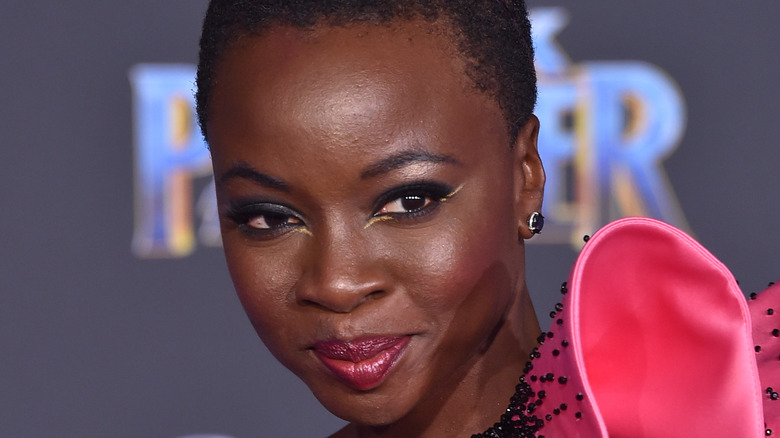 DFree/Shutterstock
Danai Gurira and Dave Bautista make a compelling dynamic duo during the middle and end of the commercial. They start out chatting over a meal at a cafe before getting spontaneously sucked into the wild ride with Eugene Levy that looks like a scene out of Justin Lin movie. In case you couldn't tell, she's the one driving the motorcycle that Bautista is riding on right before he gets launched into the car with Levy. You can't see her face due to her dark helmet visor, but that's clearly her voice conversing with Bautista.
Gurira's acting credits include a major part on HBO's tragically short-lived drama "Treme," which no doubt helped her land the role of Michonne on "The Walking Dead," a performance that earned her widespread recognition. Since then, she's gone on to play a prominent part in Marvel's "Black Panther," where she portrays the intimidating warrior Okoye in the original movie, "Avengers: Infinity War," "Avengers: Endgame," and the upcoming "Black Panther: Wakanda Forever." 
Catherine O'Hara sneaks in a quick cameo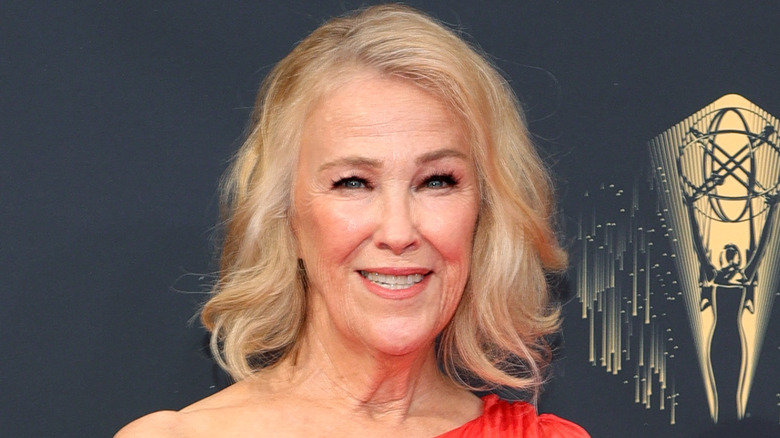 Rich Fury/Getty Images
Catherine O'Hara only gets a blip of screen time in the Nissan Z commercial, but any cameo from the legendary comedian is worth mentioning. And why wouldn't she appear alongside her fellow "Best in Show" and "Schitt's Creek" alumnus, Eugene Levy? O'Hara appears within the first 14 seconds when Levy is getting comfortable in the Nissan Z. She is driving a Nissan of her own — the upcoming electric Ariya in a beautiful copper color — which kills two birds with one stone by featuring both new models in the same advertisement.
O'Hara has been a fixture of the entertainment industry ever since the mid-'70s. But she really hit her stride as a character actor in the '80s and '90s with smaller but memorable roles in major movies like "Beetlejuice" and "Home Alone." Obviously, her Emmy-winning role in the wildly popular "Schitt's Creek" speaks for itself. 
Overall, this Nissan Super Bowl spot blends a star-studded cast with enough cheesy, wholesome, tongue-in-cheek levity that it's sure to stand out among the competition.