The Most Heartbreaking Moment From Chicago Med Season 3
Since 2015, "Chicago Med" has been a show that's continued to reel in viewers with its intense medical stories and emotionally-driven, often deadly stakes. Look at Season 1 for instance. Towards the end,  Dr. David Downey (Gregg Henry) reveals that he's suffering from liver cancer and doesn't want to be resuscitated or operated on should things start going badly for him. And that's exactly what winds up happening.
In Season 5, viewers got hit with the shocking exit of Dr. Connor Rhodes (Colin Donnell) following the murder of his father by rejected love interest Dr. Ava Bekker (Norma Kuhling), who then took her own life. And who can forget the tearjerker of a moment, also from Season 5, where Dr. Daniel Charles (Oliver Platt) leaves a rose at the gravesite of his wife Caroline (Paula Newsome) after she succumbed to lymphoma? 
Overall, it seems that heartbreak has just always been in the cards for the characters of "Chicago Med," and this has been especially true for on-again-off-again couple Dr. Ethan Choi (Brian Tee) and nurse April Sexton (Yaya DaCosta). While they've experienced their fair share of drama over the past seven seasons, there's a moment from Season 3, which we discuss below, that was one of the hardest things for viewers to watch and bear. 
April leaves Ethan after he takes in his sister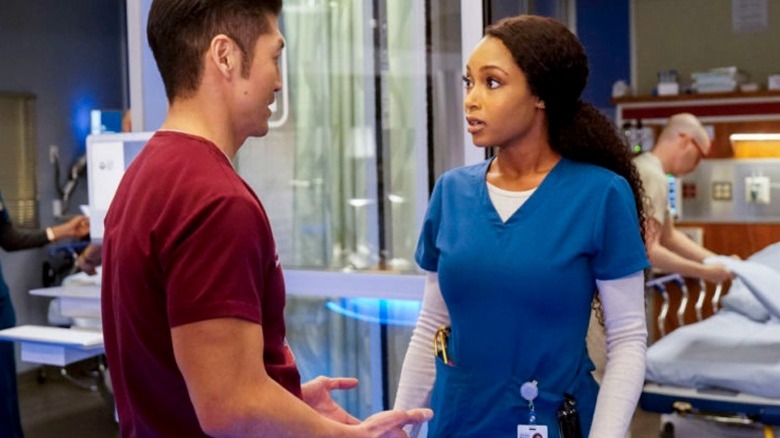 NBC
It was a move that April warned she'd make, and one that hasn't even come close to sitting well with "Chicago Med" viewers over the years. The breakup comes after Dr. Choi discovers that his sister Emily (Arden Cho) is staying at a homeless shelter and he decides to let her come live with him, despite her personal problems — and much to the chagrin of Nurse Sexton, who leaves him. 
"April cannot be serious," wrote Twitter user @bleedinglxv after re-watching the Season 3 finale. "She was so mad at ethan for not understanding family bonds more and now she's breaking up w/ him bc he wants to help his sister (????)" 
User @ObsessedNellie said, "How dare April get mad at Ethan for trying to help his sister when she consistently helps Noah who f**ks up daily." User @jinboinguk added, "Like I get what Emily did was really bad, but April enables her brother to do such dumb s**t when he's literally a doctor. Emily has underlying reasons as to why she does bad stuff, her brother does not so the double standard is annoying."
While it's not initially brought up on "Chicago Med" Season 4, viewers later learn several episodes in that April broke up with Dr. Choi, and the two weren't staying together. Of course, the two later rekindle their relationship and start dating again before things eventually come crashing back down in Season 5.