The Most Heartbreaking Moment From Chicago Med Season 1
NBC's "Chicago Med" is a show that's been tugging on people's heartstrings since 2015, with countless dramatic moments and devastating deaths occurring along the way. In terms of loss, no bar was set higher than what viewers went through at the end of Season 1 — specifically, during its finale. 
At the time, fans of "Chicago Med" had been wondering if the series would be able to keep up with the intensity and drama-filled storylines being doled out by its predecessors, "Chicago Fire" and Chicago P.D.," which are both still going strong today, in addition to "Med." The show wound up doing just that and more.
As The Hollywood Reporter points out in its 2016 review, the very last episode of "Med" that year wound up altering the lives of several characters and changing the entire trajectory of the series. There was the departure of Goodwin's husband; April's tuberculosis diagnosis; Dr. Reese's rejection of her pathology match; and a number of other things that went down during the finale that ultimately shook "Med" to its core. But as die-hard fans know, there was one moment in particular that resonated with audiences and the cast more than anything.
The death of Dr. David Downey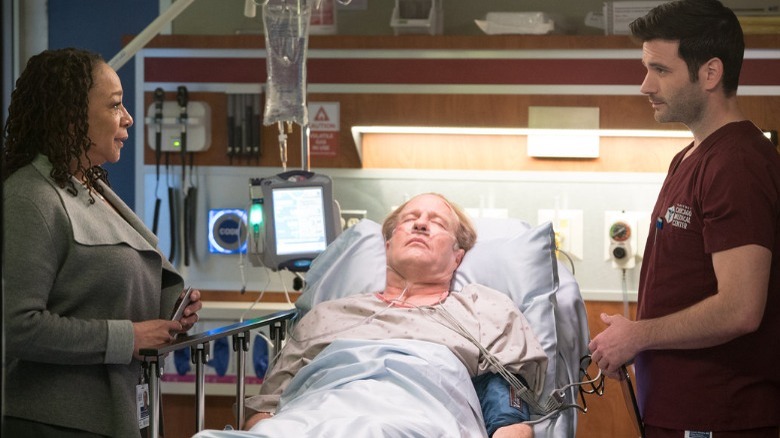 NBC
Towards the end of Season 1, Dr. David Downey (Gregg Henry) — who comes on board as a cardiac surgeon and mentor to Dr. Connor Rhodes (Colin Donnell) — reveals that he's suffering from liver cancer and doesn't want to be resuscitated or operated on should things take a turn for the worst. During the finale, that's exactly what happens. 
"You know what I'm facing," Downey tells Dr. Rhodes (via TVLine). "I'd just as soon skip it if you know what I mean. Check out a little early." Rhodes tries to convince Dr. Downey to change his mind, but it's too late. The cancer has spread to his brain and he eventually "codes" following a heartfelt conversation between them. "Thank you. For everything," Dr. Rhodes says to Downey, right before his death. "He has a DNR. Let him go," Rhodes adds, telling a nurse. The character later scatters Downey's ashes in the ocean.
Colin Donnell wound up playing Dr. Rhodes for five seasons before stepping away from "Chicago Med" in 2019. He described the emotional impact that Downey's death had on him and the series as a whole during a 2016 interview with The Hollywood Reporter. "It did so much to propel Connor going forward," Donnell said. "Especially in the final cut, it did a beautiful job of leaving it all sort of an enigma."