Moonfall Star Eme Ikwuakor Reveals What It's Really Like To Film During A Pandemic - Exclusive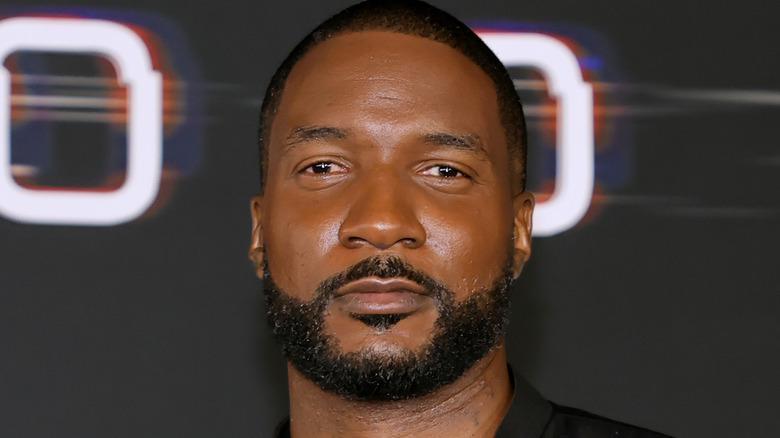 Amy Sussman/Getty Images
Shooting any movie is tough enough, and the challenges are only multiplied when you're creating a $140 million blockbuster about the Moon leaving its orbit on a collision course toward Earth. When you factor in the additional obstacles of trying to make such an epic movie smack in the middle of a pandemic, it's something of a miracle that the picture arrives on the screen at all.
That was the case with director Roland Emmerich's "Moonfall," in which a strange force from outside our solar system burrows into the Moon and sends it spiraling down toward the Earth, with all the mass destruction and over-the-top action that one would expect from the creator of "Independence Day," "2012," and "The Day After Tomorrow." The film was originally slated to film in the spring of 2020, but as COVID gripped the world, production shut down and did not start up again until October of that year — under stringent anti-COVID protocols.
"We tested three times a week, we all had to wear masks and glasses," Emmerich told Deadline. "We had plexiglass booths around the monitors and cameras, and the actors wore masks during rehearsals. We had plenty of protocols in place."
Before the actors — which included Halle Berry, Patrick Wilson and John Bradley — even set foot on the Montreal set, they had to quarantine for two weeks. Eme Ikwuakor, who plays Air Force head of staff (and Berry's estranged husband) Doug Davidson, tells Looper in an exclusive interview what it was like when he arrived to work in November 2020: "The very first thing I had to do was quarantine in Canada for two weeks in a room by myself. I literally couldn't even leave to take out the trash."
How Eme Ikwuakor spent his time in quarantine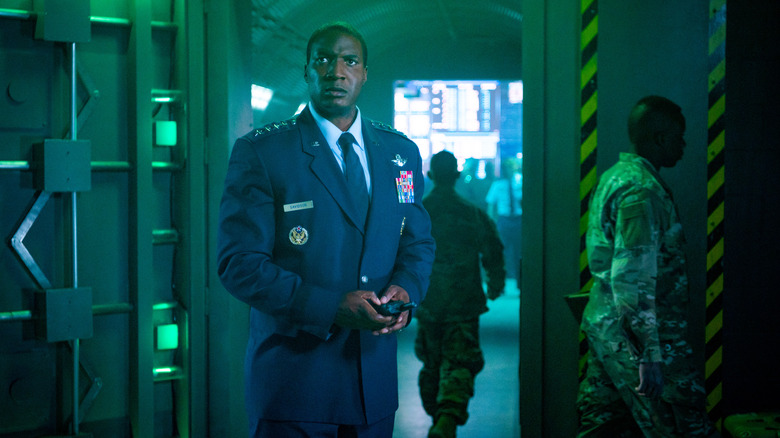 Lionsgate
While quarantining, Ikwuakor used the time to dig deep into his character. "I thought it was a really good time to research," Ikwuakor tells Looper. "I literally brought nothing except my script and my computer, and was able to live in this character for two weeks. I had a gym in my room where all I had to do was work out every single day and (look at the) script for two weeks. It really got me into the mindset of this guy who was in this situation because he has chosen, I guess, work over a lot of other things."
Ikwuakor says that getting into that "single mindset helped a lot" once he got to the set, where he faced the protocols that Emmerich described. "We had to make sure that there wasn't a COVID outbreak on set," he says. "It was such a massive, massive production, that we had to make sure that it continued."
Asked if he thought that filming under such conditions affected the cast's performances in any way, producer Harald Kloser told Deadline, "If anything, I think there is a heightened feeling of concentration ... everyone feels very blessed to be making a movie and to be working."
Ikwuakor echoes that sentiment, saying that the heightened levels of concern over safety contributed to everybody working as hard as possible. "One of my probably favorite days was my last day of shooting because it was the longest," he recalls. "Right then we had to finish that because we were about to go on break. So it was a long 17-hour day to get all these things hammered out. It's one of those things — you have to keep going. You have to keep moving."
Against all odds, "Moonfall" is now playing in theaters now.