The Jackass Stunt Wee Man Regrets Giving To Johnny Knoxville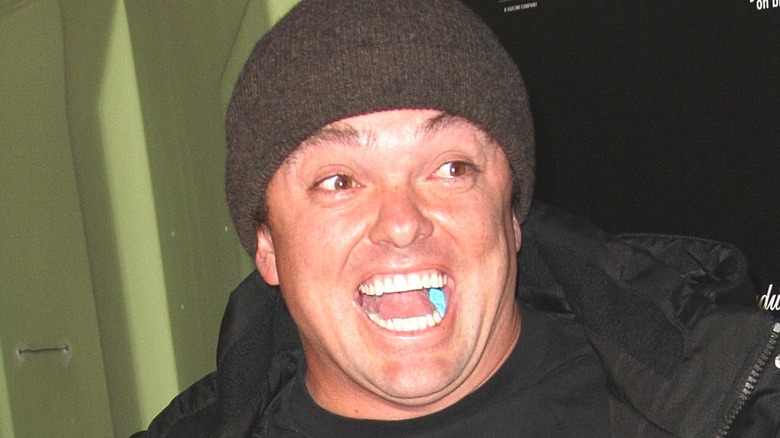 Frederick M. Brown/Getty
When it comes to "Jackass" there are a number of stunts that instantly jump out when looking back on the past three movies. Whether it's Danger Ehren crawling across mousetraps in "Jackass: The Movie," Johnny Knoxville riding a giant red rocket into the sky in "Jackass 2," or Steve-O riding the Poo Cocktail Supreme in "Jackass 3D" — there's something for everyone. Well, maybe not everyone — but you get the idea. However, the crew does know when to draw the line with a stunt, as Johnny Knoxville recently revealed they called off a skiing bit when filming the third film because someone had died on the slope earlier that day.
But it's been over a decade since audiences last saw the gang get up to mischief in both "Jackass 3D" and "Jackass 3.5," and the team are back for 2022's "Jackass Forever." The new film features some of the biggest set pieces that the crew has ever embarked on, including a stunt where Johnny Knoxville is fired out of a giant cannon wearing feathery wings in an Icarus-style homage. The early critical response to "Jackass Forever" has been hugely positive so far, so it should hopefully be a hit with fans around the world.
But when doing press for the new film, Wee Man A.K.A. Jason Acuña revealed the "Jackass" stunt he regrets giving to Johnny Knoxville.
Wee Man regrets passing on the baby alligator
Wee Man is one of the main cast members of every single "Jackass" movie, and he gets tortured just as much as the rest of the guys, but even he's got his limits. When speaking to Collider about "Jackass Forever," Wee Man confessed that there's a very specific stunt that he passed on to Johnny Knoxville when filming the first "Jackass" movie. He revealed, "I have one from back in the day. It's a poster of Knoxville getting bit in the nipple with a little baby alligator."
He explained that he was offered the stunt first, adding "they had the alligator in hand, and they said, 'Wee Man, let it bite your nipple!' And I was like, 'Hell no!'" But he regrets giving it away to Knoxville because of how good the shot looked, saying, "they went right to Knox, he did it, next thing you know it's a poster. And I was like, 'Damn!' Never gonna pass that one up again."
The poster of Knoxville being bitten by the baby alligator is one of the most famous images related to the "Jackass" franchise, so it's easy to see why Wee Man regrets passing up on the offer. But the performer also had his fair share of iconic stunts, like the "Super Mighty Glue" skit from "Jackass 3D" where he's stuck to co-star Preston Lacy using the aforementioned glue. What fun.