Here's How Lucasfilm Tried To Fix The Mandalorian's Deep Fake Problem
Lucasfilm/Disney+
"The Mandalorian," Lucasfilm's first Disney+ original series, is but two seasons into its run on the platform, and it's already generally regarded as one of the best entries into the "Star Wars" cinematic universe in ages. Following the ongoing adventures of the titular bounty hunter Din Djarin (Pedro Pascal), "The Mandalorian" became a cultural sensation during its first season thanks in no small part to the appearance of the Force-wielding foundling we've come to know as Grogu, plus boldly original storytelling that cleverly blends tales of "Star Wars" past.
The series is, of course, also renowned for the groundbreaking effects work utilized in creating the many worlds populating the galaxy far, far away. Even as "The Mandalorian" special effects team continues to earn raves for their world-building work (via Variety), some amateur effects wizards seem to believe the crew could've done better in de-aging Mark Hamill for Luke Skywalker's surprise appearance in the series' Season 2 finale. And quite a few of them have taken to YouTube with deepfake videos boasting sometimes dramatic enhancements to what the Industrial Light and Magic team conjured. 
That some of those deepfakes were arguably better than what made it into the series was obviously a problem Lucasfilm couldn't have foreseen. And it seems in looking to solve their growing deepfake issue, Lucasfilm brass took a definite "if you can't beat 'em, join 'em" approach. 
Lucasfilm recruited a popular YouTuber thanks to his impressive deepfake work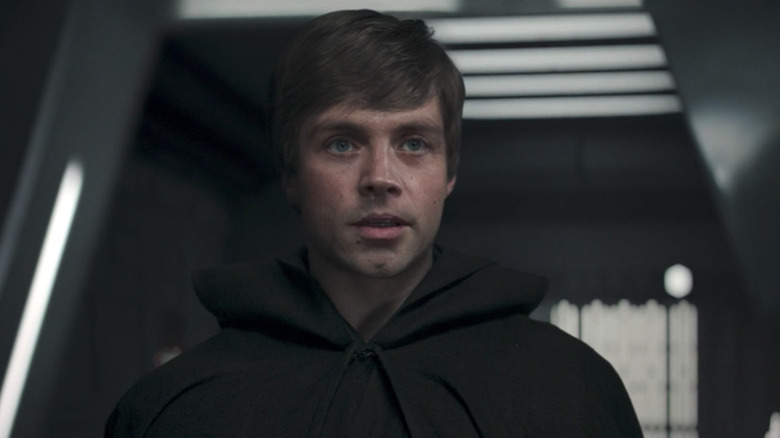 Lucasfilm/Disney+
In mid-2021, Lucasfilm hired a famed YouTuber whose viral video cleaning up Luke Skywalker's scenes in "The Mandalorian" put the original work to shame. That YouTube artist is known only as Shamook, and his now-legendary Skywalker deepfake appeared mere days after the Season 2 finale of "The Mandalorian" debuted (via YouTube). When it did, viewers couldn't help but notice a marked improvement in the de-aging of Mark Hamill as Luke. Shamook's impressive adjustments to "The Mandalorian" Season 2 finale scene effectively corrected the issues fans had with the original version of Luke in the episode (via /Film).
To date, Shamook's video has been watched by more than 3.5 million viewers, and it's now clear representatives from Lucasfilm and the ILM effects team were among them. As covered by IndieWire, Shamook broke the news of his hiring in the comments section of one of his video's, announcing, "As some of you may already know, I joined ILM/Lucasfilm a few months ago and haven't had the time to work on any new YouTube content." In a statement to IndieWire in that same report, an unnamed Lucasfilm representative confirmed the hire, noting, "[Industrial Light and Magic is] always on the lookout for talented artists and have in fact hired the artist that goes by the online persona Shamook."
That hiring is no doubt a dream come true scenario for Shamook, and if you've seen his YouTube posts, you know he's more than earned his shot at the big leagues. Likewise, if you've seen the most recent episode of "The Book of Boba Fett," you know his hiring is already paying dividends for Lucasfilm, too.