The Untold Truth Of Frank Fritz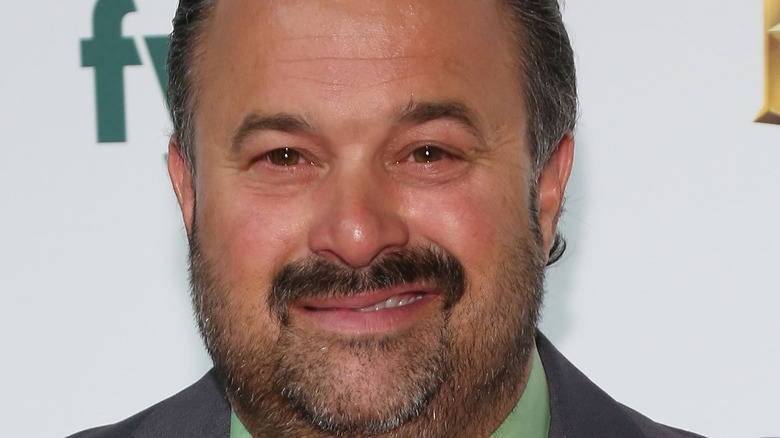 Taylor Hill/Getty Images
Before he was fired from the show in 2021, fans of the History Channel's "American Pickers" had long since grown to love the antics of the show's former co-host, Frank Fritz. For over ten years, viewers tuned in every week to witness the reality star dig through basements, attics, and garages across the United States in search of valuable collectibles. The driving duo dug up countless relics — from replicas of Yoda from "Star Wars" to a $5 fishing reel — but no matter the find, the audience was there to see their favorite cross-country collectors' journey. 
In contrast to Mike Wolfe's more straightforward approach, fans latched onto Fritz's fun-loving passion for vintage toys, cans, and memorabilia. Fritz quickly became a fan favorite, which only elevated the show further every season. But his sudden departure from "American Pickers" left fans with more questions than answers about his life behind the scenes, especially as more information was uncovered. 
Fritz began collecting items as a kid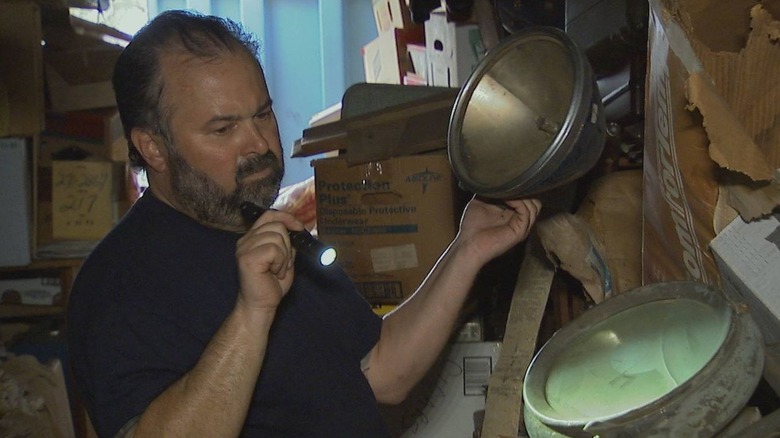 The History Channel
Although antiquing may seem like a hobby for older people looking to reminisce about the past, a passion for collecting can develop at any age. For the renowned picker Frank Fritz, the desire to start collecting began as a kid. "You know I collected all the staples when I was a kid, and it just escalated," Fritz told Sidewalks Entertainment. He recalled collecting beer cans, stamps, coins, and razor blades — and his passion for beer cans continued through his career, becoming one of his signature finds on the show. 
Fritz continued to collect through his adolescence, moving onto big-ticket items like motorcycles, dirt bikes, and different types of memorabilia. Although he enjoyed the hobby, he didn't pursue antiquing as a career after graduating from high school. It wouldn't be until roughly 25 years later that he'd begin his journey into becoming a picker.
Fritz used his passion for classic motorcycles to write a book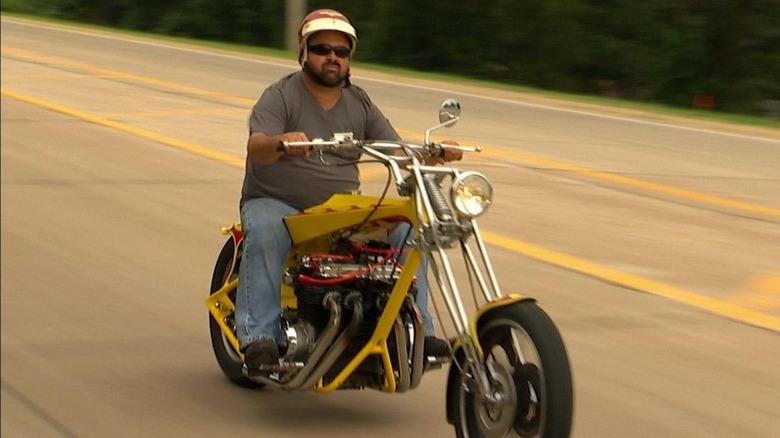 The History Channel
Aside from being an antique collector, reality star, and entrepreneur, Frank Fritz is also an avid vintage motorcycle fan. As a teenager, one of his first antique purchases was a 1964 Harley Davidson — much to the dismay of his parents. He now owns a barn filled with vintage motorcycles, and using his knowledge of vintage bikes, Fritz published "How to Pick Vintage Motorcycles" three years after the debut of "American Pickers." The guide explains how to find bikes, negotiate prices, and maintenance after purchase. It also includes a section on vintage toy motorcycles and photos of Fritz's collection.
Fritz is also a contributing author on "American Pickers Guide to Picking," alongside Mike Wolfe, Danielle Colby, and Libby Callaway. The six-chapter book acts as a companion to the television show, going into depth on specific episodes. It also offers tips and tricks for anyone interested in getting into "picking" and collecting antiques.
Fritz worked as a fire inspector before becoming a picker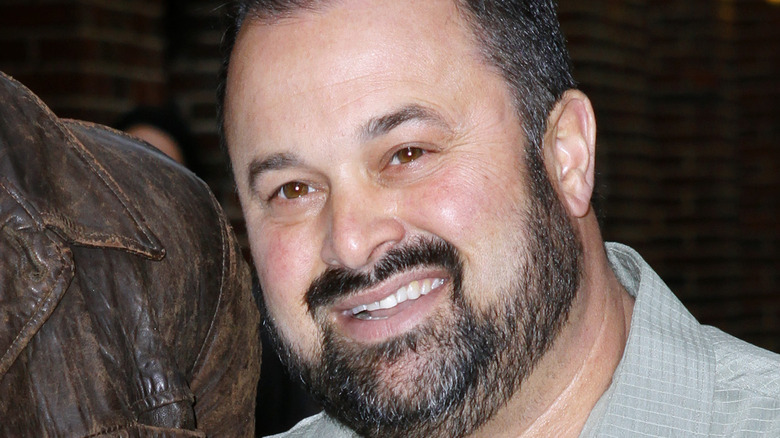 Donna Ward/Getty Images
Frank Fritz began collecting in his youth, but he didn't pursue a career in antiquing until later in adulthood. According to Outsider, Fritz worked as a fire inspector in Iowa for almost 25 year before going on the road to look for hidden treasures. That meant he would perform vital inspections to look for fire hazards and ensure that buildings were up to code, and hats off to Fritz for doing so: Fire inspections are a vital public service for maintaining the safety of the community.
In addition to helping the community, working as a fire inspector also gave Fritz the chance to continue collecting firehouse memorabilia and equipment. It was during his time as a fire inspector that he realized he could sell his collectibles for a large profit, which eventually led him to a career in antiquing. When he finally opened his own antique shop, Frank's Finds, he sold fireman's equipment and trinkets.
Fritz met 'American Pickers' cohost Mike Wolfe in high school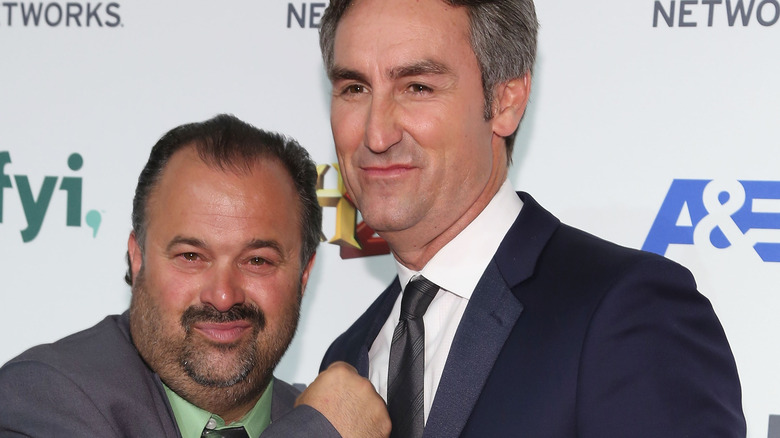 Taylor Hill/Getty Images
Although their relationship may seem strained now, the natural chemistry between Fritz and co-star Mike Wolfe wasn't (entirely) staged for the show. The dynamic duo knew each other long before any cameras started rolling: Fritz and Wolfe met in middle school, and both graduated from Bettendorf High School in Iowa, which is where their shared passion for picking blossomed. However, Fritz told The Sun that the two weren't necessarily friends right off the bat.
Although they both began collecting as children, it was Wolfe who initially started recording himself while antiquing and pitching the idea for the show to different networks, according to Southeastern Antiquing and Collecting Magazine. Wolfe had to convince Fritz to join him in his videos, which meant leaving behind his brick-and-mortar antique store, Frank's Finds. After Fritz agreed, the two would drive around and record themselves on the way to picking sites.
Fritz is an avid tattoo collector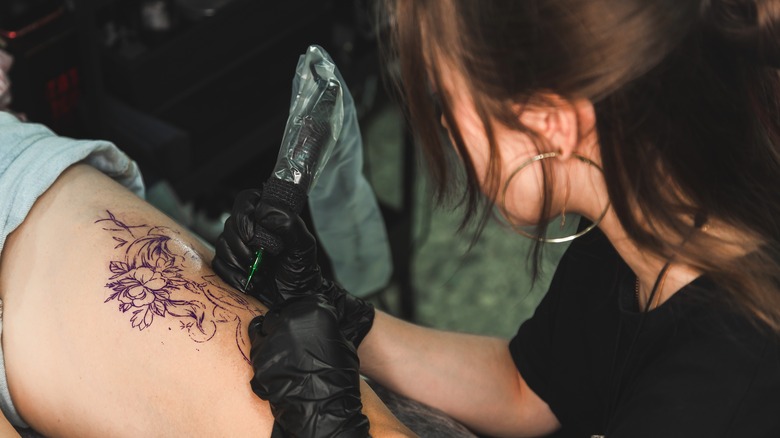 XArtProduction/Shutterstock
At first glance, you might not assume Frank Fritz had any tattoos at all. He's often photographed in long-sleeved shirts or jackets, but under those layers are full-scale, full-color, traditional tattoos. He currently has full sleeves and a large chest piece, depicting classic symbols like a tiger and an American flag, among other imagery. He's a client of James Hawk, owner of Hawks Tattoo in Galesburg, Illinois. The shop specializes in freehand tattooing, which means the artists draw on a client's skin rather than use a stencil.
Although none of Fritz's social media posts depict his more recent tattoos, his sleeves can be seen in promo photos for the show. While his chest piece depicts traditional, full-color images, Fritz's sleeves are done in heavy, black and grey style tattoos. For now, Fritz has managed to conceal his legs so we don't know if he has more tattoos across the rest of his body.
Frank Fritz left 'American Pickers' on bad terms with his co-host Mike Wolfe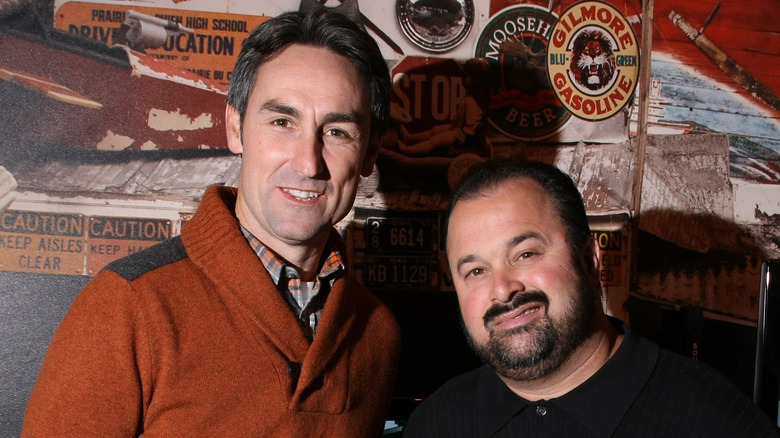 Neilson Barnard/Getty Images
Fans didn't know what to expect following Frank Fritz's sudden disappearance from the show, but no one could have foreseen the mountain of controversy that erupted between the two childhood friends. Wolfe took to Instagram to express his condolences for his longtime friend's firing saying, "I will miss Frank, just like all of you, and I pray for the very best and all good things for him on the next part of his journey." But his involvement in Fritz's departure didn't stop there. In response to Wolfe's post, Fritz spoke to The Sun, claiming that he'd never had a good relationship with his co-star and adding, "Mike's statement was bulls**t, somebody wrote it out for him." 
Still, it seems like the biggest issue between the two pickers was a lack of communication during Fritz's hiatus for the show. Fritz told The Sun that his co-star never called to check in on him following a major back surgery, which left him with 185 stitches and two rods in his back. "He knows I hurt my back, everyone in the whole network knew I hurt my back," he alleged. "But did one person — just one — call and see how I was? No."
Fritz began his antiquing career after opening Frank's Finds in Savanna, Illinois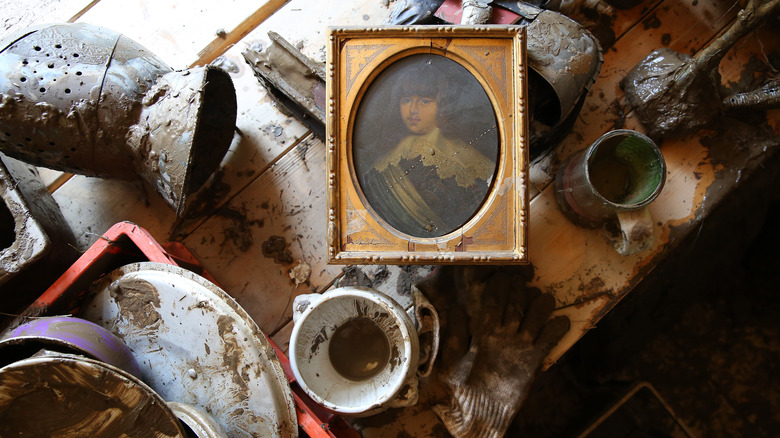 Adam Berry/Getty Images
Before Frank Fritz became the renowned picker everyone knows and loves, his antiquing career began in Savanna, Illinois. After retiring from his job as a fire inspector, Fritz opened a brick-and-mortar antique shop called Frank's Finds. He primarily sold firehouse memorabilia and collectibles, which is how he initially discovered he could make a profit from his antiques. The sale that initiated this career change was a $15 collectible that Fritz resold for $475.
Frank's Finds is still open to the public, but fans of the show may be disappointed in what they find while visiting the tourist attraction. The shop can only be entered after walking through a biker bar, and reviews on Trip Advisor claim that it's full of overpriced junk. Many visitors also reference a bad smell and uncomfortable atmosphere. Fans looking to meet Fritz will probably also be disappointed since he isn't at the shop very often. However, they can purchase a paint can with his autograph for $20.
Fritz is in recovery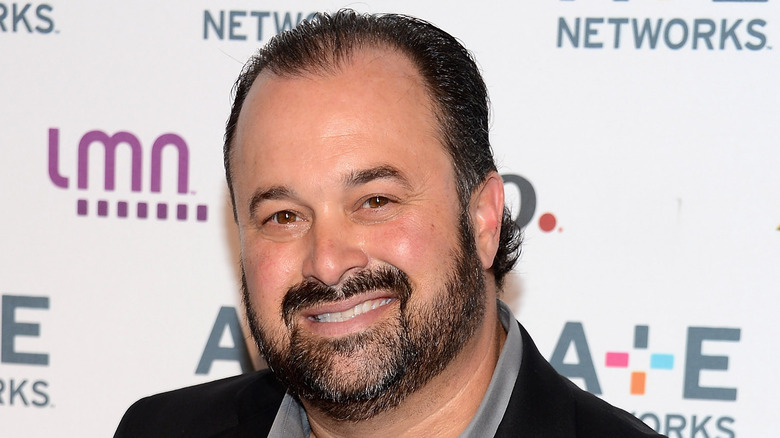 Dimitrios Kambouris/Getty Images
Frank Fritz has always been relatively private when it comes to his personal life, but sometimes personal issues get too big to hide. Before he was officially off "American Pickers," he took time off for a serious back surgery and went public with his decision to enter rehab for alcohol abuse. He entered a treatment facility in Iowa for 77 days, according to The Sun. He spoke about the reasoning behind his decision, saying, "I didn't like drinking anymore. My mom was an alcoholic and she died five years ago and it was alcohol-related. My grandfather was an alcoholic and he died. That didn't sit well with me."
But that's not the first time Fritz's substance abuse was in the news: In 2017, Fritz was arrested after driving the wrong way on the Iowa interstate. He was charged with an OWI and admitted to drinking and taking a dose of Xanax before getting behind the wheel, according to WQAD. It was Fritz's first offense.
Frank Fritz's relationship woes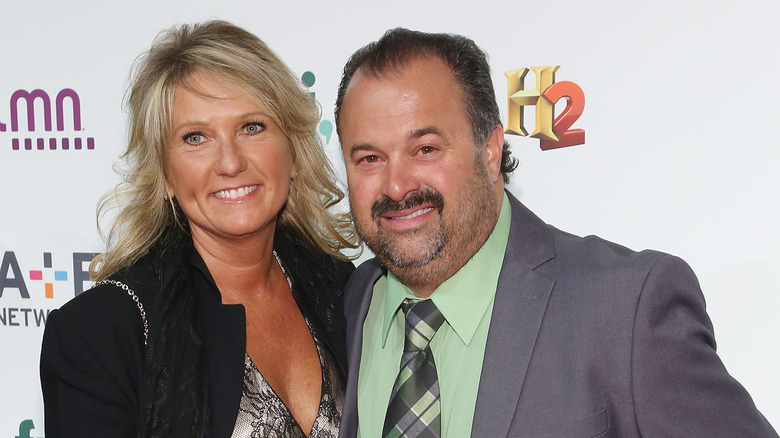 Taylor Hill/Getty Images
Although Frank Fritz went to rehab to address his alcohol problem, drinking wasn't the only issue he wanted to deal with. One of the biggest factors that went into his decision was the brutal public fallout with his ex-fiancée Diann Bankson. The two were engaged in 2017, but Bankson claims that she walked in on Fritz and another woman in their shared farmhouse. The details of Fritz's affairs were uncovered when Bankson filed a lawsuit for negligence against the reality star, which was dismissed two months later.
The drama continued to unfold when Fritz spoke to The Sun regarding his time in rehab, and alleged that it was Bankson who had been cheating. He said, "I was going to get married, I bought a house and a big expensive ring, and then I find out my fiancée had been dating somebody else for two and a half years." He even claims he went so far as to get a tattoo saying "Once a cheater, always a cheater" to remind himself of the betrayal. Bankson, for her part, denies Fritz's version of events.
Fritz suffers from Crohn's Disease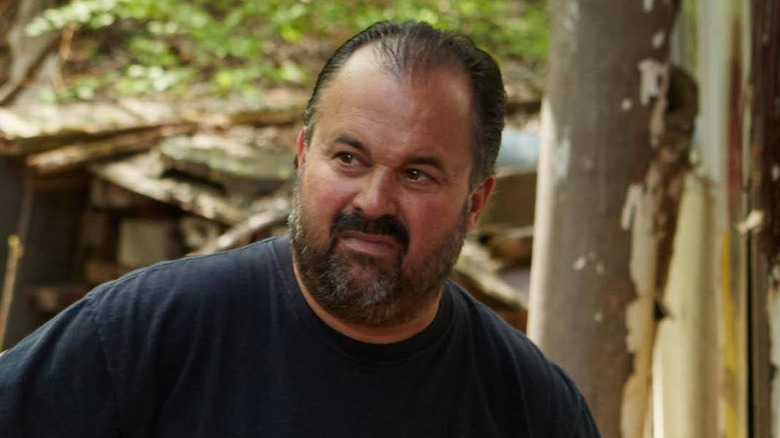 American Pickers
Frank Fritz has been very public with his ongoing health issues — especially his battle with Crohn's Disease, which is a type of inflammatory bowel disease that can cause serious health complications. It affects the lining of the digestive tract and can cause weight loss, abdominal pain, dehydration, and anemia. There is no cure for it, although it's often treated with steroids or immunosuppressants. 
In 2013, fans began to question Fritz's sudden weight loss following a brief hiatus during seasons eight and nine. To avoid any rumors, he spoke openly about his diagnosis on social media saying, "I have an illness called Crohn's [disease], which at times is difficult to deal with. I started losing weight and ran with it!" Fritz also spoke with The Sun to explain that he had lost 65 pounds due to a change in diet to help manage his symptoms.