Tessa Thompson Provides A Long-Awaited Creed 3 Production Update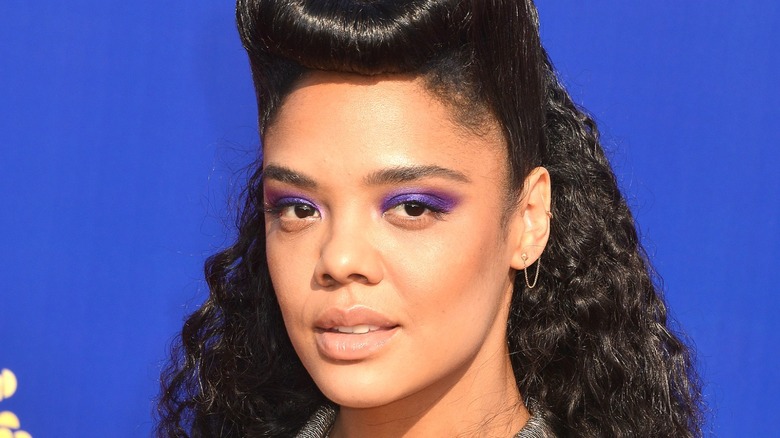 It's hard for a movie to become a successful franchise, but it's arguably even harder for a movie that's part of a franchise to be so great that it branches out as its own thing. Yet, the "Creed" movie series appears to be in the process of doing just that. 2015's first movie shows Sylvester Stallone's iconic Rocky Balboa take his iconic opponent Apollo Creed's (Carl Weathers) son, Adonis Creed (Michael B. Jordan), under his wing. "Creed II" is still firmly entrenched in the "Rocky" franchise, as Rocky and Adonis face off against the former's "Rocky IV" opponent, Ivan Drago (Dolph Lundgren), and his towering boxer son, Viktor (Florian Munteanu). 
Jordan has been getting mightily ripped for the next installment in the series, which he might as well do, since he's facing off against a fellow MCU villain actor, the talented and imposing Jonathan Majors. It may very well be that "Creed III" will be the thing that breaks the "Creed" movies into a territory of their own, seeing as it will be the first "Rocky"-adjacent movie that doesn't feature Stallone at all (via The Hollywood Reporter).
"Creed III" will reportedly be released in 2022, though production news of this eagerly awaited film have been few and far between. Now, Tessa Thompson, who plays Bianca Taylor, provides a long-awaited "Creed III" production update. 
Tessa Thompson has started filming her part in Creed 3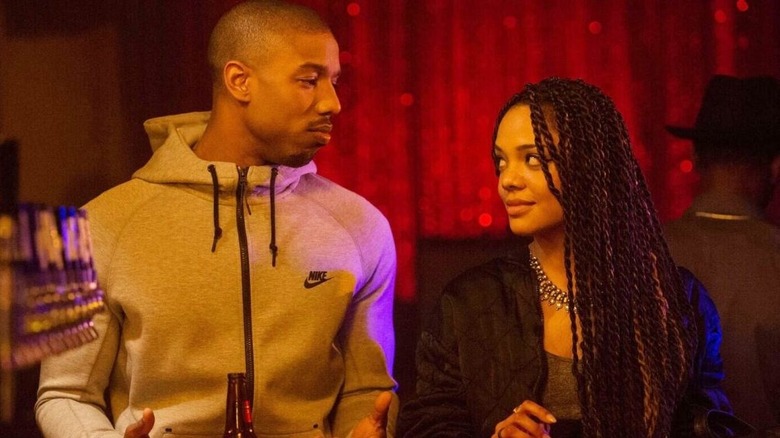 Warner Bros.
It looks like Tessa Thompson has begun her work on "Creed III." She revealed the news with an Instagram Stories post that featured a number of behind-the-scenes images and selfies of her time shooting the "Creed" movies (via Screen Rant). The first image, which appears to show her in makeup, is accompanied by the text, "1st day shooting Creed 3 so I got imo looking at old photos from making the past two." Other images show her character's costume fittings and fake pregnant stomach, and Michael B. Jordan laughing in the boxing ring, among other nostalgic shots. 
As for further details of the movie, well, Thompson is clearly intent on remaining as tight-lipped as everyone else. As such, it still remains to be seen precisely where "Creed III" will take things. Way back in 2018, Sylvester Stallone told TMZ Sports that he might like to see heavyweight boxer Deontay Wilder as "Rocky III" villain Clubber Lang's (Mr. T) son. While Jonathan Majors could very well be playing a character of that vein, the actor himself has told NME that the movie will take a different, more intimate approach from anything in previous movies. Besides, one suspects that the movie might choose to avoid the "son of old 'Rocky' antagonist" route after the Dragos featuded so prominently in "Creed II." 
For now, though, fans can be content to know that the movie is indeed filming, and that Thompson's very much present.