Is Netflix's Home Team Based On A True Story?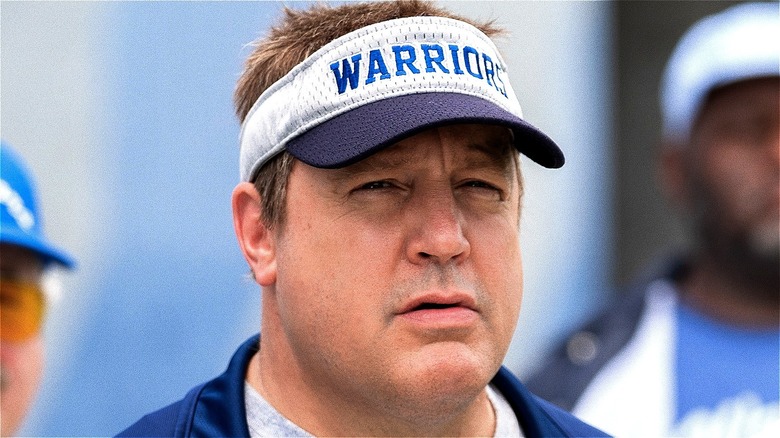 Netflix
Contains spoilers for Netflix's "Home Team"
There have been a number of football movies inspired by real-life events over the years, and generally, the narratives tend to skew on the dramatic side of the line. From the heartbreaking tale of late Chicago Bears running back Brian Piccolo (James Caan) and the bond he formed with fellow running back Gayle Sayers (Billy Dee Williams) in "Brian's Song" in 1971, to the 2021 fact-based film "American Underdog," about the inspiration story of NFL star Kurt Warner (Zachary Levi), football movies tend to end in tears or cheers, not laughs.
There certainly is room for laughter in football movies — take Burt Reynolds' 1974 comedy "The Longest Yard," for example, as well as Adam Sandler's 2005 remake of the film — but comedies based on true stories about the gridiron are few and far between. There are funny moments in true-life football movies to be sure, but not out-and-out comedies the game that are too strange to seem real. Netflix's new original movie "Home Team" definitely falls in that category, but is it based on real-life events or is it all made up?
Home Team is indeed based on a true story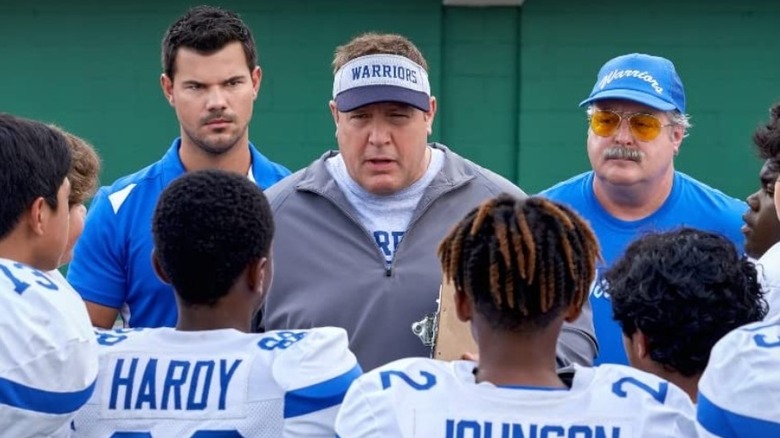 Netflix
"Home Team" is based on Sean Payton's life during and in the wake of the "Bountygate" scandal. The movie starts off on a very serious note by addressing "Bountygate" through archival footage of news reports on the scandal and a dramatized depiction of New Orleans Saints head coach Sean Payton being suspended. In reality, Payton was suspended for a year by the NFL after the league found the Saints' had a "pay for performance" program from 2009 to 2011 (via NFL.com). The program, which is a violation of NFL rules, incentivized players to injure opponents by making "knock-out" hits and "cart-off" hits — plays that ultimately paid them earnings above what they were receiving in their contracts.
Apart from the ominous phone call from NFL commissioner Roger Goodell and the dramatic opener, "Home Team" is largely a family-friendly comedy, starring Kevin James as Payton. In real life, the coach moved to the Dallas area during his suspension to spend more time with his children, Meghan and Connor. As it turns out, Payton still coached football, but just on a more basic level as the offensive coordinator of his son Connor's 6th-grade football team, the Liberty Christian Warriors. 
With kid players involved, "Home Team" has more of a cleaned-up "Bad News Bears" vibe. One key difference between real life and what we see on screen: The Warriors weren't nearly as bad as the film implies. As Payton told the New Orleans Times-Picayune in 2012, the truth is that the team won its first game with him as offensive coordinator 30-0. As for some of the more comedic moments in "Home Team," a mega-vomit scene that rivals the queasy but classic "barf-o-rama" sequence in "Stand By Me" did not happen in real life, according to History vs. Hollywood. Even though it was made up for the film, it is a good gag, so to speak.
The real Sean Payton gets in on the laughs in Home Team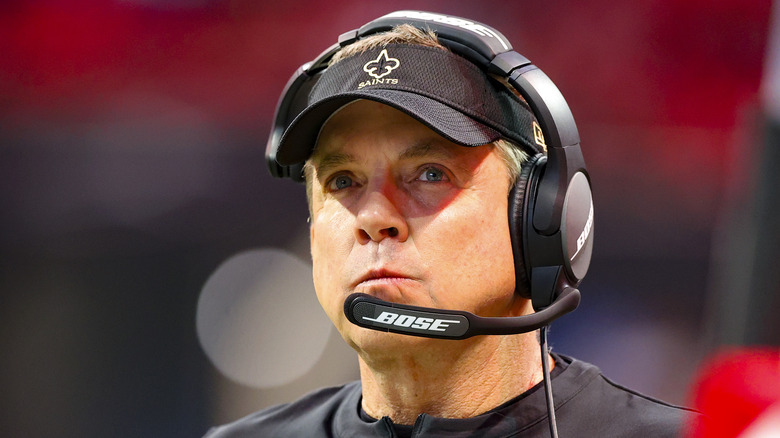 Todd Kirkland/Getty Images
Given it's produced by Adam Sandler's Happy Madison production company and stars Sandler's frequent collaborator James, there's no mistaking that "Home Team" was meant to be a comedy through and through. However, the comedic direction of the film wouldn't be complete without some participation by Sean Payton himself, and it happens in a cameo as a janitor named Lionel in a scene late in the movie alongside Kevin James. Donning a wig, Payton's Lionel welcomes the movie version of himself back to the coach's office at the New Orleans Saints training facility by saying, "We really suck without you." History vs. Hollywood also noted that Payton approved the film's script.
The release of "Home Team" on January 28 came with some ironic timing, as Payton had announced that he was retiring from the Saints just three days before, on January 25 (via Sports Illustrated). In 15 seasons with the Saints, Payton's team went 152-89 and 9-8 in the playoffs, including a Super Bowl win in 2010 over the Indianapolis Colts. As for Payton's coaching record as offensive coordinator of the Liberty Christian Warriors, you can find out by watching "Home Team," which is streaming exclusively on Netflix.