We Finally Know When NCIS And NCIS: Hawai'i Will Have Their Crossover Episode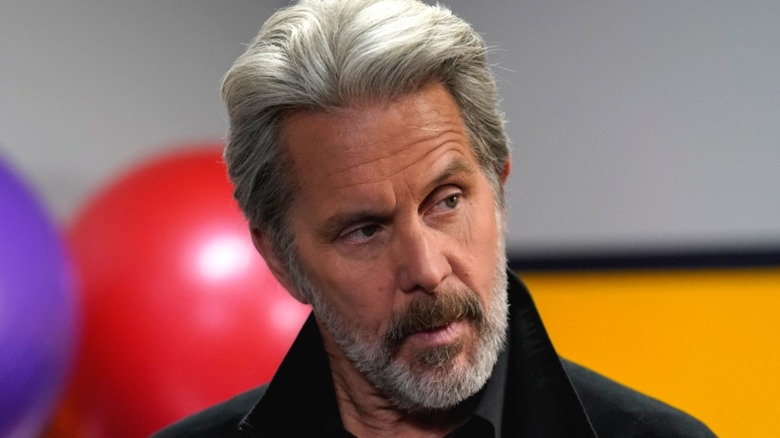 Cliff Lipson/CBS
CBS' long-lived "NCIS" and its third spinoff, "NCIS: Hawai'i," are interestingly disparate in what they offer their viewers. Though both programs are crime-procedural shows, one takes place in a tropical paradise and the other is close to the pulsebeat of America's political seat in Washington, D.C. But that just scratches the surface of the two program's differences. "NCIS" tends to provide more humor in its hour, while "Hawai'i" has, thus far, leaned harder into its dramatic roots. That may change with time; after all, "Hawai'i" debuted in 2021 and is only 13 episodes deep into its first season run as of press time, while "NCIS" has been around since 2003. More importantly, the shows are currently in completely different places in their lifespans. While "Hawai'i" is trying to familiarize its audience with Vanessa Lachey's Jane Tennant and Noah Mills' Jesse Boone, "NCIS" is trying to orientate itself to a post-Leroy Jethro Gibbs (Mark Harmon) world.
But for all of "NCIS" and "NCIS: Hawai'i"'s differences, fans of both shows only want one thing: to see the two program's regular characters meet. For those who have been waiting for that day, we have some exciting news — it's finally about to happen.  At last, we know when "NCIS" and "NCIS: Hawai'i" will have a crossover event.
The two shows will cross over in March
Per a joint Instagram post from Wilmer Valderrama, who portrays Special Agent Nick Torres on "NCIS," and his co-star Katrina Law, who plays Jessica Knight, the crossover will take place on March 28. The crossover will apparently take place on "Hawai'i." Since the shows air back-to-back from 9 to 11 p.m. EST every Monday night, it's possible the event might span both shows or that some plot elements will begin on "NCIS" and then continue on "Hawai'i."
Via TVInsider, Torres and Knight have been the only characters announced to be visiting Hawai'i (and "Hawai'i") thus far. There have been no details about the crossover's future plot announced. When asked by TVInsider, the program's showrunners kept things a little vague. "I'm always open to any sort of crossover that CBS will allow," said Chris Silber, who is a co-showrunner for "NCIS: Hawai'i." "NCIS" co-showrunner Steven D. Binder concurred, saying, "We haven't discussed it yet." 
CBS Entertainment chief Kelly Kahl, meanwhile, said that the Eye Network wants to get the first season of "Hawai'i" wrapped up before considering "fun stuff" like what the crossover will entail. Fans of both shows will have to wait and see what develops.