NCIS: Hawaii Fans Just Got The Best News Ever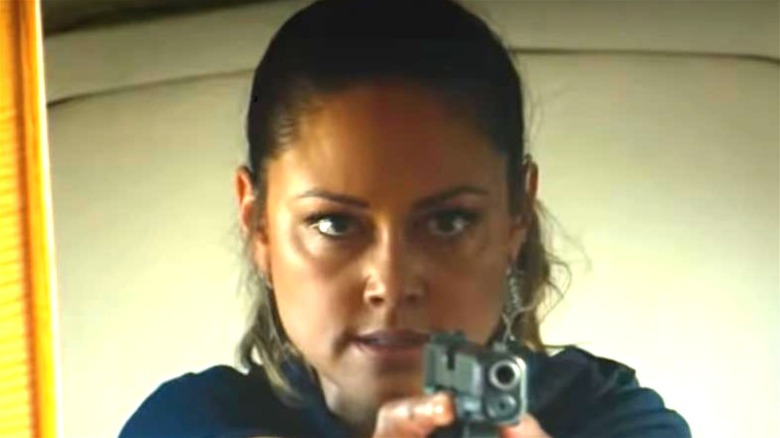 CBS
It's been several weeks since "NCIS: Hawai'i" first debuted on CBS and the show is already proving to be a major hit. The freshman procedural is the fourth entry in the "NCIS" franchise, joining the Mark Harmon-led original series and its fellow spin-offs, "NCIS: Los Angeles" and "NCIS: New Orleans." Fans believe that, like its predecessors, "NCIS: Hawai'i" is destined for great success and multiple seasons too — and CBS reportedly agrees. 
The network released a statement on Monday, October 11, praising "Hawai'i" and another one of its top shows, "FBI: International," for doing so well in such a short window of time. "These two terrific new dramas are off to a tremendous start," said Kelly Kahl, president of CBS Entertainment. "They have significantly strengthened and improved our lineup on their respective nights and are generating huge increases on our streaming platforms as well. We applaud the talented producers, writers and casts on their compelling storytelling and performances, which are clearly resonating with viewers."
"NCIS: Hawai'i" follows the NCIS agents who work in the Pearl Harbor field office, led by Jane Tennant (Vanessa Lachey), the first female to ever hold the fictional leadership position. The crime drama premiered on September 20 and managed to draw the evening's third-largest audience with 6.3 million total viewers. CBS says that those numbers, coupled with the show's incredible streaming figures, are why it has ultimately decided to do a lot more with "NCIS: Hawai'i."
NCIS: Hawai'i is getting a full first season on CBS
Capitalizing on the success of its first few episodes, CBS announced Monday that it plans to pick up "NCIS: Hawai'i"  for a full 2021-2022 season run (via Deadline).
While it is unclear exactly how many episodes the show's first season will now contain, CBS is clearly excited to bring more of "Hawai'i" to "NCIS" fans moving forward. In addition to Lachey, the show stars Alex Tarrant, Noah Mills, Yasmine Al-Bustami, Jason Antoon, Tori Anderson, and Kian Talan. Viewers have, of course, been quick to call for a crossover between "Hawai'i" and CBS' other "NCIS" series, and for what it's worth, this full-season pickup is a good sign that something like that could, indeed, happen.
The first full season of "NCIS: Hawai'i" will air during the 2021-2022 broadcast TV season. The show has received largely positive reviews up to this point, including one from Variety's Caroline Framke, who called it "of a piece with 'NCIS' proper, military jargon, efficient dialogue, flashy mysteries and all."