Halo Full-Length Trailer Reveals A True Military Sci-Fi Epic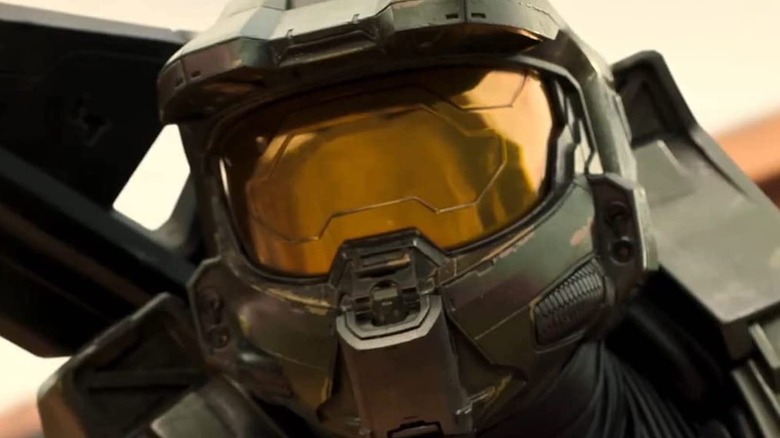 Paramount+
The live-action "Halo" series has had a long journey to our screens. Microsoft originally envisioned it as a movie back in 2005, and a script was even produced by critically acclaimed writer Alex Garland. The story from the "28 Days Later" scribe quickly got the attention of directors like Neill Blomkamp and Peter Jackson. Unfortunately, the film didn't get off the ground due to the massive budget it needed at the time. Thankfully video-game adaptations have proved they can be incredibly successful in the years since then, and it's finally time for Master Chief (Pablo Schreiber) to go up against the Covenant horde.
The "Halo" series will debut on Paramount+ and will deliver a "richly imagined vision of the future," according to the synopsis. Although the series isn't set in the same canon as the Microsoft games, this actually gives the writers more room to explore specific characters in new ways. Hopefully this means we'll learn about some of the other Spartan super-soldiers alongside Master Chief himself.
Plot details have been kept under wraps for now, but who knows, maybe we'll see the Flood parasite, Prometheans, or the Banished further down the line. We've already seen a brief teaser trailer that shows off John-117 in action, but fans are understandably eager for more. Thankfully, Paramount+ has released the first full-length trailer for the "Halo" series, and it appears to be the military sci-fi epic that everyone's been hoping for.
The Halo trailer shows off a new war
The extensive new footage gives us a better idea of what to expect from "Halo." Pablo Schreiber's Master Chief is joined by an impressive cast including Bokeem Woodbine as fellow Spartan, Soren-066, and British star Natasha McElhone as Dr. Catherine Halsey. "Halo" players will already know that Halsey is the mastermind behind the Spartan program, and is responsible for making John-117 into the legendary Master Chief.
Pablo Schreiber previously opened up about playing the super-soldier, saying that the new series will "crack the veneer" of the legendary video game hero. Hopefully, he doesn't crack it driving a Warthog. That could be painful. Of course, what's Master Chief without his A.I. companion, Cortana? Don't worry, she's also going to have a key role in the series. And yes, original voice actor Jen Taylor is returning to the role for the TV series.
Another character from the games getting the live-action treatment is Captain Jacob Keyes (Rafael Fernandez), along with his daughter Miranda Keyes (Olive Gray). Keyes is a UNSC Commander, although let's hope he doesn't face the same fate at the hands of the Flood parasite, as he does in 2001's "Halo: Combat Evolved."
"Halo" premieres on Paramount+ on Thursday, March 24.