Get A Look At Pablo Schreiber As Master Chief In A New Halo Photo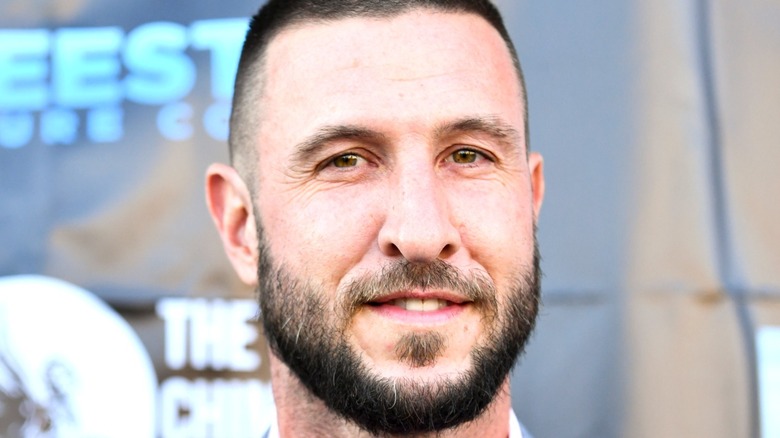 Rodin Eckenroth/Getty
"Halo" players have waited a long time for Master Chief to make his way from video game consoles over to the big or small screen, but it's finally happening. There have been several attempts to bring the "Halo" franchise to life in live-action form, and "District 9" director Neill Blomkamp once signed on to helm a film based on the acclaimed shooter. A "Halo" script was even written at one point by "28 Days Later," "Ex Machina," and "Annihilation" scribe Alex Garland. Unfortunately, the "Halo" film never happened, and Microsoft went back to the drawing board.
Fast-forward to the present day, and Paramount+ is getting ready to unveil a "Halo" TV series starring "American Gods" actor Pablo Schreiber as Master Chief Petty Officer John-117. For anyone not familiar with the "Halo" franchise, the series' story sees humanity locked in a bloody war with an alien race known as the Covenant. Notably, the human race's secret weapon in the conflict is a band of super-soldiers known as "Spartans," who have been genetically engineered to be brutal one-man armies.
When the "Halo" TV series was first announced in 2018, Deadline revealed that the show "will weave deeply drawn personal stories with action, adventure and a richly imagined vision of the future." That sounds promising, but at the time, fans still had reservations about whether the show would actually come to fruition after all of Hollywood's previous failed attempts to make a live-action "Halo" adaptation.
Thankfully, production on the "Halo" TV series has already taken place, and now we've got a new look at Pablo Schreiber as Master Chief.
The new Halo photo shows off Pablo Schreiber's Master Chief
The new shot of Pablo Schreiber as Master Chief has arrived thanks to Entertainment Weekly, and the image certainly looks accurate to the original "Halo" games. The star himself opened up about bringing the legendary character to life, noting that like most movies and TV shows in production back in March 2020, "Halo" had to stop working because of the ongoing pandemic. However, he still worked hard to maintain his physique for the role. "It's a huge job, from setting the tone on set down to the grueling task of waking up at the crack of dawn to work out, then go to shoot, and go home to work out some more," Schreiber told EW.
That said, Schreiber is glad it was a difficult process, admitting, "Nothing about it is easy, and I wouldn't want it to be." Additionally, it sounds like the "Halo" show will lean into the grim element of the franchise's fictional universe, but will also dive deeper into some of the characters from the games. Schreiber says the new series will "crack the veneer" of Master Chief, explaining, "It takes place very much in the universe that the video games created, but it's a TV show."
"We get to expand that universe and create stories in it," Schreiber said, adding, "There's going to be some new characters that are introduced, there's going to be a lot of familiar characters that everyone will know from the game."
Indeed, in addition to Schreiber's Master Chief, video game fans should also expect to see the likes of Dr. Halsey (Natascha McElhone), Cortana (Jen Taylor), and Jacob Keyes (Danny Sapani) when "Halo" premieres on Paramount+ in 2022.