The Evil Season 2 Scene That Went Too Far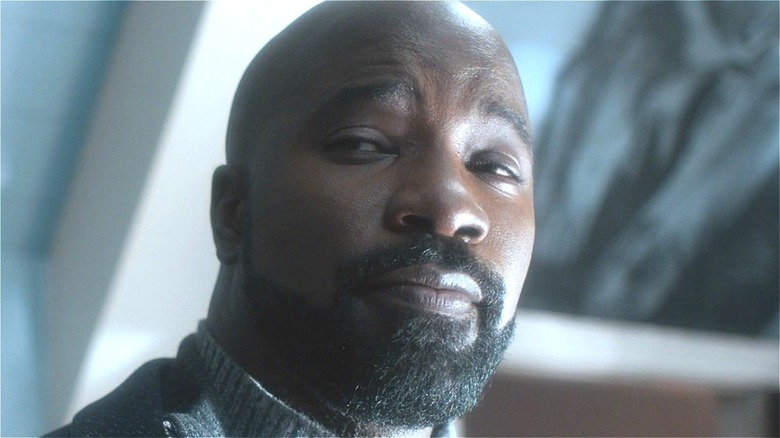 Paramount+/Amazon Prime
TV horror has had something of a resurgence in the last decade, largely because audiences lapped up FX's "American Horror Story" when it debuted back in 2010. But since then, a number of writers and directors have toyed with the genre in surprising ways. Whether it's "Channel Zero," "Lore," or "The Exorcist" — there's something for everyone. But one of the most underrated horror shows is CBS' "Evil" — which follows a trio of investigators who look into bizarre, supernatural cases. It stars "Luke Cage" star Mike Colter as trainee priest David Acosta, Katja Herbers as psychologist Dr. Kristen Bouchard, and Aasif Mandvi as tech-expert Ben Shakir.
"Evil" boasts some of the best demonic practical effects around, whether they're seen through the chilling sleep demon George (Marti Matulis/Euan Morton), Abbey the Succubus (Ashley Edner/Ciara Renée), or the Devil Therapist (Michael Cerveris) who speaks to the nefarious Dr. Townsend (Michael Emerson). The team frequently butts heads with Townsend, as he tries to manipulate his patients into committing violent atrocities. 
The series has garnered a sizeable following since it first debuted back in 2019, boasting a 93% critic rating against an 80% audience score on Rotten Tomatoes. All this is to say that it's a must-watch for horror fans, and there's one "Evil" Season 2 scene that really ramps up the nightmare fuel.
The Elevator Game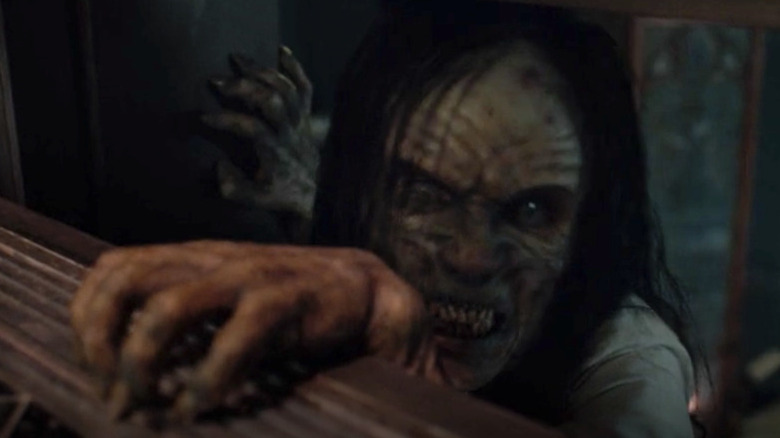 CBS
"Evil" Season 2, Episode 4, titled "E is For Elevator," involves a real-life Japanese legend and internet phenomenon called the "Elevator Game" which supposedly will send someone to hell if they hit elevator buttons in a specific order. The trio of plucky investigators are called to look into the disappearance of a young teen, Wyatt, who's gone missing after playing the Elevator Game. It's a not-so-subtle way of taking aim at viral video trends on platforms like YouTube, Instagram, and TikTok.
During their investigation, Kristen's social media-savvy daughters help the team figure out that if an Elevator Game isn't finished, the victim will be haunted by all the ghosts living in the building. Unfortunately, the particular building has its own legend of a young girl who was cut in half by the lift — you can see where this is going, can't you? Well, Kristen gets trapped in the lift doors during one terrifying sequence, and she sees a harrowing vision of the girl, who drags her torso across the floor before leaping at her. It's implied to be a hallucination rather than actual spirit, but it's still utterly horrifying.
Fans on the "Evil" Reddit thread thread are haunted by the episode, with Free-Baby2384 writing, "OMG I cannot believe they went there with the elevator girl! That shocked the hell out of me." It seems the girl's jump scare caught a few fans out, as Amrick wrote "Geez. That elevator girl crawling towards her gave me quite the jump!" They then added, I am now terrified of elevators." Fair enough.
Surprisingly this episode actually had a rational explanation, as Wyatt's body is found in an abandoned basement of the building. But regardless, the elevator girl is still a masterfully scary scene.