Where You've Seen The Cast Of Evil Before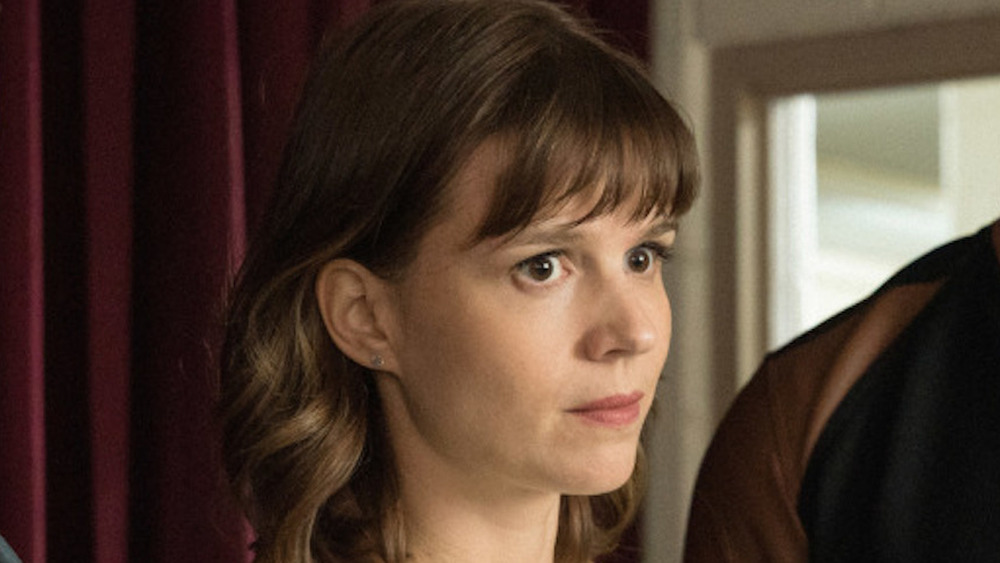 Evil/CBS
CBS' supernatural drama Evil premiered in September 2019 to big ratings and incredibly strong reviews, even being named one of 2019's best new shows by a number of publications. The immediate success and buzzworthy start prompted CBS to almost immediately order a second season only a month after the series' debut, with the strong story helping to propel its momentum. Forensic psychologist Kristen (Katja Herbers) takes a new job alongside David (Mike Colter), a Catholic seminarian and man of deep faith, to investigate potentially supernatural cases for the Church with the help of technology expert and noted skeptic Ben (Aasif Mandvi). Meanwhile, Kristen has to deal with the sinister presence of occult expert Dr. Leland Townsend (Michael Emerson), who has an evil agenda of his own.
The show works largely due to the unusual story, which is surprisingly interesting and complex for what would otherwise be a straightforward network procedural. But it's also due to the talented cast assembled, from the aforementioned main cast down to distinctive supporting players. As with a case-of-the-week style procedural, there are a number of guest stars and cameo appearances every week, and as you watch the show, you might recognize a face or two. Here's where you've seen the cast of Evil before.
Katja Herbers -- Kristen Bouchard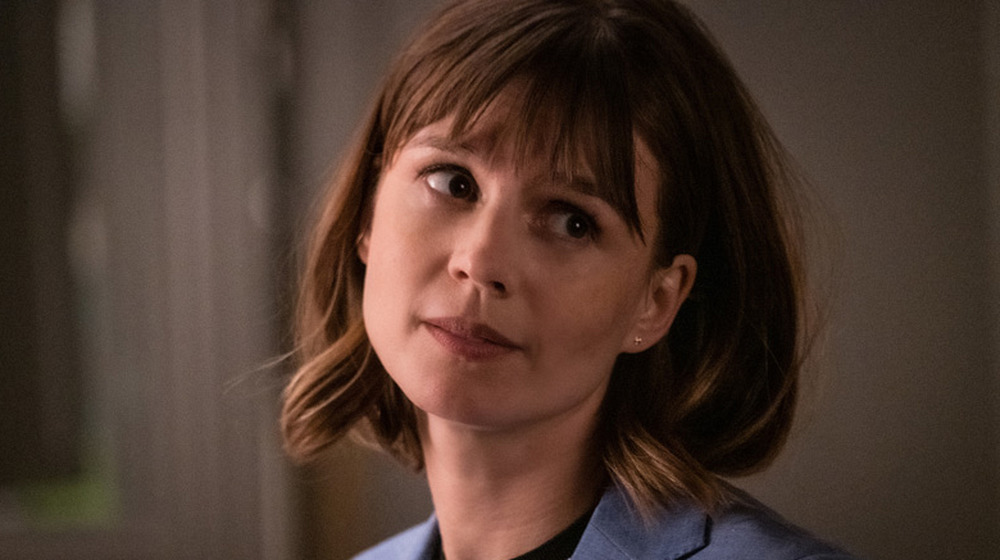 Evil/CBS
As Kristen Bouchard, Katja Herbers is our entry point into the world of Evil. Kristen is initially a Dana Scully-esque skeptic, and Herbers' no-nonsense vibe sells it, but she also has a fantastic ability to transform Kristen into someone silly and maternal in the scenes with her four daughters. The Amsterdam-born Herbers is a relative newcomer to American audiences, but she's made a name for herself since making the transition and a number of people may recognize her from her various TV roles. She got her small screen breakthrough playing Evi Sneijder in acclaimed drama The Americans, which led her to long-running roles on two separate series, playing Helen Prins in U.S. series Manhattan while simultaneously starring in Divorce back in the Netherlands as Joyce Waanders. 
2017 found her back in America and landing two small but significant guest roles on prestige shows, first playing Dr. Eden on The Leftovers then Linda Patrik in Manhunt that same year. Those roles landed Herbers her biggest role to that point, and the one most U.S. audiences will recognize her from, playing William/The Man in Black's daughter, Emily Grace, in Seasons 2 and 3 of Westworld. Evil is Herbers' first leading role in an American TV show, though she still finds time to occasionally act in Dutch movies between filming seasons in the U.S. 
Mike Colter -- David Acosta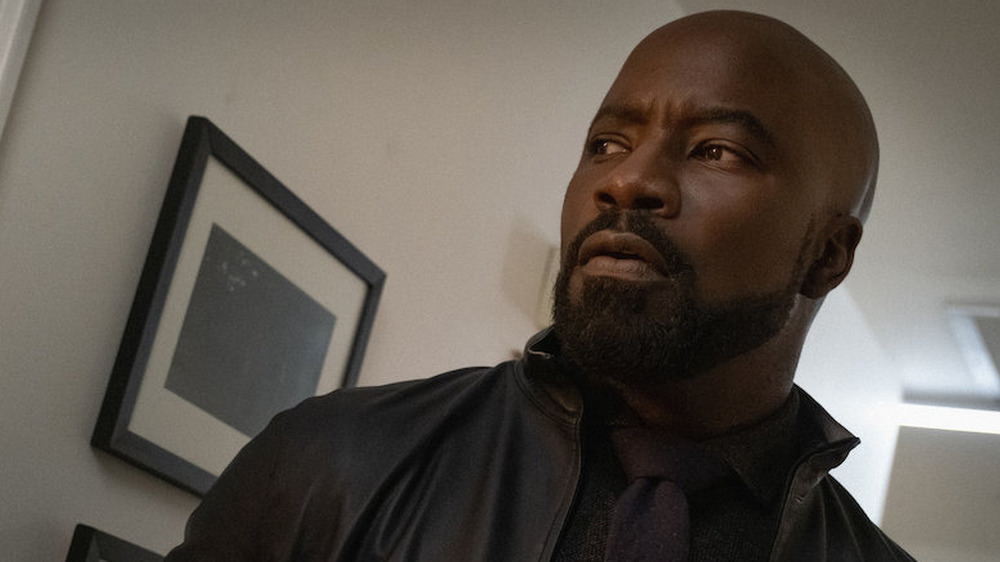 Evil/CBS
If Kristen Bouchard is the intellectual head of the team on Evil, then David Acosta is the spiritual center. Mike Colter brings depth and groundedness to the former journalist turned soon-to-be Catholic priest. David isn't a squeaky-clean man of unshakable faith: He wrestles with giving up all relationships once ordained, and also takes hallucinogens in order to better hear the voice of God and see his visions. Colter playing a righteous man with an edge should feel familiar to Marvel fans — most will recognize Colter from his massive breakout role playing Luke Cage in Marvel's Netflix series, Luke Cage, as well as appearing in other Marvel/Netflix series Jessica Jones and The Defenders. 
Colter's been around for a while, and non-Marvel fans have almost certainly seen him on their screens at some point. Discerning eyes may recognize him from playing Big Willie Little in Clint Eastwood's Best Picture winner Million Dollar Baby, before later playing the Colonel in Men in Black 3, Mike in Zero Dark Thirty and Stewart Pierce in Girls Trip. But it's likelier that you recognize him from one of a handful of roles he's had on significant TV shows, starting with his first regular role as recovering addict Malcolm Ward on Ringer. Colter also appeared as Nick Donovan in The Following, Locke in Halo: Nightfall, Miles Lathem in Agent X and Lemond Bishop in The Good Wife before landing his Marvel job. 
Aasif Mandvi -- Ben Shakir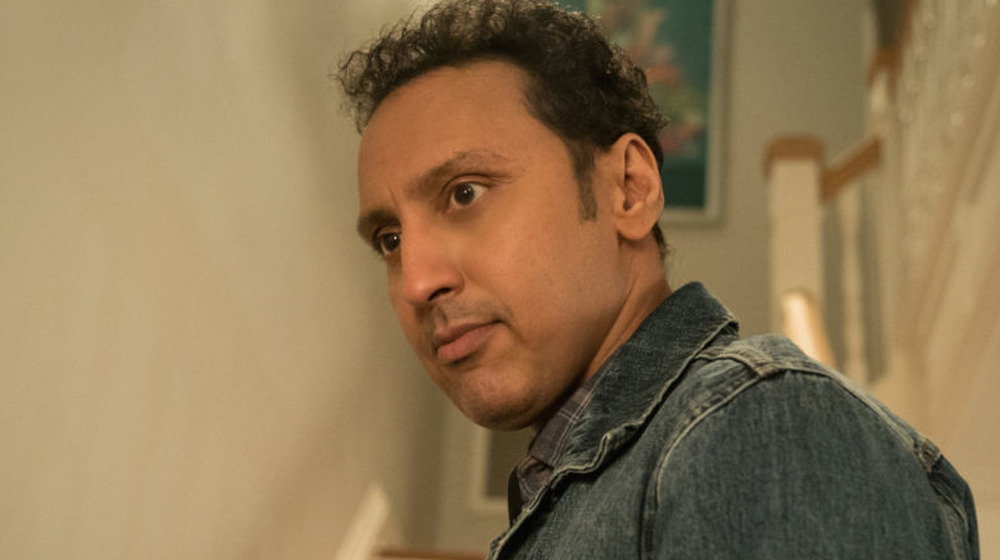 Evil/CBS
While David is a true believer and Kristen's cynicism starts to be swayed by the unexplainable things they encounter, Ben Shakir is the true cynic of the team. A man who places his faith in science and reason over religion and superstition, Ben brings an important bit of ballast to balance out the trio by providing logical theories that the other two never think to consider. Audiences will immediately recognize Ben's extremely deadpan delivery, having watched Mandvi do it for 11 years and 189 episodes as a correspondent for The Daily Show. While that was unquestionably Mandvi's breakthrough role, geek fans remember him first as Mr. Aziz, Peter Parker's impatient pizza place boss in Spider-Man 2, and — unfortunately — also as Commander Zhao in The Last Airbender.
Mandvi has also had a few notable TV roles audiences will recognize, playing Samar Charwell on Blue Bloods, Uncle Monty in A Series of Unfortunate Events, Dr. Kenchy Dhuwalia in Jericho and Rafiq Massoud in The Brink. Still, Mandvi is probably better known for his movie roles, particularly in comedies, playing fired editor (and certified lunatic) Bob Spaulding in The Proposal, the Doctor in The Dictator, and internship head Mr. Chetty in The Internship. The talented actor also has a few dramas under his belt, such as when he played Aash in baseball movie Million Dollar Arm.
Michael Emerson -- Leland Townsend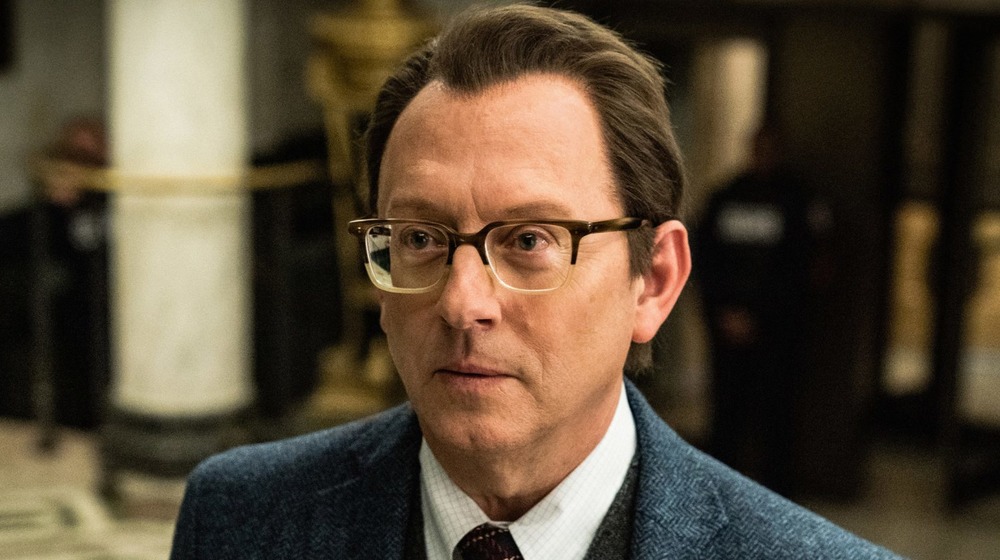 Evil/CBS
Most case-of-the-week network procedurals have a different baddie every episode. Evil, however, has one main antagonist, and that antagonist is Michael Emerson's Leland Townsend. A psychologist and master manipulator, Leland is obsessed with the occult and with encouraging others to commit evil acts. It could be a campy role — and at times, it is — but Emerson is magnificently creepy in the part, offering audiences and the protagonists a truly unsettling villain. It's a villainous role Emerson is quite comfortable playing — fans will likely recognize him from arguably his biggest role, playing the manipulative liar and murderer Ben Linus on Lost for five seasons. 
But TV fans will also recognize him from two other procedural dramas: The Practice, where he played serial killer William Hinks — are you seeing a pattern with his roles yet? — and reclusive billionaire and antagonist Harold Finch for all five seasons of Person of Interest. Unsurprisingly, his next recurring role was playing hacktivist and criminal mastermind Cayden James on Arrow. Meanwhile, discerning movie fans will know him as troubled orderly Zep Hindle from the horror classic Saw, and Batman fans may find his voice familiar since he voiced Joker in the animated movie Batman: The Dark Knight Returns. Basically, if there's a villain to be had, Emerson has played them.
Christine Lahti -- Sheryl Luria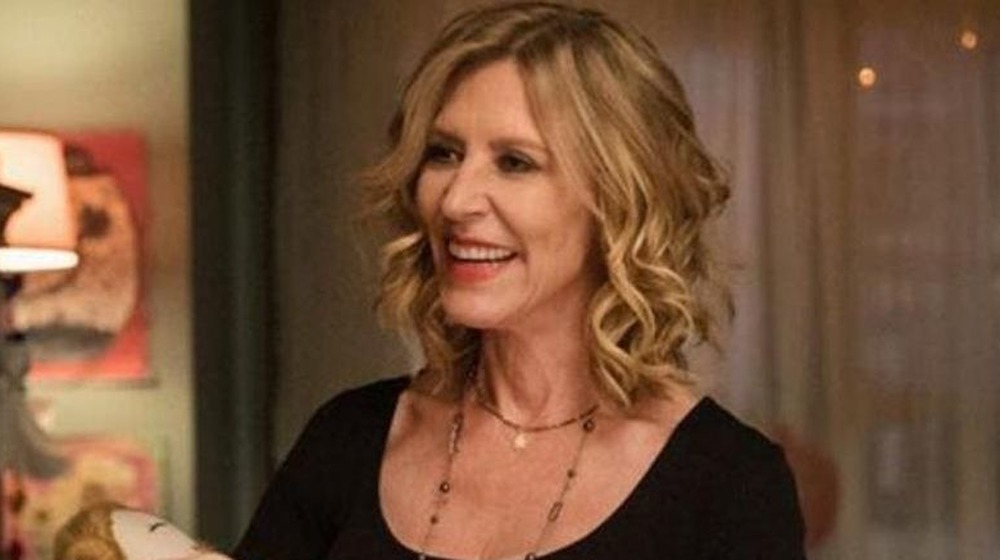 Evil/CBS
Kristen's mother, Sheryl, is one of the most interesting characters on TV. She's a loving mom and a doting grandmother to her four grandkids, but she's also a free spirit with a far wilder side than her often uptight daughter. She had Kristen at a younger age and now she just wants to sow her wild oats in her middle age. It's a different kind of role for Christine Lahti in recent years, as she's mostly played professional roles like doctors and lawyers. But Lahti has been acting since the late '70s and her career is broad. 
Lahti mostly did movies in the first decade and a half of her career, but she really hit her stride — and the role that made her recognizable to many American audiences — when she landed the role of talented heart surgeon Dr. Kathryn Austin on Chicago Hope, a role she played for four seasons and almost 100 episodes. She jumped back to movies, but picked up her next notable TV role playing Grace McAllister in historical drama Jack & Bobby, then did a stint on Law & Order: Special Victims Unit playing Executive A.D.A. Sonya Paxton, followed by assistant Secretary of State Laurel Hitchin on The Blacklist, and finally Doris McGarrett on the reboot of Hawaii Five-0.
Kurt Fuller -- Dr. Kurt Boggs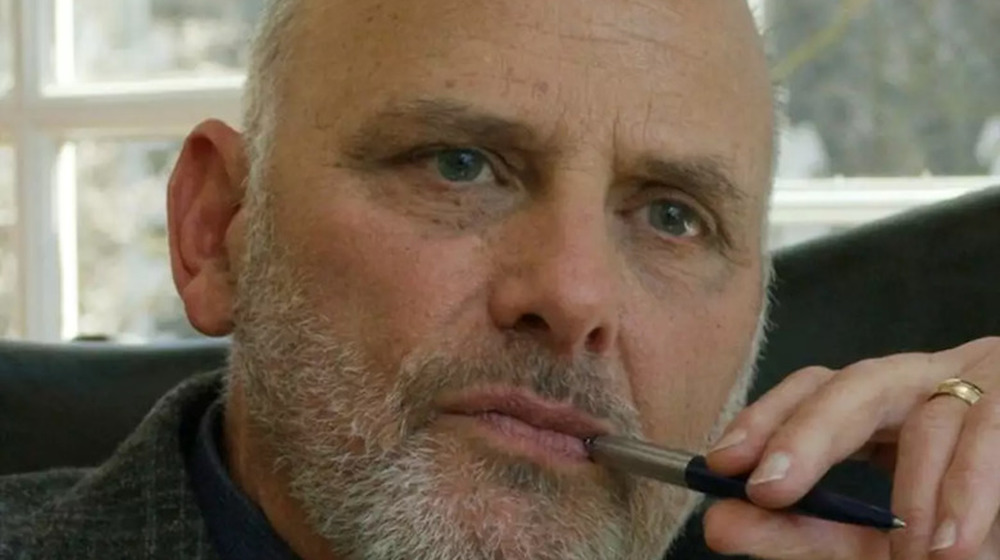 Evil/CBS
As Kristen's therapist, psychiatrist Dr. Kurt Boggs provides a steady foundation and mentor figure for her. As he starts getting pulled into the dark world of Catholic exorcisms and the supernatural, Boggs is often the moral compass and voice of reason. He often questions the Church's methods of exorcism on people he believes to be schizophrenic, not possessed, and Kurt Fuller plays Boggs with understated perfection as a man deeply uncomfortable with what he sees as ethical lines being blurred. 
With 206 IMDb credits to his name, Fuller is one of those ubiquitous character actors you know you've seen before but just can't place. It's hard to boil his long resume down to just a few roles. Supernatural fans will recognize him from his recurring role as high-ranking angel Zachariah, while Psych fans will recall his longtime stint as the eccentric coroner Woody Strode. You may also recognize him from his more serious work as Judge Peter Dunaway on The Good Wife or as Dr. Bledsoe in Parenthood. If you're more of a movie watcher, he's had a number of small but notable roles in film as well, playing John in Woody Allen's Midnight in Paris, Councilman Luke in Mr. Woodcock, kind-hearted CEO Walter Ribbon in The Pursuit of Happyness, the sheriff in Scary Movie, and for, fans looking way back, nerdy TV director Russell in Wayne's World and weaselly mayor's assistant Jack Hardemeyer in Ghostbusters II. Yeah — he's been around a while. 
Marti Matulis -- George/Devil Therapist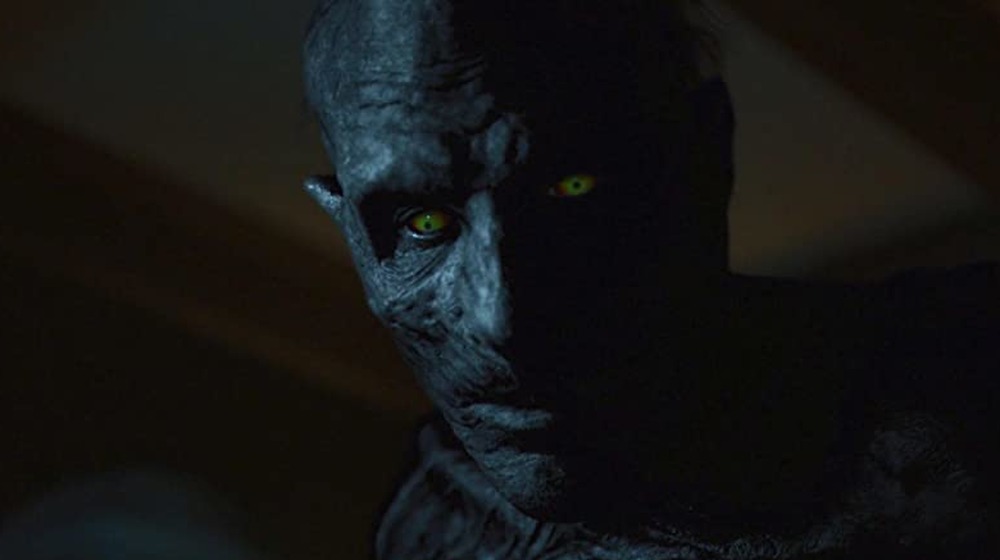 Evil/CBS
Marti Matulis is an interesting case because he's the most important character on Evil whose face you never actually see. He plays George, a sarcastically evil apparition that comes to Kristen in her night terrors, as well as a demonic goat man seen in the Season 1 finale but who may become more important in Season 2. George's presence is ambiguous — he may be a figure of Kristen's stressed-out mind or he may be an actual demonic entity tormenting her. Similar to Doug Jones, Matulis is an actor whose face you rarely ever glimpse but whose characters you recognize, with his first memorable role being one of the lizard-like Sleestak creatures in Will Ferrell's remake of Land of the Lost. 
Harry Potter fans and internet junkies may recognize him from his role as Stretch on web series Harry Potter and the Ten Years Later. More mainstream genre audiences will arguably best know him from playing the Piggy Man on American Horror Story. He played a number of roles on Sleepy Hollow, but his most recognizable one was the gunpowder-obsessed demon Yao-Quai. Same with Teen Wolf, in which Matulis played three different, notable characters: antagonist The Surgeon, the leader of the Dread Doctors; Ghost Rider the Outlaw; and mythological supernatural entity Anuk-Ite. 
Boris McGiver -- Monsignor Matthew Korecki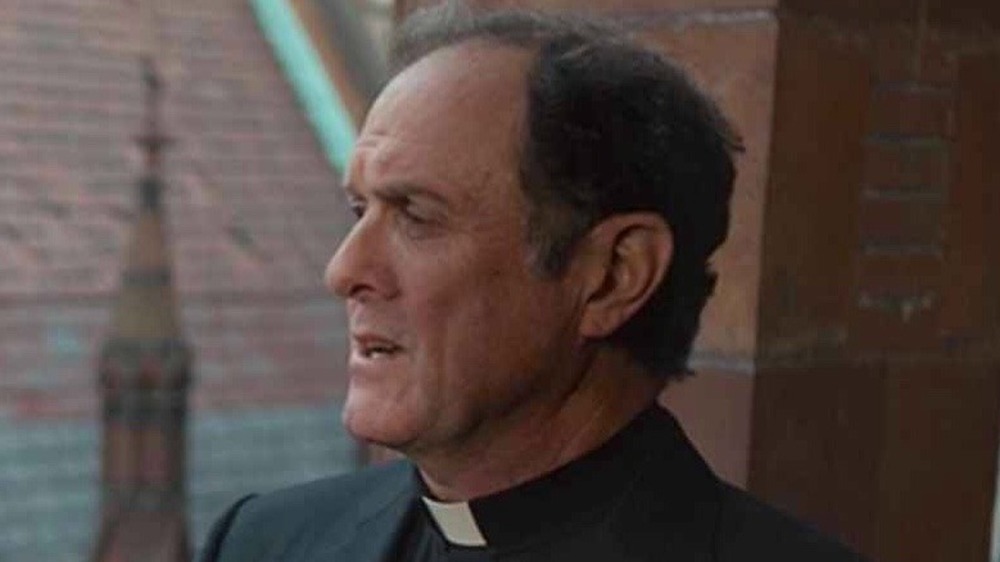 Evil/CBS
As David's direct superior and essentially his boss, Monsignor Matthew Korecki is not in the series as much as the main cast but his influences is felt throughout the show. A deeply spiritual but pragmatic man, he's the one who sends the team to investigate potential possessions after weighing the evidence. As the monsignor, Boris McGiver exudes a compassionate world-weariness but is no less perceptive for it. As with others on the list, McGiver is a veteran character actor with a number of notable roles that audiences will recognize him from, none more so than House of Cards, where he played the longtime, no-nonsense editor-in-chief of The Washington Herald. 
McGiver is also recognizable from his stint as Sheriff Jacob Lindsay on HBO Prohibition-era drama Boardwalk Empire, or from his roles as government operative George Hersh on Person of Interest and Lieutenant Charles Marimow on acclaimed series The Wire. As far as movies go, film lovers may have seen him playing Alexander Coffroth in Steven Spielberg's Academy Award-winning Lincoln.
Clark Johnson -- Father Amara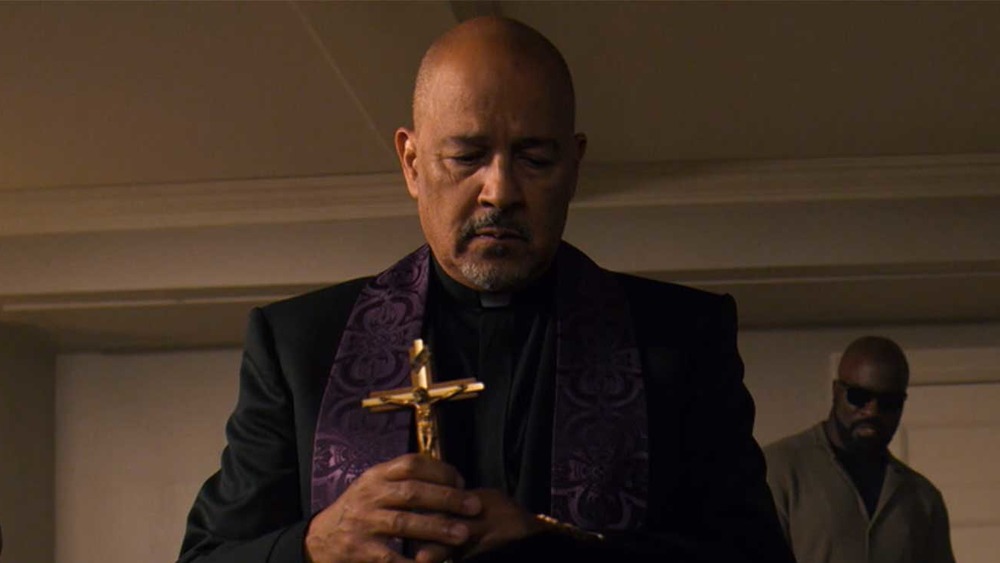 Evil/CBS
If Monsignor Korecki is David's voice of pragmatism in the Church, then Father Amara is David's spiritual advisor in supernatural matters. He devoutly believes that demons exist and he taught David everything he knows about exorcisms and demonic possession. With David still being in training, he often calls Father Amara for a second opinion or as backup during difficult exorcisms. However, Father Amara's zealous belief sometimes blinds him to the fact he may be dealing with someone with a mental illness, not true demonic possession. 
Johnson has been around a while — 80s fans will be surprised to recall that he was the gang leader in cult classic Adventures in Babysitting, and starred as Detective Jefferson in pulpy 80s crime drama Night Heat. Johnson's true breakout and most notable role, however, was playing another detective, Meldrick Lewis, on the long-running Homicide: Life on the Street, parlaying that into a stint on the equally acclaimed The Wire as City Editor Augustus 'Gus' Haynes. Comedy fans may remember his turn as Senator Robert Bettencourt on political satire Alpha House, while more recently, he's been seen as civil rights attorney Howard Elias on Bosch. 
Peter Scolari -- Bishop Thomas Marx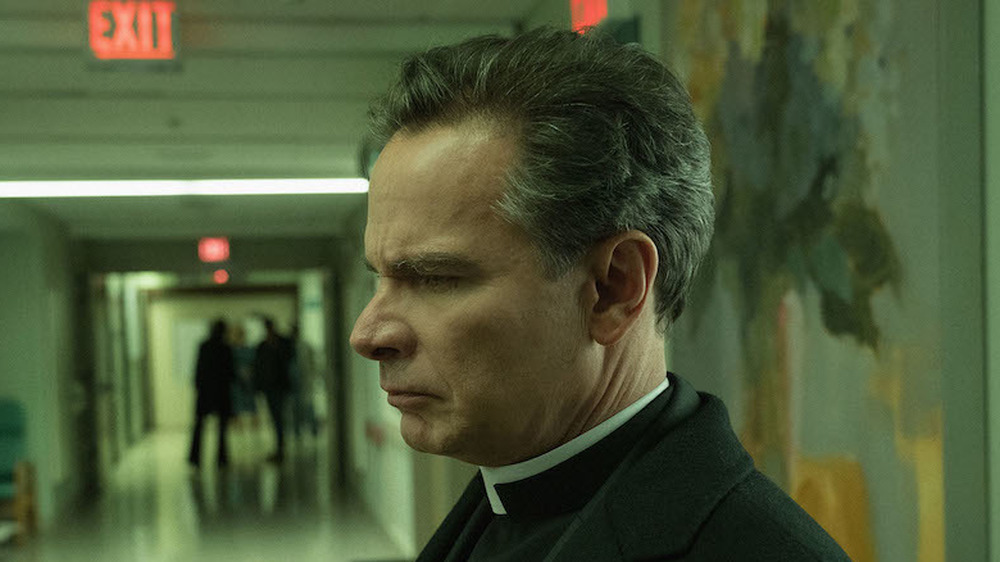 Evil/CBS
Similar to Monsignor Korecki, Bishop Thomas Marx isn't in the show often, but he's set to play a much larger role in the second season. He's rather new to the world, being reassigned to David's church after David's team draws attention to itself for both an exorcism gone wrong and the mystery they're uncovering. Bishop Marx is a shady character, there to clearly keep an eye on David's team and report back to the Vatican, but it's as yet unclear if Peter Scolari's character will be friend or foe to the team.
If you think you haven't seen Peter Scolari in anything before, you're wrong — you've definitely seen Peter Scolari. The younger generation will recognize him from his Emmy-winning guest role as Tad Horvath on Girls or as Commissioner Loeb on Gotham, or even from his longtime role playing Wayne Szalinski on childhood favorite Honey, I Shrunk the Kids: The TV Show. He was also a groundbreaker long before Freaks & Geeks or Silicon Valley, playing nerd Warren Mosbey on '90s comedy Dweebs. And a slightly older generation (or fans of classics) will, of course, know him as TV producer and boss Michael Harris from all eight seasons of beloved sitcom Newhart. Before that, he portrayed Henry/Hildegarde Desmond opposite Tom Hanks in '80s cult hit Bosom Buddies, which launched both Scolari's and Hanks' careers.
Karen Pittman -- Caroline Hopkins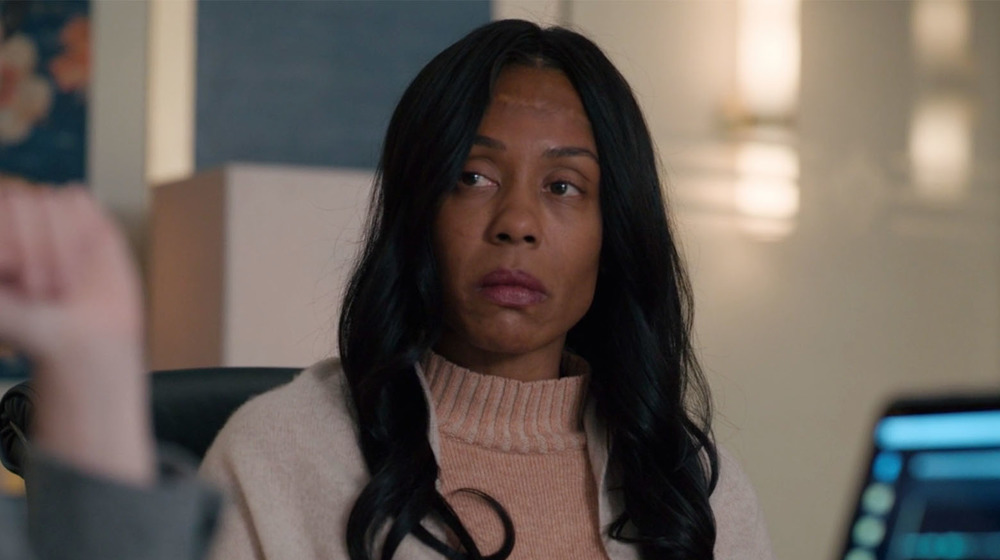 Evil/CBS
As with a number of guest stars on Evil, Caroline Hopkins is a small role but a memorable character that may hold greater impact for the future of the series. As a woman who may or may not be possessed, Caroline is the catalyst for fractures among the team, with the often torturous exorcism methods of Father Amara and even David bringing them into conflict with the medical ethics of Dr. Boggs and Kristen. Pittman skillfully plays Caroline as a woman caught between lucidity and insanity, a woman who may be hosting a demonic entity or just deeply mentally ill. 
Pittman is a relative newcomer, with her breakout role playing Elizabeth's mark and Alcoholics Anonymous friend, Lisa, on FX's critically acclaimed Cold War drama The Americans. However, comic book fans will definitely know her from her previous team-up with Mike Colter, Marvel's Netflix hit Luke Cage, where she played no-nonsense veteran Deputy Chief Priscilla Ridley. Pittman has also had a number of memorable recurring TV roles in the last two years, playing Lenore Pool in the Paul Rudd-led dramedy Living With Yourself, FBI Agent Vanessa Kroll on Homeland, Market Equities CEO and antagonist Willa Hayes on Yellowstone, and producer Mia Jordan on the drama The Morning Show. As for movies, you may recognize her from her roles as Dismukes' mother in Kathryn Bigelow's brutal historical drama Detroit, or her brief appearance as a reporter in The Bourne Legacy.
Renée Elise Goldsberry -- Renée Harris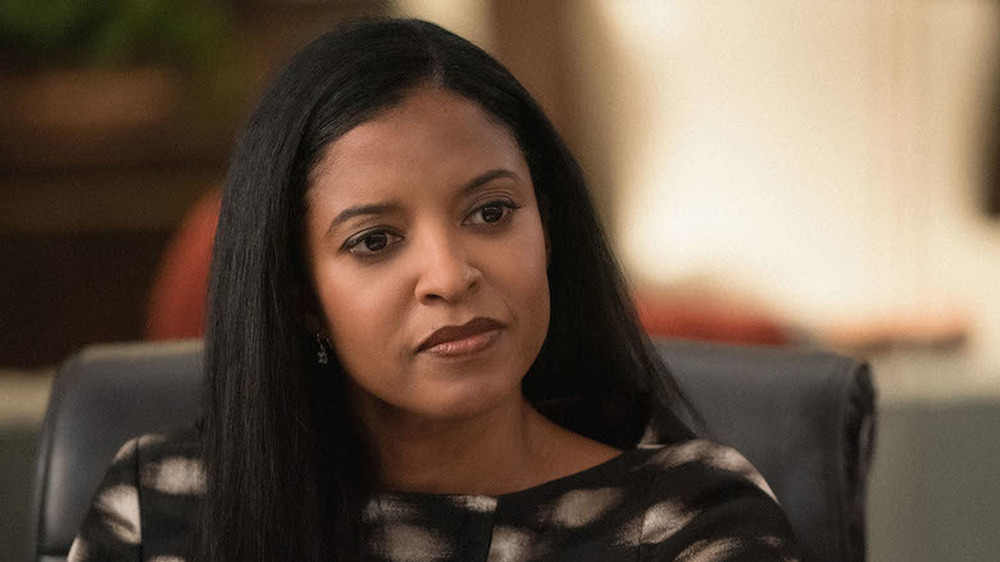 Evil/CBS
Renée Harris enters the fray when Caroline Hopkins sues the Church for the exorcism conducted on her, and Renée Elise Goldsberry plays the sharp and ruthless attorney to perfection. As the sister of David's dead former fiancée, Renée upends David's life when she reveals she's harbored feelings for him for quite some time. Goldsberry deftly balances the devious, driven lawyer with moments of vulnerability and real concern for David's well-being. It's similar to her most famous role in which she played an intellectual match but forbidden romantic fruit — Angelica Schuyler in the original Broadway cast of Hamilton. 
As she moved from the stage to the screen, clever fans will recognize her from playing one of the regular backup singers at the bar the Ally McBeal main characters frequented after work, or from her very, very long stint (we're talking nine years and 269 episodes) playing Evangeline Williamson in long-running soap opera One Life to Live. Like many guest and supporting actors in the Evil cast, Goldsberry also had a regular stint on The Good Wife, playing lawyer Geneva Pine. More recently, she played love interest and ruthless freedom fighter Quellcrist Falconer on Netflix's sci-fi series Altered Carbon. Younger audiences may know her as the secondary antagonist Selena Izard from horror-comedy kids' movie The House With a Clock in Its Walls. Goldsberry can honestly do it all — and she clearly has.