Will Smith's Best Co-Stars Ranked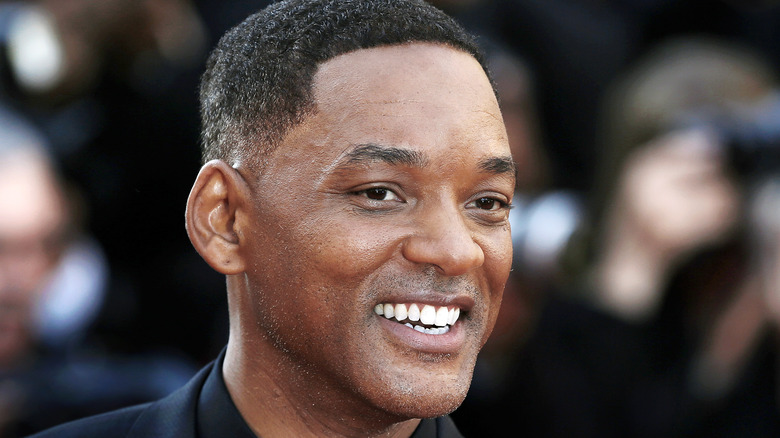 Andrea Raffin/Shutterstock
Every new generation of Hollywood witnesses the elevation of a handful of actors from the ranks of A-listers to bonafide superstars. These individuals can single-handedly open a movie at the box office to giant numbers based on their appeal to the public alone. While some say the age of the Hollywood superstar has passed, certain members of the list are still standing strong. 
Will Smith is one such genuine superstar who has dominated Hollywood for decades. From his early days as a hip-hop artist-turned-television-star, to his initial forays into movies, to becoming one of the biggest celebrities on the planet, Smith has crafted an exemplary career filled with fantastic highs and some inevitable lows.
One thing that separates Smith from other stars of his caliber is how often he is willing to share the spotlight with a fellow actor in the lead. Over the years, Smith's easygoing charisma has been ably supported by various co-stars and created memorable chemistry onscreen. Here is a rundown of the best cinematic couplings of Will Smith going right back to his earliest days as an actor. 
15. Kevin Kline (Wild Wild West)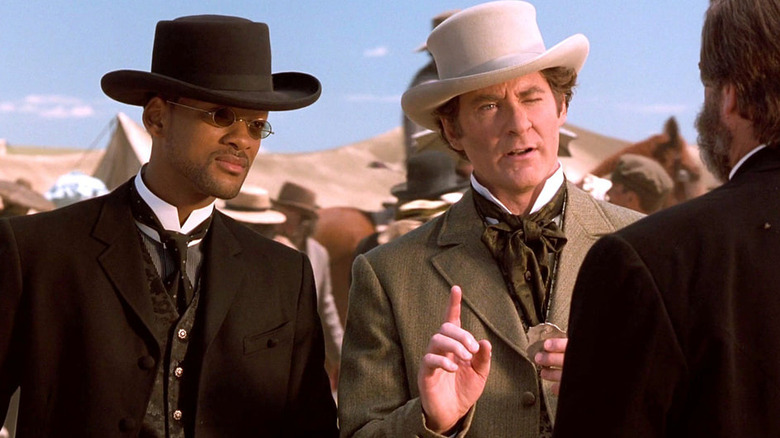 Warner Bros.
During the '90s, Will Smith's stardom was at its peak. The actor starred in huge hits such as "Bad Boys," "Men in Black," and "Independence Day" within years of each other. It seemed like Smith could do no wrong at the box office. And then he did — by turning down the lead role in a strange new sci-fi movie being developed called "The Matrix."   
It was a decision that Smith still regrets to this day. Instead, he opted to star in a 1999 film remake of an old tv show called "Wild Wild West." The project looked promising, and Smith's fans loved the idea of the actor playing a swashbuckling cowboy. The movie was also being directed by Barry Sonnenfeld, who had previously collaborated with Smith on "Men in Black." Starring opposite Smith was Kevin Kline, an established actor in his own right with a distinguished career in films and theater.   
Unfortunately, "Wild Wild West" did not turn out to be the sure-fire hit the hoped it would be. Much of it had to do with the weak chemistry between Smith and Kline. There was little in the way of camaraderie between the two leads of the movie, with film critic Janet Maslin commenting about the movie for The New York Times that "its characters share no common ground or emotional connection." 
14. Matt Damon (Legend of Bagger Vance)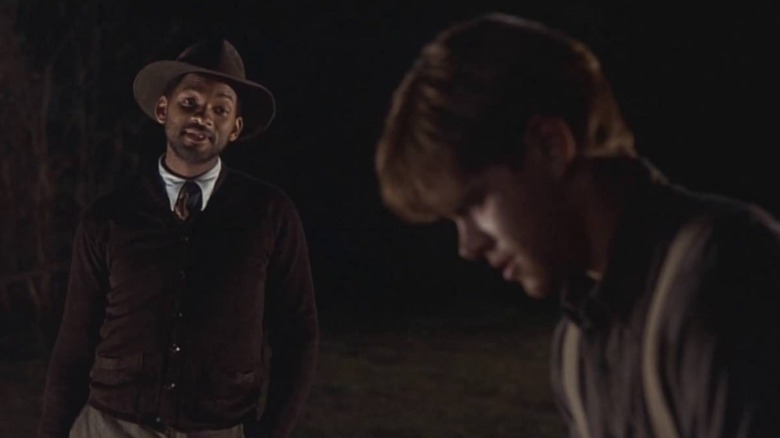 DreamWorks Pictures
There are some stars who are well known for getting along with everyone on set. Will Smith is one such celebrity known for being a charming and friendly dude with everyone. Matt Damon is another actor who has frequently been praised for his humble and down-to-earth approach to stardom.
You would think two such personable stars would get on like gangbusters and light up the screen together. However, that did not end up happening in the 2000 film "The Legend of Bagger Vance." Damon played Rannulph Junuh, an ex-golfer who is having trouble getting back into the game after some traumatic experiences during World War 1. Junuh gets unexpected help when a mysterious man who calls himself Bagger Vance (Smith) offers his services as a caddie.
With Vance's seemingly supernatural help, Junuh gets past his mental issues and reclaims his position as an ace golfer. Unfortunately, the nature of the story and Junuh's troubled characterization did not allow for Smith and Damon to exhibit any of their off-screen charisma towards each other in a way that would make for a memorable screen pairing. The duo were also criticized at the time. The Boston Globe reported that acclaimed filmmaker Spike Lee (via ABC News) slammed Smith and Damon for participation in a project that whitewashed the deeply troubled nature of race relations during that time period. 
13. Mena Massoud (Aladdin)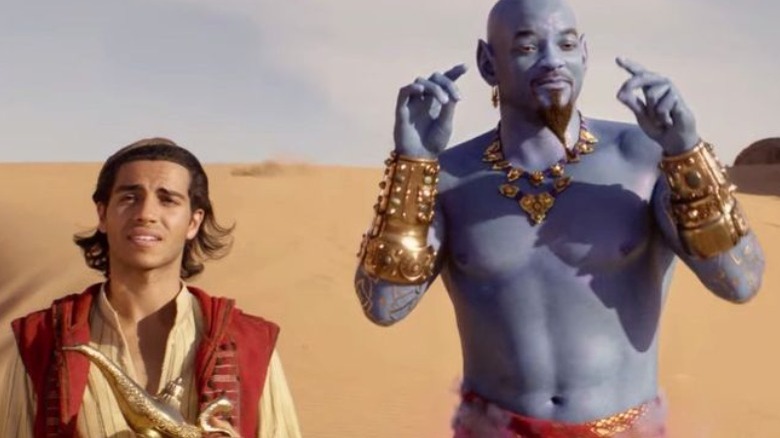 Walt Disney Studios Motion Pictures
From "The Legend of Bagger Vance" we move to 2019's "Aladdin," another movie where Will Smith plays a character with supernatural powers who needs to give life-changing advice to the protagonist. This time Smith's problem wasn't possible accusations of promoting reductive stereotypes in film, but living up to the example set by Robin Williams as Genie in "Aladdin."
Smith acquitted himself quite well in the role. Instead of copying what Williams did, Smith relies on his prodigious natural charisma to give a new spin to the cheerful, wise-cracking Genie. Unfortunately, Mena Massoud as Aladdin has to struggle to keep up with Smith's overpowering onscreen presence when the latter actor was busy going all out in the role of the magical problem solver. 
The result is that the 2019 version of "Aladdin" works best when Smith is onscreen doing his own thing but tends to drag a bit when Massoud's much more low-key leading character is part of the scene. It doesn't help that Genie's little side-romance with the princess' maid Dalia (Nasim Pedrad) is rather more interesting than Aladdin's more timid attempts to get with Jasmine (Naomi Scott).  
12. Jeff Goldblum (Independence Day)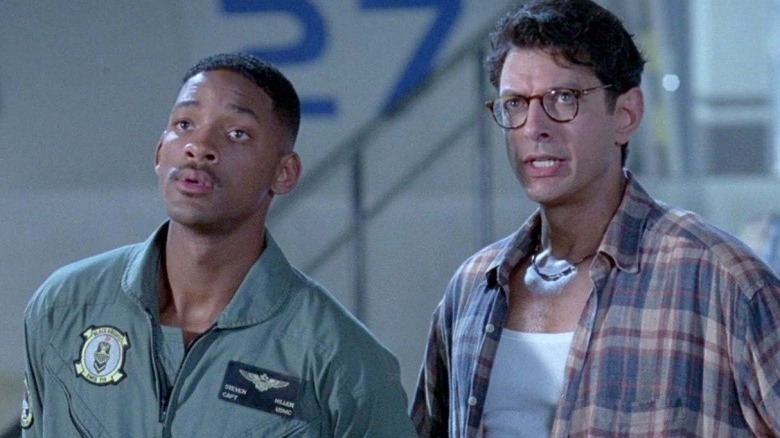 20th Century Fox
In many ways, 1996's "Independence Day" was the movie that turned Will Smith from a reliable A-lister into a global superstar. Smith gave a breakout performance as Captain Steven Hiller, a F/A-18 pilot who unexpectedly finds himself at the center of the world's plan to overthrow an ongoing alien invasion. 
"Independence Day" was not the type of movie where characters could chat in relaxed environs to display their chemistry with each other. Instead, Smith's character joins up with Jeff Goldblum playing the role of David Levinson, an MIT-educated satellite engineer who figures out a way to use the aliens' technology against their armada. 
Hiller and Levinson were not friends but rather comrades-in-arms on a highly dangerous mission to shut down the alien mothership in space. Smith and Goldblum expertly played off each other, and the different walks of life their characters came from added believably to their off-kilter chemistry. It is unfortunate that Smith did not join Goldblum in reprising their roles for 2016's "Independence Day: Resurgence." However, considering the movie's reviews, maybe Smith's reluctance to join the sequel was the right call after all. 
11. Charlize Theron (Hancock)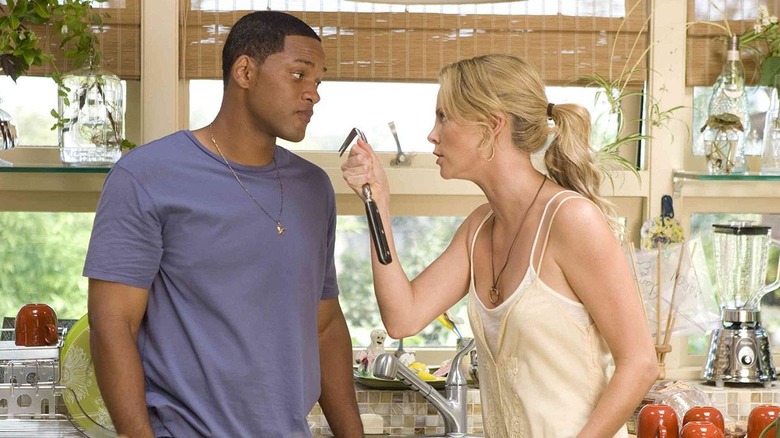 Sony Pictures Releasing
Will Smith has generally been at the top of blockbuster trends throughout his career, whether it was sci-fi, disaster films, or good old-fashioned shoot 'em ups like "Bad Boys." One trend that the actor was a relatively late arrival to was superhero movies. After apparently passing on the lead in "Superman Returns," Smith made his entry into the genre with 2008's subversive take on the Man of Steel archetype, "Hancock."
Smith played the titular role of an alcoholic superhero who does not know how he got his mighty abilities and is saddled with a murky past that he does not remember. Smith is unexpectedly good at playing the opposite of his usual charming self, and he is further aided by excellent fellow cast members, Jason Bateman and Charlize Theron. It is Theron, as Mary, who ends up having the best scenes with Smith, as it is revealed that they are both part of the same race of very long-lived supernatural beings who are inevitably drawn to each other over space and time. 
Unfortunately, while the prospect of watching an entire movie that dives deeper into the relationship between Hancock and Mary is attractive to fans and the actors involved, Theron stated during a 2020 interview for ComicBook.com that it might not happen. "You know, for a while we [talked about a "Hancock" sequel]," she stated. "I think closer to when the movie came out, but not in recent years, no. We'll be superheroes with our walkers, you know. And I'll still go! I'll still make that movie, I would do it in a heartbeat."
10. Gene Hackman (Enemy of the State)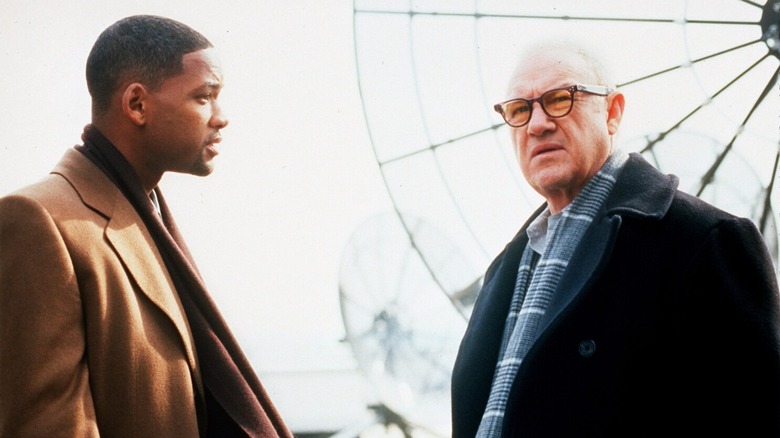 Buena Vista Pictures
For most of his career, Will Smith played larger-than-life characters, from gunslingers to master assassins to literal magical deities. He even played Muhammad Ali himself. 1998's "Enemy of the State" was one of the rare outings where Smith played a relatively grounded character opposite screen legend Gene Hackman. 
The story deals with a group of NSA agents who conspire together to eliminate a member of Congress and the steps they take to cover their tracks when evidence of the murder winds up in the hands of a lawyer. Smith plays the role of the lawyer whose life is destroyed by the NSA in their efforts to relieve him of the piece of evidence. Hackman is the former NSA communications expert who secretly works with Smith's character to clear his name and nab the real culprits. 
The movie takes many liberties with its depiction of the NSA, but the dynamic between Smith and Hackman's characters is much more believable. Their chemistry helps ground the more fanciful flights the narrative of the film occasionally takes, and Smith acquits himself very well in such a serious, down-to-earth role opposite the legendary Hackman.  
9. Joel Edgerton (Bright)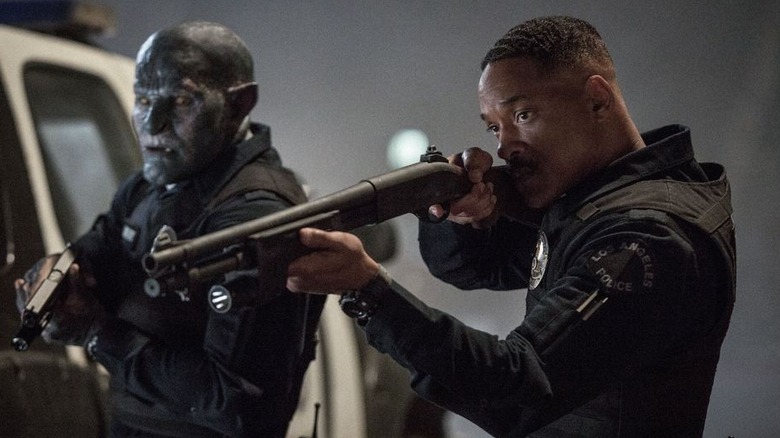 Netflix
By the early 2010s, it was becoming clear that the rise of streaming services was no fluke. As those services began developing their own content, it became apparent that traditional Hollywood studios were going to get some serious competition from sites like Netflix and Amazon Prime in the coming years. A-list actors who would formerly have never dreamed of working for a streaming service were also changing their minds and hopping onboard.
Will Smith made the jump to starring in a Netflix production in 2017. The actor teamed up with his "Suicide Squad" collaborator director David Ayer for "Bright." Also in the mix was Joel Edgerton as the co-lead opposite Smith. The movie tells the story of a world where humans coexist with fairy creatures in the present day. Smith plays the role of LAPD officer Daryl Ward who finds that his new partner is Nick Jakoby, who happens to be the nation's first orc police officer.  
Despite some interesting world-building, "Bright" often struggles to get off the ground under the weight of its own ambitions. The one thing that makes the narrative work is the chemistry that the two main characters bring to the table. The movie did well enough to have Netflix announce a sequel, with both Smith and Edgerton expected to reprise their roles.  
8. Stockard Channing (Six Degrees of Separation)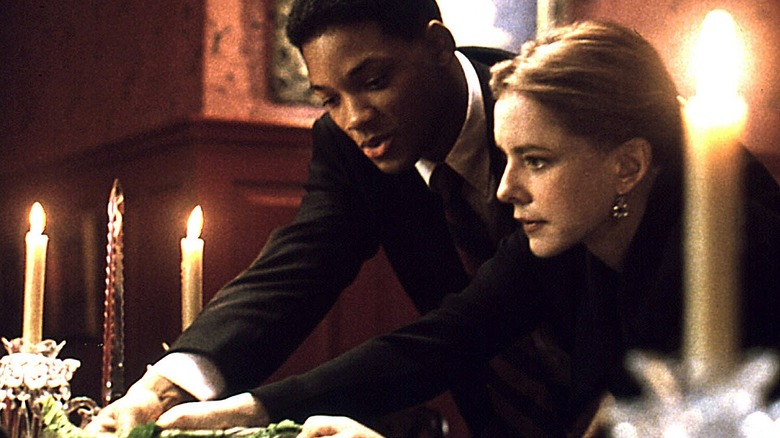 Warner Bros.
While Will Smith developed a reputation for taking up safe roles that always posit him as the hero of the narrative, the actor has never been afraid of mixing things up with morally questionable roles. Case in point, 1993's "Six Degrees of Separation," in which Smith plays the role of a charming con man and all-around rogue. 
The movie was based on a 1990 play of the same name. Smith stars as Paul, a charming young man who tumbles into the glamorous but uneventful life of wealthy urbanites Ouisa Kittredge (Stockard Channing) and her husband Flan (Donald Sutherland). Claiming to be a friend of their children from college, Paul expertly ingratiates himself with the Kittredges while planning a con. The film had a powerful effect on Smith, mainly because he started to develop feelings for his co-star Channing.
The actor took his preparations for the role of Paul seriously, choosing to stay in character even when the cameras were not rolling. As Smith reveals in his memoir "Will," from an excerpt in People magazine, "[My wife at the time, Sheree Zampino, had] married a guy named Will Smith and now she was living with a guy named Paul Poitier," Smith writes. "And to make matters worse, during shooting I fell in love with Stockard Channing." Smith's difficulty with getting over his feelings for Channing, partially due to his commitment to playing Paul, actually led him to swear off method acting for a while. 
7. Kevin James (Hitch)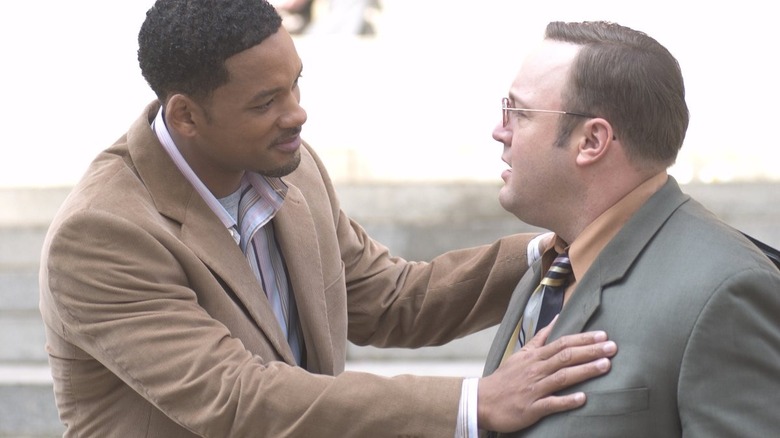 Sony Pictures Releasing
Even at the start of his acting career, back when Will Smith was mainly known as a musician and had yet to prove his acting chops, everyone agreed he had more than enough charisma to carry leading man roles. While occasionally willing to tamp down that natural charisma, Smith often works best when he is allowed to let loose with his charm, and the best evidence of that charm can be seen in 2005's "Hitch."
Smith plays a relationships expert named Alex Hitchens, who has made a career out of helping men find love using creative ways. Hitch believes that any man has the chance to get with any woman using the right approach. His philosophy gets tested when Albert Brennaman (Kevin James) comes to Hitch seeking help to get into a relationship with millionaire socialite Allegra Cole (Amber Valletta).
"Hitch" is as charming a rom-com as you could hope to see, and the centerpiece of the entire story is the relationship between Smith and James' characters. Hitch's efforts to make Albert into a more dynamic version of himself are responsible for most of the comedy in the movie. Beyond that, the chemistry between Smith and James makes the pairing one of the best student-teacher relationships in recent movie history.  
6. Saniyya Sidney and Demi Singleton (King Richard)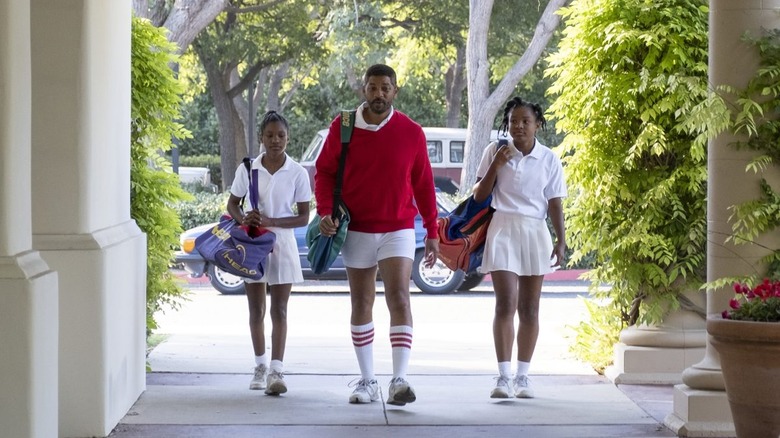 Warner Bros. Pictures
With the inevitable march of time, Will Smith's position as Hollywood's leading man has naturally seen a shift. From playing the young rookie, Smith has gradually been making the transition to playing the elder statesman of the group. In that vein, Smith recently starred in the 2021 biographical drama "King Richard" as Richard Williams, the father and coach of tennis celebs Venus and Serena Williams.
The movie is told from Richard's perspective as he dreams of making his daughters into tennis champions while also doing his best to shield them from the glare of the public spotlight. At the center of the narrative is the loving, yet at times troubled, relationship between Richard, Venus (Saniyya Sidney), and Serena (Demi Singleton). The actors exhibit sparkling chemistry as their characters move from city to city and from court to court as they chase their dream of tennis stardom. 
Smith is a natural fit in the role of the ambitious but protective father, and Sidney and Singleton ably match up to his performance in their scenes together. There is no sign of Will Smith the superstar in Richard's portrayal, and the result is a genuinely moving biopic about the nature of fame set against the effects of race and class consciousness that permeates society.   
5. Jaden Smith (After Earth, The Pursuit of Happyness)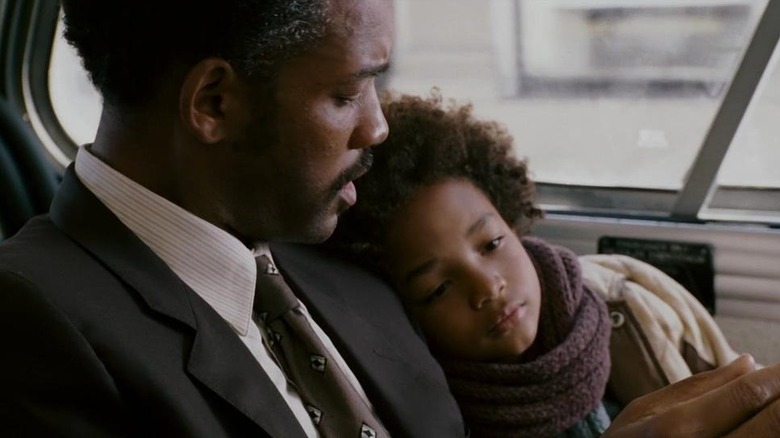 Sony Pictures Releasing
Given that they are father and son, it is no surprise that Will Smith and Jaden Smith have believable chemistry onscreen. The elder Smith first teamed up with his eight-year-old son for 2006's "The Pursuit of Happyness," a heartfelt biographical drama where Will Smith played Chris Gardner, a homeless man struggling to provide a better living for his son and himself.
The movie centers around Gardner's battle to get him and his son back on their feet after a year of being homeless. Despite his young age, Jaden Smith is completely comfortable in front of the camera in his debut role, and his easygoing camaraderie with his father's character is the main highlight of the movie. The two Smiths then teamed up in front of the camera once again in 2013 for M. Night Shyamalan's sci-fi action thriller "After Earth."
This time Will Smith played a much more stern father figure as Cypher Raige, a renowned warrior. When he is incapacitated, he must guide his inexperienced son Kitai, played by Jaden Smith, from a distance to get help on a post-apocalyptic Earth teeming with dangerous monsters. "After Earth" was released to heavily negative reviews, via Rotten Tomatoes, but the chemistry between the two Smith leads once again came in for praise.      
4. Margot Robbie (Focus, Suicide Squad)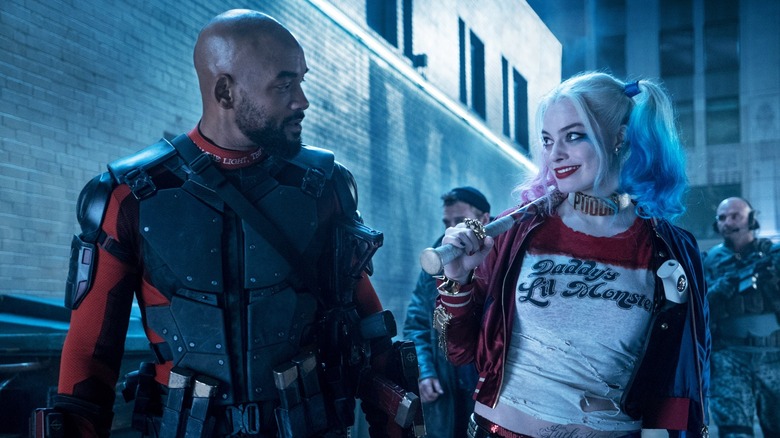 Warner Bros. Pictures
It is a strange aspect of Will Smith's career that despite being known for having sparking chemistry with his co-stars, most of them are male. There are few onscreen romantic pairings from Smith's career that have particularly stood out. One standout female co-star for Will Smith, however, is found in Margot Robbie.
The two first got together for 2015's "Focus," where Robbie played an up-and-coming con artist taken under the wing by Smith's older, more experienced career criminal. Despite getting mixed reviews from critics, via Rotten Tomatoes, audiences loved the lead pairing, and the movie managed to perform reasonably well. 
Smith and Robbie then teamed up once again to lead 2016's "Suicide Squad." Despite Robbie's role as Harley Quinn, the Joker's (Jared Leto) girlfriend, and Smith playing Deadshot, who only wants to get back to his daughter, the two had the most interesting relationship in the entire ensemble cast. Their chemistry was so evident that many fans speculated Deadshot and Harley might have been romantically involved. This plot point was confirmed by the director of the movie, David Ayer, on Twitter as having been a part of the original script before the studio made drastic edits to Ayer's original vision for the film. 
3. Alfonso Ribeiro (The Fresh Prince of Bel-Air)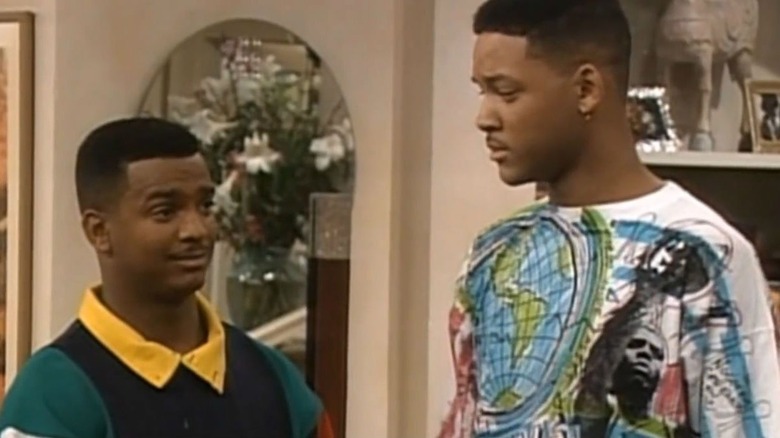 Warner Bros. Television Distribution
Way before the blockbusters and joining the Hollywood A-list, Will Smith was a young rapper and musician who called himself The Fresh Prince. Despite already having found money and fame in his musical pursuits, Smith nursed a desire to extend his talents into the world of acting. As a first step, Smith elected to play the lead role, also named Will, in the classic sitcom "The Fresh Prince of Bel-Air." 
Knowing that this was Smith's first attempt at acting, the producers of the show felt it would be better for him to be surrounded by seasoned actors who could help Smith navigate the demands of the lead role. Thus, they chose Alfonso Ribeiro to star opposite Will Smith's character as his cousin, Carlton. Unlike Smith, Ribeiro had been acting from a young age and was a distinguished performer on television and Broadway.
Together, Smith and Ribeiro became the backbone of "The Fresh Prince of Bel-Air." Their onscreen chemistry also extended to their friendship, and Smith credits Ribeiro with giving him the idea to name his character on the show after his real name so audiences find it easier to identify him. Even though the show ended decades ago, the bond between Smith and Ribeiro still appears strong, as evidenced by their impromptu dance party on "The Graham Norton Show."
2. Martin Lawrence (Bad Boys)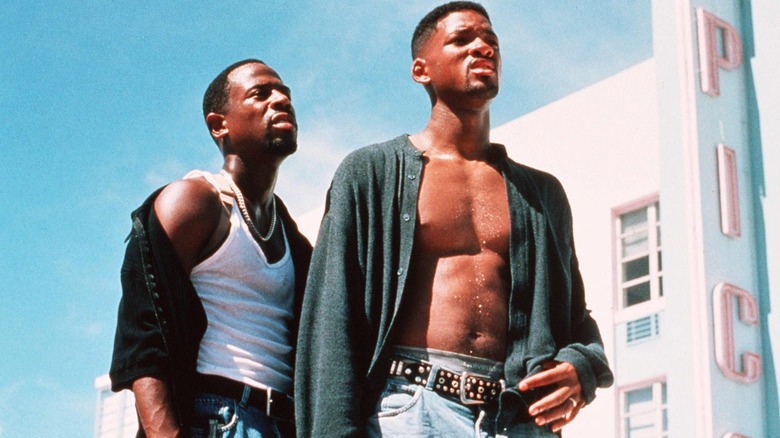 Sony Pictures Releasing
By the mid-90s, Will Smith had become a bonafide star, both as the musician The Fresh Prince and as the breakout star of the sitcom "The Fresh Prince of Bel-Air." Yet Smith had ambitions to reach even loftier heights as an actor by starring in films. He chose for his film debut a buddy-cop action with another television comedy star with plans to expand into movies, Martin Lawrence. 
The two starred in Michael Bay's 1995 directorial debut "Bad Boys." Smith and Lawrence played the roles of two narcotics detectives in Miami, Marcus Burnett and Mike Lowrey. The movie performed very well at the box office and is today regarded as a cult classic. "Bad Boys" also established Smith as both a leading man and an action star who could do more than comedy.
Smith and Lawrence followed up their success with two more "Bad Boys" movies in 2003 and 2020. Despite the advancing age of the lead stars, both films did very well at the box office. The final film in the trilogy, "Bad Boys for Life," also garnered solid reviews from critics, with David Ehrlich of IndieWire deeming it "a fun, explosive, and even thoughtful action movie."   
1. Tommy Lee Jones (Men in Black)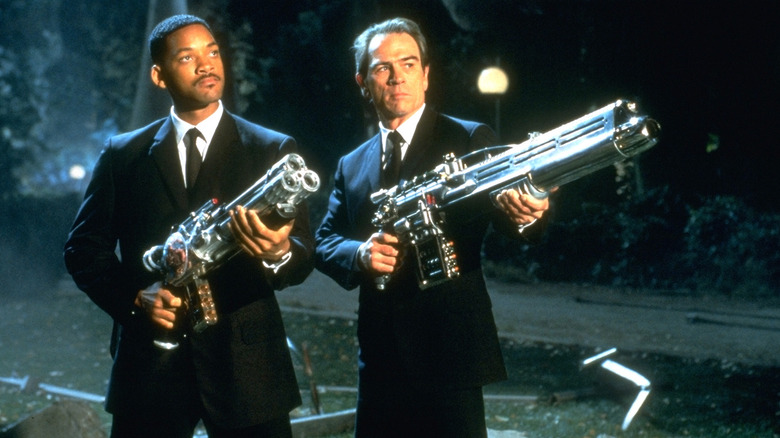 Sony Pictures Releasing
It is strange to consider that out of all of Will Smith's many and varied co-stars, the one he had the best chemistry with was also the one actor that Smith seems to have the least in common with at a personal level. In 1997, Smith signed up to appear alongside veteran actor Tommy Lee Jones in a strange little sci-fi action comedy movie "Men in Black." 
At the time, Jones had a reputation for being a serious dramatic actor. His previous attempt to work alongside a well-known comedian, Jim Carrey, in 1995's "Batman Forever," had not turned out very well for either Jones or Carrey. However, not only did Jones manage to make his chemistry with Will Smith work for "Men in Black," it ended up being the best part of the entire movie.  
The duo reprised their roles for two more "Men in Black" movies. Despite his reputation for being a difficult man to please, Jones has lavished praise on Smith in interviews. "Will is more generous than anyone, and he spreads joy," the actor stated in an interview (via Yahoo!). "He walks into a studio, walks onto a set, and ... he makes certain that everybody's happy. He can't help himself."