Here's What Will Smith Could Have Looked Like As Superman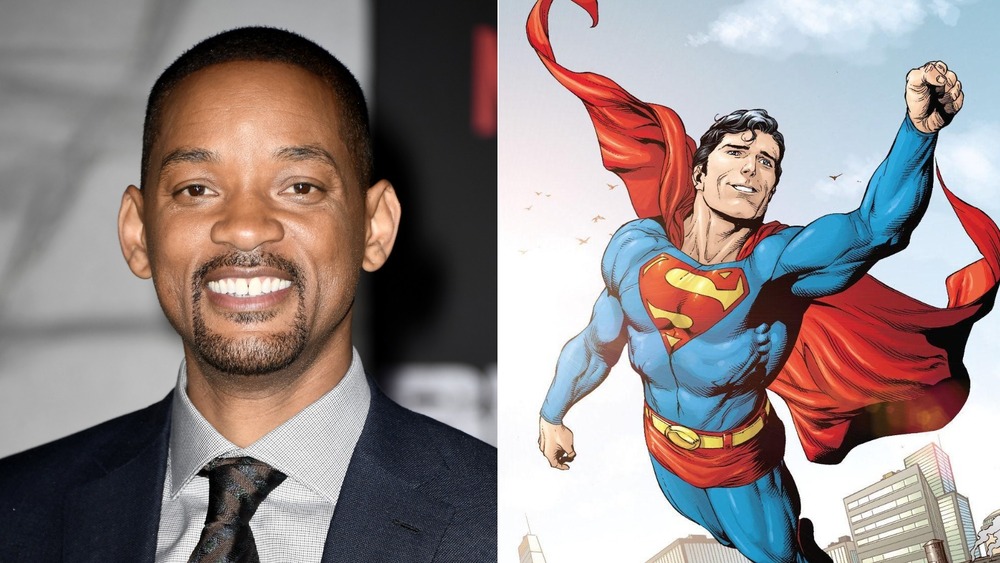 Frazer Harrison/Getty Images, Gary Frank/DC Comics
Hollywood is a crowded place, and precious few actors ever truly make a name for themselves. But Will Smith is one of the lucky ones. 
A household name thanks to his roles in the likes of The Fresh Prince of Bel-Air and Men in Black, Smith is also an uber-successful hip-hop artist. Over the years, Smith has even dipped his toes into the wide waters of the superhero genre, notably as the titular character of Hancock and as Deadshot in Suicide Squad. It's a little surprising that a big-name actor like Smith hasn't been in more super-movies, but that may have to do with a decision he made some time ago, back in the mid-2000s. Indeed, Smith turned down the biggest superhero role of all: Superman (via MTV).
For context, Smith wouldn't have been replacing Henry Cavill's version of the Big Blue Boy Scout first seen in Man of Steel, but rather Brandon Routh's iteration in the underperforming Superman Returns. No one knows what might have been if Smith had taken the role, but digital artist ApexForm has graced the world with the next best thing: fan art of what the actor would have looked like as the Last Son of Krypton.
The Fresh Prince of Steel
Taking to Instagram, ApexForm shared an incredible edit imagining how Smith would look in Superman's iconic costume. "The Prince of Bel-Air himself was almost the Last Son of Krypton. He was offered the role but was quick to turn it down. In another universe this wasn't fanart. Crazy to think what this DC cinematic universe grew to be," ApexForm captioned the creation.
It's fitting that ApexForm put Smith in Cavill's Superman suit, as the image has that sort of dark, foreboding aura the DC Extended tends to give off these days. Superman isn't the quippiest superhero on the block either, so that helps, too. Smith may be known for a slew of comedy roles, but it's not like he hasn't delivered more serious performances before. His turn as famed boxer Muhammad Ali in Ali is a perfect example, as is his role as a homeless salesman in The Pursuit of Happyness (both of which he earned Oscar nominations for). Combined with his ample action movie experience, Smith sounds like an ideal candidate to wear the big red "S" on his chest.
Serious though he may be, Superman isn't all about doom and gloom. He's a hero who inspires hope in others and encourages them to be the best they can be — things it's not hard to imagine Smith doing. Indeed, it's disappointing knowing that the role didn't pan out for Smith when you think of his big smile and positive attitude. The world may never see Smith in the famous red cape, but ApexForm's art definitely helps make up for it.