The Only Couple On NCIS: LA That Fans Support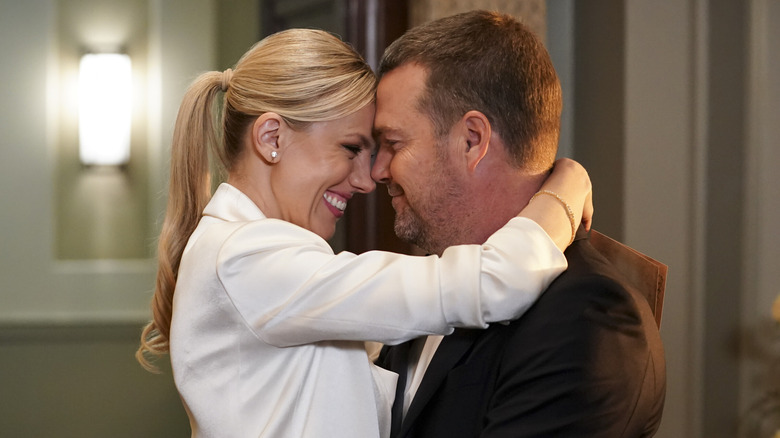 Sonja Flemming/CBS
"NCIS: Los Angeles" has been on CBS since the fall of 2009, and even though the show is 13 seasons into its run, it still averages over 5 million viewers per episode (Showbuzz Daily). It's an "NCIS" spinoff that takes place in the glitzy, glamorous southern California city, and stars hip-hop artist and actor LL Cool J, Eric Christian Olsen, and Linda Hunt, among others. 
There have been several romances that have come and gone during the show's history. This is pretty much a staple of network TV dramas. Romantic tropes like "will they, won't they," "friends to lovers," "enemies to lovers," and "fake relationship becomes real" are heavily relied on in order to keep viewers on the edge of their seats. And out of all the couples and romances which have been featured on "NCIS: Los Angeles" so far, there's one clear favorite that fans are voicing passionate support for.
Fans want Callen and Anna to go the distance
"NCIS: Los Angeles" fans on Twitter have been rooting for Callen (Chris O'Donnell) and Anna (Bar Paly) since as far back as 2018, as exemplified by this tweet from @MissKelliam: "Anna having [a] nightmare and Callen comforting her, I'm totally rooting for them #NCISLA." The tweet is accompanied by a GIF of a woman crying happy tears and pumping her fist in the air. Scrolling through that timeline shows similar sentiments reflected by passionate viewers, and even an interview with O'Donnell where ET Canada demands to know what will happen next for the two. It's clear that fans are deeply invested in their relationship and want them to get a happily ever after.
Conversely, fans are passionately unsupportive of Callen and his former flame Joelle (Elizabeth Bogush). And it's not hard to see why, especially if you're rooting for O'Donnell's character. Joelle really put him through the ringer emotionally after he found out that she was a CIA agent who already had a family before the two of them fell in love. Fans haven't been happy about her role on the show or in Callen's life since, accusing the writers of forcing her character into the script for drama (according to this Reddit thread from u/realclowntime).