Why Steve-O And Johnny Knoxville Almost Said No To Jackass Forever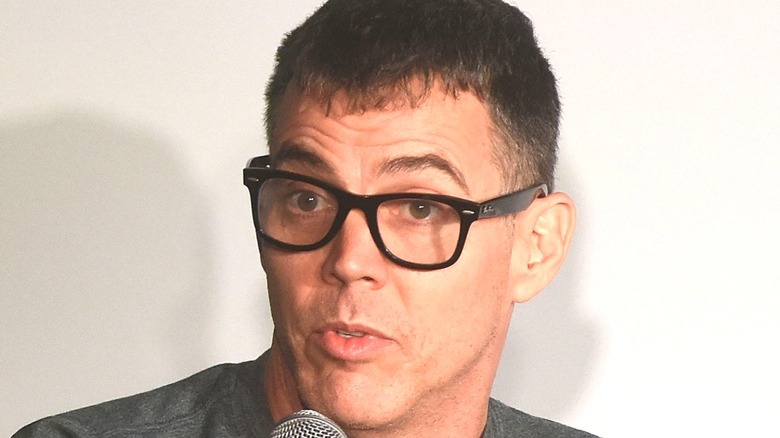 Bobby Bank/Getty
After much delay, the fourth and final "Jackass" movie is almost here. "Jackass Forever," which has been long delayed due to the COVID-19 pandemic, releases in theaters in February 2022. The fourth movie in the franchise promises to be as raunchy, exciting, and bizarre as the rest of the franchise, which earned cult classic status with an MTV series and an original film in the early 2000s.
"Jackass Forever" will feature Johnny Knoxville, Steve-O, and the rest of the series' cast (excluding Ryan Dunn, who died in a car crash in 2011, per the New York Times). Bam Margera will also return for one stunt in the film, although he was fired from the production and is now suing Paramount Pictures, Knoxville, and series director Jeff Tremaine (via Variety). The film's new cast members include Jasper Dolphin, Zach Holmes, Rachel Wolfson, Eric Manaka, and Sean "Poopsies" McInerney, among other cameo appearances.
Given that 12 years have passed since the last "Jackass" film was released, the series' main cast and fan favorites have aged considerably. According to GQ, Knoxville already confirmed back in May of last year that this film will be his last contribution to the "Jackass" franchise, and it seems the series' creators genuinely doubted whether making a fourth film was worth the increasingly high risk of serious injuries.
Physical health concerns gave the Jackass crew pause on a new movie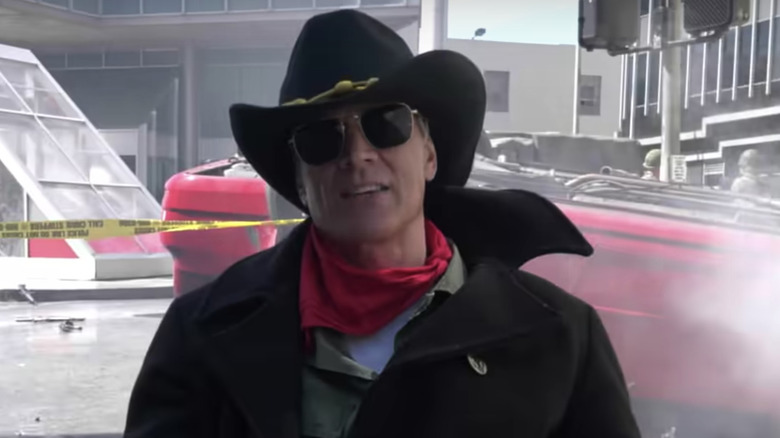 Paramount Pictures/Youtube
Steve-O and Johnny Knoxville recently told GQ that, as you might have guessed, the toll their bodies take performing "Jackass" stunts made them uneasy about a fourth movie for some time. "Filming Jackass at this age is much the same as it ever was, with two big differences," Steve-O said. "Our bones break significantly easier. And it takes less to knock us completely unconscious. Plus [it takes] longer to wake up."
Knoxville, who told Vanity Fair in 2018 that he received 4 concussions filming the movie "Action Point," said to GQ that he was worried about getting even more concussions when it came to a new "Jackass" film. "I can't afford to have any more concussions," Knoxville said, explaining that he didn't want to force his family to experience the hardship associated with him getting injured that way. Knoxville also said that for a number of years, he simply didn't "feel the need or desire" to go ahead with a fourth "Jackass" movie. 
Steve-O agreed that he had been satisfied with 2010's "Jackass 3D" as their final movie and emphasized that the "Jackass" team approached every movie like it was their final production anyway. He even worried accidents during production on a new movie could tarnish the entire series' reputation.
"I thought going into Jackass 4, after everything we've been through, and everything we've built, all it takes is one stupid f***ing accident to just erase it," he said. "Just turn it all into a negative. To be like, 'Oh, these f***ing dumb assholes. What did you f***ing expect?' But we went ahead and f***ing did it." Luckily, it seems that they made it through to the other side of filming.