12 Shows Like Yellowjackets To Watch While You Wait For Next Season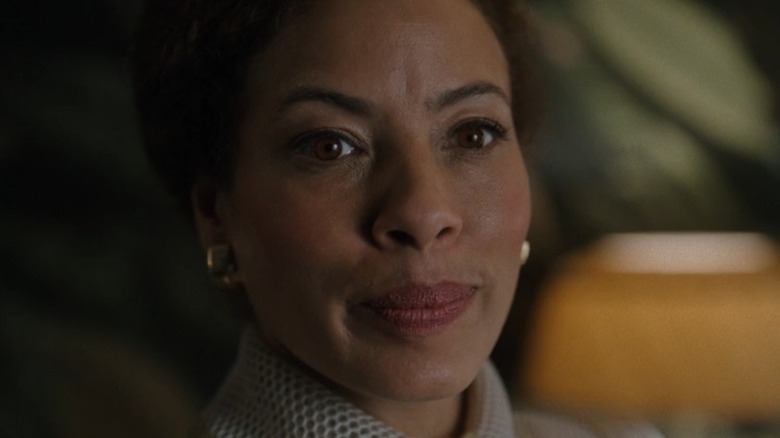 Showtime
In case you didn't notice, the Showtime series "Yellowjackets" has become something of a sensation. Deadline reports that Showtime's Gary Levine stated that "Yellowjackets" is the network's "second-biggest series debut ever on streaming." The series has quickly gathered a rabid fan base, with viewers enthusiastically dissecting the plot and trying to unravel its many mysteries. With an all-star cast and crew and enough intrigue to keep fans going in between episodes, it's no surprise the show has become such a hit.
However, as Season 1 has come to a close, with a second season thankfully on the way, it's only natural that fans might want something to watch in the interim. Finding something to fill the void "Yellowjackets" has left is a tall order. Though the show has some clear influences -– "Lord of the Flies" and the 1993 film "Alive," most notably -– there's not much else like it on television. With its unique combination of high school drama, suburban ennui, mystery, horror, and supernatural elements, "Yellowjackets" stands out in today's TV landscape.
Fans shouldn't worry about finding a new obsession, as there are still a few shows that fans of "Yellowjackets" might find particularly appetizing (no pun intended). Do you like "Yellowjackets" but find it a bit too gory and want something more grounded in reality? We've got you. Do you love the darker and more horrific elements of "Yellowjackets" and want even more of it? We've also got you. Read on to hear about 12 shows like "Yellowjackets" to watch while you wait for next season.
Lost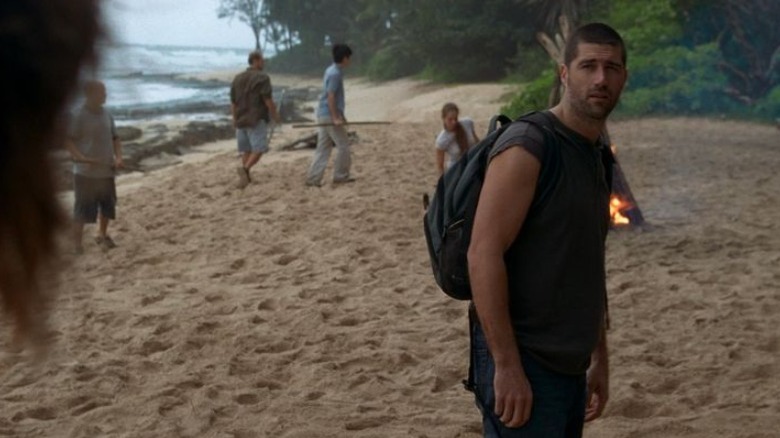 ABC
This may be a rather obvious choice, but we've got to include it, or else this list wouldn't really be accurate. Created by J.J. Abrams, Jeffrey Lieber, and Damon Lindelof, "Lost" centers on a group of survivors whose plane has crashed on a remote island. What starts off as a classic survival story quickly morphs into something more sinister (and much more complicated). As in "Yellowjackets," there are multiple timelines at play in the show, all of which get more complex as the series goes on. Time travel even comes into play.
We won't spoil the ending for you here –- partially because we're not quite sure we can actually summarize it –- but suffice it to say a lot changes from the first season to the last. Fans of "Yellowjackets" might enjoy "Lost" because of the many mysteries that unravel throughout the course of the series. Like "Yellowjackets," "Lost" begins with a plane crash and turns into something much more complex than that. While watching "Lost" today means you will miss out on the weekly fan conversations that surrounded the series when it was on-air, ike is happening today with "Yellowjackets," the twists and turns aren't any less thrilling now than they were then. "Lost" watch party, anyone?
The Leftovers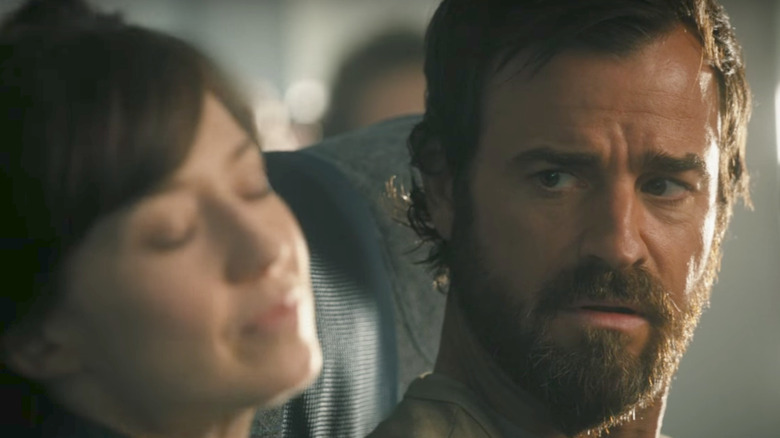 HBO
"The Leftovers" is another show created by "Lost" writer Damon Lindelof, and in some ways, it's more similar to "Yellowjackets" than it is to "Lost." While "The Leftovers" doesn't follow a plane crash or depict time like "Yellowjackets" and "Lost" do, the existential questions it poses -– about the nature of survival, and what it really means to live –- have a lot in common with the world of "Yellowjackets." "The Leftovers" takes place in upstate New York three years after a global event called the Sudden Departure, during which 140 million people disappeared into thin air. In a world where nearly every person on earth has lost someone in such shocking circumstances, life can never be the same again.
As in "Yellowjackets," "The Leftovers" initially presents itself as a simple story of survival, albeit in a very different way than in "Yellowjackets," that moves in some very surprising directions, weaving in some ambiguous supernatural elements. "The Leftovers" also features one of the stars of "Yellowjackets" –- Jasmin Savoy Brown, who plays young Taissa.
"The Leftovers" wades more into existential territory than "Yellowjackets," which focuses more on individual characters and their own motivations rather than universal lessons. However, they both ask rather profound questions about the nature of human beings, and what it takes to survive. If you're ready for another show that will make you question the meaning of life, then "The Leftovers" should be next on your list.
The Wilds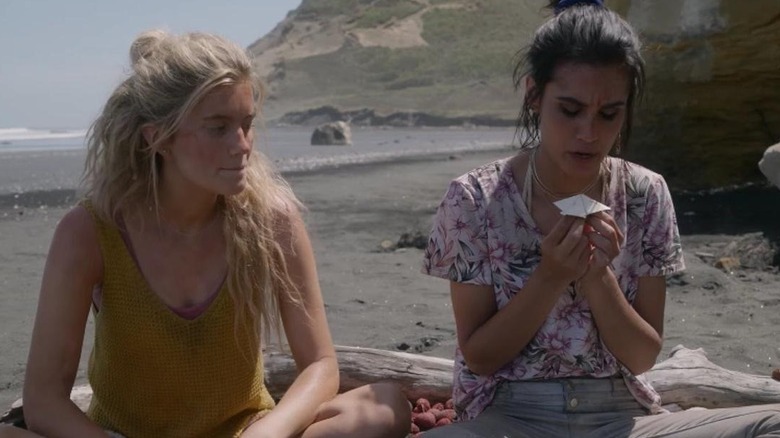 Amazon Prime
Like "Lost," the Amazon Prime series "The Wilds" has a lot in common with "Yellowjackets" in terms of its plot. The show follows a group of teen girls from very different backgrounds who get stranded on a remote island after their plane crashes. The series takes the question of what would happen in an all-girls "Lord of the Flies" even more literally than "Yellowjackets" does, as things on the island are not what they seem. Like "Yellowjackets" and "Lost" before it, "The Wilds" is structured by multiple timelines –- flashbacks of the girls' lives before they got on the plane, the aftermath of the crash itself, and the situation they find themselves in once they get rescued.
Like other teen shows of the grittier variety, "The Wilds" endeavors to show that teenagers, specifically teen girls, are much more complicated than one might initially assume. The flashback sequences reveal that each girl on the island struggled with some pretty intense problems before the plane crashed. Some girls even find themselves grateful that they're stranded on an island instead of being stuck in their difficult situations back home. Like "Yellowjackets," "The Wilds" also includes a surprisingly sweet romance between two of the girls, something many fans of the show quickly latch on to. If this sounds at all interesting to you, you can catch up on Season 1 of "The Wilds" before Season Two arrives.
Generation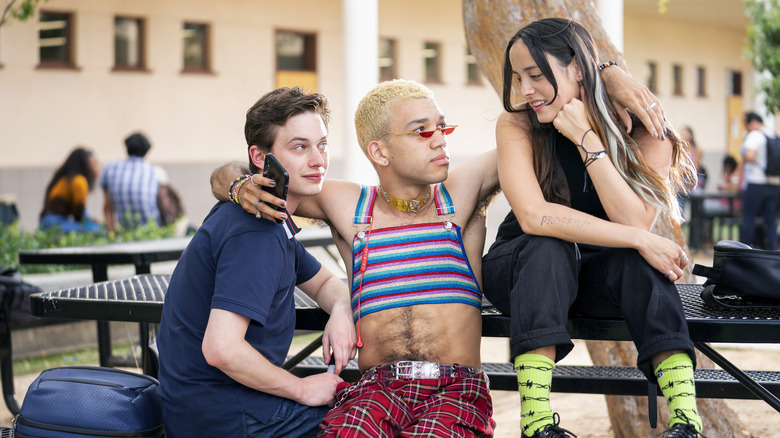 HBO Max
There have been a lot of gritty teen shows over the years, and one of the very best of them is the HBO Max series "Generation." Though it received far less attention than "Euphoria," another HBO show, "Generation" is arguably the better show out of the two. Led by veteran actor Justice Smith alongside a cadre of talented newcomers, the series follows a group of Orange County teenagers as they navigate high school and deal with issues like family, sexuality, and identity.
Like "Yellowjackets" and "The Wilds," "Generation" takes it as a given that teenagers have much more on their plates than adults give them credit for. Like those two shows, "Generation" depicts beautifully nuanced narratives of teenage queerness and identity without reducing these stories to being about something as simple as labels.
"Generation" dives into some of the darker issues teens face, such as drug use, age-inappropriate relationships, and teen pregnancy. However, where the plotlines of shows like "Euphoria" or "Skins" sometimes feel overdone, "Generation" generally feels grounded in character motivations rather than spectacle. While "Yellowjackets" certainly has its moments of fantasy, it too is grounded in the unique perspectives of each character. While "Generation" was sadly canceled before Season 2 happened, Season 1 is still worth watching.
Alone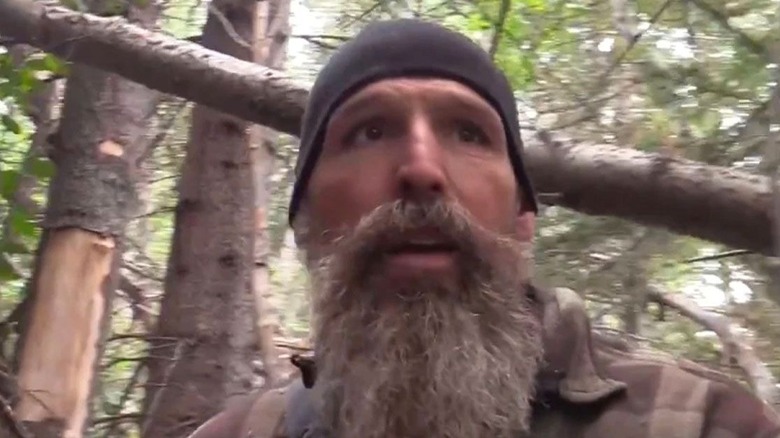 History
If the survivalist aspects of "Yellowjackets" are what appeals to you, then you might want to put "Alone" on your list. "Alone" is a History network reality show that follows ten contestants dropped in the middle of the wilderness and tasked with surviving for as long as possible. They are allowed to bring 10 tools for survival with them, but, apart from that, they are totally on their own. Rather than having a film crew follow them, they are given a video camera to record their journey.
While some contestants tap out after a few days, others make it for weeks, months even. The winner of the seventh season survived for an impressive 100 days in the wilderness, receiving a $1 million prize for his efforts, a significant increase from the $500,000 prize most winners have earned. While none of the winners of "Alone" get even close to breaking the record the Yellowjackets set -– surviving in the wilderness for a whopping 19 months -– we've got to give credit where credit is due. For one, they are quite literally alone, and as such, can't resort to cannibalism as a food source. If you like your survivalist content without teen drama or body horror, give "Alone" a chance.
Hannibal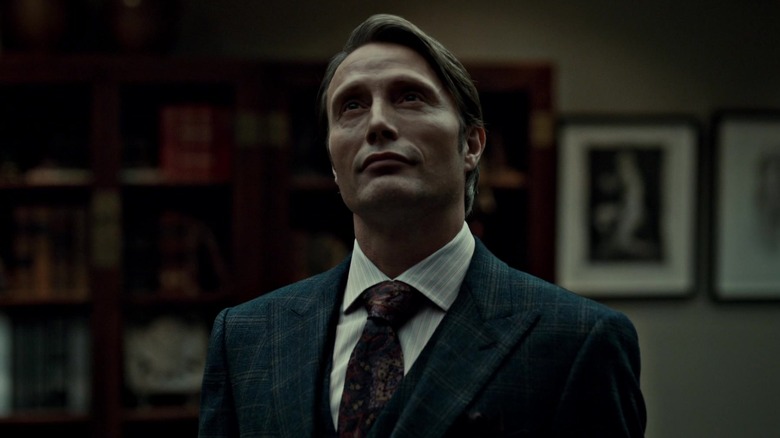 Sony Pictures Television
If your favorite theme in "Yellowjackets" is the cannibalism -– weird, but no judgment –- then you might want to add "Hannibal" to the queue. Created by "Pushing Daisies" alum Bryan Fuller, "Hannibal" follows the Thomas Harris book series about Hannibal Lecter and serves as a prequel to "The Silence of the Lambs." The series focuses on Hannibal (Mads Mikkelsen) and his unique relationship with criminal profiler Will Graham (Hugh Dancy).
Aided by his team, including FBI Agent Jack Crawford (Laurence Fishburne) and psychologist Dr. Alana Bloom (Caroline Dhavernas), Will sets out to stop a serial killer terrorizing the area, not knowing the killer is his therapist and friend, Hannibal Lecter. Unlike "Yellowjackets," where the cannibalism is presented in a much more gory, surrealist way, "Hannibal" presents cannibalism in an almost elegant fashion. One of the central exercises in the show is that Hannibal, after killing his victims, lovingly prepares and cooks them, serving beautiful and mouth-watering dishes to his friends –- Will included. If this stomach-churning premise doesn't turn you off, then maybe "Hannibal" will be your next obsession.
Marvel's Runaways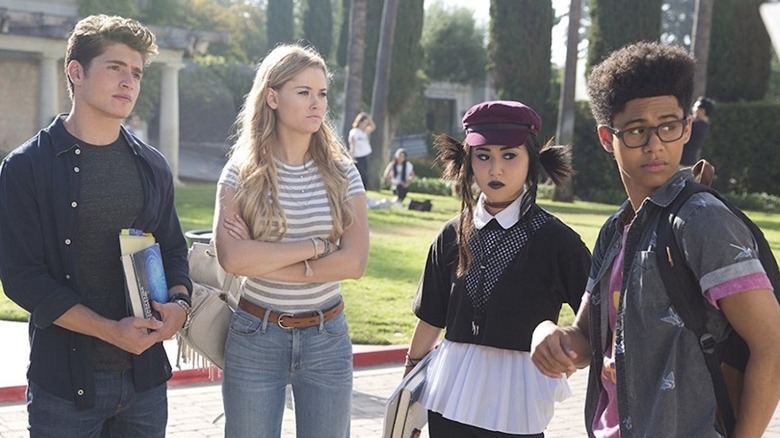 Hulu
Airing on Hulu, "Marvel's Runaways" follows a group of teenagers who go on the run when they find out their parents are evil supervillains. Along the way, they also find out that they have their own superpowers as well. What might appeal to fans of "Yellowjackets" is the show's central premise of teenagers trying to survive on their own. When they go on the run, they realize being independent is harder than they might have guessed. First, they have to find somewhere safe from their parents, but later, they also have to stock up on basic necessities, like food and water.
While they eventually find an abandoned mansion to stay in, their plan is not without their hiccups. First of all, they have to hide a giant dinosaur who has a psychic connection with Gert (Ariela Barer), and they all have to figure out to control their newfound powers, such as Carolina's (Virginia Gardner) alien glow and Nico's (Lyrica Okano) witchy connection to her staff. Throw teenage romance in the mix, and you've got a recipe for some major drama. While "Runaways" certainly isn't as dark or disturbing as "Yellowjackets" is, it does provide an alternative look at teens fighting to survive amidst some rather supernatural circumstances.
The End of the F***ing World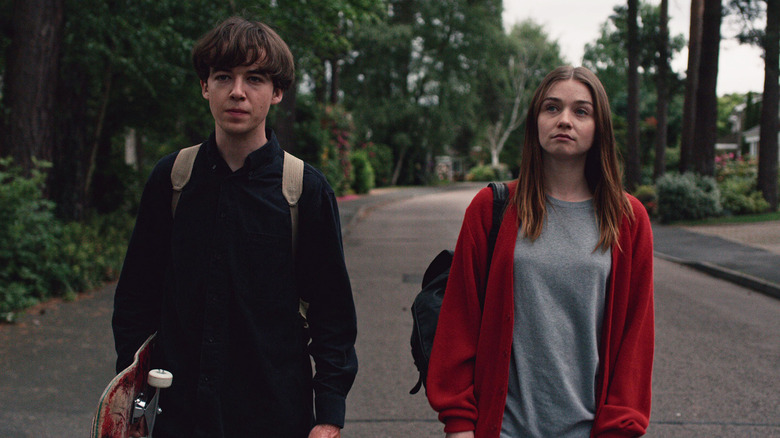 BBC Studios
Though "Yellowjackets" is not quite a comedy, it does have some extremely funny moments. Remember when Misty stopped Nat from doing drugs in literally the most absurd way possible? If you want something more in the realm of dark comedy, you might consider checking out "The End of the F***ing World." Based on a series of comic books, the show follows Alyssa (Jessica Barden), a popular girl who still doesn't feel like she fits in, and James (Alex Lawther), who is convinced he's a psychopath. After making an unexpected connection, the two decide to go on a road trip in search of Alyssa's father, who left when she was young.
James, who thus far has been killing only animals, decides it's time to level up and start killing humans, and he has the perfect idea for who his first victim should be. The series is even more enthralling than it reads on paper, evolving into a road trip series, a coming-of-age story, and a romance, all in one. With some violence and misanthropy thrown in, what's not to love? If you're drawn to violence and comedy all wrapped in one, then this British series should be your next stop.
Dark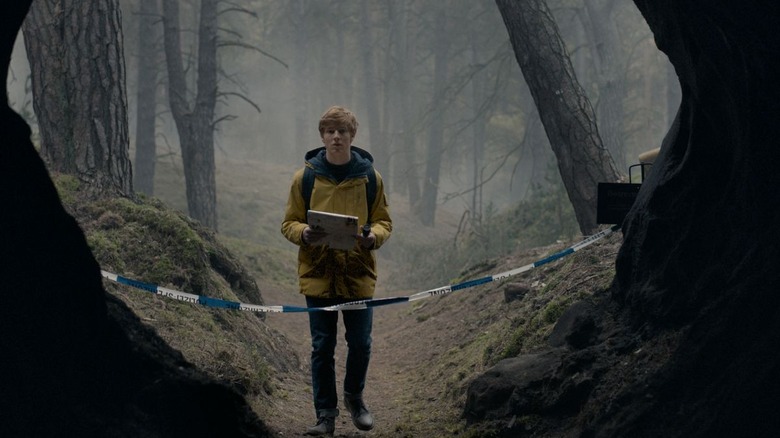 Wiedemann & Berg Television
If you're looking for another show like "Yellowjackets" to confuse and perplex you, "Dark" might be exactly what the doctor ordered. "Dark" is a Netflix series from Germany that centers on two kids from a small town that suddenly go missing. Like "Yellowjackets," "Dark" contains various mystery/supernatural elements and also depicts several different timelines -– 1953, 1986, and 2019. These timelines are made all the more confusing as they often depict the same characters in different time periods. An additional timeline, set in the future, is also thrown in the mix at the end of Season 1.
If this sounds complicated -– well, it is. Forbes contributor Paul Tassi said, "I'm not sure I've ever seen a series as mentally exhausting as 'Dark,'" but noted that the series remains one of the best sci-fi experiences on TV. "Yellowjackets" isn't quite as knotty as "Dark" is, but it certainly has its fair share of mystery that fans are tempted to unravel. "Dark" isn't necessarily a show that encourages leisurely watching, but that's part of the thrill of it –- it asks a lot from the viewer. If "Yellowjackets" awakened the detective within you, then "Dark" should be what you watch next.
The Affair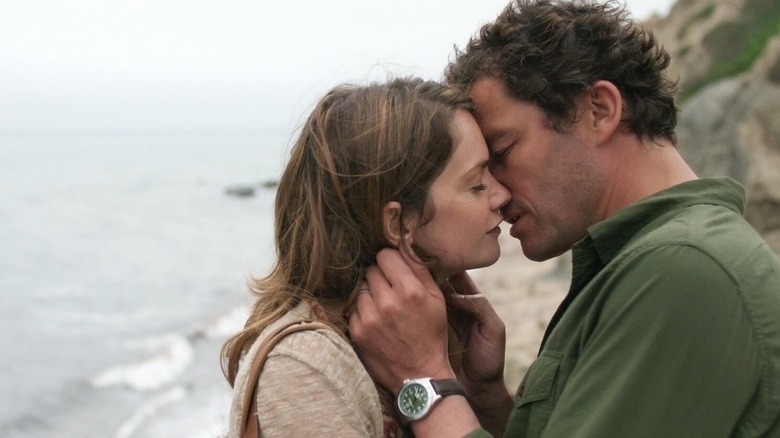 Showtime
One of the most intriguing aspects of "Yellowjackets" is how it illustrates perspective. Whose perspective do we trust, especially after hunger, hallucinogenic drugs, and the trauma of the whole experience are thrown into the mix? Is Taissa possessed by some sort of supernatural being, or is she just sleepwalking and traumatized? Can we even trust Shauna –- who is known to kill and skin rabbits from the yard and lie to her family -– about literally anything?
If questions like these are what intrigue you about "Yellowjackets," you might want to add "The Affair" to your list. As you might be able to guess, the Showtime series follows an affair between two married people. A teacher and family man with four kids spending the summer in the Hamptons, Noah (Dominic West), begins an affair with Alison (Ruth Wilson), a waitress struggling in her marriage following a tragedy. The most compelling aspect of the series is how it depicts perspective. The titular affair is shown from both Noah and Alison's point of view, which frequently leaves the audience unsure of who to trust.
What begins as a simple story of an extramarital affair slowly morphs into something much more complex when the perspectives of Alison's husband, Cole (Joshua Jackson), and Noah's wife, Helen (Maura Tierney), become a part of the series. These fractured perspectives once again make it difficult to decipher what actually happens between the characters, heightening the idea of the unreliable narrator even further. If detailed character studies are your jam, "The Affair" might be for you.
We Are Who We Are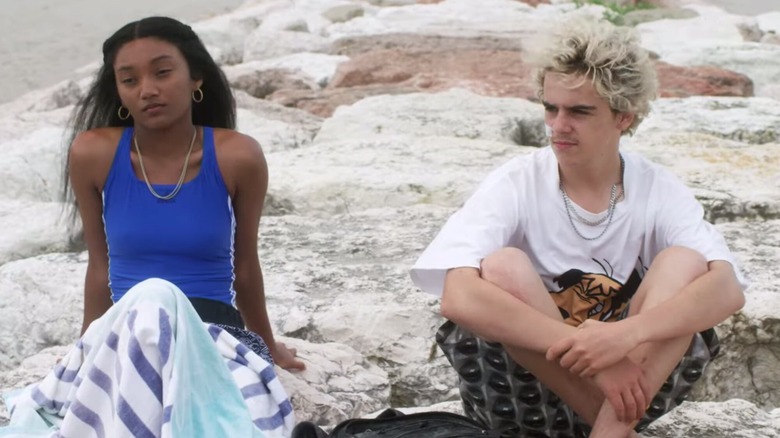 HBO
Like "Generation," "We Are Who We Are" is a serious, energetic, moving teen show from HBO. Directed by Luca Guadagnino, of "Call Me by Your Name" fame, "We Are Who We Are" centers on two American teenagers who live on a military base in Italy. Set in 2016 but released in 2020, the series follows Fraser (Jack Dylan Grazer), a spoiled teenager and the son of Sarah (Chloë Sevigny), and the seemingly perfect Caitlin (Jordan Kristine Seamón), whose father is played by Kid Cudi. Ben Travers of IndieWire calls it less of a "coming-of-age story" and more of a "celebration-of-age story" because of the way it revels in the unique trials and tribulations of being a teenager.
Like "Yellowjackets" –- whose 1990s soundtrack is essential to grounding its time and place –- the music of "We Are Who We Are" is an essential part of the show. The series' music is composed by Dev Hynes, also known as Blood Orange, and the soundtrack is as eclectic as it is specific. The songs chosen for the show range from Prince, to Aaron Carter, to Hyne's own music, and, like in "Yellowjackets," have the effect of both grounding the setting and illustrating the perspective of the characters. If you're a fan of beautifully-shot teen dramas and expertly selected soundtracks, "We Are Who We Are" might be for you.
The 100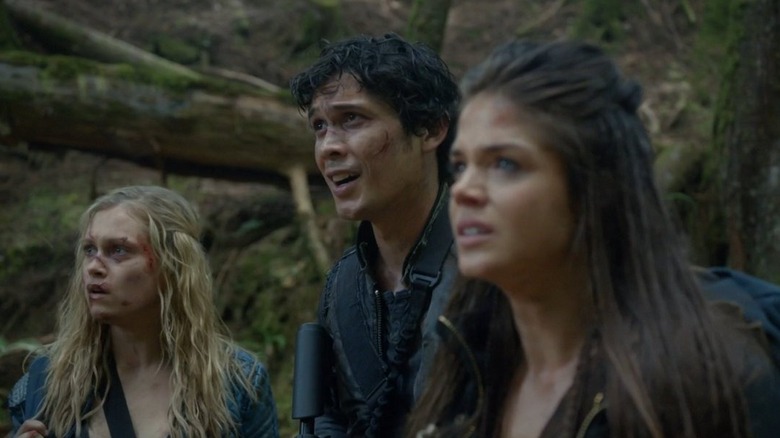 The CW
Before "Yellowjackets," there was "The 100," a post-apocalyptic teen series that aired on The CW. "The 100" takes place nearly 100 years after a nuclear war has destroyed most of civilization. The series focuses on the survivors of the war, who have lived for the last 97 years on space stations orbiting Earth. With their resources dwindling, leaders of the community known as the Ark decide to take drastic measures and send 100 juvenile delinquents back down to Earth to see if it's habitable. They find that not only is Earth habitable, but there is another group of people, known as the Grounders, that have been living there the whole time.
Unsurprisingly, conflict ensues. Tension also emerges between the teenagers that first landed on Earth, led by Clarke Griffin (Eliza Taylor), and the adults that follow. Owing to the fact that it aired on The CW, "The 100" is definitely not as violent as Showtime's "Yellowjackets," but it's certainly darker than one might expect from the network.
As on "Yellowjackets," the characters on "The 100," many of whom are teenagers, are forced to make horrible decisions to survive that haunt them later on. The plot gets a little convoluted in later seasons, but it's a surprisingly complex and profound offering for something marketed to teens. That said, viewership also dropped off after a particularly controversial plot point in Season 3, which you should not look up if you want to stay spoiler-free. If you like watching teenagers in brutal, post-apocalyptic situations, then get on board.