The Criminal Minds Character Everyone Forgets Luke Perry Played
Fans of "Criminal Minds" are still waiting on any kind of further confirmation in the development of Season 16, which was once expected to air on Paramount+ but believed by at least one cast member to be dead in the water. In the meantime, many viewers have resorted to binging the series over and over again until that happens. In fact, since the show is still accessible on Netflix, "Criminal Minds" has gathered an incredibly large amount of streaming traffic — 984 million minutes streamed and counting (via Deadline).
The show follows the FBI's Behavioral Analysis Unit (BAU) as they try to psychologically analyze serial killers to help catch the most notorious in the world. The main cast changed several times over the seasons, but fans are very familiar with characters like Aaron Hotchner (Thomas Gibson), Derek Morgan (Shemar Moore), Dr. Spencer Reid (Matthew Gray Gubler), David Rossi (Joe Mantegna), JJ Jareau (A.J. Cook), and Emily Prentiss (Paget Brewster), amongst others.
"Criminal Minds" often features famous guest stars, similar to the "Law & Order" franchise which has commonly served as a proving ground for the future famous. Elle Fanning, Aaron Paul, Mark Hamill, and Jane Lynch have all had guest spots or even recurring roles on "Criminal Minds." Even the late "90210" star Luke Perry played a role that you may have forgotten about.
Luke Perry was cult leader Benjamin Cyrus on Criminal Minds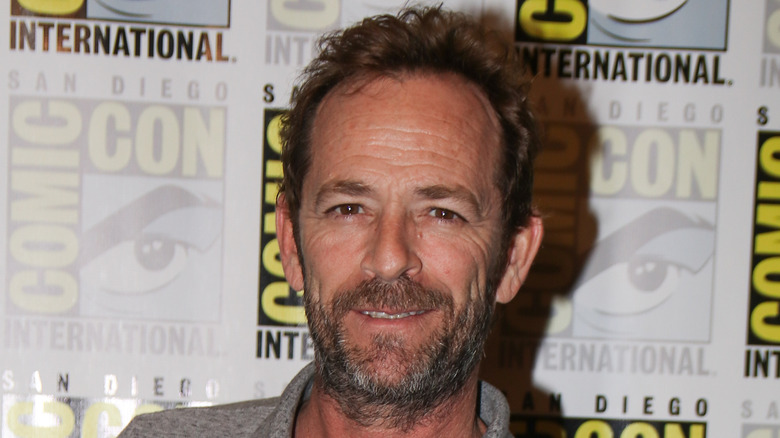 FlickDirect Inc/Shutterstock
During Episode 3 of "Criminal Minds" Season 4, titled "Minimal Loss," we are introduced to an incredibly intense situation. Prentiss and Reid have gone undercover to investigate alleged child abuse at a cult gathering in Colorado, but they are quickly put into a hostage situation after a Colorado State Police raid on their location goes terribly wrong. Prentiss and Reid are then held captive by the cult's leader, Luke Perry's Benjamin Cyrus. It is quickly revealed by the superb acting performance from Perry that Cyrus is a clever, angry, and troubled person. He proceeds to hold the entire convent hostage as well and ends up beating up Prentiss for being an FBI agent.
After multiple refusals during negotiations, law enforcement and the BAU are eventually able to get Cyrus to surrender — although he rigged the entire building to explode. Morgan ends up killing Cyrus and both the BAU members and all of the children are brought to safety, but Cyrus's adolescent wife grabs the detonator and kills herself and every remaining cult member in the building. It was a traumatic and tragic ending for the entire BAU team.
Perry would go on to guest star in many other shows and eventually land a recurring role in "Riverdale," which he stayed with until his untimely death in March of 2019 after suffering a stroke (via CNN).