The Dr. Marcel Scene That Went Too Far On Chicago Med
Perhaps due to its pressure-cooker, close-quarters emergency room setting, the hit medical series "Chicago Med" often finds its core characters pushing the envelop in terms of their behavior. In some cases, this involves value judgements on a personal level, as when Dr. Will Halstead (Nick Gehlfuss) is badgered by boss Dr. Sharon Goodwin (S. Epatha Merkerson) into reluctantly spying on a colleague in a storyline involving an investigation into faulty hospital equipment. Or, it could mean crossing a clear-cut ethical line, as when the same Dr. Halstead steals drugs from an ongoing clinical testing program to help the ailing mother of Dr. Natalie Manning (Torrey DeVitto).
That being said, the emotionally charged hospital environment is also fertile ground for romantic liaisons in "Chicago Med," and some relationships veer off in a direction that frankly, viewers find unbelievable, outlandish, or simply uncomfortable to watch. The fact is, an ostensibly romantic encounter for popular trauma surgeon Dr. Crockett Marcel (Dominic Rains) seems to be one "Chicago Med" scene that fans think went too far for his character.
Dr. Marcel's kiss with Dr. Blake was too much for some fans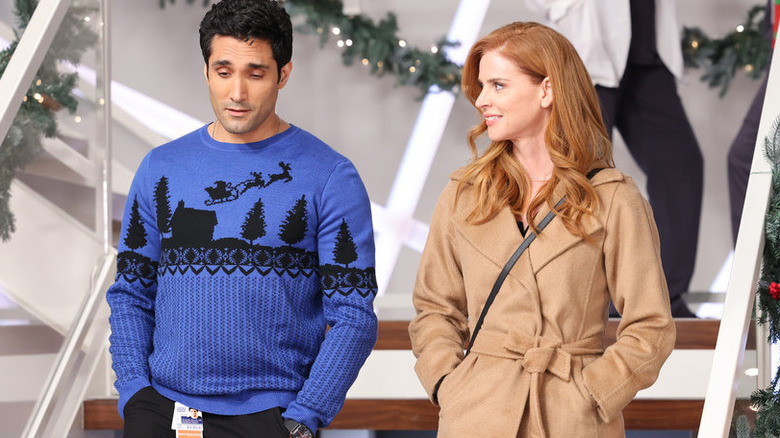 George Burns Jr/NBC
Ever since "Chicago Med" launched back in 2015, there has been no shortage of duos for fans to ship, but some hook ups leave viewers cold. Such is the case in the series' Season 7, Episode 9, "Secret Santa Has a Gift for You." When they both end up beneath the mistletoe at the annual Christmas party, doctors Marcel and Pamela Blake (Sarah Rafferty) indulge in a passionate kiss — despite the fact Marcel is already dating Blake's daughter. Fans were quick to react.
Redditor u/Rigby00000000000000 was clearly befuddled by the development, writing, "Am I the only one who is confused, are they setting up a love interest as Dr. Marcel and Dr. Blake or Dr. Marcel and Dr. Blake's daughter????" U/tvCrazed agreed that the situation is a disconcerting prospect, saying it could portend romantic disaster: "This is the Bermuda love triangle. I do not want to see mom and daughter romancing Marcel ... It wasn't long ago Marcel was going gaga for Natalie [Manning]." 
Reddit poster and fan of "Chicago Med" u/Gypsymoth606 also complained, feeling the scene was simply a way to introduce unnecessary relationship drama into the show, writing, "IMO, he's being set up for one of those train wreck situations. Like there isn't enough going on in that hospital to satisfy everyone's disaster appetite." It's safe to say that fans believe Marcel and Blake are crossing several lines with their Christmas kiss.