The Surprising Oscar-Winning Musical Emma Watson Passed On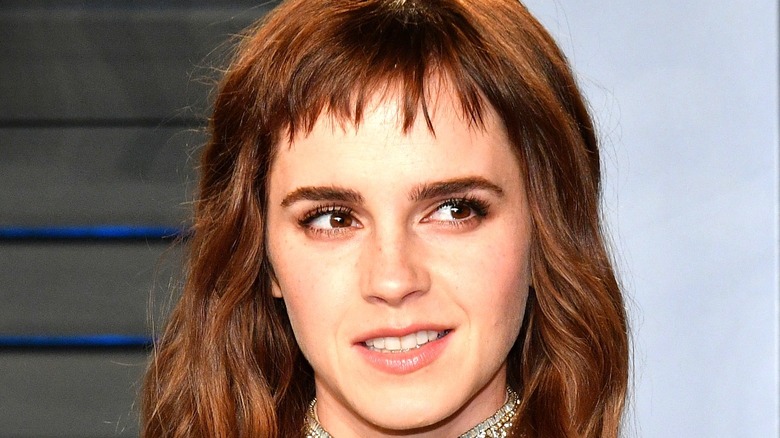 Dia Dipasupil/Getty Images
Emma Watson is one of the most recognizable stars of her generation, and it's not just because of her successful acting career. She's also a successful model, fashion icon, scholar, and activist. Making her screen debut at the age of 11 in "Harry Potter and the Sorcerer's Stone," Watson showed a serious commitment to her education, managing schoolwork with her on-set duties throughout her "Harry Potter" run. She would later study for a Liberal Arts degree at Brown University while simultaneously continuing her acting career. In 2008, at the age of 18, Watson signed a deal with Chanel, and two years later, became the face of Lancôme's "Rouge in Love" campaign. She has been an outspoken advocate for women's rights, becoming a U.N. Goodwill Ambassador for gender equality in 2014.
When it comes to her acting career, Watson has successfully negotiated the often-treacherous transition from child star to serious and respected adult performer. Since playing Hermione Granger, Watson has demonstrated her talent and range in a string of successful performances.  Her roles have included Sam in 2012's "The Perks of Being a Wallflower" and Ila in Darren Aronofsky's 2014 film "Noah." In 2017, Watson showed the world her vocal talents while playing Belle in Disney's live-action musical "Beauty and the Beast" before going on to portray Meg in Greta Gerwig's critically lauded adaptation of "Little Women" in 2019.
Given the amount of money she made from the "Harry Potter" franchise alone, Watson can afford to be selective in her choice of roles. And while she's not immune to the occasional flop, it seems Watson has an excellent sense for what movie parts to take. So it may be surprising that she turned down a lead role in one of the most critically lauded and successful Hollywood musicals of recent times.
Emma Watson turned down the role of Mia in La La Land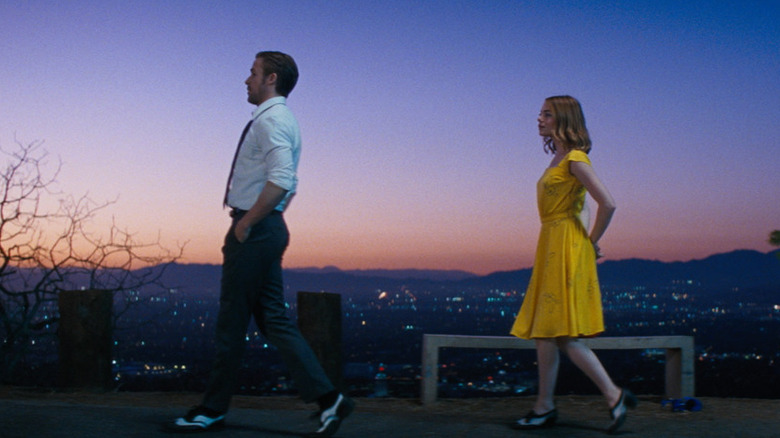 Lionsgate Films
Damien Chazelle's 2016 musical "La La Land" is a nostalgic, colorful, and jazzy love letter to Hollywood that drew accolades from critics and adoration from audiences. The heartwarming, yet heartbreaking story of aspiring actress Mia (Emma Stone) and struggling jazz pianist Sebastian (Ryan Gosling) was nominated for a record 14 Oscars, equaling "All About Eve" and "Titanic" for the most nominations ever (via Entertainment Weekly). The film took home six Oscars, including Best Actress for Stone. So when Emma Watson revealed in 2017 (via NME) that she was originally cast in the role of Mia before pulling out of the project, was she admitting to a major career misstep?
In an interview with British morning TV show "Lorraine," Watson said that both she and Miles Teller were at one point attached to "La La Land" as the two leads, but that she had to pull out due to her preparations for "Beauty and the Beast."  The Disney project required a great deal of commitment from Watson. "With a movie like 'Beauty and the Beast' it's like three months prep, it's like three or four months shooting ... you can't half-a*** a project like this, you're in or you're out. And I was like, 'I've kinda got to be all in,' and so this was really where my heart was and I knew I had to fully commit and make sure that I did this." 
In a classic case of "what if?," we can only wonder what Emma Watson would have done with the role of Mia. Fortunately, the world has Stone's brilliant award-winning performance to appreciate. And we can also appreciate the professionalism and commitment to craft that led Watson to turn down one major opportunity in order to do justice to another.