The Transformation Of Emma Watson From Hermione Granger To Now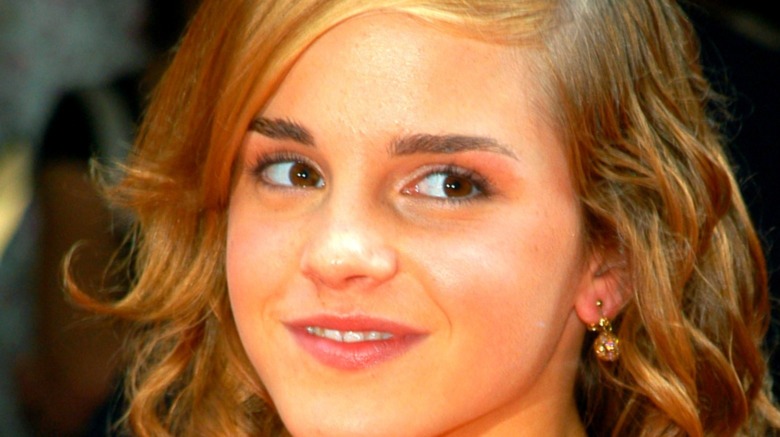 Shutterstock
The "Harry Potter" series, following a young, orphaned wizard as he attends Hogwarts School of Witchcraft and Wizardry and fulfills his destiny to defeat Lord Voldemort, became one of the most beloved stories of all time. The film adaptations of J.K. Rowling's brilliant novels featured a huge cast of characters, and Hermione Granger — played by Emma Watson — was one of the most popular. Like Daniel Radcliffe (Harry) and Rupert Grint (Ron), she played a vital role in the overall story, and appeared in all eight films.
Since her run in "Harry Potter" ended in 2011, Watson has taken on other projects as an actor, an activist, and even a scholar. Though she is best known as the "brightest witch of her age," Watson has worked hard to achieve a well-rounded acting career and life — no small feat for a former child star. Let's see how she has transformed since her time on "Harry Potter" up until now.
Emma Watson grew up with Hermione Granger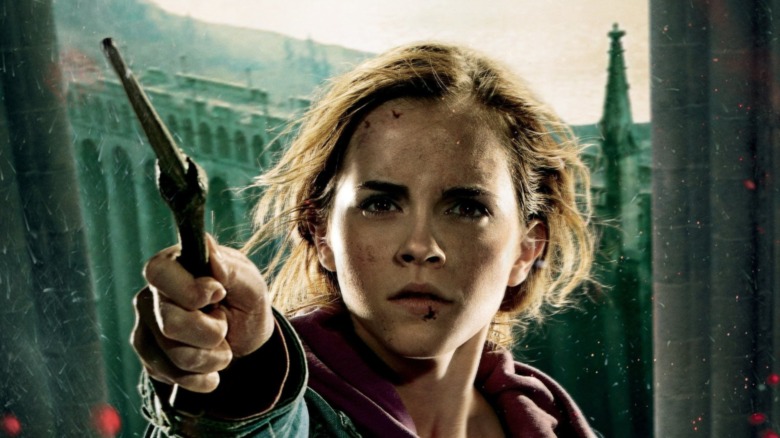 Warner Bros.
Emma Watson made her first appearance in "Harry Potter and the Sorcerer's Stone." The first fans see of her character is when she barges into Harry and Ron's compartment looking for Neville's toad. Watson portrays Hermione as a little snarky; she comments on Ron's attempt at magic, and shows him some of her own. It is clear that Hermione is clever, but her "know-it-all" attitude makes it hard for her to become friends with the boys. After she is attacked by a troll, however, the three become inseparable, and she uses her intelligence to help her friends out of many binds. 
Like many on set, Emma Watson grew up with her character. The books mature considerably as the series progresses, and this is reflected in the way Hermione changes as a character. From snotty know-it-all to selfless warrior, Watson had the rare opportunity to follow a long character arc over nearly a decade in film — all while she was coming into her own as a teen and young woman. By the time "Harry Potter" ended and Voldemort (Ralph Fiennes) was put down for good, Emma Watson was ready to move on to more adult roles.
Moving past Hermione Granger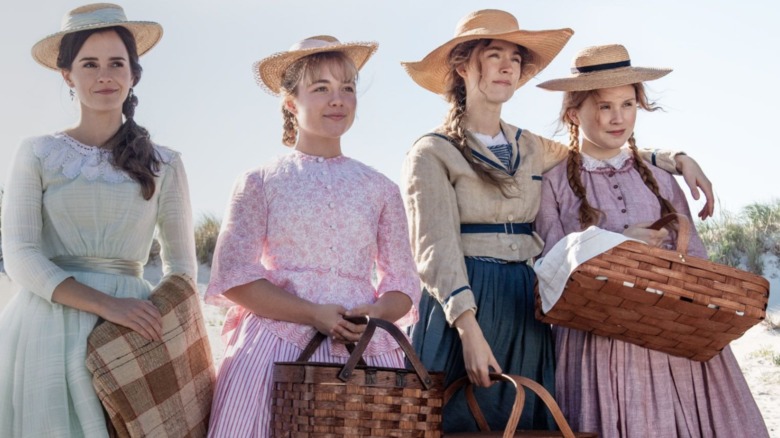 Sony Pictures
After "Harry Potter," Emma Watson appeared in several other films. She portrayed Sam in "The Perks of Being a Wallflower," and brought Belle to life alongside Dan Stevens in the live-action adaptation of Disney's "Beauty and the Beast." Other roles include Nicki Moore in "The Bling Ring," Ila in "Noah," and Mae Holland in "The Circle." 
However, her recent portrayal of the eldest March sister, Meg, in "Little Women" was what really put her back in the public eye. Greta Gerwig's take on the 19th century novel by Louisa May Alcott tells the story of four sisters during the Civil War era as they deal with love, friendship, and grief. The film was highly acclaimed, earning accolades from critics and rave reviews from fans. It was nominated for many Academy Awards, including Best Director, Best Picture, Best Actress, and Best Supporting Actress. As it turned out, "Little Women" was just the kind of mature platform Watson needed to move beyond the Wizarding World.
Watson became a feminist activist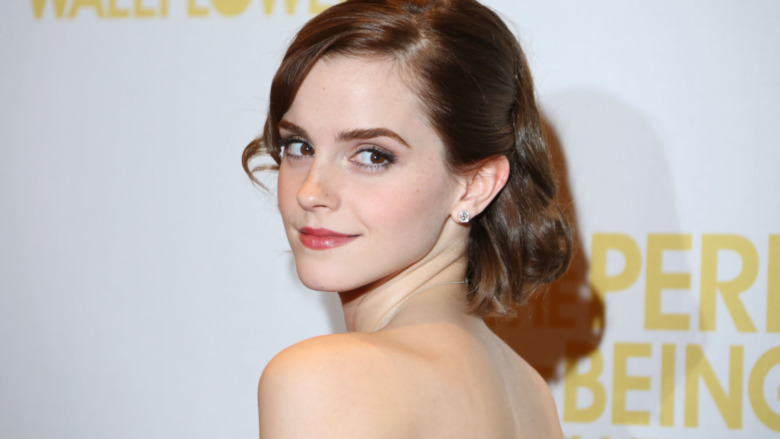 Shutterstock
Emma Watson has spent much of her post-"Harry Potter" time advocating for the education of young women and girls around the world. In 2014, she was named a U.N. Goodwill Ambassador thanks to her diligent efforts. 
That same year, she delivered a speech under her new campaign, "He for She." In it, she spoke about how she first began to notice gender roles and assumptions at a rather young age. She also spoke to men, letting them know that they are imprisoned by gender stereotypes as well. "Both men and women should feel free to be sensitive. Both men and women should feel free to be strong ... It is time that we all perceive gender on a spectrum not as two opposing sets of ideals," she said. Watson explained that men must reject what is considered the norm. When that happens, both men and women can "be a more true and complete version of themselves." 
Watson continues to fight for equality. She even coined the term "self-partnered" when she turned 30 and remained single (via Vogue). 
She's got an Ivy League degree
Emma Watson is also a scholar, having graduated from the prestigious Brown University (via Us Weekly). Though she could have pursued acting full time — surely she and the other "Harry Potter" stars were in high demand by the end of the franchise — she wanted to have a normal school experience. Education has always been important to her. She revealed in an interview that her father worked hard to send her to a good school. His sacrifice, and the fact that her birthday gifts were pencil cases and uniforms, inspired Watson to work hard every day to show her appreciation for his hard work.
However, being the girl who played Hermione Granger made it hard to have a normal experience. Though fans respected her privacy, she was unable to pretend that she wasn't famous, and was forced to "accept who I am, the position I'm in and what happened." This caused Watson to drop out of college for a short time. She did return the following year, and in 2014, was able to don her cap and gown and receive her bachelor's in English Literature.
Clearly, the future is bright for this multi-talented star.