What The Vikings Cast Is Doing Today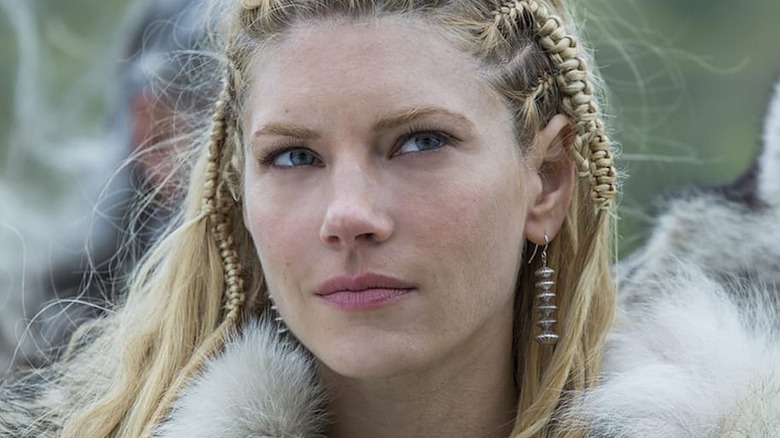 History Channel
"Vikings" aired its final episode in late 2020 after giving us six glorious seasons of unmatched action, drama, and wild romance delivered by a flawless cast. Michael Hirst's ("The Tudors") part-mythological, part-historical drama tells the story of the legendary Ragnar Lothbrok (Travis Fimmel), who rises to fame and power with successful raids throughout Scandinavia, England, and France. Along with him are his wife, the shield-maiden Lagertha (Katheryn Winnick), his jealous and vindictive brother, Rollo (Clive Standen), his loyal friend and craftsman, Floki (Gustaf Skarsgård), and many others.
Following Ragnar's brutal death at the hands of King Aelle of Northumbria (Ivan Blakeley Kaye), Lagertha and Ragnar's sons take us on new adventures around the western hemisphere. Sadly, like all great TV series, "Vikings" had to come to an end, and many of its cast members are off to pursue exciting new opportunities. In this article, we'll take a look at what some of the most beloved "Vikings" actors are up to today.
"Vikings" spoilers ahead!
Travis Fimmel (Ragnar)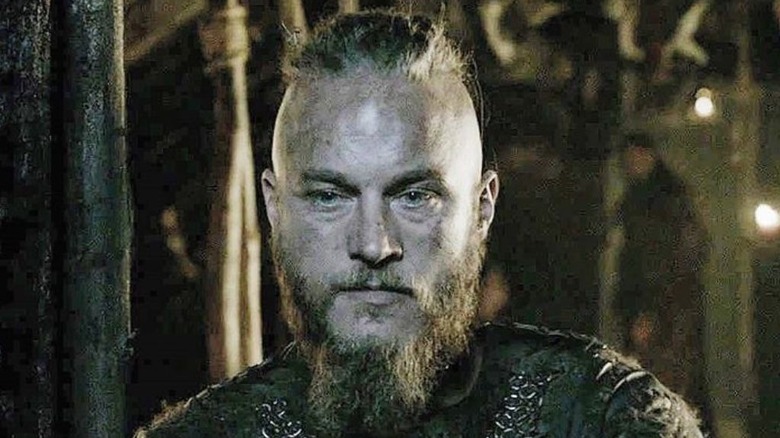 History Channel
After winning the hearts of millions on the series that catapulted him to stardom, actor Travis Fimmel has become an unstoppable force in both film and television. His portrayal of the great Ragnar Lothbrok — a farmer who ended up becoming King of all Norway — is nothing less than astonishing. After leaving the show, Fimmel went on to play Anduin Lothar in the film adaptation of the video game "Warcraft." He then stepped in the shoes of Major Harry Smith in "Danger Close," an explosive, blood-pumping action hit directed by Australian director Kriv Stenders.
The latest project that has fans most excited, however, is Aaron Guzikowski's and Ridley Scott's "Raised by Wolves," where Fimmel plays an atheist who steals the identity of a high-ranking religious soldier in order to survive a raging conflict between believers and non-believers. Since "Vikings," he has also appeared in a handful of other films, including "Dreamland" with Margot Robbie and "Lean on Pete" with Steve Buscemi.
Katheryn Winnick (Lagertha)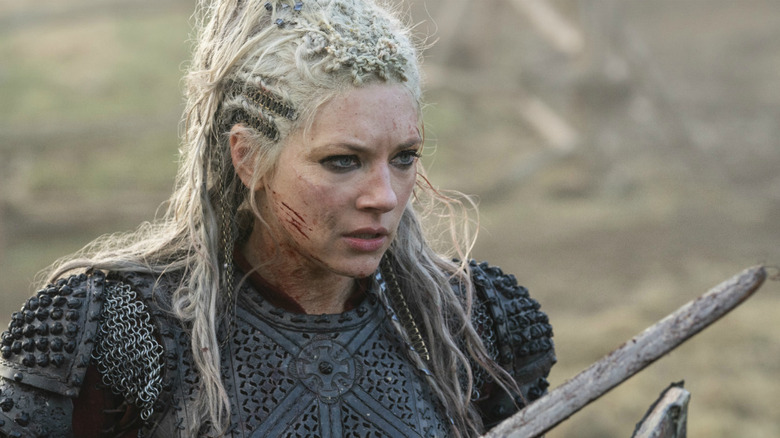 History Channel
Even though Katheryn Winnick stars as Lagertha in all six seasons of "Vikings," sadly, she loses her life at the hands of Hvitzerk (Marco Ilsø) as vengeance for having killed his mother and Ragnar's second wife, Queen Aslaug of Götaland (Alyssa Sutherland). Thankfully, fate hasn't stopped smiling at Winnick, as she has landed several major roles in feature films and TV series since.
In 2020, Winnick starred alongside Aaron Eckhart, Tommy Lee Jones, and Heather Graham in "Wander," which tells the story of two conspiracy theorists and their investigation of a mysterious murder. In 2021, she acted opposite Liam Neeson in Robert Lorenz's "The Marksman," followed by "Flag Day," a crime drama directed by Sean Penn. Currently, Winnick has a lead role as Jenny Hoyt on the ABC drama "Big Sky," where she plays an ex-cop working with a private detective to solve a kidnapping case.
Clive Standen (Rollo)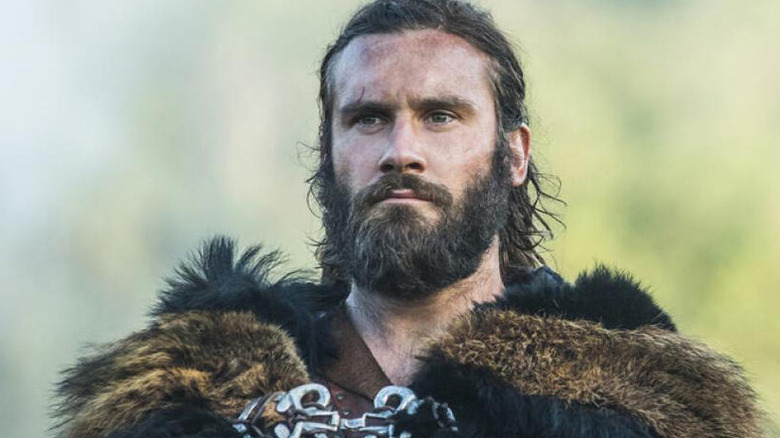 History Channel
Ragnar Lothbrok's brother, Rollo, is one of those characters you can't help but hate and love simultaneously. Jealous of Ragnar's mind-blowing success (and secretly in love with his wife), Rollo betrays his people on numerous occasions in order to gain the fame, power, and respect he'd always craved. He possesses an ambition so strong, it eventually leads him to marry the French Emperor's daughter, becoming the Duke of Normandy and bringing Viking culture into closer acquaintance with western Europe.
In 2019, Clive Standen starred in Tom DeNucci's "Vault," in the role of Chucky, a small-time jewelry thief who becomes involved in a plan to steal $30 million from a mafia vault. And if you think that's not enough, you may be in for a nice surprise, as Standen will also be gracing our screens with the upcoming "Possessions," "Crimelands," and Jared Cohn's "Vendetta," starring Bruce Willis, Mike Tyson, and Thomas Jane.
Alexander Ludwig (Bjorn Ironside)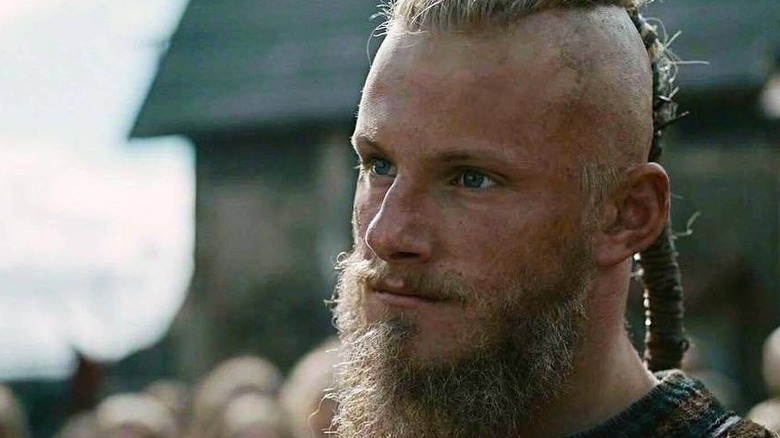 History Channel
On "Vikings," Alexander Ludwig plays Ragnar's oldest son, Bjorn, from Season 2 to Season 6. After his father's death, Bjorn becomes the new leader of Kattegat and proves to his people (and to the fans) that he is worthy of walking in his father's footsteps. (Although his authority will frequently be questioned by his younger half-brothers.)
Interestingly, since his departure from the show, Ludwig has mostly been starring in sports-themed films, such as Michael Mailer's "Heart of Champions," which tells the story of a dysfunctional rowing team coached into success by an army veteran, and "National Champions," a football drama starring J.K. Simmons, Stephan James, and Tim Blake Nelson. In his most notable role since "Vikings," Ludwig can also be seen in full wrestling gear as Ace Spade in Starz TV's "Heels" — a drama series focusing on two brothers who battle over their deceased father's wrestling organization in the pursuit of broader fame.
Georgia Hirst (Torvi)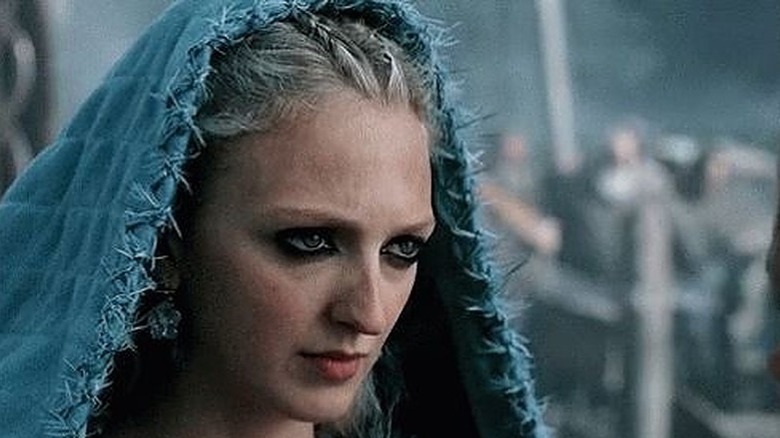 History Channel
Torvi is a shield-maiden and the former wife of Jarl Borg (Thorbjørn Harr), an ambitious ruler whose betrayal of Ragnar and antagonistic relationship with King Horik (Donal Logue) ends up costing him his life. Torvi is a fierce fighter, and her romantic involvement with Bjorn is one of the strongest relationships in the series. However, they eventually separate, and she ends up marrying Ubbe (Jordan Patrick Smith), one of Bjorn's half-brothers.
In 2021, Georgia Hirst had a key role in a music video for Calum Scott's "Rise," where she plays a loving wife and mother living with cancer and attempting to stay positive in the face of gloom and despair. Hirst also plays a character in "Deathtrap Dungeon: The Golden Room" — an upcoming adventure video game/movie based on Ian Livingstone's gamebook. She stars alongside Marcus Fraser, who is best known for his role as Gawain in Michael Bay's "Transformers: The Last Knight."
Alex Høgh Andersen (Ivar the Boneless)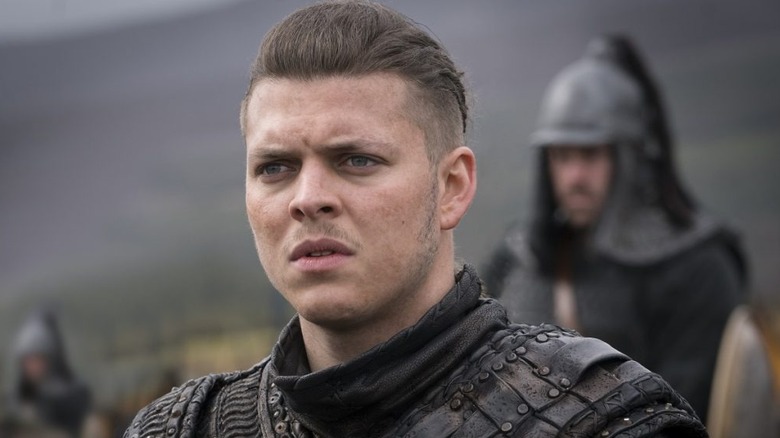 History Channel
Ragnar's youngest son – the disabled boy who defies everyone's expectations, becoming one of the most powerful and famous Viking warriors since his own father — is a multilayered character whose tragic story captivates audiences from his first appearance on "Vikings." Over the years, Ivar the Boneless goes from being one of the most hated to one of the most beloved characters on the show, and some may even say he gets redemption for his sins in the final battle against the English.
Alex Høgh Andersen has since been involved in "Centrum," a Danish drama series created by Jonas Risvig and Jesper Christense, which explores the lives of a group of teens during the coronavirus pandemic. Anderson also plays the lead role of resistance fighter Frederick in "The Shadow in My Eye," a tragic war story about the British bombing of Copenhagen that cost the lives of more than 120 people.
Gustaf Skarsgård (Floki)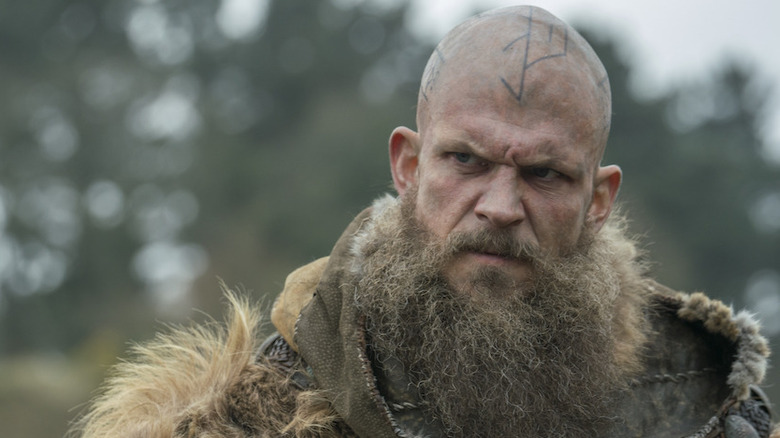 History Channel
Floki is the genius craftsman whose ships and inventions bring the warriors of Kattegat success on both water and land. Moreover, he is also a highly-skilled fighter and Ragnar's most trusted friend, appearing in all six seasons of the show. Floki leaves Kattegat after losing his family, but eventually reunites with Ubbe in America, where he finds a new home.
Currently, Gustaf Skarsgård (son of Stellan and brother of Alexander and Bill) plays the wizard Merlin in "Cursed," which focuses on a young sorceress named Nimue (Katherine Langford) and her adventures with Arthur himself (Devon Terrell) as they search for a mighty ancient sword. Skarsgård has also found himself back in the 1800s, searching for a new life as a Swedish immigrant to America in Erik Poppe's "The Emigrants." You can keep an eye out for a number of upcoming projects, including Bradley Rust Gray's "Blood" and Ran Huang's "What Remains."
Alyssa Sutherland (Aslaug)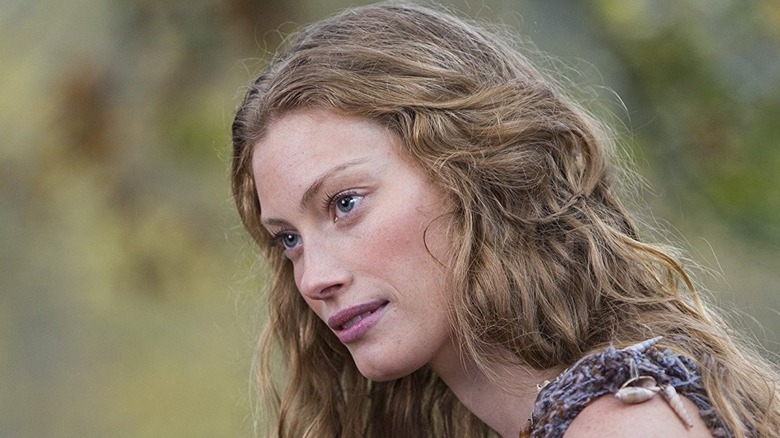 History Channel
Aslaug is Ragnar's second wife and mother to his sons: Ivar, Ubbe, Sigurd, and Hvitserk. She is at the core of Ragnar's separation from Lagertha, and the two have a mostly antagonistic relationship throughout the series. Even though Aslaug isn't a shield-maiden herself, she possesses the mystical ability to see into the future. Toward the end of Season 4, Lagertha kills her in order to reclaim her rightful place as Queen of Kattegat.
In real life, however, Australian actress Alyssa Sutherland has been doing quite well: She's been part of several major TV series, the most notable of which are Stephen King's "Mist," "Law & Order," and "New Gold Mountain." In 2019, she starred in Justin Dix's "Blood Vessel" — a WWII horror film featuring Nazi vampires. Fans can also expect to see Sutherland in "The Mental State" and a long-awaited sequel to the "Evil Dead" franchise titled "Evil Dead Rise."
Linus Roache (King Ecbert)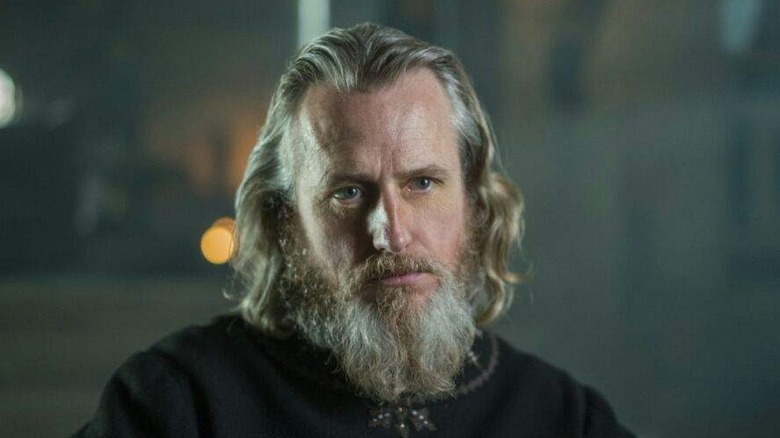 History Channel
Ecbert, King of Wessex and Mercia, is one of Ragnar Lothbrok's most formidable foes. However, the two eventually develop a respectful relationship as they realize they've got more in common than they'd previously thought. Ecbert is the father of Aethelwulf (Moe Dunford), who would later inherit his throne.
After completing 33 episodes of "Vikings," British actor Linus Roache went on to star in "A Call to Spy" — a historical drama about female spies in WWII — as well as the screen adaptation of Jim Crace's novel, "Being Dead." He also acted alongside Nicholas Cage in the horror film "Mandy," as well as with Samuel L. Jackson in Todd Robinson's "The Last Full Measure." You can catch Roache on the popular TV series, "Homeland," where he plays the White House chief of staff, as well as in a feature film by director Michael Grandage titled "My Policeman."
John Kavanagh (The Seer)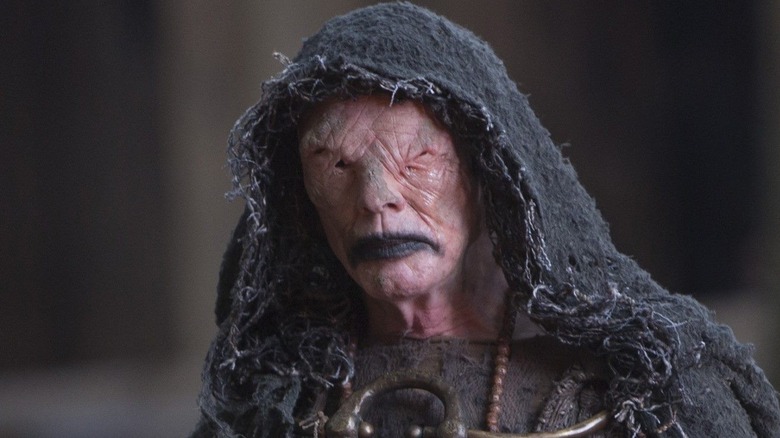 History Channel
The all-sensing oracle of Kattegat is one of the most crucial figures on the show: When it comes to life advice, he is the go-to person for king and farmer alike. After falling prey to a mysterious illness, The Seer is murdered in cold blood by Ivar the Boneless. He has been part of the show in all six seasons.
In 2019, John Kavanagh played a character named Windsor in a comical superhero movie entitled "Supervized." The following year, he became the narrator for "Fantasy Island," an animated TV series created by Trevor Courtney. The last two projects he's been involved in are "Riverdance: The Animated Movie," starring Pierce Brosnan and Brendan Gleeson, and Ridley Scott's historical drama "The Last Duel." In the latter, he plays a priest who counsels Jacques Le Gris (Adam Driver) after he is accused of assaulting his former best friend's wife.
Amy Bailey (Queen Kwenthrith)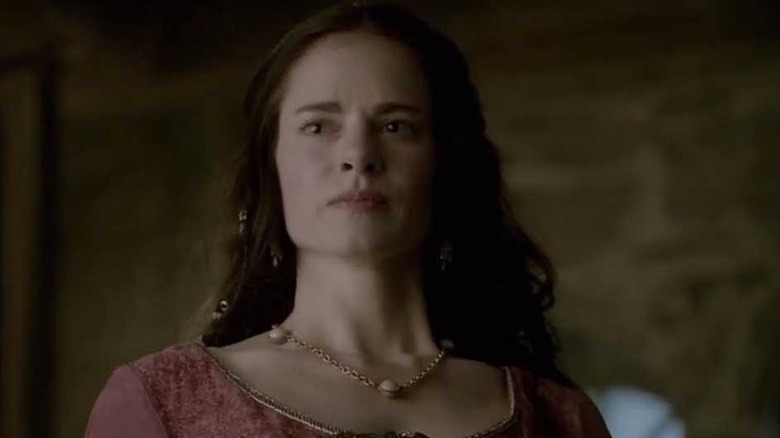 History Channel
Kwenthrith, the ambitious Queen of Mercia, is a character with a deeply troubled past. Throughout the four seasons she is part of, Kwentrith goes through multiple hurdles to claim her place on the throne of Mercia. She is also one of the women who manage to seduce Ragnar Lothbrok and, later on in the series, claims that he is the father of her child. She is killed by Judith of Northumbria (Jennie Jacques), daughter of King Aelle and wife to Prince Aethelwulf of Wessex.
After leaving the show, Amy Bailey went on to star in "Major Crimes," a spinoff series to "The Closer" which revolves around the same police department. In 2019, she did voice work for "Blood & Truth," a PlayStation VR video game, after which she appeared in a comedy film entitled "The Fosse Forest Ballet." In her latest movie, "Knuckledust," Bailey reunites with actor Moe Dunford, in which he has exchanged his mighty sword for a more modern fighting style.
George Blagden (Athelstan)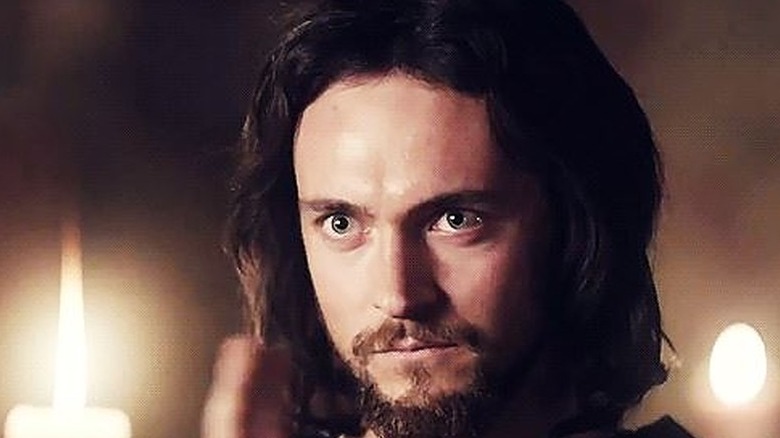 History Channel
Athelstan is a Christian monk who gets abducted and taken as a slave by Ragnar after the Vikings raid an Anglo-Saxon monastery. He becomes one of Ragnar's most trusted friends, and influences him greatly in his exploration of Christianity. After spending time among the people of Kattegat, Athelstan learns the ways of the warrior and, in turn, also adopts some of their religious beliefs. Eventually, he becomes an adviser to King Ecbert, and is killed by Floki both for his enduring love for Christ and his influence on Ragnar.
Apart from "Vikings," British actor George Blagden is known for his role as Louis XIV in the TV series "Versailles." He has since starred in numerous projects including "How You Look at Me," directed by Gabriel Henrique Gonzalez, a computer video game titled "Troy: A Total War Saga," Jeremy Culver's "No Postage Necessary," and a horror movie titled "The 100 Candles Game."
Jessalyn Gilsig (Siggy)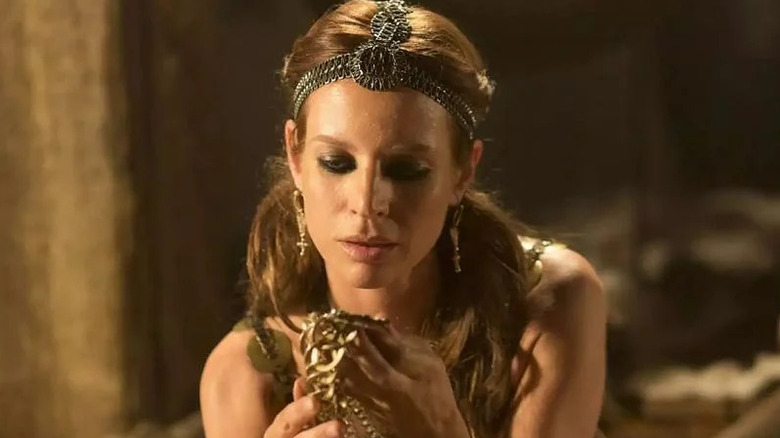 History Channel
Siggy is the scheming wife of Earl Haraldson (Gabriel Byrne), and the Lady of Kattegat. After her husband is killed in a duel to the death by Ragnar — who then takes his place as Earl – Siggy spends most of the time coming up with sneaky plans to regain her throne. She is involved in a romantic relationship with Ragnar's brother, Rollo, and meets her demise in an icy lake after saving two of Ragnar's sons from drowning.
After "Vikings," Jessalyn Gilsig starred in a B-movie titled "Evil Men." She then joined the cast of "Grand Hotel," a mystery TV series that follows the lives of people working at a luxurious Miami Beach hotel. After completing a number of other smaller projects, including "The Sweetheart" and "Spree," Gilsig was finally able to shine again in Disney's "Big Shot," a TV series starring John Stamos in the role of Marvyn Korn, a basketball coach who is tasked with teaching girls at an elite private school.
Peter Franzén (King Harald Finehair)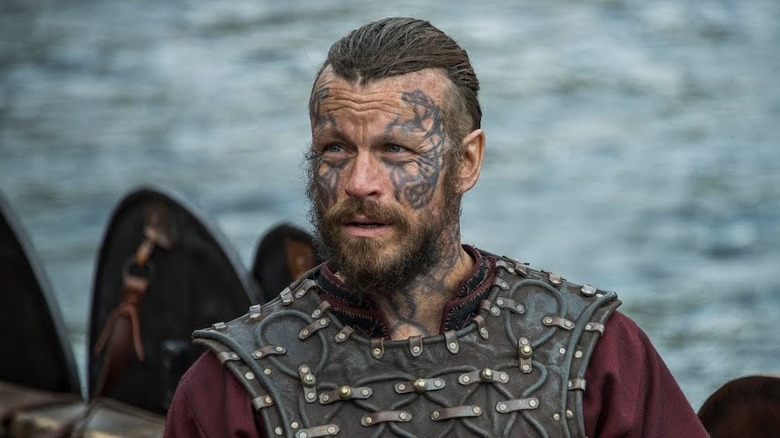 History Channel
Harald "Finehair" Halfdansson is a ruling warlord with a never-ending thirst for power. His main goal is to seize Kattegat and ultimately be crowned king of all Norway. Despite his shaky relationship with Ragnar and his sons, on more than one occasion, Harald joins his enemies in battle. Towards the end of the series, he becomes even more likable, with many viewers enjoying the development of his character. In the final season, while fighting on Ivar's side against the English, Harald is killed in battle at the hand of Bishop Aldulf (Russell Balogh), King Alfred's (Ferdia Walsh-Peelo) second-in-command.
Even though Finnish actor Peter Franzén hasn't been as active as other "Vikings" co-stars, he's taken part in a few projects his fans may find of interest. Those include "Love, Death & Robots," an animated Netflix series created by Tim Miller (known for hit movies like "Terminator: Dark Fate," "Deadpool," and "Sonic the Hedgehog"), a Finnish drama series titled "Makkari," and Amazon's all-new fantasy series "The Wheel of Time," starring Rosamund Pike.