Djimon Hounsou Confirms What We All Suspected About Heath Ledger's On-Set Behavior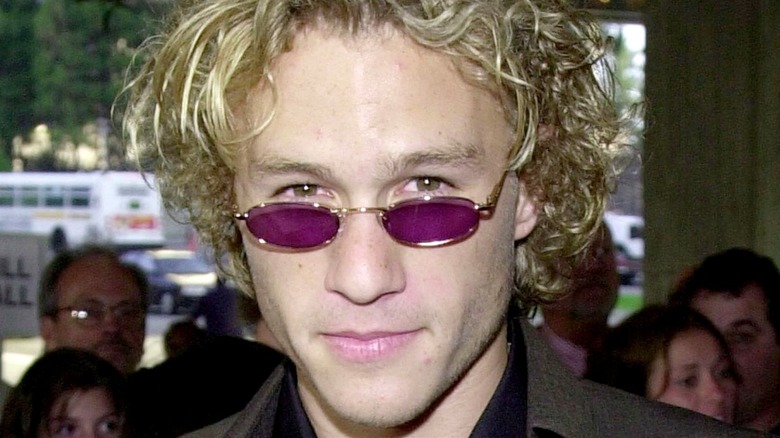 Chris Weeks/Getty
At age 17, Heath Ledger moved from his native Perth, Australia, to Sydney to pursue an acting career (via Britannica). He struggled for a few years before landing his first credited role in the low-budget thriller "Blackrock" in 1997. Following his first American movie, 1999's "10 Things I Hate About You," Ledger, worried about being typecast as the young hunk, took a series of somewhat inconsistent and chaotic roles, from the duty-bound son in the war epic "The Patriot" to a corrections officer in the darker and grittier role of "Monster's Ball." He found both success, with the critically acclaimed "Brokeback Mountain," and failure, with the universally panned "Ned Kelly."
In 2002, Ledger appeared in "The Four Feathers," which follows a British officer who resigns to avoid shipping out to Sudan. After receiving four feathers (a sign of cowardice), he disguises himself as an Arab to save those calling him a coward. The movie has a stellar cast, including Kate Hudson and Michael Sheen, but bombed at the box office, grossing under $30 million against a $35 million budget (via Box Office Mojo). This is also where he met Djimon Hounsou. Hounsou is a prolific actor, known for his roles in "Gladiator," "Blood Diamond," and "The Legend of Tarzan." He has also endeared himself to a new generation by appearing in a slew of comic book adaptations, including "Guardians of the Galaxy," "Shazam!," "Captain Marvel," and "Aquaman." And he recently sat down with GQ to share what working with Heath Ledger was like.
Hounsou worked with Ledger on The Four Feathers
When news of Heath Ledger's death spread across the industry, former co-stars and friends released an outpouring of support for his family (via NZ Herald). Julia Stiles, who starred alongside him in "10 Things I Hate About You," said, "I am drinking away my sorrows right now." The director of "Brokeback Mountain," Ang Lee, said, "Working with Heath was one of the purest joys of my life."
More recently, Hounsou sat down with GQ to discuss his most iconic characters and addressed what it was like working with Ledger (via YouTube). "That was quite a gratifying experience, working with Heath Ledger. It was wonderful to work with him, and ... artistically, he was so young and ripe, if you will. You could feel there was so much talent in him, somebody who is obviously passionate about the work as well, likes to have fun but to enjoy the work and takes the work very seriously."
While "The Dark Knight" was the film that got Ledger the respect he longed for as an actor, the posthumously awarded Oscar for best performance by an actor in a supporting role came too little, too late. His death still sends ripples through the industry, with questions about what he was like still cropping up in interviews over a decade later.