Louie Anderson's Career Left The Comedian With A Massive Net Worth At The Time Of His Death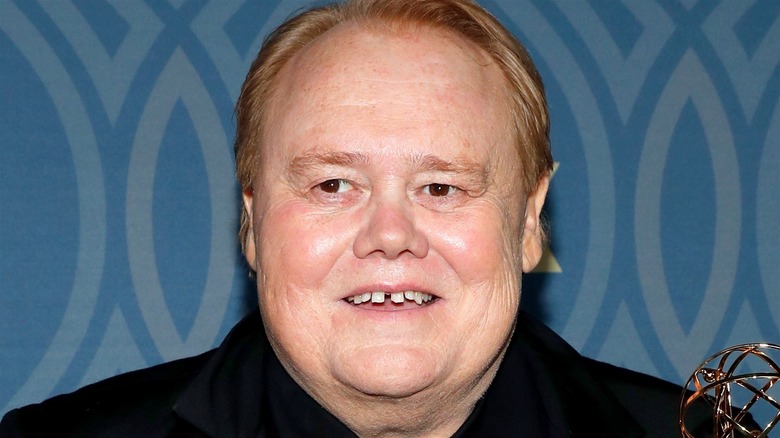 Rich Polk/Getty
The comedy world has truly lost one of its most beloved and enduring talents as famed funnyman Louie Anderson has died. Per the Los Angeles Times, Anderson's long-time publicist Glenn Schwartz announced that the legendary actor, comedian, and author passed away in Las Vegas due to complications from cancer. He was 68. 
Known for his piercing observational wit, offbeat sensibilities, and distinctive smile, Anderson rose to prominence on the stand-up comedy scene of the 1980s (alongside the likes of Eddie Murphy, Robin Williams, and Ellen Degeneres), and never stopped performing. While he never rose to the same sort of stardom as many of his contemporaries, Anderson still made quite a name for himself in the film and television landscape, appearing in a number of noteworthy projects and winning a Primetime Emmy in 2016. 
And at the time of his death, Anderson's lauded career on stage and screen had indeed left him with a fairly massive net worth. 
Decades in the spotlight left Anderson with an impressive net worth
Given his prominence, and the decades-spanning length of Louie Anderson's career, it should come as no surprise that he left behind an impressive fortune upon his passing. Per Celebrity Net Worth, Anderson was allegedly boasting a robust $10 million net worth at the time of his death.
Anderson's career was varied, to say the least, so it's not easy to pinpoint a single job that helped him establish that fortune. One might reasonably assume, however, a significant portion of it stemmed from his prolific and celebrated stand-up career. Likewise, Anderson no doubt did well for himself during his late-90s stint as the host of the TV game show "Family Feud," and as the author of four well-regarded books. 
Of his live-action roles, Anderson developed a reputation as a scene-stealing talent whose turns in "Coming to America," "Ally McBeal," "Young Sheldon," and "Search Party," were worth every penny producers paid out. As for his Emmy-winning work as the mother of Chip (Zach Galafinakis) in the FX series "Baskets," it remains the sort you simply cannot put a price tag on.