The Tragic Real-Life Story Of Robin Williams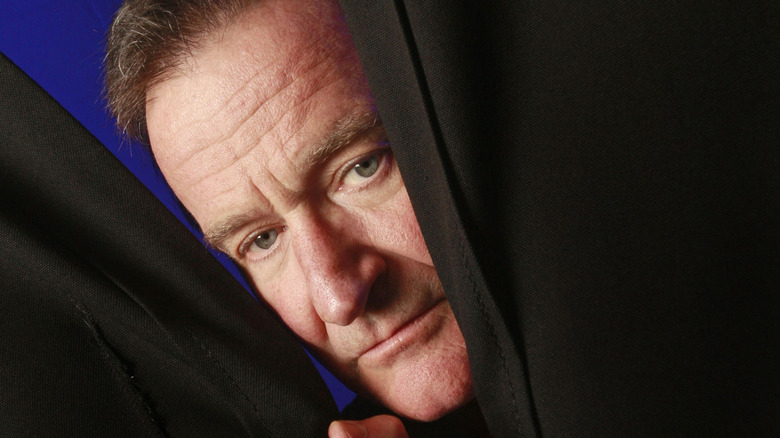 Jay Paul/Getty Images
Few comedians have ever been as beloved as Robin Williams — during his life as well as after his death. Of course, few comedians have ever had a career as successful — and as wildly varied — as the one Williams established. His manic standup is legendary. His comedic roles, from Mork to the Genie to Mrs. Doubtfire, are unforgettable. Yet he was more than just a hyper funnyman — his dramatic roles in heavy hitters like "Good Morning Vietnam," "Dead Poets Society," and "Good Will Hunting" reveal a stunning depth and presence.
There will never be another Robin Williams, which is just part of why his shocking death in 2014 hit so hard. The story of one of the greatest comedians of all time is full of tragic moments, and even after all these years, there are still things most people don't know. Williams' body of work ensures that the man he strove to be, the adored personality who lit up all of our screens, will leave a legacy that will continue long after death. And his struggles can inspire us all to strive to understand and address the demons that haunt even those we think are perfectly happy.
Robin Williams had a lonely childhood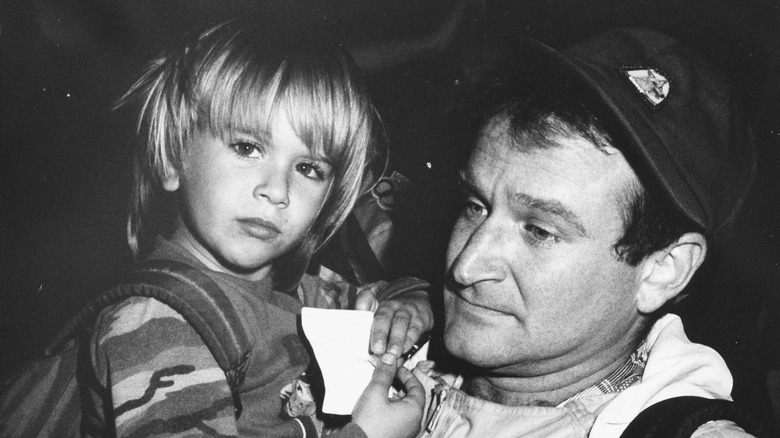 Kevin Winter/Getty Images
The couple had children from former partners, but Robin Williams was the only shared child of Laurie and Robert Williams. Robert was an executive at Ford, and the family lived in the well-off neighborhood of Bloomfield, MI. Yet Williams, despite growing up with the trappings of wealth, was lonely.
As recounted in David Itzkoff's Robin Williams biography "Robin" and referenced by comedy writer Merrill Markoe in her review of the book, his mother would later admit "I didn't realize how lonely Robin had been ... [he] had some very lonely years. You think you're being a wonderful mother, but maybe you aren't." It seems Robin actually saw his mother as a source of inspiration.
A Rolling Stone article quotes Robin admitting as much. "The first laugh is always the one that gets you hooked," he pointed out. "For me, it was my mother. I was always trying to make her laugh."
One also can't help but think that it was perhaps this childhood, often alluded to by Williams as one with two somewhat absentee parents, that inspired him to try and be the best father he could when he had his own children.
Young Robin was bullied by classmates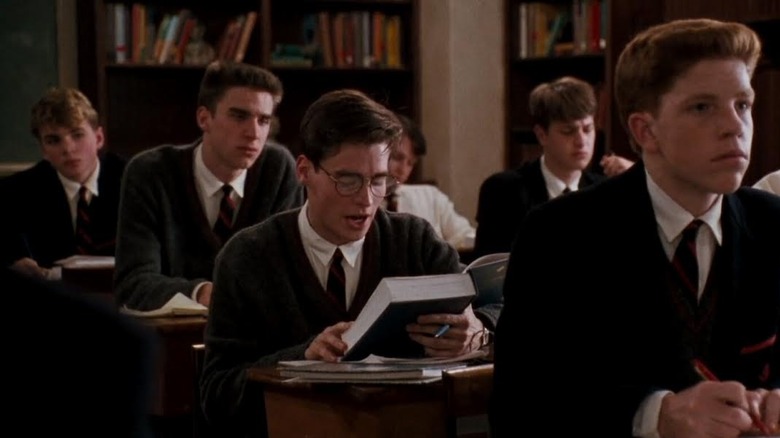 Buena Vista Pictures
According to the Williams biography "Robin Williams: When the Laughter Stops," the feeling of loneliness that shadowed Williams' younger years wasn't confined to his home life. As an adult, he also looked back on his school years as a somewhat unhappy time, one that found him coping with bullying from his peers.
"I spent about three years in an all-boys school [near Detroit]," Williams is quoted as saying. "It was almost like the one in 'Dead Poets Society.' Blazer. Latin motto. I was getting pushed around a lot. Not only was there like physical bullying, but there was intellectual bullying going on. It made me toughen up, but it also made me pull back a lot. I had a certain reticence about dealing with people. Through comedy, I found a way to bridge the gap."
Like many if not most comedians, Williams coped with his pain by using it as fuel for laughter.
Williams lost friends to overdose and addiction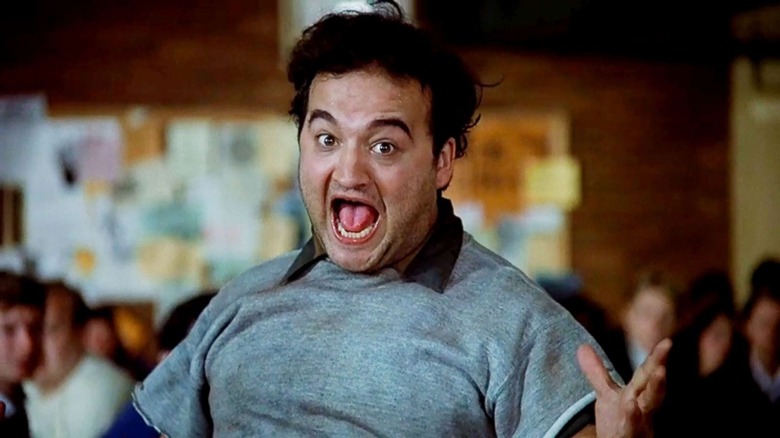 Universal Pictures
Gerald Nachman's 2004 book "Seriously Funny: The Rebel Comedians of the 1950s and 1960s" quotes Robin Williams describing comedy as "a brutal field" and musing, "They burn out. It takes its toll. Plus, the lifestyle — partying, drinking, drugs. If you're on the road, it's even more brutal. You gotta come back down to mellow your ass out, and then performing takes you back up ... Sometimes they just give up."
Williams came up in this challenging, hard-living world of 1970s standup comedy. When it comes to comedians who partied hard, though, few were as widely known for their hard living as Williams' friend John Belushi. Williams and Belushi were together the night that Belushi fatally overdosed — and understandably, the loss hit Williams hard.
"Here's a guy who's a beast, who could do anything, and he's gone," Williams later reflected. "That sobered the s*** out of me." This period of sobriety helped Williams build his career and focus on raising his son, but it didn't last. "Cocaine for me was a place to hide," Williams admitted. "Most people get hyper on coke. It slowed me down."
Williams had his own battles with addiction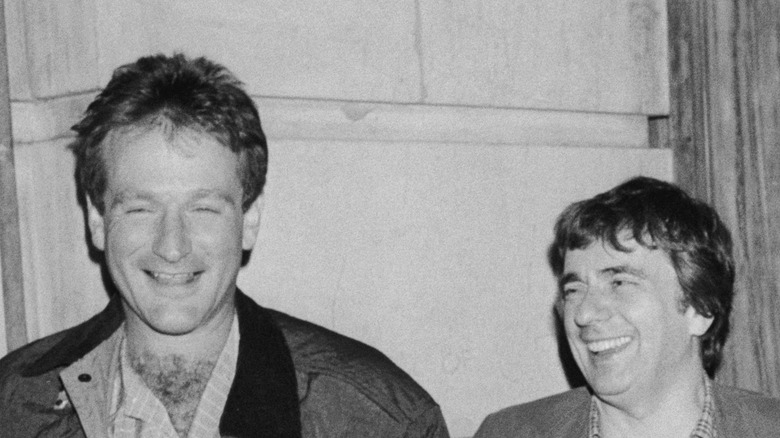 Dave Hogan/Getty Images
In Dave Itzkoff's Robin Williams biography "Robin," Williams is open about the cocaine culture that was prevalent during his early career. "They give it to you for free," he explains. "'You have a drug problem?' 'No problem. Everybody's got it.'"
John Belushi's death led to Williams getting sober. As he told People in 1988, Belushi's death "caused a big exodus from drugs. And for me there was the baby coming. I knew I couldn't be a father and live that sort of life."
Williams got sober for a long time — until 2003 when, on location in Alaska, he relapsed. "One day I walked into a store and saw a little bottle of Jack Daniel's," he remembered in a 2013 Parade article. "And then that voice — I call it the 'lower power' — goes, 'Hey. Just a taste. Just one.' ... Within a week I was buying so many bottles I sounded like a wind chime walking down the street."
Williams went to rehab in 2006 and checked himself into a renewal center in 2014, shortly before his death.
Worldwide fame couldn't prevent Williams' insecurity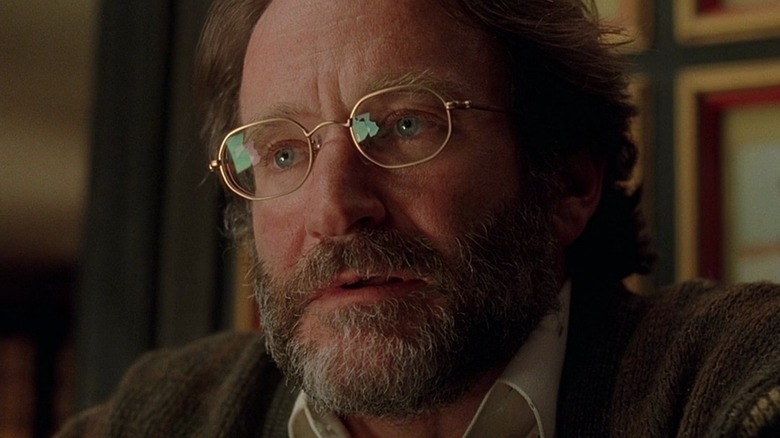 Miramax
After Williams' death by suicide, numerous reports detailed his lifelong experiences with depression, but his family was quick to make it clear that depression was not the main factor. "It was not depression that killed Robin," Williams' wife Susan told People. "Depression was one of let's call it 50 symptoms, and it was a small one." On the other hand, a Guardian article describes Susan telling ABC News that Williams had been sober for eight years before his death, but his chronic depression had resurfaced.
Whether clinically depressed or not, Robin was constantly worried about losing everything he had worked for.
"Dad's happiness was correlated very much to how he was doing career-wise," Williams' son Zak later reflected. "When there were films that would be less successful, he took it very personally. He took it as a personal attack. That was really hard for us to see."
Itzkoff writes in "Robin" that Williams worried "that his position in the comedy world could be usurped at any moment by a younger, up-and-coming star," with Jim Carrey mentioned as a specific source of anxiety.
Williams' friend, Monty Python vet Eric Idle, believed depression had some effect on Williams' final days. Speaking with Vanity Fair about a time when Williams was supposed to come to London to participate in an Idle project, he recalled, "He said he could come, but he didn't want to be onstage. I said, 'I totally get that.' Because he was suffering from severe depression."
Live, laugh, love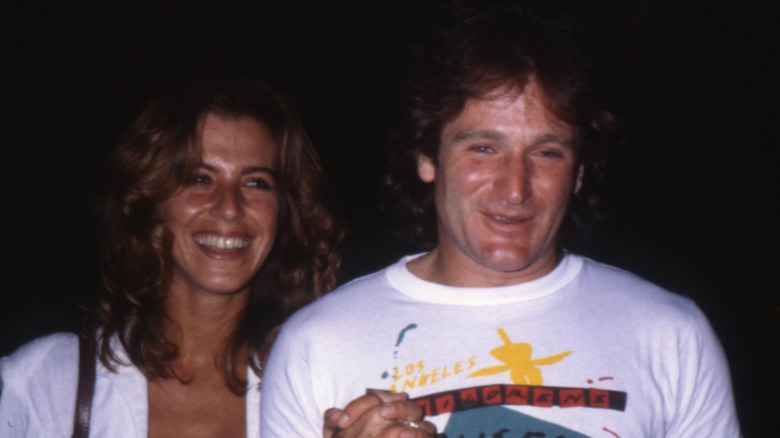 Donaldson Collection/Getty Images
Robin Williams was married to his first wife, Valerie Velardi, for 10 years, and with her had his first son, Zak. In the documentary "Come Inside My Mind," Velardi discussed their relationship, including his infidelities. The Sun quotes her as saying, "He loved women. Absolutely loved women."
Velardi tried to make peace with Williams' straying. "I understood and I wanted him to have that," she explained. "But I also wanted him to come home." The marriage ended in divorce, and Williams started a relationship with Marsha Garces, the nanny they'd hired to take care of Zak. Marsha became Williams' second wife, with whom he had a daughter, Zelda, and a son, Cody. Following the dissolution of his marriage to Marsha, Williams married his third wife, Susan Schneider, in 2011. They remained married until his death in 2014.
While the heart wants what it wants and Williams always seemed to treat the women in his life respectfully, his eventual alimony of over $30 million to his ex-wives (according to the New York Daily News) was undoubtedly an expense he would have preferred to avoid.
Robin was losing weight and memory near the end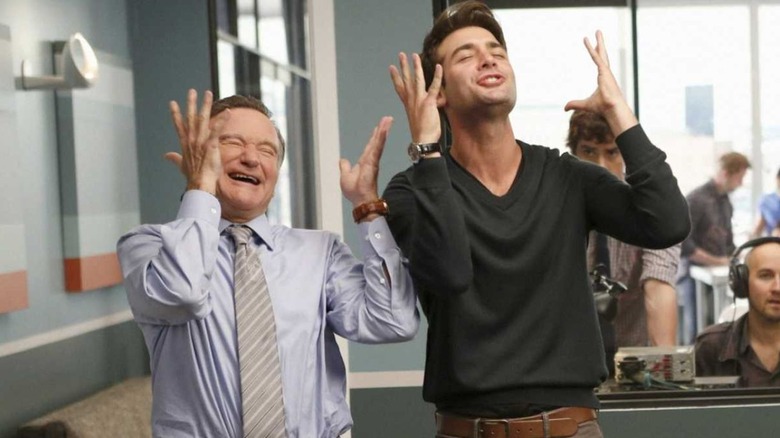 CBS
In a Vanity Fair-published excerpt from David Itzkoff's book "Robin," the author recounts Williams' mounting health issues in his finals days. "By the time he reached Vancouver [to film for "Night at the Museum: Secret of the Tomb"], Robin's weight loss was severe and his motor impairments were growing harder to disguise," the book alleges. "Even his once-prodigious memory was rebelling against him; he was having difficulty remembering his lines."
It was no secret that Robin Williams wasn't himself toward the end. In his review of Williams' CBS series "The Crazy Ones," Boston Herald critic Mark Perigold wrote, "Williams seems exhausted. So is this show." This exhaustion was perhaps one of the most worrisome symptoms; Rolling Stone told the story of how Williams became obsessed with biking and once even outran his guide, who was 20 years younger, on a Tuscan bike tour.
Itzkoff wrote that while shooting "Crazy Ones," "Robin was now gaunter and grayer than viewers were accustomed to seeing." When Williams was diagnosed with Parkinson's in May 2014 it at least explained what was happening to him — although for a man whose career was grounded in quick physical actions, that prognosis carried its own heavy burden.
Williams' Lewy body dementia was only diagnosed after his death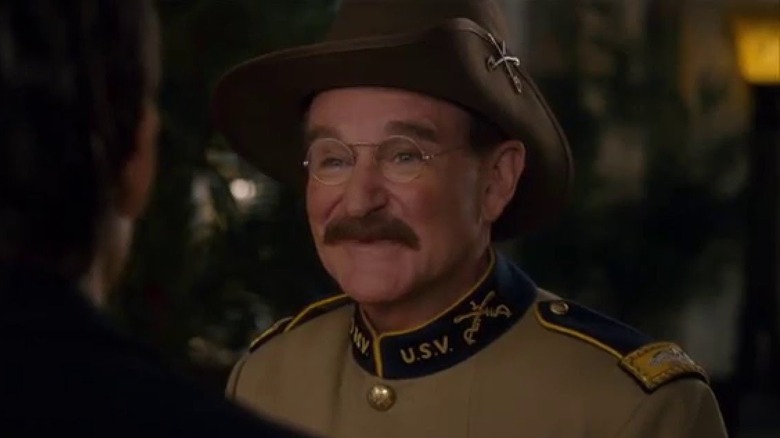 Twentieth Century Fox
While the Parkinson's diagnosis at least helped Williams understand what was happening to him, it wasn't completely correct. After his death, his health problems were identified as Lewy body dementia. "Robin was losing his mind and he was aware of it. Can you imagine the pain he felt as he experienced himself disintegrating?" his widow Susan wrote in a Neurology article.
As Scientific American explains, Lewy body dementia is caused by deposits on the brain which explains why Robin's problems were more than just physical ailments and he was losing some of his cognitive abilities. In a heartbreaking reflection on his final days, Scientific American describes Williams experiencing a panic attack on the set of "Night at the Museum 3" in early 2014, adding that he had tremendous difficulty remembering his lines — a significant departure for the norm with an actor who'd managed to remember his script during a Broadway stint just a few years prior.
Williams' children have experienced their own issues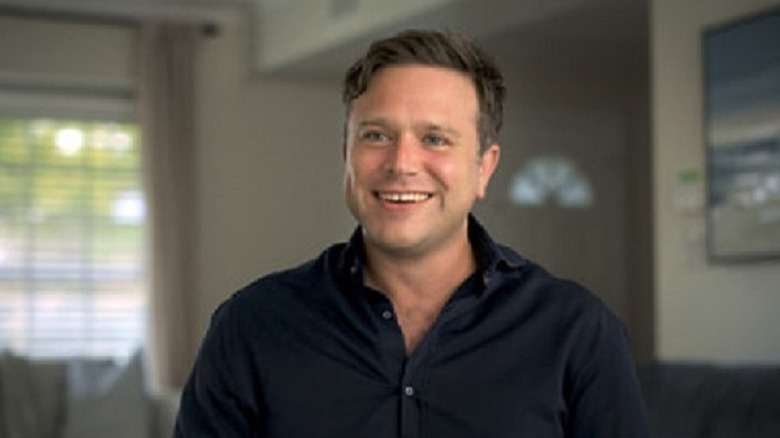 Apple TV+
Addiction is a disease that seems to affect some families more than others — and that's been the case with the Williams family, as Robin's son Zak has experienced his own issues with substance abuse.
As recounted by the Daily Mail, Zak appeared on Prince Harry and Oprah's mental health-focused docuseries "The Me You Can't See," saying, "As an adolescent I found using alcohol and drugs helped me calm my mind" and adding, "It became a very normal experience to rely on them and things like that to manage the racing mind ... I started to realize elements of myself that were like [Robin]. My anxiety, my bouts of depression, OCD, drugs, drinking like him."
Further connecting his own experiences to his father's, Zak went on to explain, "There's a generational issue going on. I've experienced mental health issues my entire life." Now a father himself, however, he has vowed to "break the cycle."
Williams' daughter has dealt with online harassment since his death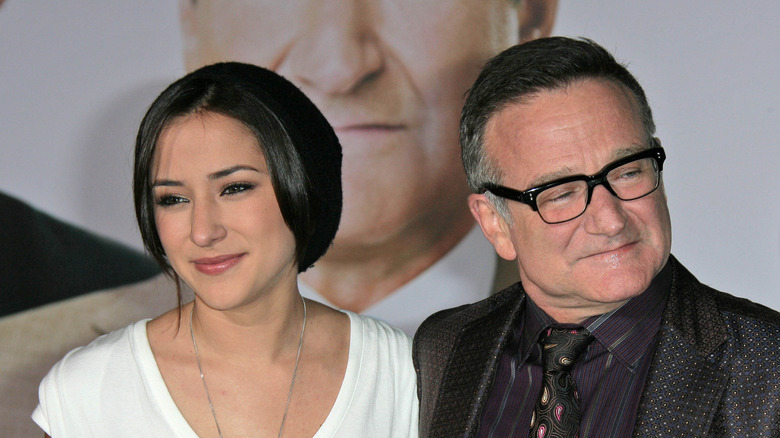 s_bukley/Shutterstock
In 2014, Robin Williams' daughter Zelda, an entertainer in her own right, quit social media after being harassed on Twitter and Instagram, according to a CNN article. She was reportedly sent Photoshopped images of her father's death and worse, which prompted Twitter to evaluate its handling of abuse. 
Unfortunately, she's still being harassed years later. In 2021, after a clip of a man named Jamie Costa impersonating Robin Williams went viral, Zelda was bombarded with the footage; according to many sources, including US Magazine, she openly asked people to stop sending it to her.
"Guys, I'm only saying this because I don't think it'll stop until I acknowledge it ... please, stop sending me the 'test footage,'" Zelda tweeted. "Jamie is SUPER talented, this isn't against him, but y'all spamming me an impression of my late Dad on one of his saddest days is weird." 
It isn't that Williams is opposed to discussing her father — she just deserves to do it on her terms. "New, old, the connective tissue of that deeply human pain can be hard to bear, but I find it easier sometimes knowing how many others have felt the same sting," she tweeted on the anniversary of his death in 2021. "We're not alone. X."
His legacy reaches beyond his body of work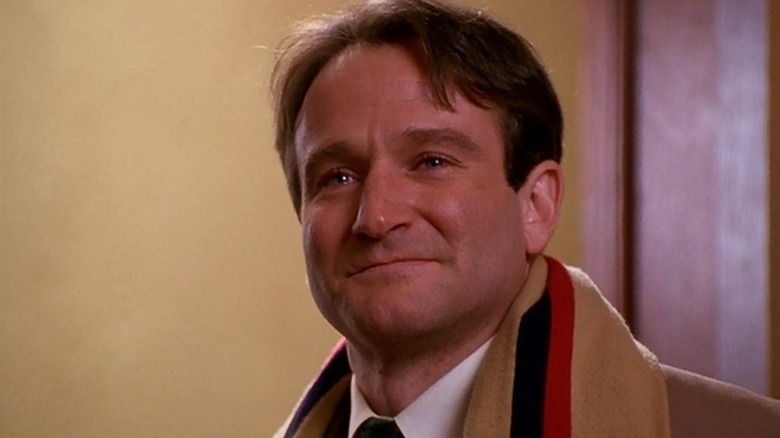 Buena Vista Pictures
Robin Williams has been immortalized by his many unforgettable performances. His standup is the stuff of legend, and even today, watching one of his old routines can bring even the most jaded viewer to uncontrollable fits of laughter. Following his death, he left another legacy — one that may have a more profound effect on the people who most need it.
As stories about his life have come to light, the world has increased its discussions of such long-taboo subjects as depression, substance abuse, and the pressures of living in the public eye. It has maybe made people more cognizant of the emotional hardships often endured by those who entertain us, making us laugh and cry and feel part of the human experience through their work. The tragic details of Robin Williams' life have prompted us to look at those people who seem to have a perfect life and try to look past the mask.
Not only will we forever have the Genie from "Aladdin," Sean from "Good Will Hunting," and Adrian from "Good Morning Vietnam" — among many other roles — but we will also have Robin Williams himself, a man whose story offers an ever-timely reminder that everybody needs support and understanding.