Meryl Streep's Best Co-Stars Ranked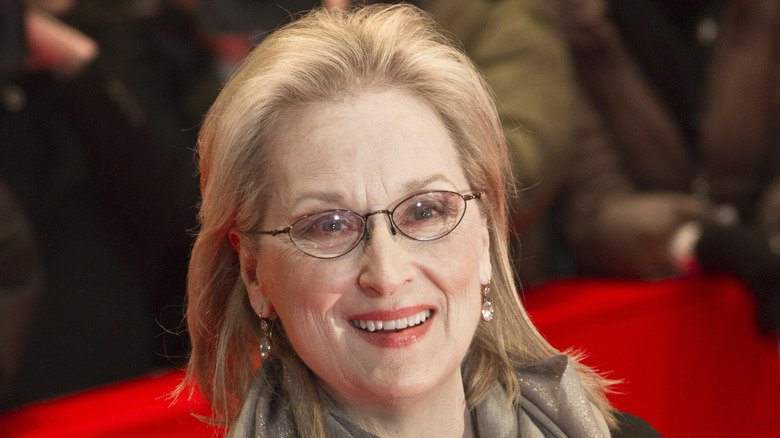 Denis Makarenko/Shutterstock
Meryl Streep is undoubtedly one of the best actresses of our time. Having been nominated for a whopping 21 Oscars — an Academy Awards record — and taking home three of them, her acting legacy is hard to argue with. Of course, not all of her films still hold up, and looking back, maybe not every single nomination was deserved. ("Into the Woods" and "Florence Foster Jenkins," anyone?) The breadth of her career has been vast, and she's starred in everything from Holocaust drama "Sophie's Choice" to musical comedy "Mamma Mia." She's even voiced a character in "The Simpsons." The number of nominations she has acquired is at least in part due to how beloved she is by the public and by her fellow actors.
Of course, Streep hasn't achieved this fame all on her own, and some of her acclaim has certainly stemmed from the chemistry she's had with her many co-stars over the years. Having been in over 70 films since the late '70s, Streep has gotten the chance to work with some of Hollywood's best actors and actresses. We thought it high time to look back at Streep's illustrious career through the lens of her many co-stars. Because Streep has been in so many films, we obviously can't include everyone Streep has ever worked with, so instead, we've collected some of the highlights. Here are Meryl Streep's best co-stars, ranked by chemistry, collective star power, and the overall quality of their movies together.
20. Dustin Hoffman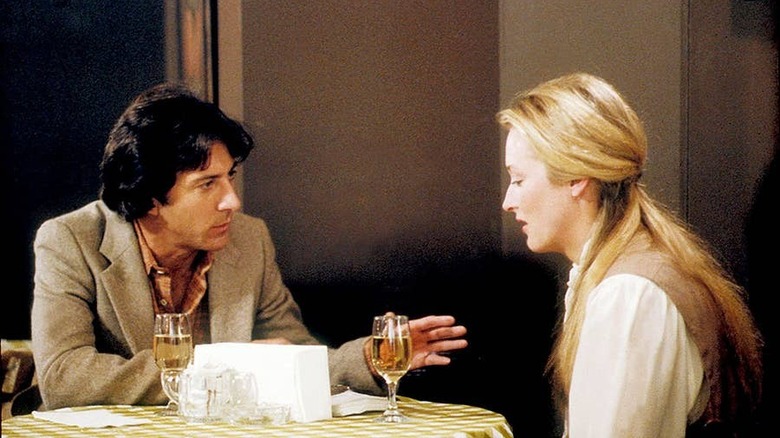 Columbia
"Kramer vs. Kramer" is a great movie. Starring Streep and Dustin Hoffman, the film follows the divorce of a couple with a young son and the emotional turmoil that follows. Streep and Hoffman both give incredible performances here. Though Hoffman is laughably inept as a father at first, we do actually feel for him by the end of the film.
We can't in good conscience put Hoffman and Streep's collaboration any higher up on the list because of Hoffman's abusive behavior while filming. Hoffman felt entitled to use on-set cruelty to evoke the real anguish of a collapsing marriage, but his approach to method acting crossed the line. While filming one scene, Hoffman slapped Streep across the face hard enough to leave marks. Hoffman also tried to inflame Streep by insulting her boyfriend, actor John Cazale (best known for playing Fredo in "The Godfather"), who had died of cancer only months before. Hoffman also improvised one scene by throwing a glass of wine at the wall near Streep's head. The performances in the film were great, but likely could have been achieved without these extremes. 
Since then a slew of sexual assault and harassment claims against Hoffman have emerged, so we're glad Streep hasn't had to work with him since then (technically they both appeared in 2004's "Lemony Snicket," but Hoffman only had a small role).
19. Tom Hanks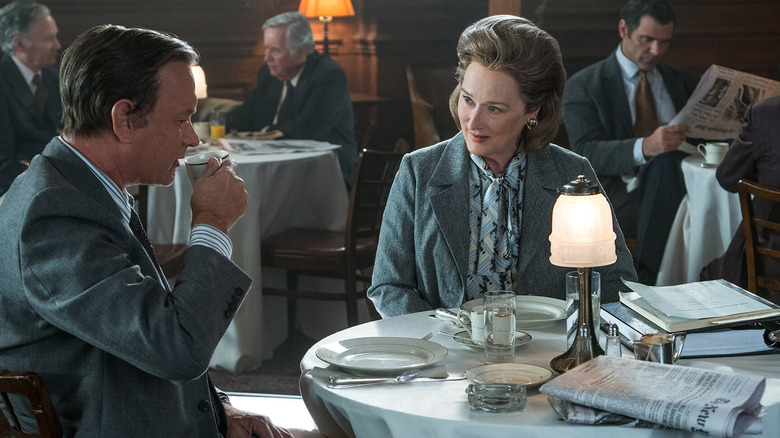 Universal
While it's true that Tom Hanks and Meryl Streep are both great actors and giants in their field, Steven Spielberg's "The Post" is not a very effective display of their talents. Hanks, who got his start in the 1980s in films like "Big" and "Splash," is one of the most well-liked American actors working today, but even his geniality couldn't save this bore of a film. 
Streep can usually act her way out of even the most lifeless script. If the movie has a saving grace, it's her. Really, it's Spielberg's fault that a fascinating story — Washington Post publisher Katharine Grant's decision to risk it all by publishing the Pentagon Papers — falls flat on-screen, buried under its own preachy, heavy-handed message. Hanks and Streep can only add so much charisma to this staid tale. 
18. Hugh Grant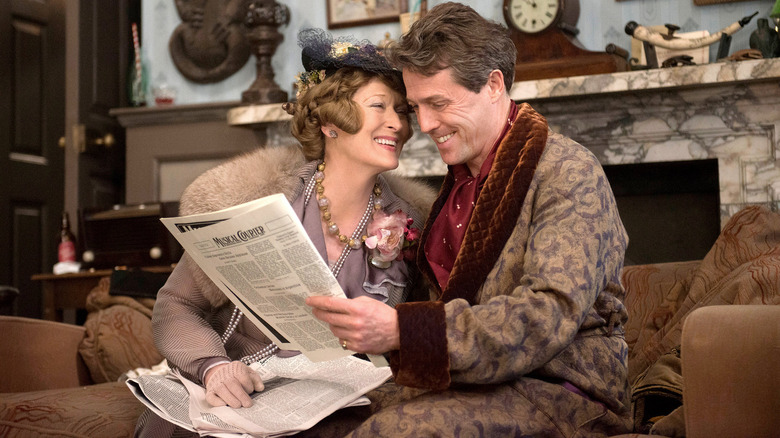 Paramount
Though Streep won an award for her performance in it, "Florence Foster Jenkins" quite frankly isn't a very good film. Martin Fuller of the New York Review called it "predominantly schmaltzy but sporadically affecting." David Nusair of Reel Film Reviews was more straightforward, calling it "a total misfire that wastes the talents of everyone involved." 
Like always, Streep does her best pathos-reaching acting, and does somehow get the audience to sympathize with her often overdrawn character. It's tempting to turn Florence — a flighty socialite who aspires to be an opera singer despite her lack of talent — into a caricature, and Streep avoids that. Hugh Grant, the ever-watchable rom-com king of the 1990s, turns in a solid performance here as her manager and partner. 
Still, their combined performances can't rank higher on this list simply because both actors have separately appeared in other, much better films. Unfortunately, the film's middling script doesn't bring out the best in either star.  
17. Alec Baldwin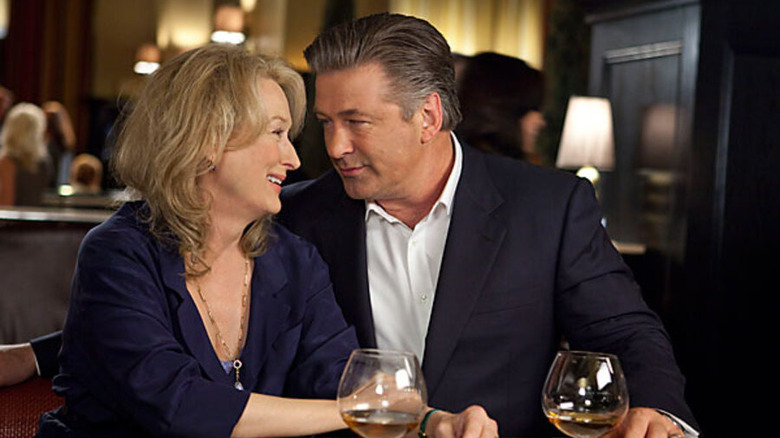 Universal
Alec Baldwin is a fine actor, but he doesn't hold a candle to Meryl Streep. He tends to do best when typecast as a rich jerk — whether a likable one, as in "30 Rock," or an unrepentant one, as in "Glengarry Glenn Ross". He turns in a solid performance opposite Streep in the Nancy Myers-directed "It's Complicated." The plot follows a long-divorced couple who find themselves having an affair. Baldwin's character is a successful attorney, so the role isn't too far afield from his typical fare. 
Baldwin and Streep are both good in the film, and they certainly have an amusing, unexpected sort of chemistry given that Streep is roughly 10 years his senior. Plus, the scene where Streep, Baldwin, and Steve Martin get high and dance to the Beach Boys is worth the watch. But, the film itself isn't that memorable overall, especially compared to Myers' other (better) films like "Something's Gotta Give" and "The Holiday."
16. Jeremy Irons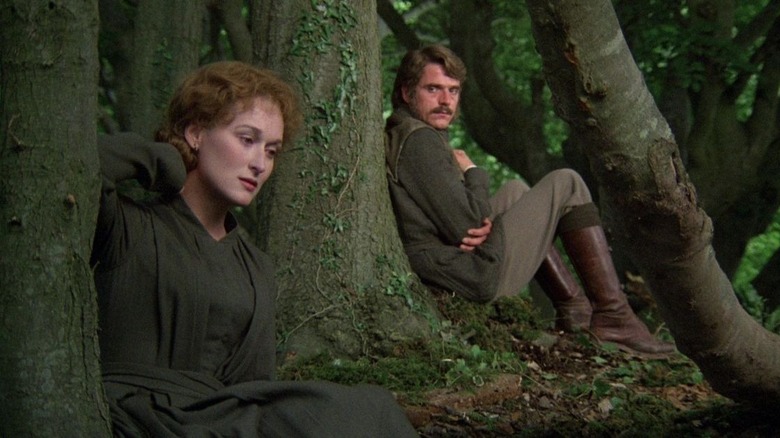 United Artists
Jeremy Irons and Meryl Streep have starred in two movies together. The problem is, neither movie is very good or particularly memorable. The first movie they starred in together, "The French Lieutenant's Woman," is a story-within-a-story about two actors working on a period film about a forbidden romance, only to start an affair themselves. Though Streep does some great hand-on-face acting here (her specialty) and Irons does good work as a possessive lover, nothing really clicks. (Streep herself has said she wasn't happy with her performance, despite being nominated for an Oscar for the role.)
"The House of Spirits," based on Isabelle Allende's novel, isn't any better. The film chronicles 45 years of the lives of a family living in South America. Despite strong performances by Streep and Irons, the characters just don't connect with the audience or each other. It's a shame that these two talented actors haven't made a better film together, but with a long career like Streep's, they can't all be winners.
15. Kurt Russell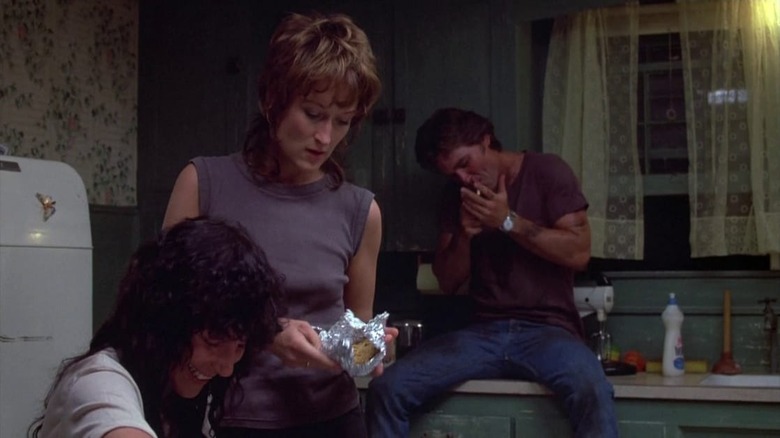 20th Century Studios
In 1983, Meryl Streep and Kurt Russell starred in the Mike Nichols film "Silkwood," which follows the real-life story of Karen Silkwood, a whistleblower who raised concerns about radiation poisoning at a nuclear plant in Oklahoma. The film also stars Cher as Streep's roommate, Dolly. The script was written by Nora Ephron, marking a departure from her usual light romantic fare. Though it nearly veers into made-for-TV-movie territory at times, the film's strong performances make it worth watching.
The reason it's not higher up on this list is that Russell and Streep's relationship in the film isn't the central story, and rightly so. Nonetheless, Russell, Streep, and the other actors give concerning, naturalistic performances that elevate the film's already riveting story. As Roger Ebert put it, "Streep and her co-actors build characters so convincing that we become witnesses instead of moviegoers."
14. Kevin Kline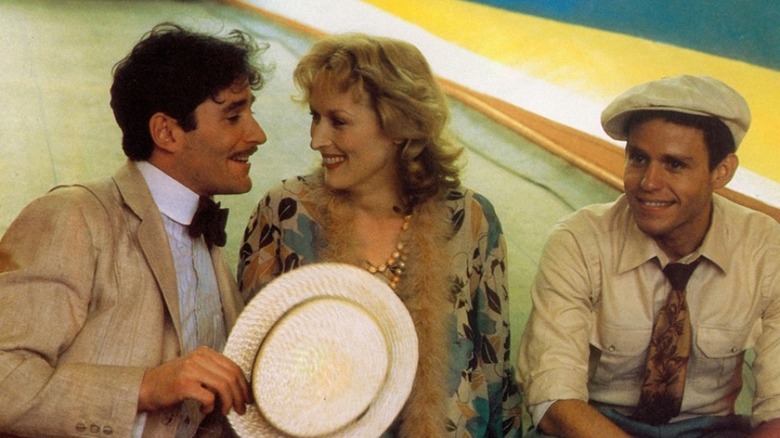 Universal
Meryl Streep and Kevin Kline have starred in two very different movies together. The first, "Sophie's Choice," follows a woman (Streep) who had to leave one of her children behind in the Holocaust. The second, "Ricki and the Flash," follows a washed-up, middle-aged rock-n-roller who comes home to be with her family.
Though "Sophie's Choice" is considered an iconic movie among Streep's filmography, it's a ridiculous film. The reveal of Sophie's trauma near the end of the movie is overwrought even considering the profundity of the tragedy. Most of the plot revolves around her relationships with the men in the film, rather than her own presumably complex inner life. Kline is compelling as her volatile lover, Nathan, but the script tends toward melodrama. 
"Ricki and the Flash" is also not a great film, but at least it's more fun than the dark and brooding "Sophie's Choice." Much of the dialogue, written by Diablo Cody ("Juno," "Jennifer's Body") is over-the-top, if sometimes hilarious. Streep gives it her all as the messy Ricki, and Kline is fine as her long-suffering ex-husband, but it's neither actor's best.
13. Dennis Quaid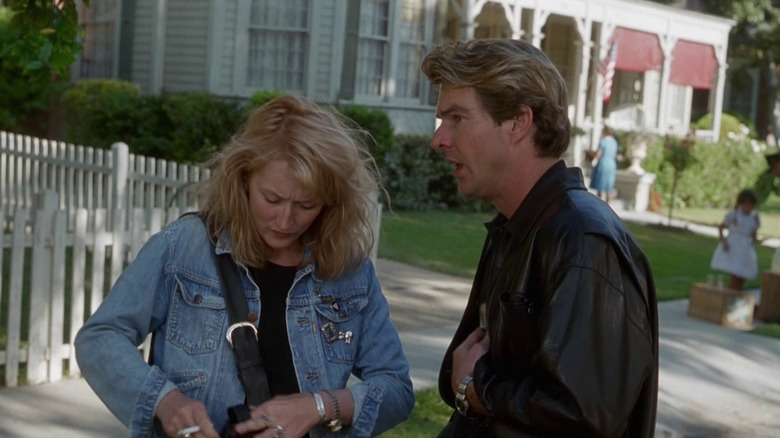 Columbia
In her third film with director Mike Nichols, Meryl Streep starred alongside Dennis Quaid. In "Postcards From the Edge," Streep plays an actor and recovering addict who is staying with her mother (Shirley MacLaine) after getting out of rehab. The script was written by Carrie Fisher and is loosely based on her relationship with her own mother, Debbie Reynolds.
Dennis Quaid plays Streep's love interest in the film, and it really is one of his best roles. He's charming, funny, and a compelling foil to Streep's perpetually on-edge character, Suzanne. Though it turns out that Quaid's Jack is actually lying to Suzanne about his feelings for her, their dynamic is extremely fun and he's perfectly cast as a charming sleazeball. It's certainly an underrated gem in both their filmographies.
12. Allison Janney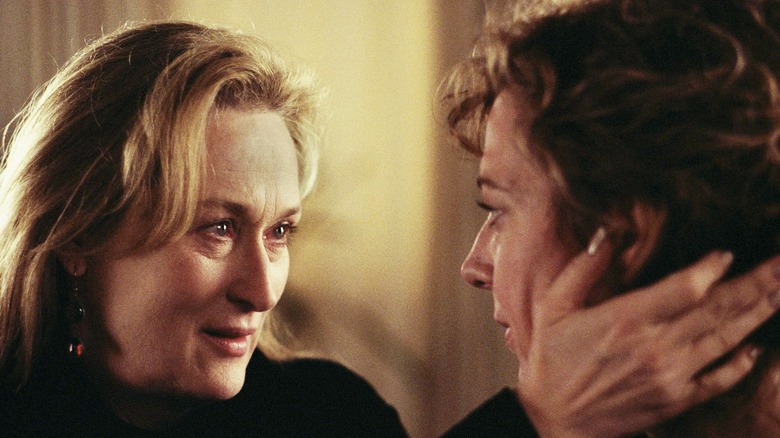 Paramount
Streep has starred opposite a lot of famous leading men, but we would be remiss to overlook the leading ladies she's acted with on screen. Though her role in the film isn't very large, we've decided it's important to include Allison Janney's role in "The Hours" on this list. "The Hours" follows three women living in different periods who are all connected to the Virginia Woolf novel "Mrs. Dalloway." One of them is Woolf herself (Nicole Kidman), and the other is a 1950s housewife (Julianne Moore).
Streep's character is living in 1990s New York City, where she is looking after her dying friend (Ed Harris). Janney plays Streep's girlfriend, and her daughter is played by Claire Danes. Technically, "The Hours" is the second time Streep has played a queer character — the first was in a Woody Allen movie, 1979's "Manhattan." However, "The Hours" takes the relationship seriously (as opposed to "Manhattan," where it's largely used as fodder for Allen's comedic inferiority complex). It's also the first same-gender kiss she's done in a film. Plus, Janney and Streep make a pretty incredible couple, even if their time together is briefer than we'd like.
11. Clint Eastwood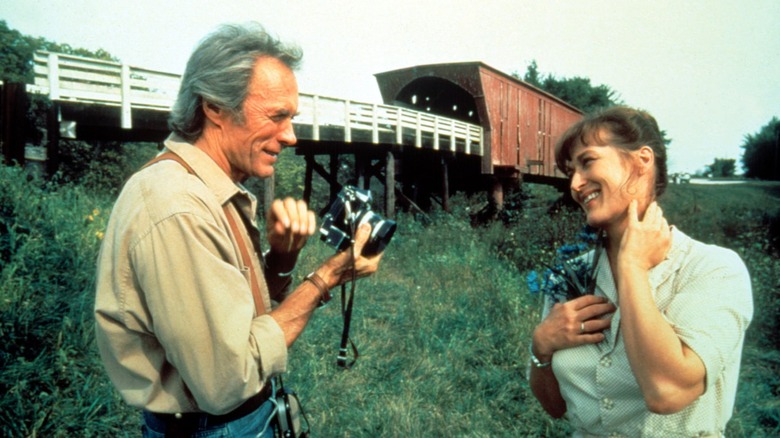 Warner Bros.
Meryl Streep is no stranger to romantic melodrama, and "The Bridges of Madison County" is one such example in her extensive repertoire. Directed by and co-starring Clint Eastwood, the film follows a photographer (Eastwood) who meets and falls in love with an Italian housewife (Streep) living in Iowa. While the movie has some stirring moments, Eastwood at times feels miscast in the film — he is nearly 20 years older than Streep — and it makes one wonder what the film could have been like had someone younger and more dashing been cast in the role.
For her part, Streep does some excellent work here, even if her Italian accent is a little overdone at times. Eastwood was clearly enamored with his own role in the film, which in certain instances takes away from Streep's (as always) excellent work in the film.
10. Mamie Gummer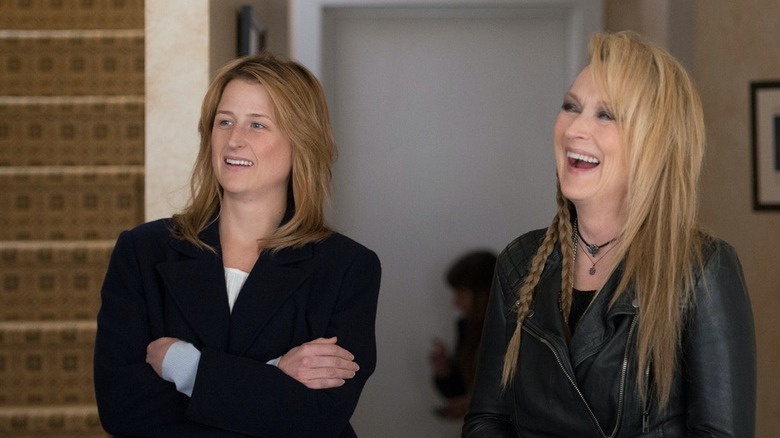 Sony
Unsurprisingly, real-life families often make the best co-stars in films. This is certainly the case for Meryl Streep and her real-life daughter Mamie Gummer, who have starred in two films together over the course of Streep's illustrious career. The first was the Mike Nichols/Nora Ephron film "Heartburn," in which Gummer plays Streep's young daughter. Gummer appeared in the film when she was only two years old, and Streep's "chemistry" (if you can even call it that) with her is obvious. When Streep sings "The Itsy Bitsy Spider" to young Mamie and she knows all the words, it's clear that the two have sung the song together many times before.
Gummer and Streep starred alongside one another once again in "Ricki and the Flash," where they also played mother and daughter. In this film, Gummer plays a depressed divorcee and Streep plays her unpredictable wannabe rockstar mother. Their dynamic is much more complicated (obviously) than it was in "Heartburn." In both films, it's a treat to get to see the duo act together, and it's surprisingly clear that Gummer is able to hold her own against her legendary mother.
9. Albert Brooks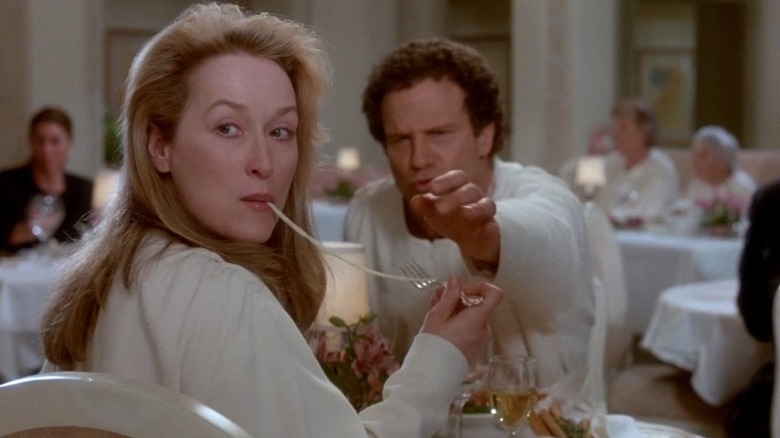 Warner Bros.
In "Defending Your Life," Albert Brooks plays a successful executive who gets hit by a bus and finds himself in the afterlife forced to defend his actions in order to secure a place in heaven. While there, he meets Julia (Meryl Streep), a near-saintly woman with whom he falls in love.
This comedy, also directed by Brooks, is surprisingly light, given the subject matter, and features pitch-perfect performances from both actors. Though Streep didn't receive an Oscar nomination for "Defending Your Life" (a fairly unusual occurrence for her), it's a welcome reprieve from some of Streep's more serious roles, and an indication that she plays beautifully in a comedy.
Streep is essentially a saint in the film, and her character could very easily be quite grating were it not for Streep's compelling, earnest performance. Albert Brooks too gives a very Brooks-like performance as a man riddled with insecurity about the meaning of his life. Together, they make a wonderful comedy duo, even if Brooks might at first seem like an unusual partner for Streep.
8. Anne Hathaway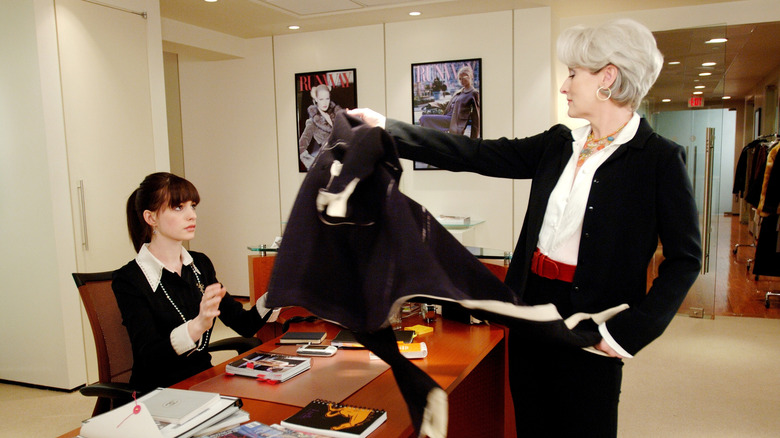 20th Century Studios
Unsurprisingly, Meryl Streep was nominated for yet another Oscar for her performance as Miranda Priestly in "The Devil Wears Prada." (She lost to Helen Mirren in "The Queen.") Miranda Priestly is the editor-in-chief of a fashion magazine, and the film's star, Anne Hathaway, is a nervous, frowzy young woman who becomes her assistant. Priestly is initially a cold and rather terrifying character who Hathaway's Andy later comes to realize actually has more of a heart than she lets on.
Streep is excellent as Priestly, and both actresses imbue their initially fraught relationship with a lot of pathos. Streep, previously a proponent of method acting, actually gave up this acting style after "Prada," because she was tired of acting like an "ice queen" all the time. Though the role may have taken a toll on Streep, her and Hathaway's chemistry remains riveting, and even gave us this classic Meryl Streep sketch at the Oscars.
7. Robert Redford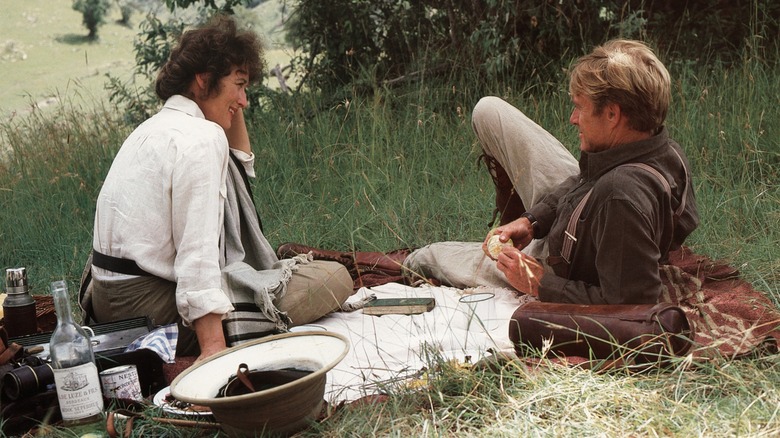 Universal
Another romantic melodrama in Streep's filmography, "Out of Africa" sees her starring with one of America's most beloved actors: Robert Redford. The film follows a baroness (Streep) who travels to Africa to join her unfaithful husband, only to fall in love with a rugged hunter (Redford). While the film itself is frankly  somewhat tedious, Redford and Streep both shine here, and the film makes it clear why they are both the stars that they are.
Of course, it doesn't help that Streep and Redford are both quite beautiful in the film, but it's not just their physical chemistry that's compelling. Each actor displays a type of radiance and grace that only intensifies when they're in the same frame. Though the film is certainly too long and its slow burn is perhaps a bit too slow, you can't argue with star power.
6. Jack Nicholson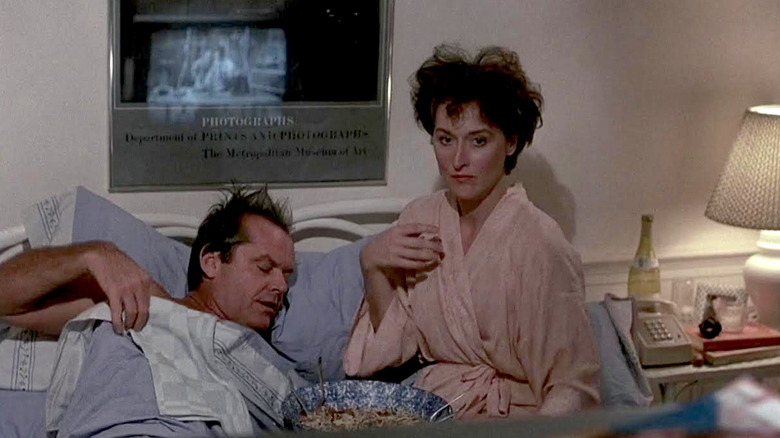 Paramount
Though "Heartburn" is not one of Nora Ephron's most celebrated scripts, it certainly has its moments. The film, directed by Mike Nichols, is a semi-autobiographical Ephron story that stars Streep as Rachel, a food critic who finds out her columnist husband (Nicholson) is cheating on her while she's pregnant with their second child. An early scene — one of the film's best — sees Streep and Nicholson in bed together eating a huge serving bowl filled with spaghetti carbonara on the night of their first date. The film never recovers this level of charm and silliness again, but that's not for lack of trying on the part of the actors.
Streep is charmingly neurotic as Rachel, and Nicholson, ever the womanizing creep, does what he does best here. Though their relationship certainly isn't admirable, Streep and Nicholson are both at the height of their movie-star powers here, and the recognizable qualities they each bring to the film at the very least make it an entertaining — if not a frustrating — watch.
5. Goldie Hawn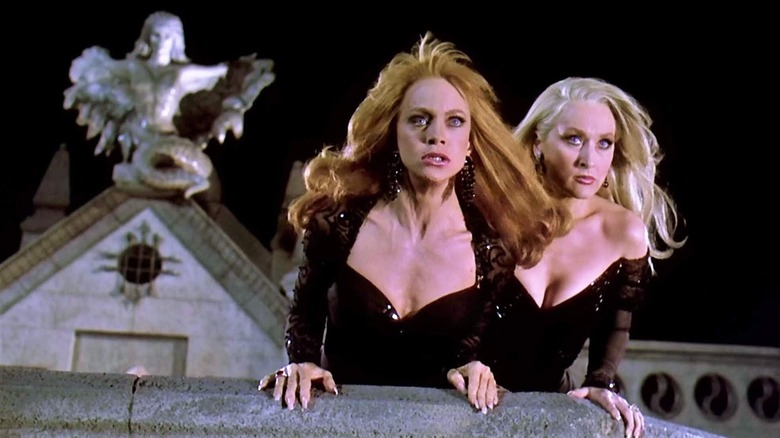 Universal
Though Meryl Streep is probably most well known for her dramas, she has proven herself to be an extremely competent comedic actor as well. In one such comedy, "Death Becomes Her," Streep co-stars with Goldie Hawn. The film follows two former friends — a languishing novelist, Helen (Hawn), and a beautiful movie star, Madeline (Streep) — who fall out when Madeleine marries Helen's former boyfriend. The women are brought back together when Helen discovers the secret to immortality, which Madeline then has to have for herself.
Hawn and Streep are hilarious in the film, and their jealousy and mania eventually lead to a complicated sort of friendship. Streep's acting is over-the-top in the best way, and Hawn also ratchets up her performance in order to match Streep's delicious lunacy. Together, they make an incredible comedy duo that will go down in history as a perfect example of camp excellence.
4. Stanley Tucci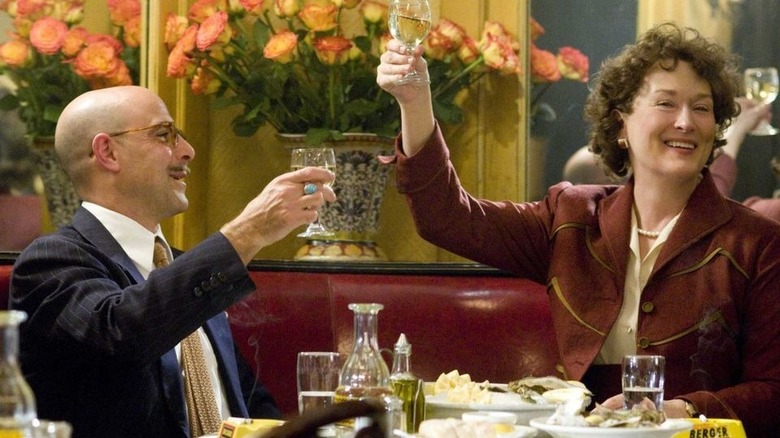 Sony
It's difficult to think of a movie where Stanley Tucci was not charismatic and delightful. Scratch that, actually it is easy to think of one — that would have to be "The Lovely Bones," where he plays a child murderer. But, apart from that one aberration, Tucci is almost always a charming figure in his films, which only makes those around him appear all the more likable. This is certainly true for "Julie and Julia," in which Tucci plays the husband of famed American cook and television personality Julia Child. 
Streep, of course, plays Child herself. Though she's not nearly as tall as Child was, she's able to reanimate this beloved, larger-than-life figure with humor, depth, and as always, a deep sense of pathos. Though Amy Adams and Chris Messina also star as the titular Julie and her boyfriend Eric, these portions of the film tend to drag, and we are always left wanting more and more of Streep and Tucci, who inhabit one of the most joyful and loving relationships Streep has ever depicted on screen. Tucci also starred with Streep in "The Devil Wears Prada," where he played her snappy assistant with similar charisma.
3. Nicolas Cage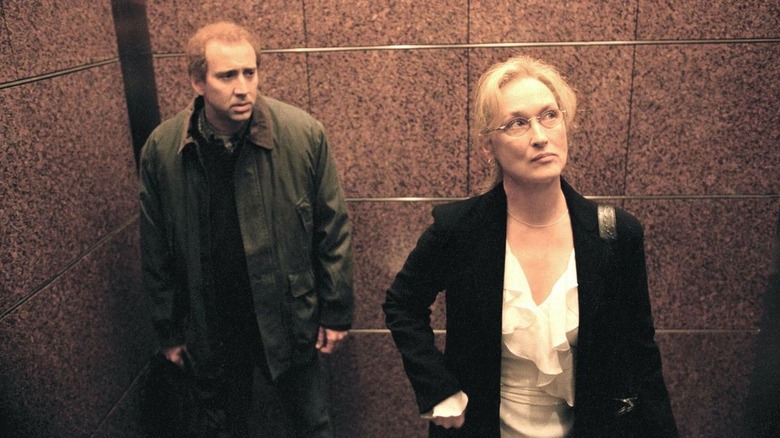 Sony
"Adaptation" is probably the weirdest film Meryl Streep has ever starred in, but perhaps not so for her frequently unhinged co-star, Nicolas Cage. The film, written by Charlie Kaufman, follows Kaufman's own struggle to adapt the Susan Orlean book "The Orchid Thief" into a film. What begins as a simple story of writer's block quickly evolves into something much stranger, as Kaufman, his twin brother (also played by Cage, of course), and Susan Orlean herself (Streep) become intertwined in a twisted plot involving drugs, sex, and murder.
Streep is provocative as this dangerous, fictionalized version of Orlean. Cage — playing two roles — embodies their complicated dynamic with increasing mania and anxiety. The film is one of Streep's most exciting roles, and it's also one of Cage's all-time best performances. Together, they produce something that is truly surprising and difficult to describe unless you've witnessed it yourself.
2. The Men of Mamma Mia!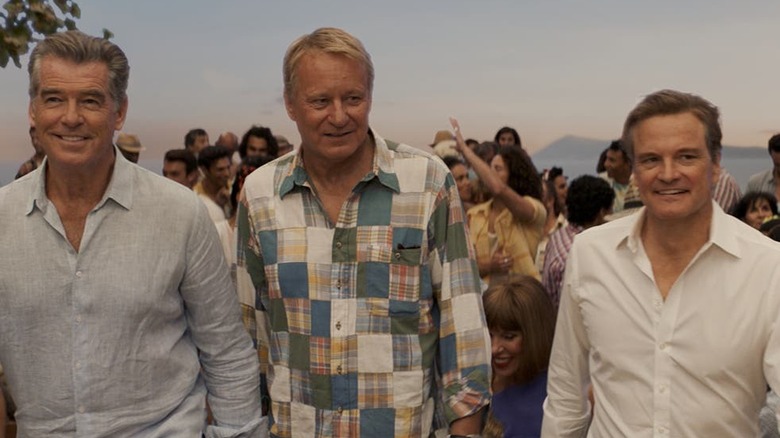 Universal
This might be a controversial choice, but we've got to give credit where credit's due. "Mamma Mia!" (and its bombastic sequel) is probably the most fun movie Meryl Streep has ever made, and for that alone it deserves a place in the pantheon of great Meryl Streep roles. The ABBA musical is also a rehabilitated love story, as Streep's Donna must once again choose between three lovers (Pierce Brosnan, Colin Firth, and Stellan Skarsgård) from the past, one of which is her daughter Sophie's father.
Of course, the other two don't stand a chance, as she's always loved Sam (Brosnan) the most, but the trio all have incredible chemistry with Streep and every actor in the film gives their all in what is a rather absurd concept. It doesn't matter that Brosnan can't sing to save his life or that Skarsgård's dour face looks totally out-of-place in a technicolor musical: the passion and joy that each actor brings to the role — especially Streep, who somehow sounds good despite her lack of musical training — make it an absolute pleasure to watch.
1. Robert De Niro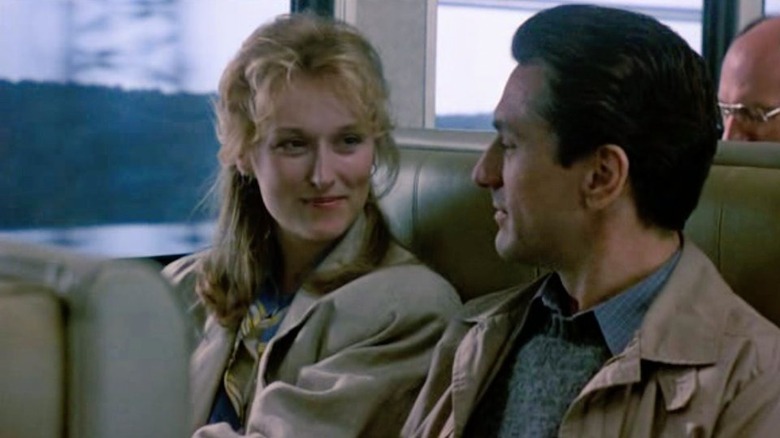 Paramount
When two of America's greatest actors come together, something magical is bound to happen. This was the case in 1978's "The Deer Hunter," which stars Robert De Niro and Meryl Streep, along with Christopher Walken and John Cazale. De Niro, Walken, and Cazale play three friends from small-town Pennsylvania who enlist in the army during the Vietnam War and aren't the same people upon their return. De Niro and Walken's characters are both in love with Linda, played by Streep. It's a riveting film about the horrible toll war takes, and Streep and De Niro's performances are both devastating.
De Niro and Streep's second film together, "Falling in Love," is certainly a far worse film, and depicts Streep and De Niro's characters meeting on a train and starting an affair. Nonetheless, Streep and De Niro are such captivating actors that even in unfavorable circumstances, their spellbinding charm nearly leaps off the screen. For De Niro and Streep, it is their collective power as actors — their sheer command of the craft — that makes them such a legendary acting duo, regardless of the context in which they are thrown together.