Terrible Singing Performances In Movies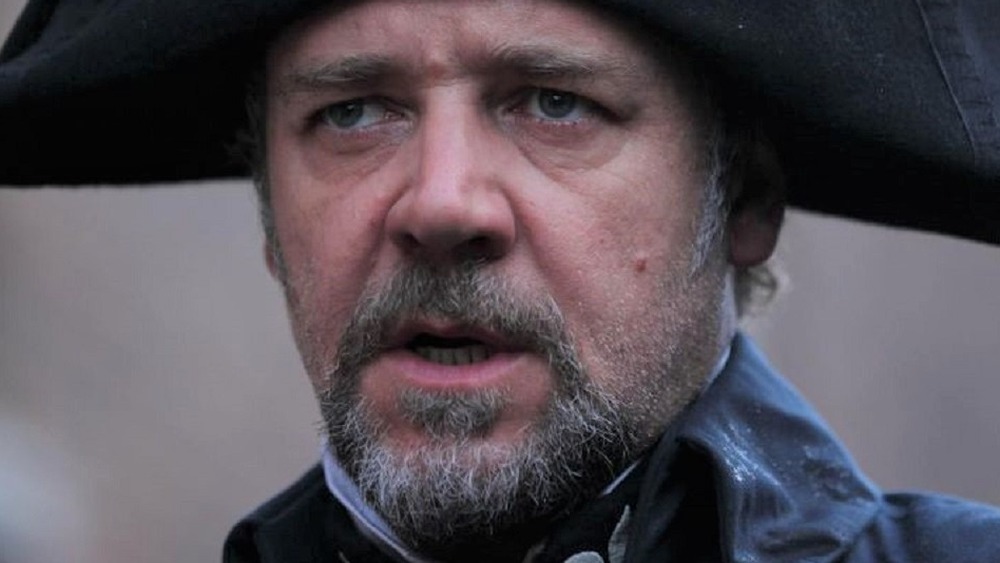 Musicals! Whether you like them, hate them, or are madly, deeply in love with them, we can all agree that, well, it really helps if the actors in them can sing, what with the music and the singing and everything. Especially in the world of film, where things can be so crafted and so mechanically put together, it's often baffling when you end up with a singing performance that makes you go, "Wait, what?"
But, lo and behold, cinema's greatest musicals (and quite a few that would qualify as, uh, not so great) are plagued with singing performances that make us question the genre's very existence to begin with. How did this happen? Where did these vocal coaches and directors and performers go wrong? It's hard to say, but the very least we can do is take a look at these truly terrible singers and hopefully never have to hear another note from them again.
Pierce Brosnan's singing in Mamma Mia! is a musical SOS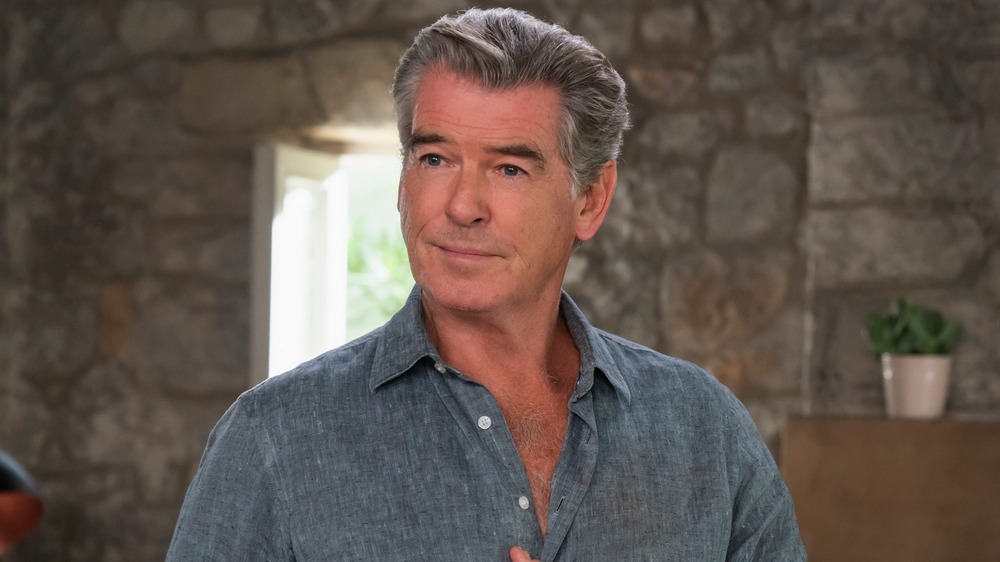 There's a trend running throughout this list, one that we'll call "actors who are overly confident about starring in a movie musical." And Pierce Brosnan most certainly fits that bill with his turn in the ABBA-extravaganza that is Mamma Mia! The hit jukebox musical turned Grecian wonder of a film is a pure, candy cane-filled sweet nothing of a movie, one that's drowning in utter ABBA glee. And when you bring Meryl Streep, Christine Baranski, Colin Firth, and so many more to the party, even the faint of heart have to give into the nonsense of it all after a while.
Well, until Brosnan starts singing, anyway.
As Sam Carmichael, one of three men in the running to potentially be revealed as the birth father of Sophie Sheridan (Amanda Seyfried), Brosnan clearly wasn't given the time to invest in his vocal craft, belting out songs like "SOS" and "When All Is Said And Done" with all the grace of a jackhammer. He may be the romantic match of the film, but Brosnan's singing performance won't be winning any prizes anytime soon.
Will Smith just wasn't magical enough in Aladdin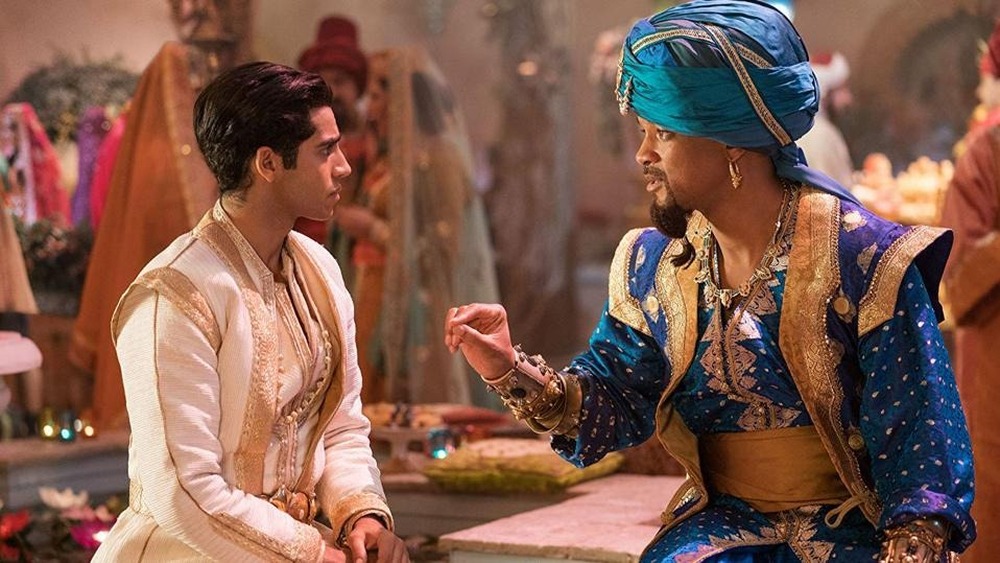 Maybe the most bewildering thing about this entry is that, truth be told, Will Smith's overall performance as the Genie is maybe the most interesting thing about Guy Ritchie's absolutely unnecessary live-action remake of Disney's Aladdin. Like many films in the Disney live-action remake pipeline, much of Aladdin is nothing more than a pale facsimile of the original Disney classic, thrown together with real-life performers and padded with extra material that drags things to a steady halt.
But Will Smith's Genie does what nothing else in the film is capable of doing — providing a new perspective on an old character. Smith was never going to replicate the magic of Robin Williams' original performance, so he gives the magical djinn his own spin, albeit in a means where his singing voice — while energetic and wholesome — just isn't up to the challenge of these classic Alan Menken tunes. Granted, Smith put in the work, but he needed more than three wishes to make his songs soar here.
Gerard Butler's singing in The Phantom of the Opera is all-time terrible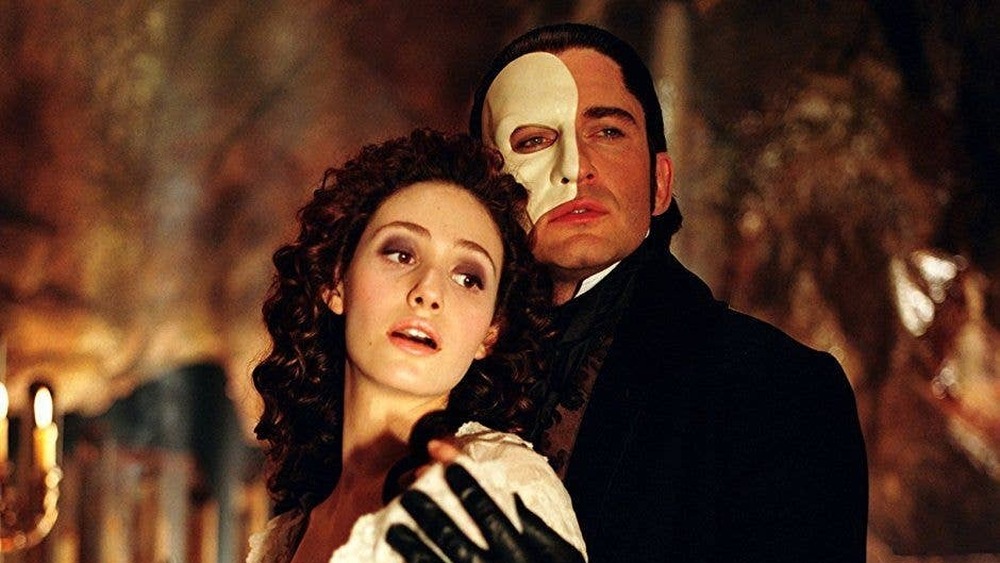 Is there anything less operatic than Gerard Butler's droning hell screech in Joel Schumacher's The Phantom of the Opera? Hyperbolic as that may sound, it's easily one of the biggest things that brings down the cinematic adaptation of the long-running Andrew Lloyd Webber stage sensation. This story of a deformed man haunting a Paris opera house contains some of the most sumptuous music that exists in the world of musical theater, and then you hear Butler's singing in this film, and you're just left to ask yourself, "Dear God, Why?"
It's tough to imagine how any of this really came together, how Butler's howling yell of a performance manifested itself in a character who, yes, is physically afflicted but is ideally supposed to have a voice that makes all our hearts sing. Butler's voice does nothing but make our hearts retch, resulting in one of the tragically most memorable bad performances in recent musical film memory.
John Travolta's Hairspray performance simply wasn't divine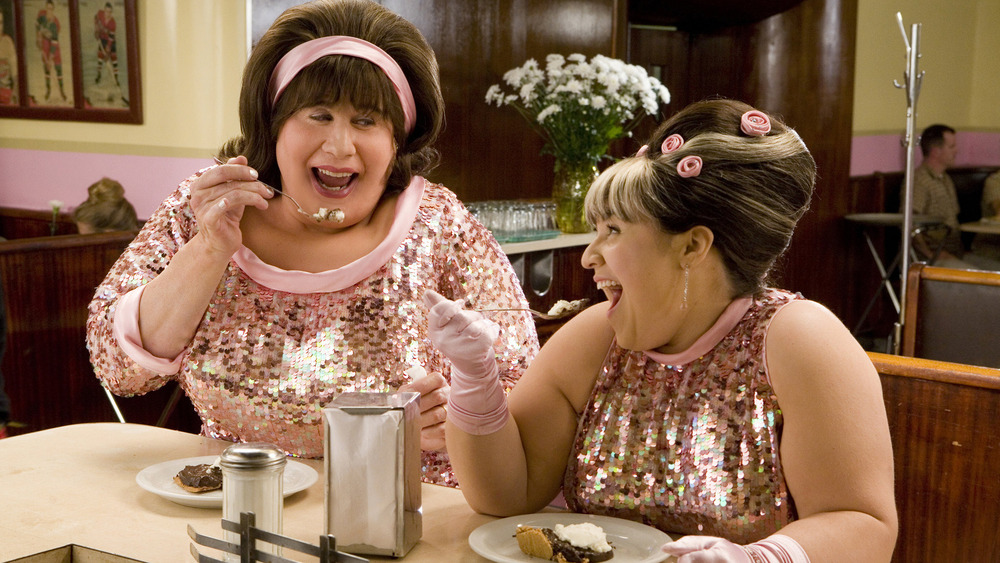 In John Waters' 1988 camp comedy Hairspray, frequent collaborator and absolutely devilish drag queen Divine crafted another tantalizing role as Edna Turnblad, the mother of the film's dance-crazy protagonist, Tracy Turnblad. And Divine's trademark comic wit and deadpan camp magic left an indelible impression for viewers. This translated to the stage with the 2002 musical version of Hairspray, with Harvey Fierstein taking up the reins of this classic drag role and adding his own hoarse Borscht-belt twist to the performance.
For the 2007 film adaptation of the musical, John Travolta just doesn't cut it as the Turnblad matriarch, bringing no sense of fun, reality, or truth to what's usually a rather sweet and charming role in this story. Above all else, Travolta's vocals are just completely thin and lacking in any sense of character or force for what should be a powerhouse role. Travolta's casting was already a baffling decision, and his lack of vocal prowess only cemented how wrongheaded this all was.
Johnny Depp murders his lyrics in Sweeney Todd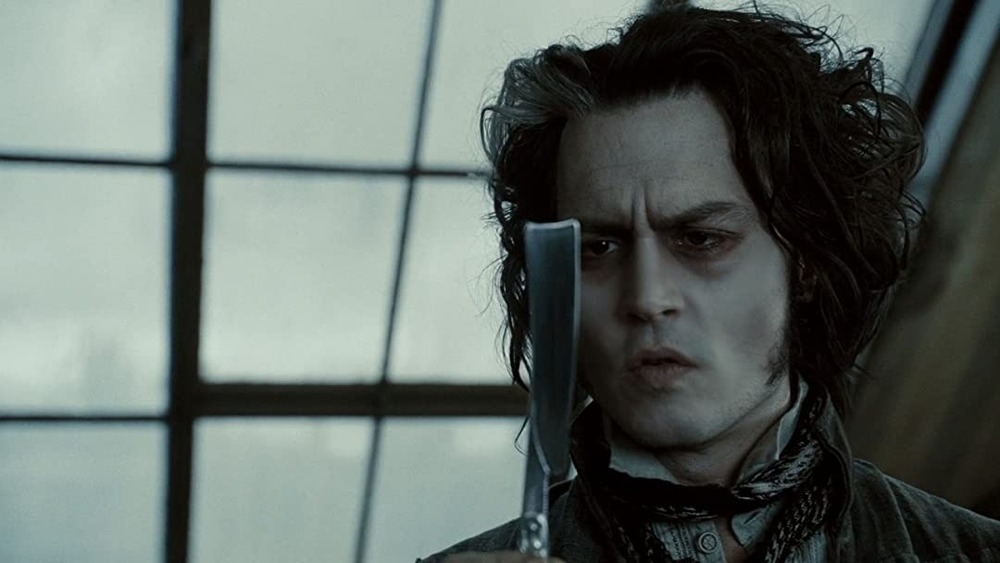 It might seem odd, considering the critical acclaim and general mastery of his output, but until 2007, there hadn't been a lot of effort to bring any of the musicals of Stephen Sondheim to the big screen (save for a deservedly forgotten A Little Night Music film starring Elizabeth Taylor). That all changed with Tim Burton's big screen adaptation of one of Sondheim's popular works, Sweeney Todd: The Demon Barber of Fleet Street. A horror musical directed by one of cinema's spookiest auteurs seemed like a match made in heaven, and in typical Burton fashion, the lead role would be given to frequent collaborator Johnny Depp.
The issue with Depp's take on Sweeney (aside from the general Hot Topic/emo aesthetic glossing the whole affair) isn't necessarily that Depp has a bad voice, but his grim, gravelly rock star-adjacent take on the otherwise bombastic, operatic Sondheim score is undeniably a match made in hell ... and not in a good way. Depp's sullen and despondent performance as the demon barber of Fleet Street just doesn't have the musical gravitas that so many associate with this classic Sondheim leading role, and it's arguably one of the ultimate downfalls of this screen adaptation.
Annie does a disservice to Cameron Diaz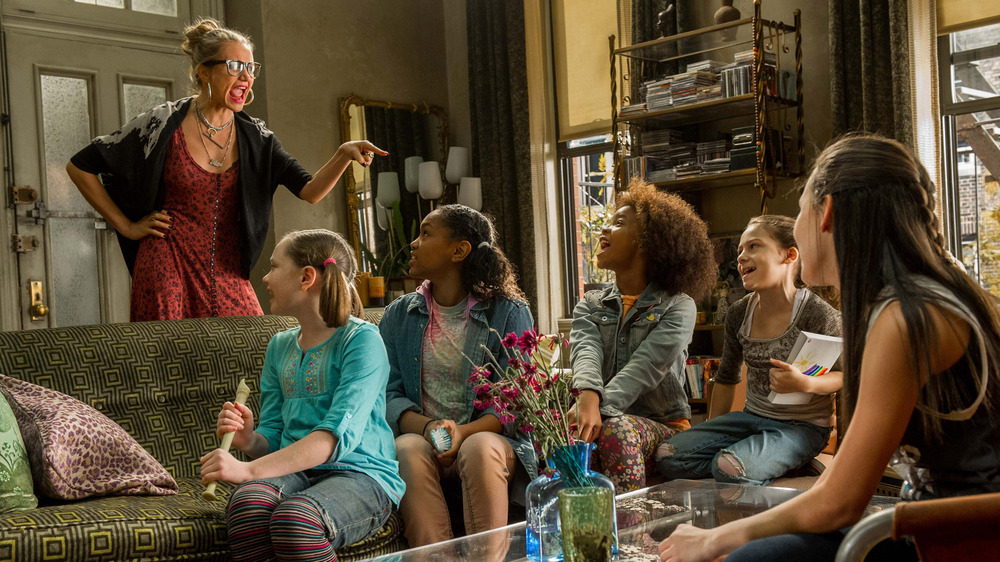 Did you know that Cameron Diaz's final film performance to date was playing the cruelest foster mother around, Miss Hannigan, in the oft-forgotten 2014 adaptation of Annie? Yeah, we forgot too, but it's certainly a fascinating film to go out on, with musicals not really being a mainstay of Diaz's resume prior. It's even more fascinating as this Annie is a musical that's both faithful and wildly unprecious in its adaptation of a stage show about a sweet little orphan who sings about the sun coming out tomorrow.
As Miss Hannigan, Diaz — above all else in this mixed bag of a motion picture — just appears out of place from both a performance perspective and a vocal perspective. After all, her subtly auto-tuned numbers (well, at least they appear to be) remove any real character from what might be found in this Hannigan's singing voice, leaving nothing but a cranky and forgettable piece of musical movie ephemera in its trail.
Emma Watson couldn't match her predecessor with Beauty and the Beast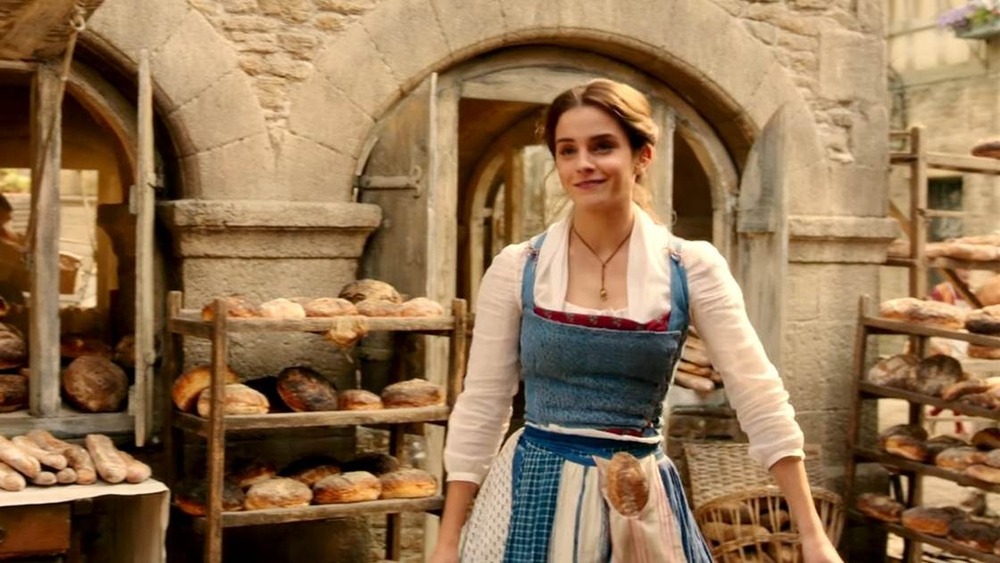 When adapting a musical for the silver screen, it seems like studios are stuck between a rock and a hard place. They're putting together what is, undeniably, a story where all the major characters are singing, yet they still want to market this story across the world and would preferably like a famous face to get the word out, no matter how well known this property is. So along came Emma Watson, a wonderful actor in her own right, to take on Disney's 2017 live-action Beauty and the Beast remake, yet another film in the rotation of Disney's grand re-monetization plan for its old familiar properties.
It's hard to say where the ball dropped with Watson's vocal performance. From the very first notes of the opening number, "Belle," there's just something off with Watson's inflection. Is it auto-tune? Is it off-pitch? When you're replicating a role as iconic as Paige O'Hara's Belle, a character with the voice of an angel, it's hard not to be disappointed by whatever is happening in Watson's performance. As wonderful of an actor as she is, this tale as old as time just maybe wasn't hers to tell.
We love Lin-Manuel Miranda ... but not his singing performance in Mary Poppins Returns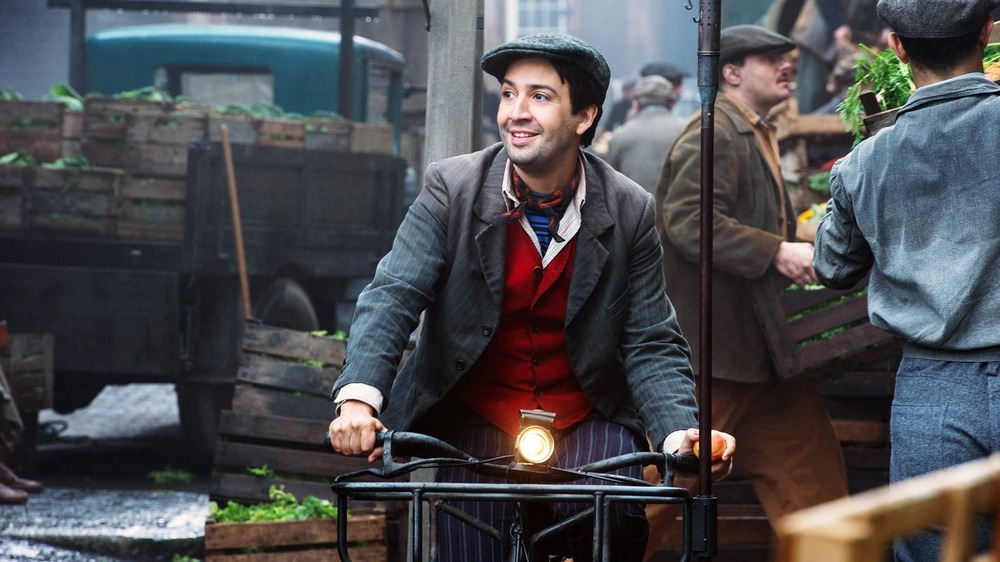 Before you grab your torches and pitchforks, hear us out. There's no denying that Lin-Manuel Miranda is easily one of the most talented people working in the world of entertainment today. His previous musical successes, In the Heights and Hamilton, are both marvels of theatrical entertainment, and his songwriting work for films like Moana and Encanto are proof that his musical theater bona fides translate just as well to the silver screen.
But it's no secret that, as brilliant of a composer as he is — alongside his absolutely contagious earnestness as a performer — Miranda's singing voice isn't at the top of why he's become one of the most recognizable talents in the world of entertainment. For proof, look no further than his performance as Jack the lamplighter in 2018's Mary Poppins Returns. Miranda is charming as all heck, but vocally, things fall just a little flat throughout the proceedings.
What can you even say about Rebel Wilson in Cats?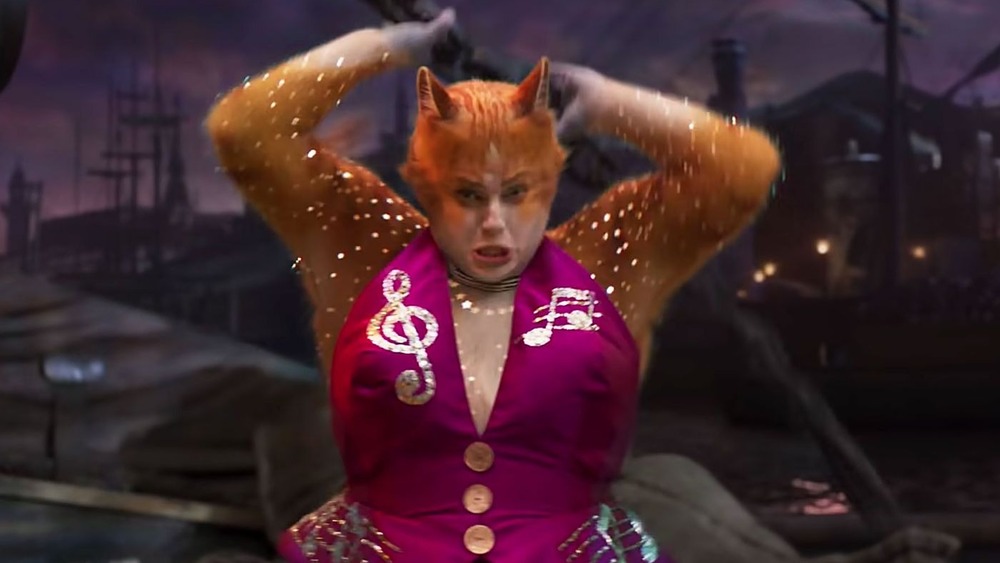 It's tough to dig through the trash (both literal and metaphorical) that floats around the Tom Hooper disasterpiece that is Cats. Based on Andrew Lloyd Webber's bizarre musical adaptation of a series of T.S. Eliot poems, the Broadway musical, if nothing else, had its fantastical theatrical element to rest on, a sheer piece of movement-based spectacle that could revel in its own feline madness without having to answer the litany of questions thrown its way.  But Hooper's film version can't rest on those laurels, as the feline characters have been brought to the screen in an unholy glob of motion-capture mayhem masked in "digital fur technology." It all adds up to one of the most bewildering cinematic viewing experiences of recent years.
It almost seems unfair to pin a single performer in this litter of actors with a "Least Valuable Player" moniker like this, but if we're going by singing prowess, then sadly, that award must be bestowed to Rebel Wilson, an actor whose usual comic wit is completely absent in her performance as the Gumbie Cat, Jennyanydots. Not only is Jennyanydots just a horrific abomination of computer-generated madness, but sadly, of the entire feline bunch, Wilson just isn't able to bring as much vocal prowess as the rest of the cast, whatever that's even worth here.
Seth Rogen's singing performance in The Lion King really smells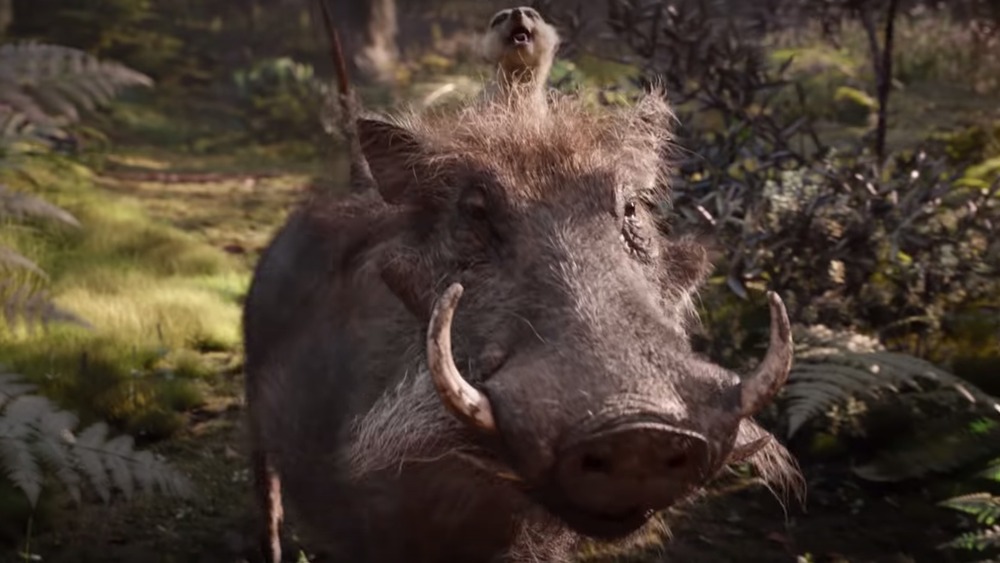 Poor Seth Rogen. Though he's doing wonderfully these days with the release of his at-home cannabis empire that is Houseplant, he was pretty much set up to fail when tasked with providing the voice for everyone's favorite gassy warthog, Pumbaa, in the "photorealistic" remake of The Lion King. Similarly to Will Smith's work in 2019's Aladdin, Seth Rogen and Billy Eichner (who plays Timon the meerkat) turn out to be the most interesting part of the new Lion King, providing some vestige of new comedic material within a film that's content to recycle everything in the ugliest sense possible.
This, sadly, doesn't hold up when it comes to Rogen's musical numbers. While Eichner's singing voice is actually surprisingly charming (even if it's coming from behind the dead eyes of a computer-generated meerkat), Rogen clearly was given no support in trying to muster up his frequently off-key, off-pitch, warbly warthog performance in "Hakuna Matata." Rogen no doubt brings the laughs, but his tunes feel just as downhearted as his farts.
Russell Crowe left us feeling miserable after Les Miserables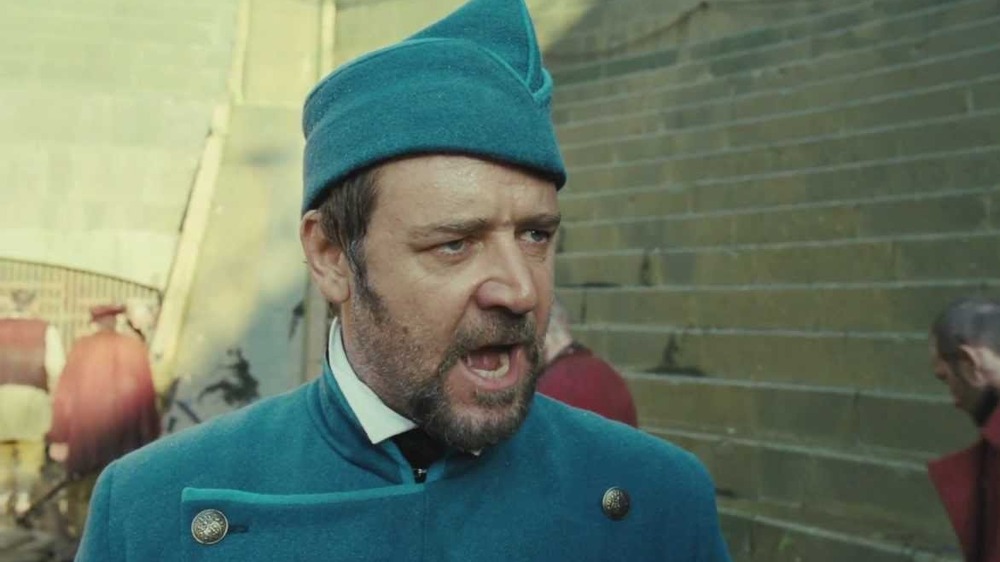 Despite a burgeoning music career, it isn't accurate to say that singing comes naturally to the cinematic wonder that is Russell Crowe. The man is more popular for roles in action films like Gladiator or serious-minded dramatic affairs like A Beautiful Mind than he is for his pipes. So Crowe didn't seem like the most natural fit to take on the role of Javert, the inspector who'll stop at nothing to capture the illusive Jean Valjean in Tom Hooper's bombastic 2012 screen adaptation of international musical sensation Les Miserables.
Sadly for Crowe — and everyone else, honestly — his singing just wasn't up to par for what's to be expected from an actor performing the adaptation's bombastic score. His droning monotone of a vocal performance just wasn't the right match for this tragic piece of musical theater iconography, and Crowe would become the target for ridicule for years to come. Not a star in the sky could relieve Crowe of this film's mark on his career.