Chicago P.D.'s Most Heartbreaking Scenes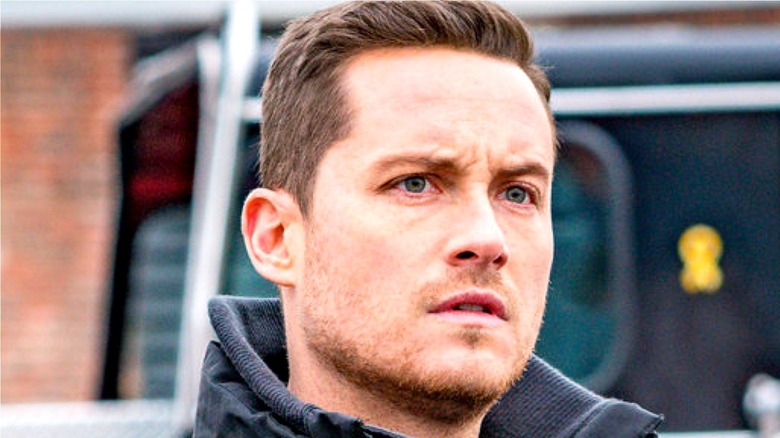 Matt Dinerstein/NBC
Airing on NBC with a long and seemingly unstoppable run since its debut in 2014, "Chicago P.D." continues to deliver the kind of high-velocity thrills and richly emotional storylines that keep its loyal fanbase firmly planted in front of their screens every Wednesday night. Plunging viewers into the frontlines of the never-ending fight to keep the Windy City safe, the series features the elite CPD intel unit headed up by dodgy cop Sgt. Hank Voight (Jason Beghe) and his crack squad of detectives and beat cops, including Jay Halstead (Jesse Lee Soffer), Hailey Upton (Tracy Spiridakos), Adam Ruzek (Patrick John Flueger) and other dedicated first responders.
Tackling the city's most heinous offenders, from serial killers and rapists to drug cartel hit men and human traffickers, the "Chicago P.D." team has faced down mortal threats in episode after episode. As such, over the course its many seasons, the series is bound to lose characters in the line of duty, now and then. And since the show has made plain its willingness to kill off even core characters for the good of the story, highly invested fans are always in danger of seeing favorite, sometimes deeply beloved characters either die or be written out of the show. 
All the above being said, here are a few of the most heartbreaking, gut-wrenching scenes that fans have been forced to endure in "Chicago P.D." over the years.
The murder of Hank Voight's son Justin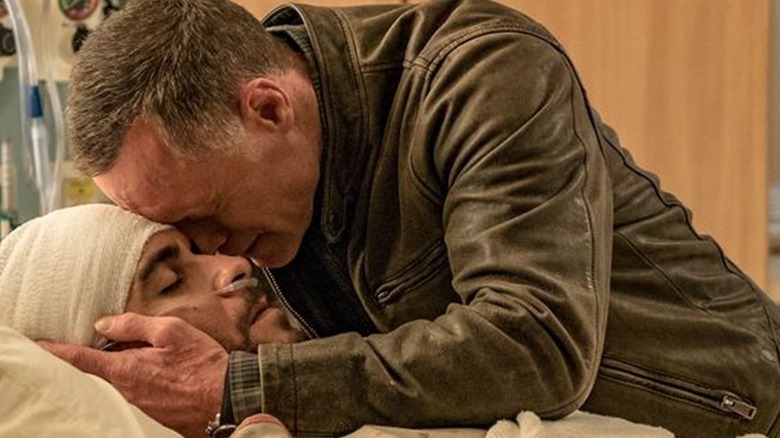 NBC
While not a long-time or recurring character on "Chicago P.D.," the young son of Sgt. Hank Voight (Jason Beghe), Justin Voight (Josh Segarra) nonetheless seemed to make an impression with fans during his stint on the show. The reason for this may have been his innately appealing narrative of a supposedly bad kid finally making an effort to toe the line and become a better man, as well as a better son. Despite his strained, dysfunctional relationship with his mother, Justin had managed to bond closely with his dad. And Hank, for his part, was obviously willing to go to any lengths for his son, even to the extent of threatening "Chicago Fire" lieutenant Matt Casey (Jesse Spencer) to keep Justin from being prosecuted for a drunk driving crash that paralyzed a boy.
Things for Justin finally come to a shattering climax in the episode "Start Digging," when his efforts to turn away from his criminal past go sideways and he finds himself in a no-win situation with some decidedly dangerous people. After getting involved in the murder of crime boss, Justin is shot and severely wounded. Rushed to the hospital, efforts to save him fall short and his father eventually makes the impossible, soul-killing decision to have his son taken off life support.
The stabbing death of detective Alvin Olinsky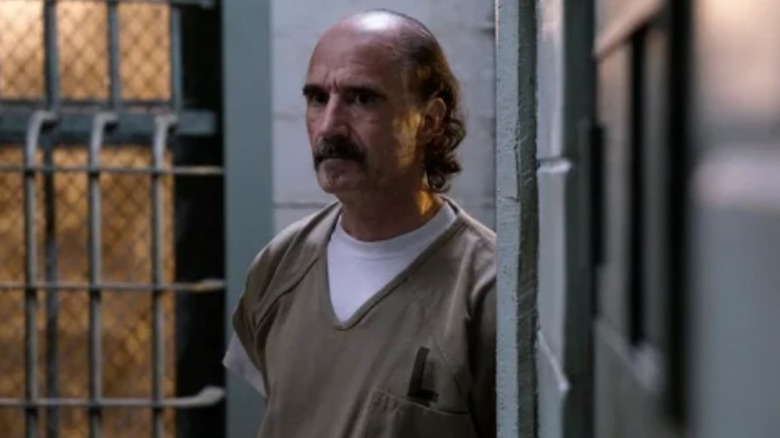 NBC
As one of the most charismatic and likeable characters working the intel unit in "Chicago P.D.," detective Alvin Olinsky (Elias Koteas) was also the right-hand man and go-to confidant of the department's chief, Hank Voight (Jason Beghe). A former soldier, Olinsky has worked alongside Voight for over 10 years, with the two of them having each other's backs as they tackle more cases than either man can remember. But in the episode "Allegiance," Olinksy's DNA is discovered on the corpse of the thug who killed Voight's son Justin. Later nabbed and accused of the murder, Olinsky refuses to narc on the actual killer: Hank Voight.
While Voight makes it clear that he is willing to take the rap for the murder, Olinsky remains silent, takes the fall and is incarcerated. As a known cop in prison, he's a marked man. Then, in the following episode "Homecoming," just as Voight is on the verge of cutting a deal that saves them both, Olinsky is stabbed by an inmate and taken to the hospital suffering from severe blood loss. Despite the doctor's frantic efforts to save him, he finally succumbs to his wounds. And Voight, being Voight, sets off on a rage-fueled hunt to track down and end the criminal responsible for ordering death of a colleague — and close friend — who was literally loyal to the very end.
The shocking kidnapping and murder of Nadia Decosta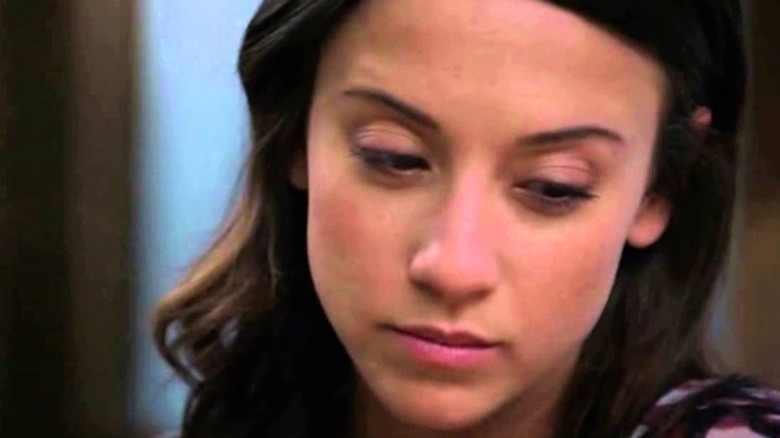 NBC/YouTube
Some losses on "Chicago P.D." are harder on the heart than others, and the shocking way that Nadia Decosta (Stella Maeve) met her death certainly ranks as one of the most devastating. As a teenage drug addict and sex worker struggling to make a better life for herself, Nadia is taken under the wing of detective Erin Lindsay (Sophia Bush), someone who is dealing with her own troubled past of street crime and abuse. Indicative of Nadia's innate strength of character, and likely a big part of her fan appeal, is the fact that she was able to break with her past and become the solidly reliable Administrative Assistant for the 21st District's intel unit. 
Then, in a major "One Chicago" crossover event between "Chicago P.D.," "Chicago Fire," and "Law & Order: Special Victims Unit," Nadia is kidnapped by serial killer Greg Yates (Dallas Roberts). Transported to New York City by Yates, Nadia's only hope for rescue is the "Law & Order" team on her trail. But despite their best efforts, the "Special Victims Unit" squad fails to locate her in time, and Nadia is brutally murdered by Yates.
The tragic drug addiction of detective Antonia Dawson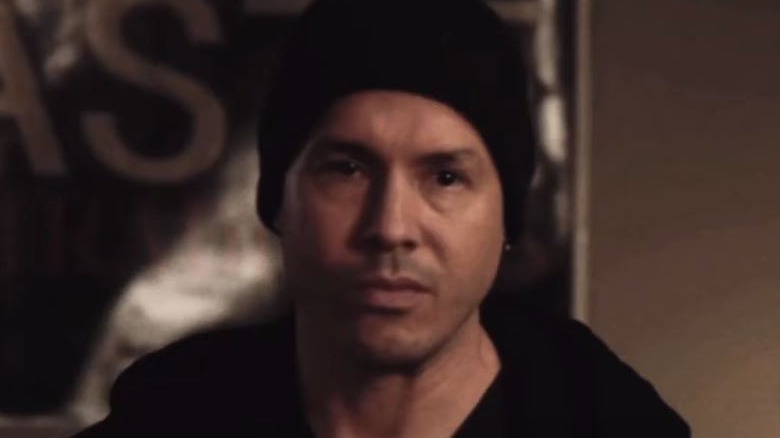 NBC
As second in command to I.U. head Hank Voight (Jason Beghe), detective Antonio Dawson (Jon Seda) had always been a steadying influence on Voight's tendency to break rules — and bones — whenever he deemed it necessary to crack a case. 
However, Dawson falls prey to opioid addiction after an injury leads to him being prescribed Oxycontin, and the generally by-the-book character reacts by attempting to hide his dependency from his fellow officers. But with the other issues that he is facing — including problems with his family and the career-ending prospect of being outed as a snitch — he continues to self-medicate with drugs. And while he manages to perform on the job, his colleagues at the CPD's 21st District begin to notice that something is very much not right with him.
Unwilling to acknowledge that he needs help, Dawson's situation goes from bad to critical when he gets involved with a drug dealer. Realizing what's happening with him, Voight steps in and offers a helping hand. And while Dawson eventually does go to rehab, it will turn out that isn't enough to bring him back into the "Chicago P.D." family, as he makes a decision that no fan wants to see and leaves the force, moving to Puerto Rico to be with his sister.
The unexpected exit of detective Erin Lindsay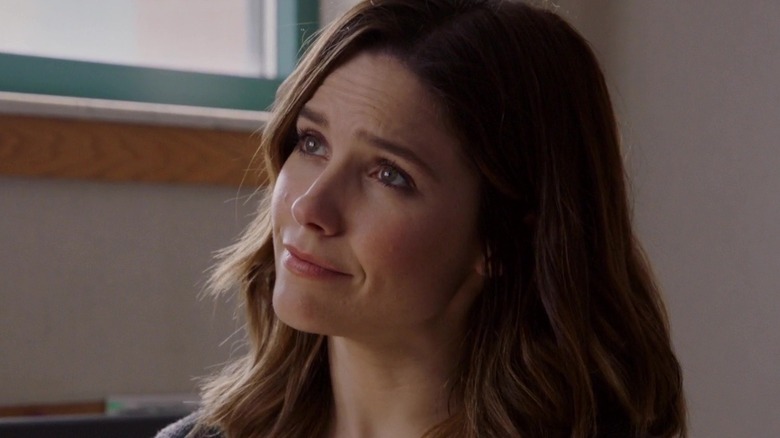 NBC
For long-time "Chicago P.D." watchers, the departure of detective Erin Lindsay (Sophia Bush) was likely one of the most heartbreaking exits in the series' nine-season history. First joining the "One Chicago" universe in the 2013 "Chicago Fire" episode "Rhymes with Shout," Bush would go on to play a central role in "Chicago P.D." during the series' first four seasons, starring in almost 100 episodes. As a central, recurring presence on the show, fans seemed to truly appreciate Lindsay's flawed-heroine storyline of someone who overcomes the darkness of her former life to become a respected law officer, as well as the much-shipped love interest of fellow detective Jay Halstead (Jesse Lee Soffer).
As a character beloved by viewers for her empathy, street-wise sensibility, and open-hearted nature, Bush's detective Lindsay appeared to be the kind of bedrock presence that the show would find it difficult to manage without. But after Bush departed the series in 2017 amid allegations of unacceptable on-set abuse by her co-star Jason Beghe, fans would indeed have to resign themselves to the shock and disappointment of seeing this supposedly indispensable actor say goodbye to the franchise.