The Staggering Amount Of Time Netflix Viewers Spent Watching Red Notice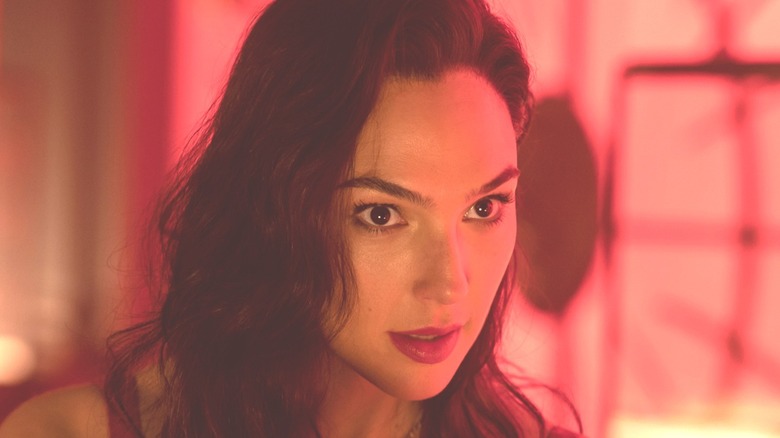 Frank Masi/Netflix
From "Bird Box" to "Tiger King," Netflix is a titan in the streaming industry when it comes to original content. In fact, the streamer has been responsible for some of the biggest viral productions in the last few years. Some of their originals have seen massive success in the first 28 days of release, as indicated by the Netflix Top 10 official site. Successful titles include "The Irishman," which has up 214.6 million views thus far (with a runtime just under four hours, the movie has to have been watched half as much), to "Don't Look Up," which has brought in just under a whopping 350 million within its first month on Netflix.
Out of all of those films in the top 10 most viewed in the first month, which also includes "Enola Holmes" and "Extraction," one picture rises above the rest. This feature, whose cast includes Dwayne Johnson, Ryan Reynolds, and Gal Gadot, has remained in the #1 spot on Netflix's "Most Popular Films" list since its release on November 12. When you bring in the power of three A-listers, it is bound to attract attention from viewers, thus clearing up any mystery as to this particular title's success with subscribers. Here is the Netflix original movie with the most staggering number of hours people have spent watching it.
Red Notice isn't leaving Netflix's Top 10 anytime soon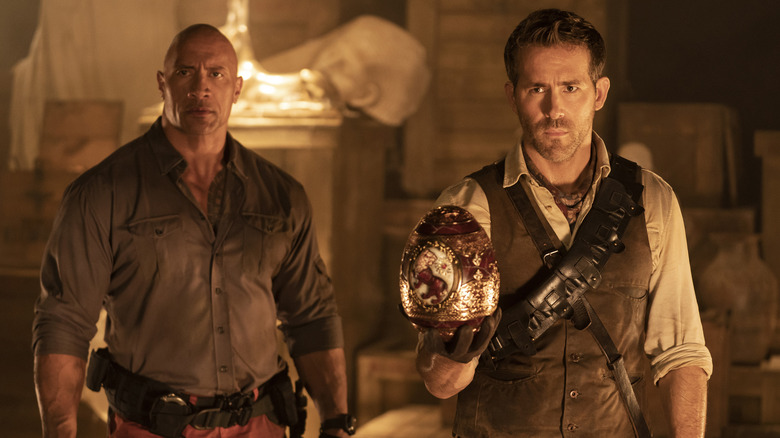 Netflix
The three headliners in "Red Notice" — Dwayne Johnson, Ryan Reynolds, and Gal Gadot — are currently three of the most bankable stars in Hollywood. Johnson has brought in over $5 billion in box office gross, according to The Numbers. Reynolds comes in at just over $3 billion, also per The Numbers. And, with her roles as Wonder Woman and her appearances in the "Fast and Furious" franchise, Gadot sits at just over $4 billion (via The Numbers). When you put that combined $12 billion worth of box office star power into one movie, it isn't hard to see why "Red Notice" is holding strong as the #1 watched movie in its first 28 days on Netflix.
Since its release in late 2020, "Red Notice" has spent 10 weeks in the Global Top 10 on Netflix with a staggering 364 million hours of viewing time. To put that in perspective, with a run time of 118 minutes, audiences streamed the movie over 185 million times before Christmas. This last week alone, it racked up another 8.7 million hours, landing it at number six on the site. 
As you can imagine, Netflix announced recently they were filming two sequels simultaneously to cash in on the massive success. Hopefully the next two installments can rack up equally impressive viewing numbers following their respective debuts.