Eric Nelsen Reflects On His Time On 1883 And Why Ennis Had To Die - Exclusive Interview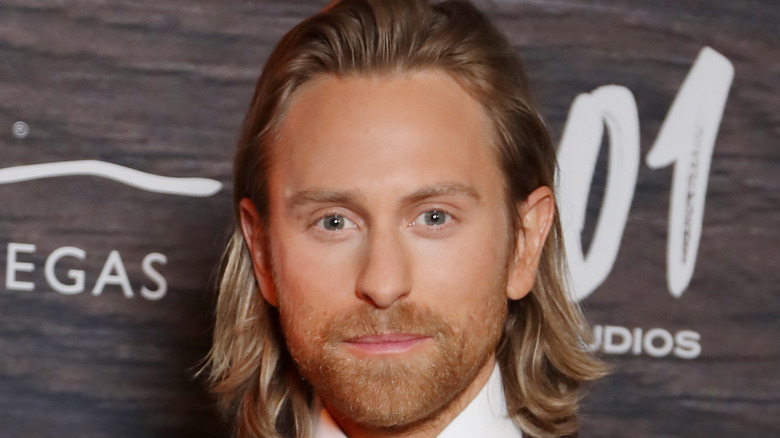 Shy McGrath/Getty
If you're a fan of "1883," you're probably still reeling over the death of charmingly naïve cowboy Ennis midway through Season 1. Just when things were looking up for the humorous herdsman, he was unexpectedly taken down by a bandit. That's the world of "1883" — there's violence and loss of life at every turn as American pioneers cross the Wild West in hopes of starting a new existence in a far-off land.
As Ennis, actor Eric Nelsen brings charisma and comic relief to a character that steals main protagonist Elsa Dutton's heart. In real life, Nelsen is both a Daytime Emmy and Tony award winner who has appeared in the Hulu revival of "All My Children" and the digital drama series "The Bay."
Starring Sam Elliott, Tim McGraw, and Faith Hill, "1883" — which was created by Taylor Sheridan and streams exclusively on Paramount+ — is the origin story of the hit series "Yellowstone," told from the perspective of Elsa (Isabel May), teenage daughter of James and Margaret Dutton (McGraw and Hill, respectively), who are the great-grandparents of John Dutton (played by Kevin Costner on "Yellowstone").
While the main cast has so far remained unscathed, it can be argued that the loss of Ennis will forever change the course of the show, especially when it comes to Elsa's loss of wide-eyed innocence.
In an exclusive interview with Looper, Nelsen took a deep dive into his time on the show, shared heartfelt and hilarious stories of working with Elliott and McGraw, and explained exactly why Ennis had to die for the show to move forward.
Eric Nelsen believes Ennis died a 'hero'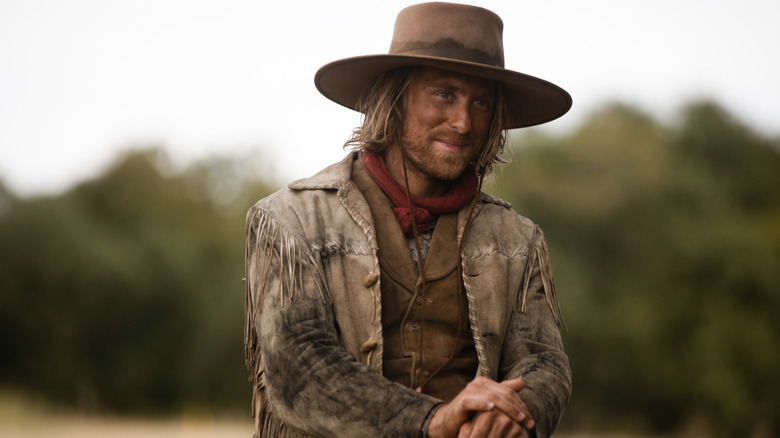 Emerson Miller/Paramount+
When you signed on for the series, did you know you'd die in Episode 5 or was it a surprise to you?
It was a surprise to me after being cast. I only had done, I don't know, maybe the first episode and Taylor Sheridan was like, "Hey, I'm going to send you the rest, read it, and then let's talk." He sends it over, and I get to read it, and I get to [Episode] 5, and I'm crying. I'm bawling. I can't even believe it. I'm so sad. And then, we talk about it, and it's seeing where the story goes from there. It all is pivotal in the overall arc of Elsa and her storyline. It really does make sense in the scheme of things, but no, I was just as heartbroken as the people who viewed it.
It's a big episode for you in terms of storyline, but it's also your last. I assume that was bittersweet. What was going through your mind as you filmed your last scene?
So many emotions. We're rooting for these two characters. We see some quick ups and downs, and James Dutton has a lot to do with that. We finally fully immerse ourselves in each other and fall in love and the innocence and the purity of these two is so evident. Then, what happens at the end happens, but in my mind, Ennis is a hero because he knows what's coming over that hill and the bandits are on their way. He basically says, "Stay here," and he goes and takes the bullet for her.
I say this with 100% certainty, if he could go back and do it all over again, he'd do it the same way because he got a shot off. That guy went down, but he also took a shot. And that shot that Ennis took is a shot that Elsa didn't have to. I think that really shows the heart and soul of who Ennis is, and then, to have his last breath talking to James, saying "I loved her," was an incredibly emotional moment, especially for the arc that they had, James and Ennis. Ultimately, it's a sad moment, but Ennis, he gave up his life for the love of his life. He's passing away with a smile because he knows he saved Elsa.
That takes me to my next question, which you may have just answered, but you do it all in one episode, had sex with Elsa, got engaged, and died. Do you think it was a fitting ending for Ennis?
Yeah, and I get punched in there too! It's a whole range of emotions and arcs right there. It's a rollercoaster for Ennis, but that's the show. It is from day one for everybody, and the unexpectedness that it brings to the table is exactly what life was like back then. There are very few rules. You're flying by the seat of your pants, and this episode shows it through and through. It was a lot, but I also think we saw a huge turning point for a lot of characters in this episode, especially for Elsa and Ennis. 
There was a lot of innocence before [this episode]. We finally see Ennis standing his ground and standing up to the man that he just wanted approval from [James]. And now, we see that he doesn't need the approval because he's got everything he ever wanted in Elsa. So, it's powerful, and the arcs of these characters are peaking, and then we'll see kind of a valley. Then, we'll see a peak again, but what an emotional episode, and I was so grateful to be able to be involved in it.
Sam Elliott helped magically calm the nerves of an anxious extra on the set of 1883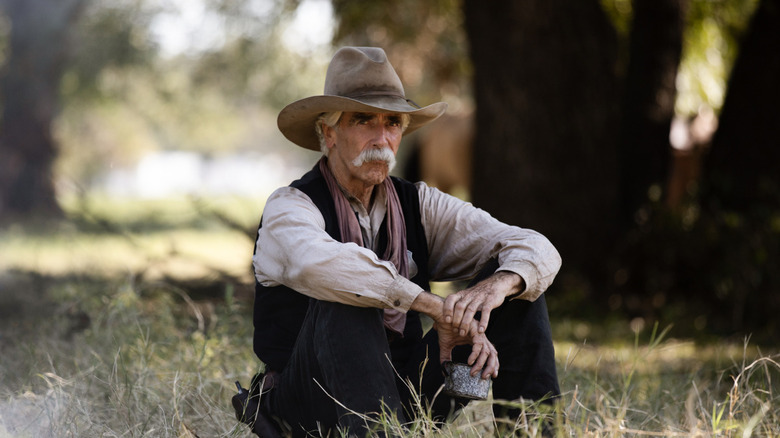 Emerson Miller/Paramount+
What are you going to miss most about "1883?"
Everything. [Creator] Taylor Sheridan — the universe he creates is unlike anything I've ever experienced in my entire life. [With] his attention to detail and authenticity to the way he treats his actors and his brilliance, I truly think he's TV and film's greatest gift right now. To be a part of that in any way has been life-changing for me as not only an actor, but as a human. I hope to stay in the Sheridan universe as long as I possibly can.
Who's your favorite character left on the show?
Oh, man. I'm in love with Elsa! So, of course, it's Elsa. I want to see her through the end, and I want to see her thrive, and I want to see her be the powerful, strong woman that she is. That's who I'm rooting for. She's everything to Ennis, and ultimately my heart and soul will be there along the way, but she's going to take it from here and really attack this world from a different angle with a newfound perspective. It'll be really great for the fans to see how it all unfolds.
If you could trade spots with any actor on the show, which character would you want to play?
Oh, wow ... listen, I could never take away a part from anybody, and I can't even compare myself, but I'll tell you, Shea is one badass man. To see how Sam Elliot is leading that role and this series, that would be a dream role as an actor, and just as a person to get to portray. So, that would be fun.
What's it been like working with Sam?
It's been a dream come true. He is the most giving, kindhearted, loving human, I think, on the planet. I could share a quick story, and this was my introduction to Sam. We were filming my very first scene in Episode 1, where we're in the restaurant and he's trying to convince us to come on this journey with them. Well, this extra ... I don't even know if it made the cut, but at the very beginning of the scene, this extra is supposed to come over and fill up all of our water glasses, and then she's supposed to walk away. Well, she was so nervous to be around us and to be around Sam, she was shaking. She spills the water everywhere. The cup falls over. It's all over the table, and Sam's got so much going on, you think that this might disrupt things, and well, the girl goes off in the corner. She's crying. Sam cuts.
He says, "No more takes. We have to stop here." He walks over and gives her the biggest hug, talks to her for about 15 minutes. From that moment on, she came back and nailed it every single time with the biggest smile on her face. She felt comfortable and welcomed and happy, and that just showed me out of the gate that Sam cares about every single person on that set, and to see his heart and whatever he said to her made her life because I'd never seen somebody come back as a different human being as she did. That's Sam Elliot in a nutshell.
Tim McGraw used to jokingly try to intimidate him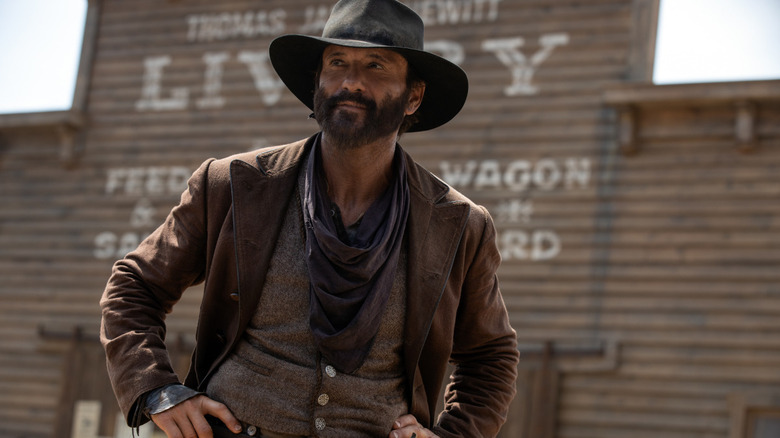 Emerson Miller/Paramount+
What's it been like working so closely with Tim McGraw? I read in another interview that you said he was more of a method actor than you expected. Is he intimidating when he's in character?
It's funny that they said it like that because he is, but he's doing it to joke with me, I think. He's a very playful guy. He's always singing and making jokes on set, making people laugh. His energy is infectious. I think [because of] the fact that he has three daughters of his own, he can really pull from real-life experiences, especially with the Elsa and Ennis triangle. Between takes and stuff, he would try to like intimidate me, or give me looks to try to evoke the emotion in me before we filmed a scene. It was all coming out of a joking place, but at times, he would kind of really run with it. I didn't know if it was a joke or not.
Then, at the end of the shoot, he gave me the biggest hug. He's like, "Thanks for playing along with all my antics, because I had a blast doing it." I knew in the back of my mind that he was probably just pulling my leg. He did keep things interesting. I was always on my toes, but he'd always end the day with a story or a song or getting us all to laugh. It was really nice. What a fun guy. I love him so much.
Even though your time is up, are you keeping in touch with anybody from the series? Did you make lifelong friends?
Oh, absolutely. I was just back on set two days ago because they are still filming. I think they wrap everything tomorrow [January 15], which is crazy that it's airing and we're still kind of working on it at the same time, but that's how it goes, and they're able to flip it around quickly. These guys are family. Taylor Sheridan made sure that we were all a unit and a family and in this from beginning to end together. I'm constantly talking with everybody. James Landry Hébert [who plays Ennis' sidekick, Wade] is coming over to my house later today, and I think I might even be going back on set tonight to go visit and say hi again. We're a tight-knit group, and it's not going to stop here. I can tell you that.
He thinks Beth from Yellowstone would be unstoppable on 1883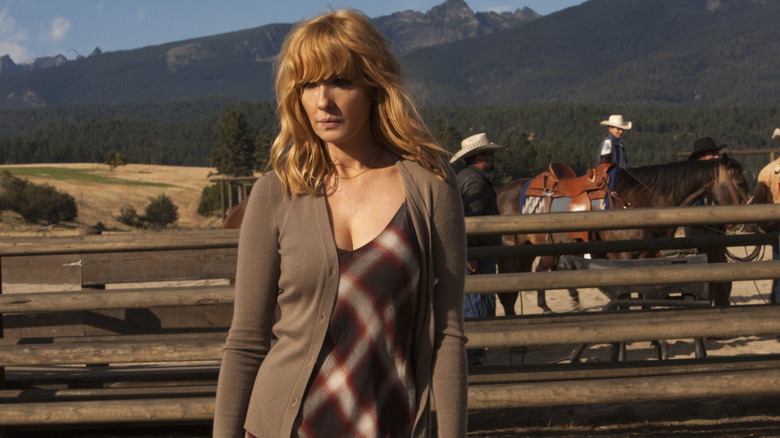 Paramount Network
I know COVID has made things kind of weird, but in terms of "Yellowstone," have you been able to get together with anyone from that cast and trade notes? I know at least Jefferson White, who plays Jimmy, was at the "1883" premiere last month...
Yes, I've actually become really close with Jeff. He and I got to film a few Ram commercials together a couple months back, and we really hit it off on set. He's come and hung out with me here in Fort Worth, and I've taken him to a Mavericks basketball game, and we've really developed a great friendship. I love the guy to death.
It's interesting because he's an incredible photographer, and I've been asking him a lot of questions about photography, and I really wanted to learn more about film cameras. So, him being the guy that he is, he came over to my house and gave me one of his cameras from his personal collection. He was like, "I want to encourage you to keep going with this passion." He's been mentoring me in the film world. At the same time, we've developed a great friendship, and we keep joking and kind of manifesting the idea of us getting to work together and be on the same show at some point.
Have you met anyone else from "Yellowstone?"
No, just Jefferson, but I'm really anxious and hope to get to meet the others very soon. I've heard nothing but incredible things, of course, and I feel like we're in this family together. It's only a matter of time before we get to link up.
Who's your favorite character on "Yellowstone" and why?
Beth. Beth is one badass chick. She's incredible. I love that she's a no BS girl. She's going to tell you how she feels, and if there's ever somebody I wanted in my corner, for any reason, it would be her.
Do you think she'd survive on "1883?"
If anybody were to survive in "1883," it would be Beth because she would just trudge her own path and not let anything get in her way. That'd be so fun. I wish she was on the journey with us because, boy, would that make things more interesting. I think we wouldn't be hiring Ennis and Wade. We'd be hiring Beth because she could probably do it all. Nothing can stop that girl.
Where do you hope your career goes from here, and what lesson have you learned from "1883" that you will be carrying with you forever?
Honestly, I would love to do another Western at some point. I've completely fallen in love with the world, the culture, the history. It's been so much fun to just immerse myself. I would love to, at some point, do another Western. Hands down. I'd also love to stay in the Taylor Sheridan universe. I love how he does everything. I love how he works. I pray that this isn't the end of my journey with him.
One thing I took away from doing this show? Gosh ... Every day, I learned something new. It really changed my life in so many ways. Overall, the word that comes to mind is just "grateful." It truly was such a humbling experience, and one that I'm so grateful to be a part of. I learned not to take a single second of it for granted, and it's going to be tough going to any other set after this. I've got to take a moment, breathe, close one chapter, and open myself up to a new one.
"1883" streams exclusively on Paramount+, where new episodes are available every Sunday.