The Rookie Season 4 Release Date, Cast, And Plot - What We Know So Far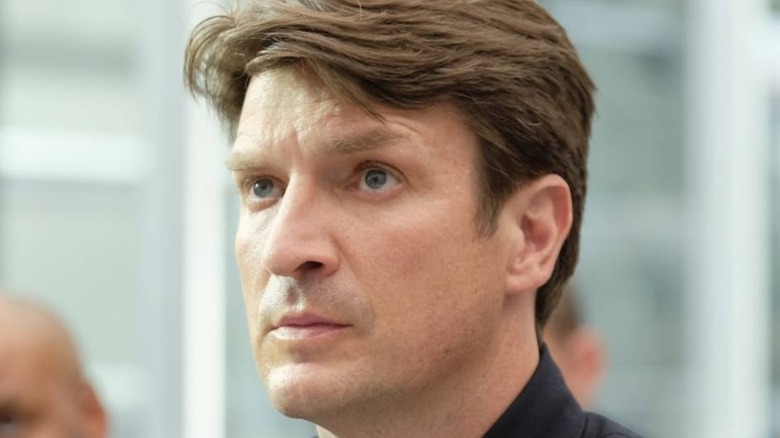 ABC
At this rate, "The Rookie" will need a promotion to "The Hardened Professional" if it keeps getting renewal orders. 
The police procedural made its debut on ABC in 2018 as the newest home for Nathan Fillion. The actor is no rookie when it comes to being the likable lead of hour-long dramas, as evidenced from his tenures on "Firefly" and "Castle." This time around, he portrays John Nolan, a man in his 40s who decides to join the Los Angeles Police Department as the oldest rookie currently on the force. What he lacks in experience he makes up for in sheer enthusiasm and a willingness to be there for his fellow officers. 
Fillion won't have to turn in his badge and his gun any time soon as the series has just been picked up for a fourth season (via The Hollywood Reporter). With a crime-of-the-week format, there are plenty more cases to be solved, so here's what to know so far about "The Rookie" Season 4.
Updated on August 5, 2021: We've updated this list with the official release date information for Season 4.
What's the release date for The Rookie Season 4?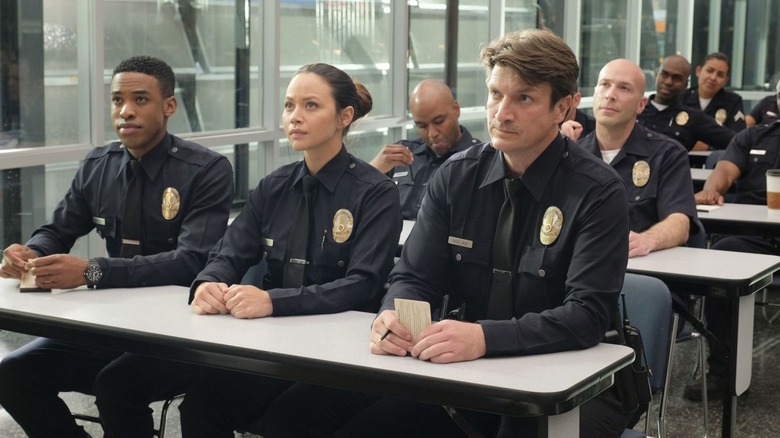 ABC
"The Rookie" has been a solid performer for ABC for the last three seasons, and the network is clearly hoping to keep that streak going into next year at least. According to Deadline, each episode gets just shy of 10 million viewers during its first 35 days on both digital and linear platforms. Those are some strong numbers, especially in this modern day and age where there are so many networks and streaming platforms that divide people's attention more than ever before.
While the third season premiered in January 2021, we're guessing we won't have to wait that long to see more episodes. That delay was a result of the COVID-19 pandemic pushing back numerous productions. In years past, a new season of "The Rookie" would air in either September or October. According to a series of tweets from the show's official account and actor Eric Winter, Season 4 has been greenlit and should back on schedule, premiering new episodes in fall 2021. Those tweets have since been confirmed, and the news is better than fans could have possibly hoped: Season 4 will begin airing on September 26.
Who's in the cast for The Rookie Season 4?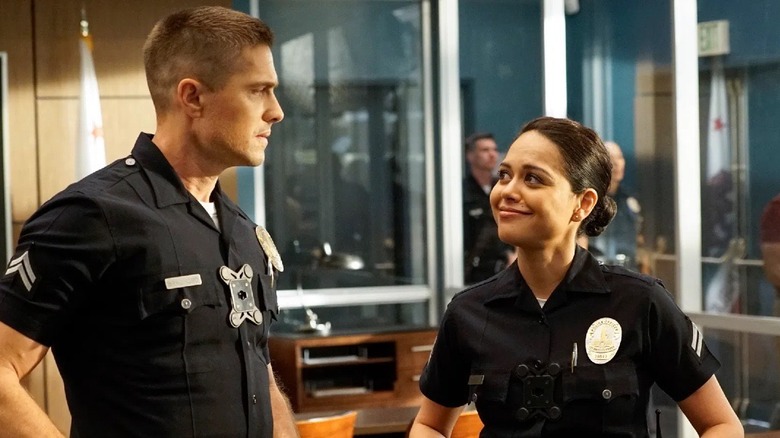 ABC
Nathan Fillion leads the cast as John Nolan, but he's backed up by a stellar ensemble. Other actors portraying members of the LAPD include Alyssa Diaz as Angela Lopez, Richard T. Jones as Wade Grey, Eric Winter as Tim Bradford, Melissa O'Neil as Lucy Chen, and Titus Makin Jr. as Jackson West. Former "X-Men" actor Shawn Ashmore also joined the regular cast starting in the show's third season as defense attorney Wesley Evers. 
One way in which "The Rookie" differentiates itself from other police procedurals is in the way it utilizes guest stars. Since the show is set in Los Angeles, plenty of celebrities have come on the show to play fictionalized versions of themselves, including Mario Lopez, will.i.am, Mark Cuban, and Rainn Wilson. Some other fun guest appearances that have occurred on the show over the years include Frankie Muniz playing a former child star who goes on to lead a cult, Pete Davidson as Nolan's half brother, and Fillion's old "Firefly" co-star Alan Tudyk as an LAPD worker who cleans up crime scenes after the fact. For Season 4, you'll definitely want to keep an eye out to see who stops by the precinct next.
What's the plot for The Rookie Season 4?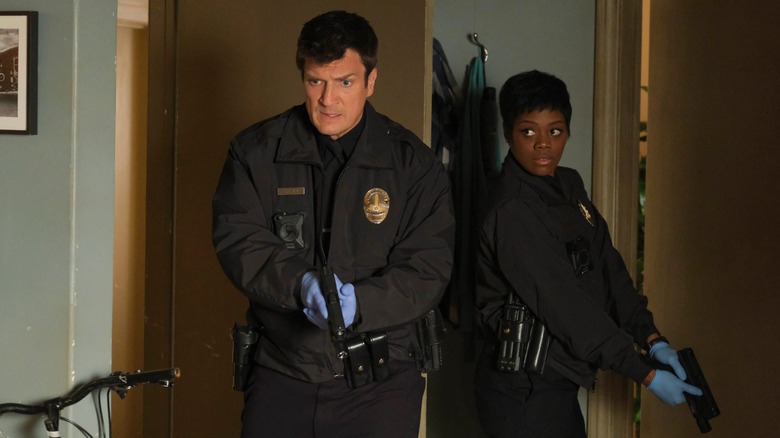 ABC
From drug busts to hostage situations, every episode of "The Rookie" tends to focus on a different time-sensitive situation. It's up to John Nolan and the rest of the LAPD to get in there and ensure innocent lives are saved, but while the exact crime of each episode is up in the air, there are some throughlines that come up every so often. This is most often seen when John's son, Henry (Zayne Emory), makes decisions that don't always gel well with what John ultimately wants for him. Their relationship became more strained than ever in Season 3 after Henry decided to drop out of college, but eventually, John comes around. 
Los Angeles is never short on crime for long, so there are plenty more stories to be told within this universe. It may seem like the show has already gone through every type of crime imaginable, but we're guessing there are still a few surprises up the writers' sleeves.