Why Matthew Casey From Chicago Fire Looks So Familiar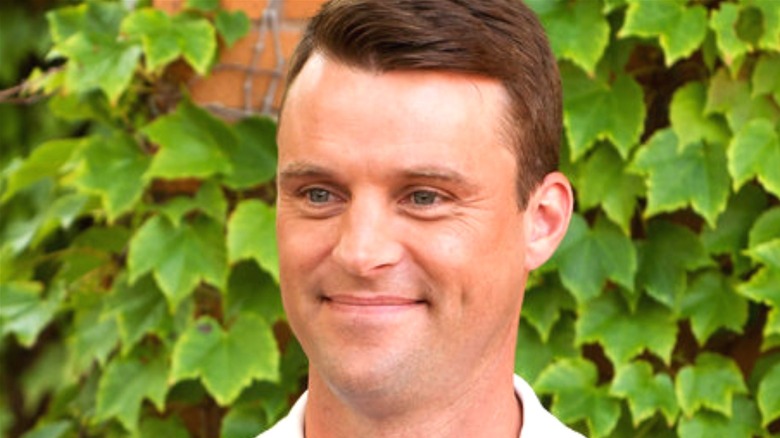 Adrian S. Burrows Sr./NBC
As any veteran "Chicago Fire" buff will likely be happy to tell you, Mathew Casey (Jesse Spencer) is the former Truck 81 lieutenant at Firehouse 51. They might also point out that after earning his captain's helmet at the firehouse, he left the show following its landmark 200th episode. During those numerous episodes and 10 seasons on the hit "One Chicago" franchise, Casey became a viewer favorite, and his intensifying relationship drama with love interest Sylvie Brett (Kara Kilmer) only made his character even more appealing to fans –- which, in turn, made his departure from the show that much harder to take (via Hello Magazine).
But the truth is, since starting to act at age 14, Jesse Spencer has worn many other character hats besides that firefighter helmet. From direct-to-video fare to a rom-com outing with the young Olsen twins to a recurring role in one of the most iconic TV shows of the 2000s, the actor has definitely earned his TV and feature film stripes. And while Spencer's face is totally familiar to devoted Chi-Hards, some might be surprised to discover the other places that viewers might have spotted this well-traveled Aussie.
Jesse Spencer's big break came in a Down Under soap opera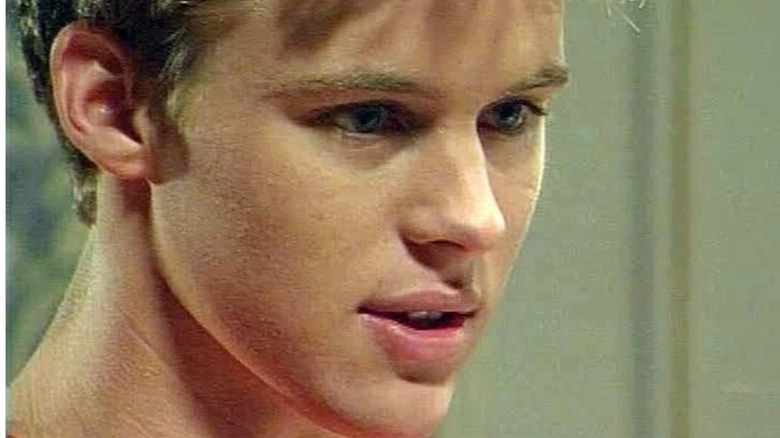 NBC/Warner Bros Entertainment
Growing up in Australia, Jesse Spencer would land his first on-screen roles there, acting in a variety of TV shows and doing voice over work. And one of his first TV shows was a big one: the massively popular Aussie soap opera "Neighbors." Tabbed to play Billy Kennedy, the young son of the wealthy family at the center of the series' narrative, Spencer's work on "Neighbors" would make him a household name down under. As a recurring character on the series, he would portray Billy in no less than 461 episodes from 1994 to 2000, plus a return appearance in 2005. But during the years he spent playing Billy in "Neighbors," Spencer also found time to explore other roles, including in 1994 the part of young alien boy in the short-lived sci fi series "Time Trax" (per SeriouslyOmg.com).
While still pursuing his soap opera career, Spencer was also tabbed to provide vocal talents for Disney's animated "Hercules" TV series. In the 1998 episode "Hercules and the Son of Poseidon," he supplied the voice of young Triton, Jr. While it was one of his earliest forays into V.O. work, his stint on "Hercules" would find him sharing voice over duties with stars like Jason Alexander of "Seinfeld," James Woods, French Stewart, Robert Stack and Jodi Benson, who was the voice of Princess Ariel in Disney's "The Little Mermaid."
Jesse Spencer was a love interest in an Olsen Twins movie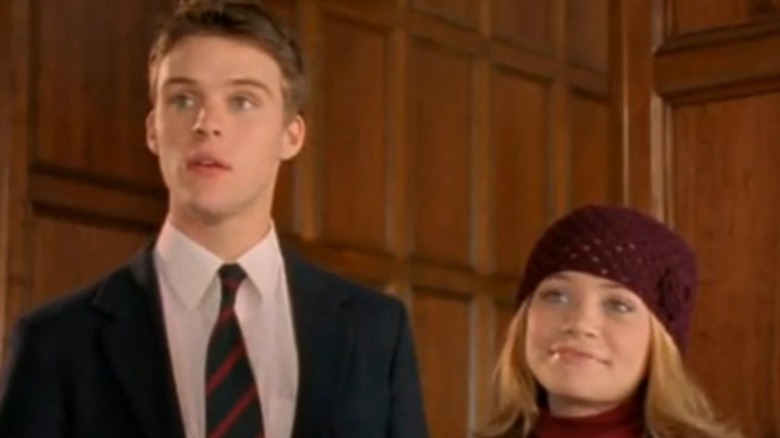 Dualstar Productions
Over the next few years, Spencer would act in a series of made-for-television movies, from obscure titles that dropped off the radar quickly to a few more high-profile productions, all of which granted the young actor increasingly significant roles beyond Australian TV.
In 2000, he would portray Marwood de Wichehalse in the TV movie of the classic "Lorna Doone." A year later, Spencer played the lead role of Jeremy Campbell in the supernaturally inflected TV movie "Curse of the Talisman," where he would battle stone gargoyles brought magically to life. The same year, Spencer would find himself cast in the direct-to-video romantic comedy "Winning London." Starring alongside Mary-Kate and Ashley Olsen, Spencer would play the upper-crusty Lord James Browning, Jr., a British lad that one of the twins (can YOU tell them apart?) would fall for during their visit to London. Additional work in 2002 for Spencer included the TV period piece "Stranded" and voice over duties as Shuji's Father in the English-language version of the "She, the Ultimate Weapon" animated TV series.
Jesse Spencer shared the screen with Brittany Murphy in Uptown Girls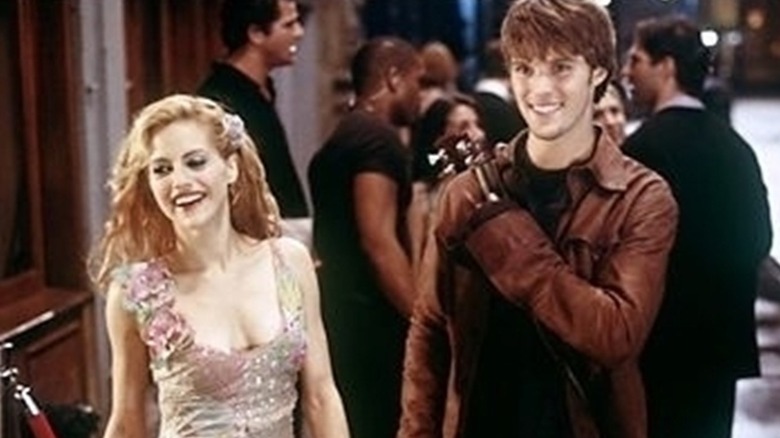 MGM/UA
Spencer's recognition factor would continue to climb with film and TV casting agents, as well as audiences, in the following years. In 2003, he landed a major supporting role in the romantic comedy "Uptown Girls," working alongside of Brittany Murphy, Dakota Fanning and Heather Locklear. The story of a grown-but-childish nanny in charge of a very-mature-for-her-age kid, "Uptown Girls" was Spencer's highest-profile part to date, although the movie failed to click with critics, earning a wilted 13% Tomatometer critics' score on Rotten Tomatoes. The same year, Spencer would return to his down under roots to portray the legendary Aussie swimmer Tony Fingleton in the biopic "Swimming Upstream." 
Spencer would then go on to play Raphael Arbuthnot in the TV mini-series "Death in Holy Orders," revisit his voiceover career to supply the voice of Flynt in 2004's "Action Man: Robot Attack" and take on the role of Lee Cruickshank in the "Dangerous Animals" episode of the Australian police series "Blue Heelers."
Jesse Spencer spent 170 episodes on House, M.D.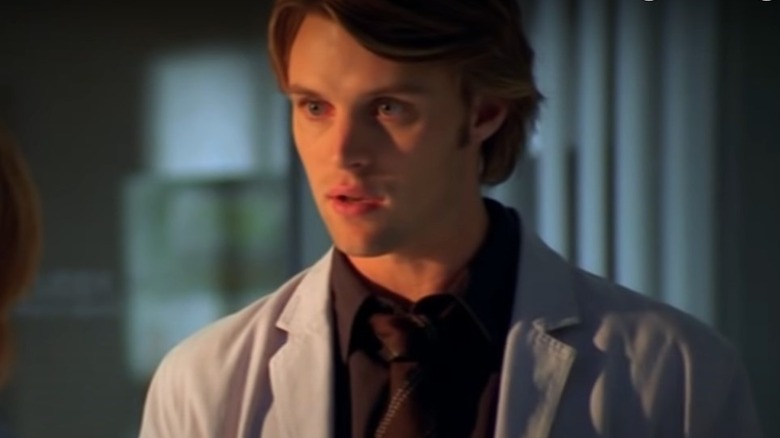 Fox/YouTube
Jesse Spencer made his initial appearance in a U.S. television series in the long-running Fox TV medical drama "House," also known as "House, M.D." Set at the fictional Princeton Plainsboro Teaching Hospital in New Jersey, the series followed the unorthodox but brilliant diagnostic exploits of the irascible Dr. Gregory House (Hugh Laurie) and a rotating cast of earnest young doctors-in-training. In the role of one of those young trainees, Spencer's Dr. Robert Chase would act as a foil to the sometimes outrageously provocative House. A recurring regular on the series, Spencer would assist — and often clash with — Laurie's Dr. House, as they attempted to solve a wide range of baffling, often life-threatening medical mysteries.
Airing for an impressive 170 episodes from 2004 to 2012, "House" would make Spencer a known quantity to American viewers in a show that was a certified hit with both critics and the public, earning a spectacular 96 percent audience score and 90 percent average critics' rating on Rotten Tomatoes.
Jesse Spencer was on other One Chicago shows before Chicago Fire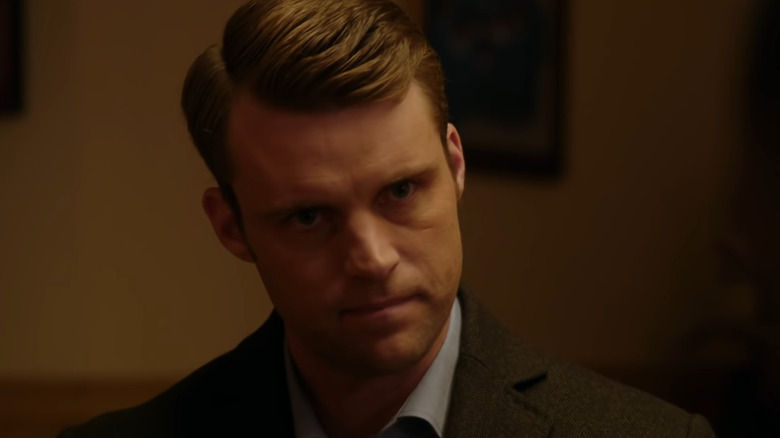 NBC/Elizabeth Morris
After finally hanging up his stethoscope for good and leaving "House" in 2012, Spencer would take on yet another voice over assignment as Liam McCracken in Disney's animated "Phineas and Ferb." Another post-"House" credit for Spenser includes his role as Nicholas in the Spike Lee-executive-produced murder-mystery, "The Girl Is in Trouble."
In 2012, the actor would make his entry into what would grow into producer Dick Wolf's expansive "One Chicago" universe with his first appearance as firefighter Matt Casey in the "Chicago Fire" pilot episode. In the following years, Spencer would become a fixture on NBC TV, battling blazes, saving lives and falling in and out of love with a succession of co-stars. But the fact is, Spencer would already have been a familiar personality to "One Chicago" fans before "Chicago Fire" launched, turning up as Matt Casey in both "Chicago P.D." and "Chicago Med," as well as eventual crossovers that shared stories and characters between Fire, Med and P.D. He would make his initial visit to "Chicago P.D." in the episode "8:30 PM" in 2014, and in six more installments up through 2019. Spencer's first stint on "Chicago Med" was in the 2017 episode "Cold Front," which he followed with three more episodes until 2019's "Infection" crossover event that connected all three shows (per IMDb).