Now You See Me's Isla Fisher Opens Up About Her Nightmare On-Set Experience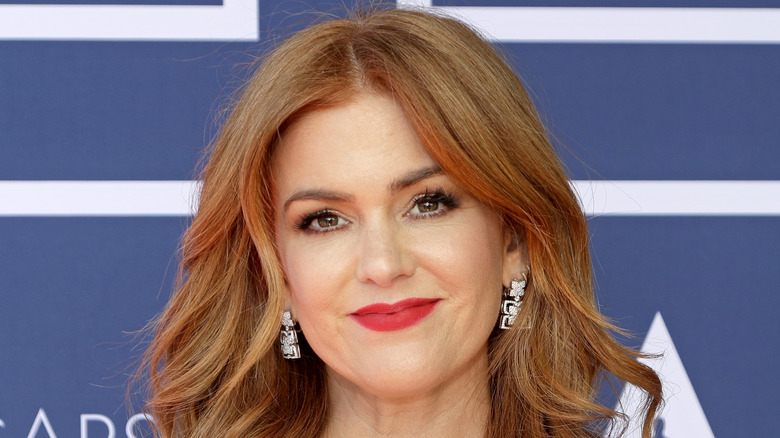 Pool/Getty Images
2013's "Now You See Me" features the stage magicians called the Four Horsemen, made up of J. Daniel Atlas (Jesse Eisenberg), Jack Wilder (Dave Franco), Merritt McKinney (Woody Harrelson), and Henley Reeves (Isla Fisher). They drain the accounts of the wealthy and give the remaining funds to their audiences in a very Robin Hood-like style. This sounds pretty cool at first glance, but it was actually a critical failure. "Now You See Me" earned a 50% score from critics on Rotten Tomatoes, although it was rated 70% by audiences. The poor reviews from some critics critiqued the complicated plot surrounding each show the Four Horsemen put on (via The Guardian), while audience members praised "Now You See Me" for "unpredictable plot twists and a wonderfully surprising ending" (via Rotten Tomatoes).
Either way, "Now You See Me" made enough money at the box office (via Box Office Mojo) to prompt a sequel in "Now You See Me 2," which continues the story of the Four Horsemen as they are forced to steal a powerful technological advancement for tech mogul Walter Mabry (Daniel Radcliffe). Although most of the actors playing the Four Horsemen return for another adventure, one is missing: Fisher's Henley Reeves. J. Daniel Atlas and the remaining two Horsemen note in the sequel that she wanted out, prompting them to recruit Lula (Lizzy Caplan). But why didn't Fisher return for the sequel? A traumatic experience during the filming of the first film may have had something to do with it.
Isla Fisher nearly drowned while filming Now You See Me
Speaking with On Demand Entertainment in 2013, Fisher noted that she had a near-death experience while on the set of "Now You See Me." She was specifically referring to a scene in which her character is chained and submerged in a tank of water, needing to break free before piranhas are dumped in the tank with her. In the film, her character does not break free in time and is seemingly munched to death by the piranhas, only to appear in the audience moments after. It's a pretty crazy trick and certainly a dangerous stunt for any actor. Fisher noted that the crew had installed magnetic releases on her handcuffs but that one of the chains tied to her got stuck under a grate at the bottom of the tank, leaving her stuck.
However, that wasn't even the worst part. Fisher continued by explaining that of all the safety measures they had in place, including a button to quickly drain the water from the tank, the crew and Fisher had not set up any kind of safety signal to get her out if anything went wrong. Therefore, due to what was written in the script for the scene, her distress was merely taken as really excellent acting from the crew until they realized she was in trouble. Talk about terrifying. However, this ultimately wasn't the reason Fisher did not return for the "Now You See Me" sequel. Instead, her pregnancy interfered with the schedule of filming.
With "Now You See Me 3" still officially in development, it will be interesting to see if Fisher's Henley returns this time around.