Will Isla Fisher Return For Now You See Me 3?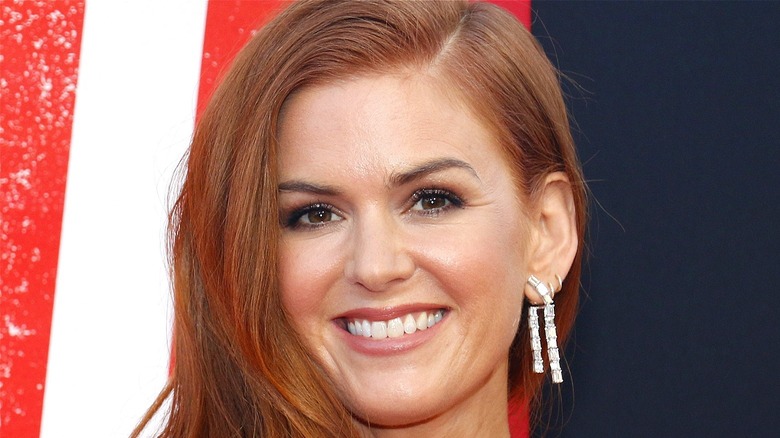 Tinseltown/Shutterstock
In 2013, the heist thriller "Now You See Me" pulled a rabbit out of the hat as it became one of the surprise hits of the year (per Box Office Mojo). The outlaw group of magicians called the Four Horsemen captivated the audience with their deceptive tricks. The quirky antics of Jesse Eisenberg, Woody Harrelson, Dave Franco, and Isla Fisher gave the movie its uncured edge. Meanwhile, the support of veteran actors like Mark Ruffalo, Michael Caine, and Morgan Freeman added a classic touch to the magic of the film.
The movie was closely followed by its sequel "Now You See Me 2," which added Daniel Radcliffe's British accent and slightly eccentric appeal to the franchise. Though what was missing from the sequel was Isla Fisher. Fisher played the role of the charming escape artist Henley Reeves in the first movie, but she sat the second film out owing to her pregnancy (via Franchise Herald). She was replaced by Lizzy Caplan who joined the Horsemen as Lula May, a master of misdirection.
With a third movie finally in the early production stage, the question of Fisher's return has again opened up for speculation.
There is hope for Isla Fisher's return in Now You See Me 3
"Now You See Me 3" was announced even before the second movie debuted in 2016, but the chatter around the movie died down and nobody heard about it until April 2020. Per a Deadline report, "Now You See Me 3" is definitely in the works at Lionsgate. Eric Warren Singer, who co-wrote "American Hustle" and Tom Cruise's "Top Gun: Maverick," has been hired to write the script for the movie.
Lionsgate's president Nathan Kahane said, in a statement, "The 'Now You See Me' franchise has been built on keeping the audience surprised and guessing. Any great magician knows you can't keep doing the same tricks. And Eric and his team of illusionists have something special up their sleeve for this new film." 
While the official announcements have revealed no additional information, including who can be expected to return for the movie, Kahane's statement has given much hope about the return of the original cast — which includes Fisher. Kahane added, "Eric [Warren Singer] has always been fascinated with the fine art of deception and illusion in all of its forms and he came to us with a great story that takes the mythology of 'Now You See Me' and pushes The Four Horsemen to a whole new level with our key returning cast and new characters."
As every other detail, including the release date and the plot of the movie, remains under wraps, nothing can be said for sure.