What Tom Holland, Andrew Garfield, And Robert Pattinson Sound Like In Real Life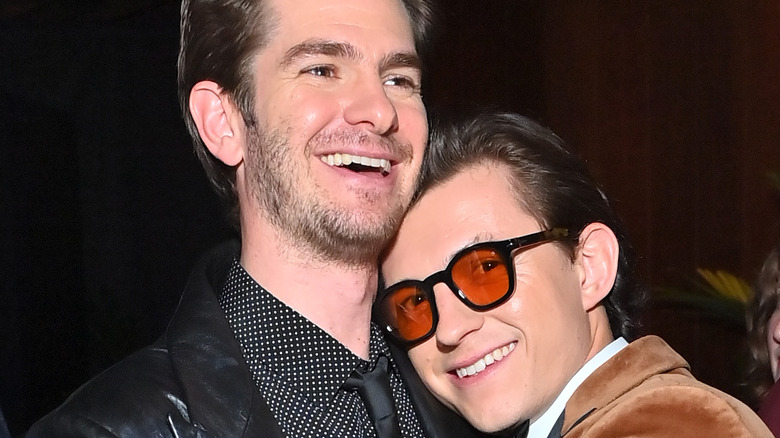 Stefanie Keenan/Getty Images
This content was paid for by Netflix and created by Looper.
When it comes to crafting new characters for the big screen, some actors really do have a gift for gabbing in dialects and with sounds that are so far from their natural tongue that fans are surprised to hear them speaking in real life. Three such stars who've managed to break out on the silver screen with accents and octaves that are wholly different from their own are currently owning the superhero blockbuster game: Tom Holland, Andrew Garfield, and Robert Pattinson.
Two of these gents, Holland and Garfield, share the screen in the latest "Spider-Man" adventure, titled "No Way Home," and in the film, they both boast the American accents of their somewhat shared alter ego, Peter Parker, despite the actors actually having British roots. Meanwhile, Pattinson is the newest addition to the DC Universe, starring in the title role of the upcoming film "The Batman" as the American billionaire turned masked vigilante Bruce Wayne — and he also has a natural British accent beneath his convincing Gotham City stylings.
Of course, these are just the most recent examples of these superstars surprising fans with some major changes to their on-screen sounds, so here's a look at what Tom Holland, Andrew Garfield, and Robert Pattinson actually sound like in real life.
Tom Holland has mastered his American teen alter ego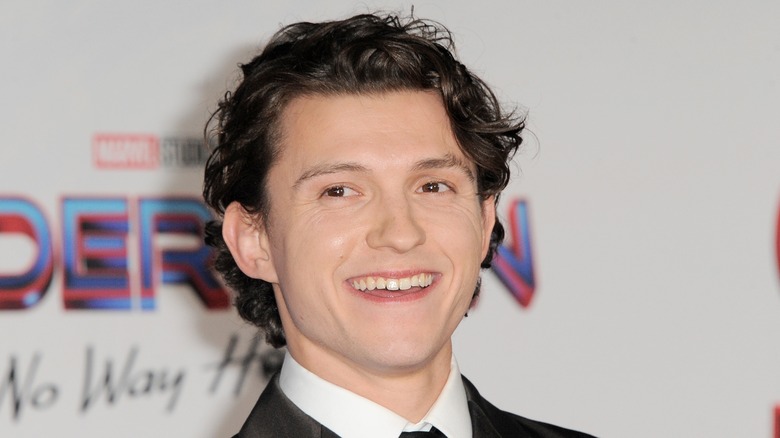 Tinseltown/Shutterstock
Tom Holland has been dancing his way into audiences' hearts since he was just a little tyke, starring in the West End production of "Billy Elliott" and wowing movie crowds with his stunning debut in the 2012 disaster drama "The Impossible." At the very beginning of his career, the London-born Holland got to use his natural English accent, and he had a teeny-tiny voice that perfectly matched his cherubic face.
It didn't take long for Holland to join the web of international fame, especially once he nabbed the role of Peter Parker in the 2016 blockbuster "Captain America: Civil War." His introduction to the Marvel Cinematic Universe, along with his own standalone "Spider-Man" film series, was a big success, thanks in no small part to his quippy line deliveries. As Peter Parker, Holland has a New York affectation, but he also has a soft-spoken, chipper, and sometimes even quizzical sound to suit his status as an upbeat teen superhero. His voice is just as energetic and eager as the character.
Holland's natural tones are oh-so soothing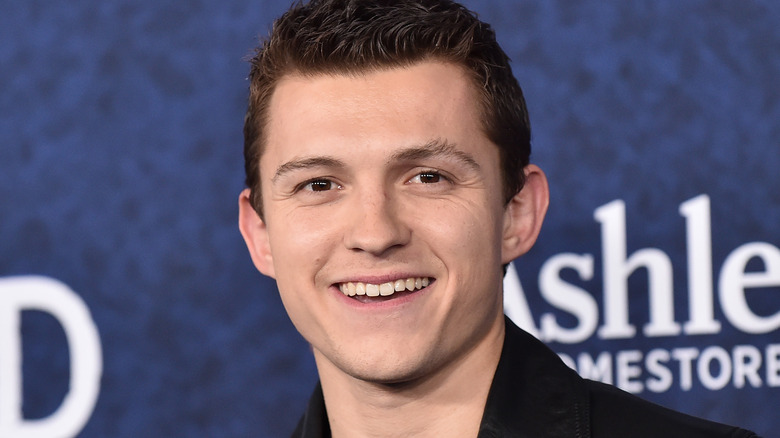 DFree/Shutterstock
Beyond his work in the Spidey suit, Holland has also proven that he can master many other vocal styles in his films throughout the years. In "Pilgrimage," for example, he proved that he can also tug on all the heartstrings while wielding an Irish accent, and he even speaks in Gaelic throughout the period drama. Then, he took on a much deeper, darker drawl that required him to tap into his lower register in his turn as a justice-seeking southerner in "The Devil All the Time." His command of these various elocutions was completely convincing as well.
In real life, Tom Holland is just as soft spoken yet spritely as many of his on-screen counterparts, particularly Peter Parker. However, Holland's naturally gentle tones ring even more posh when he speaks without a screenplay, complete with his natural British accent. His rich, real-life speaking voice make him sound both sophisticated and soothing — even in those moments where he's getting very silly — which is pretty true to character as far as we can tell.
Andrew Garfield truly learned to sing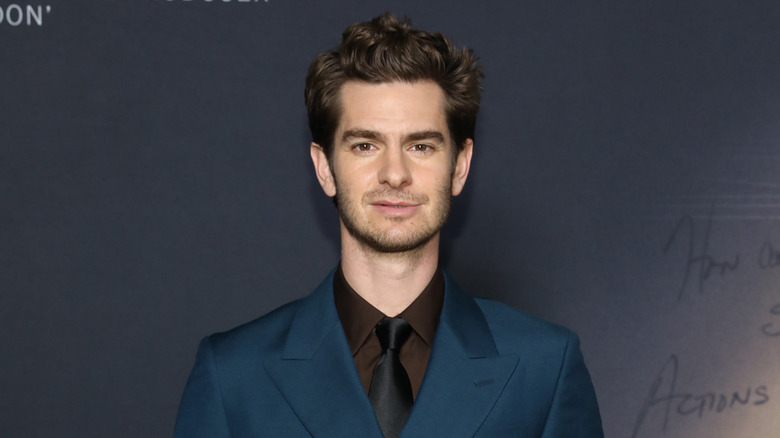 Monica Schipper/Getty Images
Similarly silky is the voice of Andrew Garfield, who's had a massive stretch of success lately, including making audiences dance and cry in equal measure in Lin-Manuel Miranda's critically acclaimed adaptation of "Tick, Tick ... Boom!"
Fans have previously heard Garfield take his accent game to tons of other realms in recent years. In his award-winning role as real-life war hero Desmond Doss in "Hacksaw Ridge," for example, he adopted the syrupy Southern sound of the Virginia-born combat medic. Then fans got to hear him take on a vintage Portuguese persuasion in his role as the gentle Jesuit priest Sebastião Rodrigues in Martin Scorsese's historical drama "Silence."
But as mentioned, one of his most arguably most impressive achievements to date is his mastery of the musicianship that makes Jonathan Larson's story so special in "Tick, Tick ... Boom!" Although Garfield wasn't classically trained in music before taking on the role, he took time to really learn all of those noble notes throughout the musical drama. His ability to belt all of the beautiful music Larson creates throughout the film makes the picture even more magnificent to watch. Plus, he successfully coupled his new sing-song sound with an incredibly on-point Manhattan accent.
Garfield also has buttery British tones in real life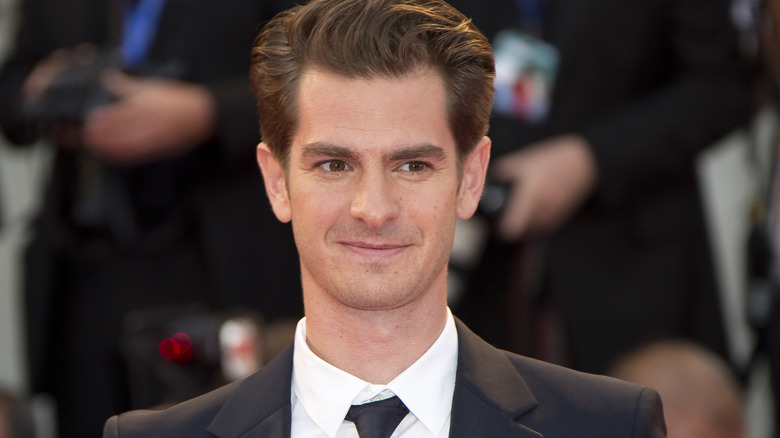 BAKOUNINE/Shutterstock
No doubt, Andrew Garfield's authentic portrayal of the electric visionary Jonathan Larson will leave some audiences convinced that the character's New York accent in the film is Garfield's own as well. However, the actor really boasts a natural British sound when he's not in-character. Though the actor was actually born in Los Angeles, California, and has an American father, his mother was British. So when Garfield was still just a toddler, his family relocated to Surrey, England, and he eventually adopted the regional dialect of the area, which sticks with him to this day.
One major similarity to be found between Garfield's real-life sound and the one we hear in "Tick, Tick ... Boom!" is that just as Larson finds the melody and meaning in every word he speaks or sings, Garfield also takes time to enunciate and sometimes even elongate his syllabic deliveries. The result is that, even when he's not reciting lines, he has a refined and deliberate sound that nicely reflects his thoughtful personality.
Pattinson took a major bite out of the American icon scene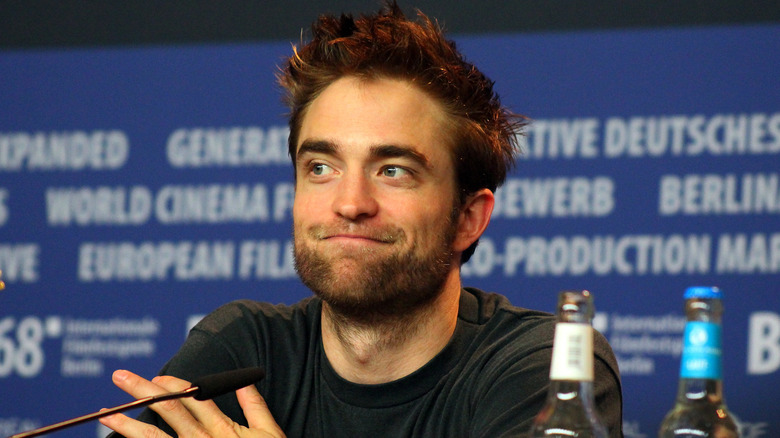 T.O.Pictures/Shutterstock
Robert Pattinson also reached the realms of global superstardom while sporting an American accent on-screen despite his London origins. After making a splash with his natural British accent in his breakout role as the popular wizard Cedric Diggory in "Harry Potter and the Goblet of Fire," Pattinson landed the heart-stopping role of Edward Cullen in the 2008 adaptation of Stephenie Meyer's vampire romance "Twilight."
Soon after, Pattinson became an international icon and brought the character's Chicago-born sound (with a supernatural twist) to the screen for four more films. "Twilight" fans also quickly found out that Pattinson is quite a talented and soulful folk singer, as he could be heard on the soundtrack and in the background of an ultra-swoony scene from the first film. His singing voice is achy and deep, which is a nicely surprising contrast to his whispery, whimsical speaking tones.
Pattinson also has a knack for other accents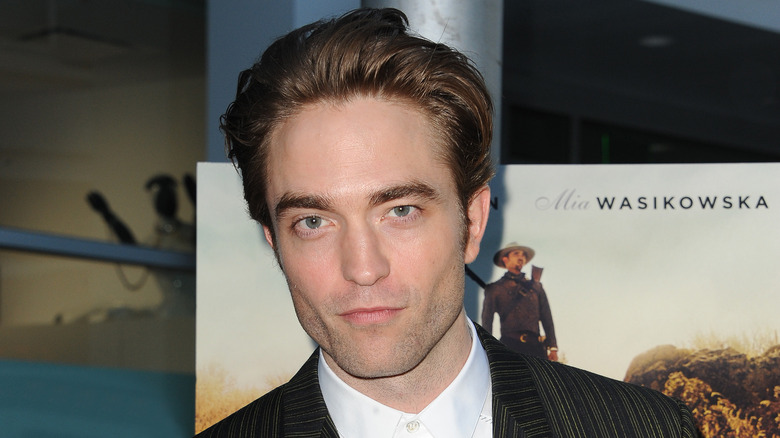 Tinseltown/Shutterstock
Over the years, Pattinson has continued to prove his talent for taking on new accents in films. Even before he hit the top of the A-list, he took on the challenge of portraying the renowned Spanish artist Salvador Dali in "Little Ashes." He later got audiences to swoon some more for his French accents in films like "Bel Ami" and "The King," and he's delivered on a swampy Southern dialect that took his natural voice down a few notes in his celebrated performances in films like "The Rover" and "The Devil All the Time."
But whether he's using his own accent or reaching across the pond for a new sound, Pattinson's vocals are always quite charming. In all, Tom Holland, Andrew Garfield, and Robert Pattinson have all become so proficient with their American sounds that it might be surprising to some fans to hear them speak with their buttery British tones. Considering how graceful and gentlemanly their real-life voices are though, it's a rewarding experience to hear them all speak indeed.