The Andrew Garfield Scene In Tick, Tick... Boom! That Proves He Can Do It All
This content was paid for by Netflix and created by Looper.
Andrew Garfield has been an impressive screen star since the very start of his career, but he puts on nothing short of a powerhouse performance in Lin-Manuel Miranda's "Tick, Tick... Boom!" The film is an adaptation of the beloved autobiographical musical of the same name, created by the late, great Jonathan Larson, and Garfield stars as the frenetic young talent who's scrambling to get his musical career into motion before he reaches his 30th birthday.
Garfield's performance throughout the cleverly crafted film is electrifying, as his Larson is energetic but exhausted, ambitious but modest, exquisitely talented but also easily distracted. Every single scene and song demonstrates Garfield's commitment to bringing Larson's beautiful story to life, but there's one moment in particular that showcases just how much the actor brings to the role. Here's a look at the Andrew Garfield scene in "Tick, Tick... Boom!" that proves he can do it all.
Jonathan Larson gets some bad news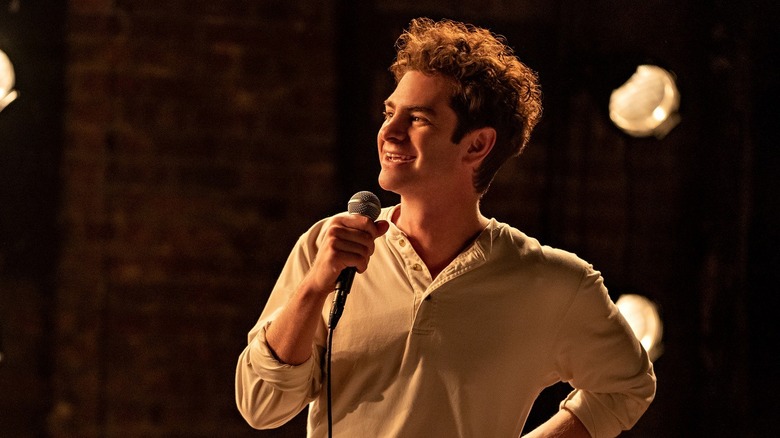 Macall Polay/Netflix
If there's one thing that we come to know about Jonathan Larson very early on in the film, it's that he's in a desperate race against an invisible clock that's audibly ticking in his brain and setting the pace for his life. So it doesn't take long for "Tick, Tick... Boom!" to establish the meaning of its title or its dizzying impact on Larson's existence. As keyed up and overextended as he constantly is, though, Larson is also a deeply kind and compassionate individual who radiates with affection for the people he loves.
So, when he discovers that his close friend, Freddy (Ben Levi Ross), has been hospitalized with complications associated with his HIV positive diagnosis, Jonathan is immediately devastated and wants nothing more than to drop everything and visit him. Garfield plays his reaction of distress with an authentic mixture of horror and humor, as the wheels begin to turn in Jonathan's head about where his priorities are — and where they should be.
He's visibly pained by the flurry of thoughts that race through his mind as he digests both this terrible news and the mountain of other pressing matters in his life — from his girlfriend Susan (Alexandra Shipp) wanting him to move with her to the Berkshires to his intense writer's block that's making it impossible to complete his rock musical "Superbia" in time. However, as his mental clock ticks ever louder and his mind races out of control, a single ding of the door reminds him that he can have only one focus right now, and that's his day job and the stream of hungry customers who'll be coming in shortly for Sunday brunch at the Moondance Diner.
Andrew Garfield stuns during Sunday brunch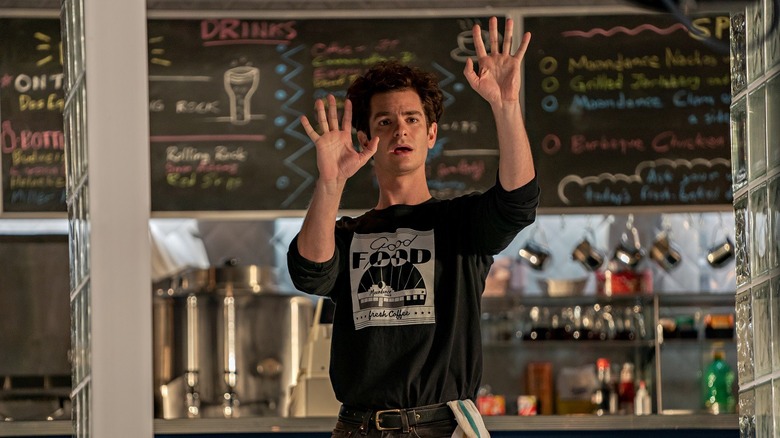 Macall Polay/Netflix
One of the most unique and beautiful elements of "Tick, Tick... Boom!" is the way in which the story seamlessly shifts from dialogue to narration to song — with sometimes all three happening — at any given moment. It's a great way to reflect Jonathan Larson's own mind and natural creativity. And the Sunday brunch scene takes that trend to even more theatrical heights as he waits tables, mans the phones, and plays host to the impatient diners. He's incredulous about some of their requests but also exceedingly patient and kind. All the while, his mind wanders into song, the way it always does, to give him some much-needed levity from the situation.
As the bustle of brunch gives way to the lively original number "Sunday," the scene becomes a full-on cameo party for some of Broadway's finest. Among the many celebrities who can be seen throughout the Moondance are Lin-Manuel Miranda himself and "Hamilton" favorites Phillipa Soo and Renée Elise Goldsberry. We also see the familiar faces of André De Shields, Joel Grey, Howard McGillin, Chuck Cooper, Brian Stokes Mitchell, Chita Rivera, and Bernadette Peters. Plus, you can spot a trio from the original cast of Larson's "Rent": Adam Pascal, Daphne Rubin-Vega, and Wilson Jermaine Heredia. 
Even with so many superstars sharing the scene, Garfield manages to stand out as Larson, as he chronicles — and judges — the curious people who come into this place. He also literally knocks down the walls that are crashing in on him to create a highly theatrical set piece to match his ambitions, and he cheerfully celebrates amid the malaise that is Sunday brunch in a way only he can.
Garfield's performance in this scene, and throughout all of "Tick, Tick... Boom!" gives him a chance to not only show off his singing skills but to bring life to the gorgeously complicated headspace of the singular vision that was Jonathan Larson. The scene is a stunning showcase of how Larson managed to cope with terrible news and massive stress by giving into his own musical soul and making the best of the time he had, and Garfield's performance of that delicate dance is completely captivating from start to finish.