5 Things You Never Knew About Tom Holland
This content was paid for by Netflix and created by Looper.
You might think you already know everything there is to know about Tom Holland. After all, the bubbly British thespian has become a full-on fixture in Hollywood, with his Spider-Man slinging into the MCU and becoming an instant fan favorite, all while the actor continues to notch impressive dramatic performances in films like "The Impossible," "The Devil All the Time," and "Cherry."
Over the years, fans have gotten to learn a lot about how Holland turned his talents for ballet and theater into a career as a Hollywood headliner because he's not one to keep too many secrets — in fact, he's notoriously bad at keeping them, to the point that it's now a running joke with his co-stars. However, there are still some details about his life that only the most ardent fans will likely know. To celebrate the beloved actor's continued success on the silver screen, let's take a look at a few things you might not know about Tom Holland.
Tom Holland has always been talented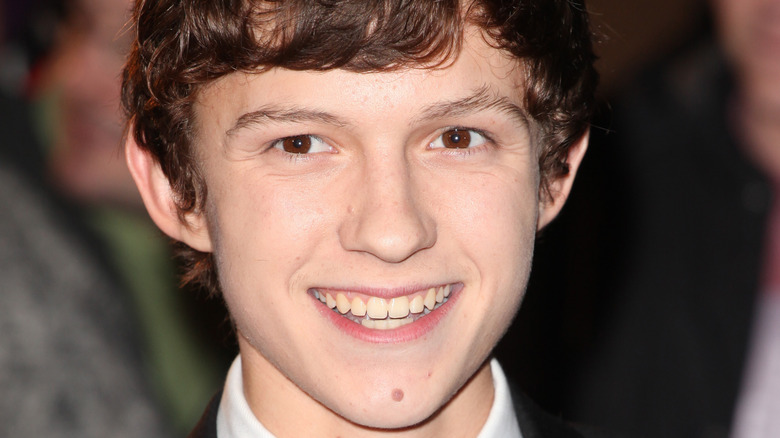 Featureflash Photo Agency/Shutterstock
Holland's magnificent moves have always made him a head-turner. As a child, he developed a love of dancing very early on in life, and his mother recognized that gift and enrolled him in dance classes. At the age of 9, his hip-hop skills caught the attention of the choreographer for West End's "Billy Elliot," and soon, Holland was a bona fide stage actor. However, he also had to overcome some serious nay-saying very early in his career since some people didn't see how valuable that passion and persistence could be for Holland.
The actor revealed to GQ that he had to overcome a bit of bullying from other kids in school as a result of his ballet practices in preparation for his stage work. He explained to the magazine, "I would do it in the school gym at lunchtimes by myself, in tights, with a teacher. So you have kids looking through the windows. To a bunch of 10-year-olds who all play rugby, Tom Holland doing ballet in the gym isn't that cool."
Of course, Holland was undeterred and remained determined to succeed. As he told People of his commitment to dancing, "You couldn't hit me hard enough to stop me from doing it. ... I, like Peter [Parker], accepted I wasn't the cool kid at school and just found my group of friends and got on with it." Holland's instincts to carry on with his passions proved to be on point, and his dance skills have been nothing short of a gift for his rapt fanbase to behold. As he told co-star Zendaya in Interview Magazine, "I'm very happy I had that training. It's been so invaluable to my career, and I've used it on almost everything I've done since."
He had a rough start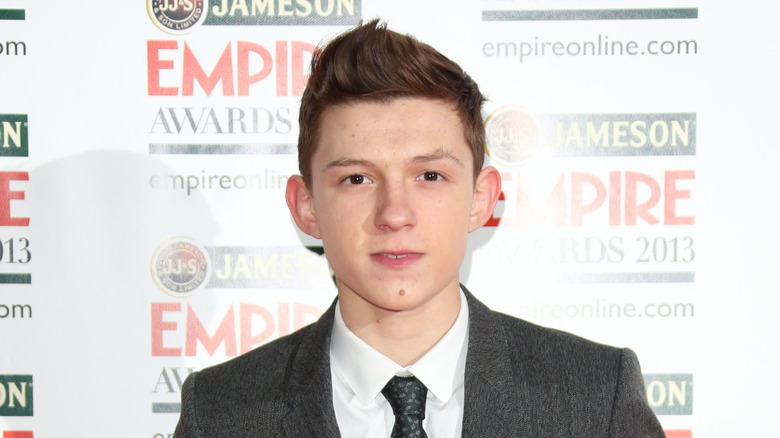 Featureflash Photo Agency/Shutterstock
Even after Holland's dancing skills were well-developed and began to pay off in a big way, he still had to overcome another unexpected obstacle that earned him an unwanted nickname: tonsillitis. That's right — after Holland secured his breakout role in the "Billy Elliot" musical, he came down with a case of swollen tonsils and managed to power through with the first day of his performance anyway without alerting anyone to his condition. The following morning, however, he had to go to the doctor and take the rest of the week to recover.
"I got the name 'Sick Note,' which frustrates me to my core, even today," he explained to GQ. Although Holland does attribute his illness and the resulting nickname to the fact that he was still very young at the time for such a taxing theatrical commitment, he also continues to take the moniker to heart. "Now as an actor, I push through everything because I'm not going to be 'Sick Note,'" he said.
Holland's backup plan
DFree/Shutterstock
These days, it's hard to imagine Tom Holland doing anything but consistently owning the screen and stage. However, even with an auspicious start that saw him headlining a major musical and then sharing the screen with Naomi Watts in "The Impossible" when he was still just a teenager, Holland had some down moments to speak of as well.
In fact, he once had to work as a pot washer for a pub, and he admitted to GQ that he "hit a bit of a rut" in his work ethic for auditions after appearing in Ron Howard's oceanic epic "In the Heart of the Sea," so his mother insisted that he learn a secondary skill set just in case he needed an early career change. So she sent him to a six-week carpentry school to learn the trade that some members of his family are already engaged in, and not only did he enjoy the work itself, but he also refocused and nabbed a few career-defining roles during his time in carpentry school, including in "Edge of Winter," "The Lost City of Z," and "Captain America: Civil War." As he told the magazine, "In that period of time while I was figuring out plan B, it all kind of clicked."
Indeed, Holland's parents have been an essential element of his success in the industry overall. His mother, Nikki, is a photographer, while his father, Dominic, is an author and comedian, and he credits those experiences with helping him to thrive all the while. As he said in Interview, "I come from very creative parents. It's nice to have a dad who's been in the industry for probably over 30 years because he knows all the dos and don'ts and the ins and outs."
A family affair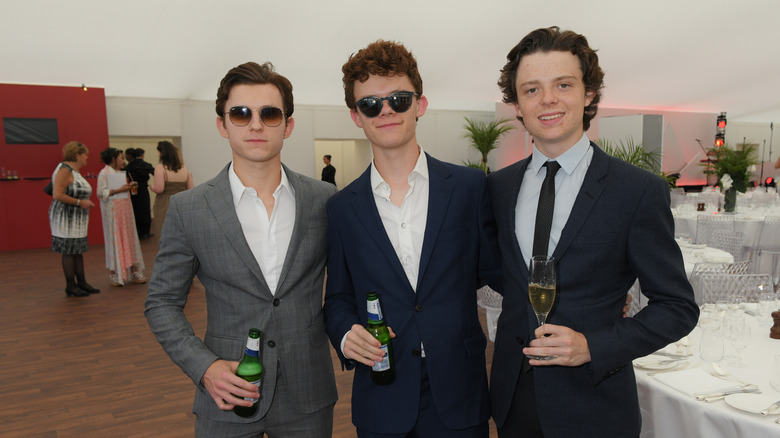 David M. Benett/Getty Images
Speaking of Holland's dedication to his family, Holland is also a doting big brother to his three little siblings, Sam, Harry, and Paddy. Together, the quartet of boys work to facilitate charitable events through the Brothers Trust, which was established by their parents in 2017 and raises money to support smaller charities.
Holland also tends to keep his siblings close by as he continues to excel in Hollywood, well beyond sharing the red carpet with them. Recently, he brought little brother, Harry, along to help him on-set during the production of "Spider-Man: No Way Home," telling Esquire that while Harry's official title on the film was his "assistant," the two are much tighter than that. "Really, he's my brother, and he's here as a companion, and he helps me prep everything I've got going on." Holland also revealed to Graham Norton that director Jon Watts cast Harry as a bank burglar in the film, with Holland's enthusiastic approval, and although the scene didn't make it past the editing floor, Harry got to experience first-hand how much hard work goes into filming all of those upside-down stunts for the "Spider-Man" films.
His youngest brother, Paddy, however, might have gotten the coolest MCU experience of all of Holland's siblings. Holland revealed to Collider that he brought Paddy along to co-star Robert Downey Jr.'s house in London to screen the then-newly released "Black Panther," and the actor gifted the boy with his original Iron Man mask from the first film as an epic surprise.
A big Spider-Man reveal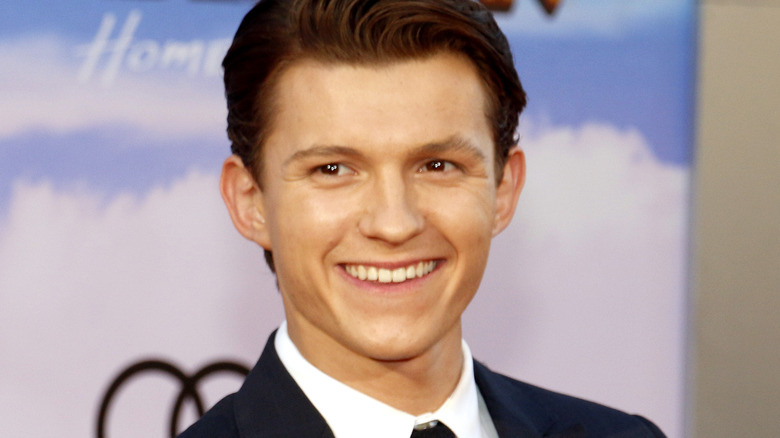 Tinseltown/Shutterstock
By now, even the most casual fans will probably know that Tom Holland is infamous for letting spoilers slip during his press tours, and the actor has regularly made light of his loose lips. As he joked with Esquire, he believes he's given misleading information about the MCU films he's working on, admitting that he even thought the big funeral scene in "Avengers: Endgame" was supposed to be a wedding while he was filming it.
For Holland, though, the tendency to tell the truth under pressure has been a fixture of his entire tenure in the Spidey suit. Even before his casting as Peter Parker was confirmed by the studios, he managed to share the news with someone who wasn't supposed to know — even if they didn't believe him. As Holland revealed on "The Graham Norton Show," he suggested that he might like to attend a real-life American high school to prepare for his role as Peter Parker, and the idea was a hit. So he pretended to be Ben Perkins, a student at the Bronx High School of Science, for a few days to observe how real-life American teens interact. However, he unwittingly brought attention upon himself just by being there.
When asked by a classmate how exactly he managed to get into the competitive program, he admitted to telling her, "Let me tell you my secret. I'm actually Spider-Man." Needless to say, she didn't quite buy that story. As Holland remembered, "Obviously, none of my movies have come out [at the time]. It was a big secret. No one knew about it. So I just looked like some nutter who showed up for three days and then disappeared." However, the exchange does make for a great story now and proves that Holland has kinda always been one to spill the beans with a smile.