Andrew Garfield's Accent Game Is Beyond Impressive
This content was paid for by Netflix and created by Looper.
Andrew Garfield delivers a tour de force performance in Lin-Manuel Miranda's soaring adaptation of the celebrated musical "Tick, Tick... Boom!" The actor stars as the late, great composer and playwright Jonathan Larson, who wrote the musical the film is based on.
"Tick, Tick... Boom!" is set just before Larson's 30th birthday, as he attempts to finally get his musical theater career off the ground with a presentation of "Superbia," the project he's been developing for eight years. A futuristic rock adaptation of George Orwell's dystopian classic, "1984," the work is bewildering to some. However, Larson receives encouraging feedback from his idol, Stephen Sondheim (portrayed by Bradley Whitford), which gives him the fuel to continue fighting to have it produced. However, Larson's intense dedication to his craft comes with a great deal of heartache, including severe financial distress and strains on his most important personal relationships.
Garfield portrays Larson with the dizzying passion that made Larson such a vibrant young talent in his time. Whether he's talking, singing, or saying nothing at all, Garfield's performance is so radiant and authentic that you might forget he isn't actually a struggling artist in '90s New York. Of course, if you hear him talking in real life, you might be surprised to discover that he naturally speaks with a measured British accent, and his vintage sing-song New York styling in "Tick, Tick... Boom!" is but the latest in a series of impressive affectations he's commanded over the years. Here's a deeper look at how Andrew Garfield's accent game is beyond impressive.
Born to do both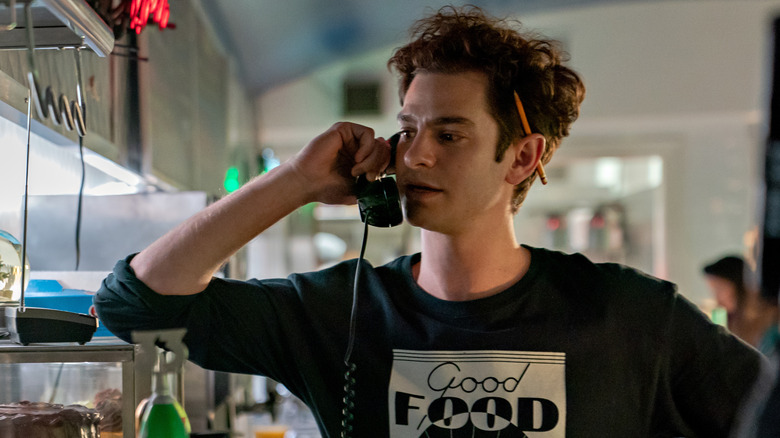 Macall Polay/Netflix
Garfield was born in Los Angeles, California, to an American father and a British mother, but his family moved to the town of Epsom, England, just south of London, when he was just 3 years old. As a result, he has few memories of his birthplace except for the sunshine and Disneyland. Growing up in the Surrey area, he adopted the regional dialect of the area, but since his father still spoke with an American accent, he got to hear the tones and textures of that dialect all of his life. As he once explained to BBC News, "I've had both accents in my ear. So that probably helps."
His nuanced dialects come through in many of the performances that helped establish him as a must-watch actor — in Robert Redford's "Lions for Lambs" and the twisty conspiracy tale "Under the Silver Lake," he adopts a clipped, articulate LA timbre. And his searing performance in "99 Homes" sees him settle into a softer, blue-collar inflection as a beleaguered construction worker in Florida. At the same time, he's also had no trouble returning to his own British sound for his impressive performances in other films — ranging from his scrappy, back-alley Londoner in "The Imaginarium of Doctor Parnassus" to more polished and aristocratic accents in "Never Let Me Go" and "Breathe."
Putting in the work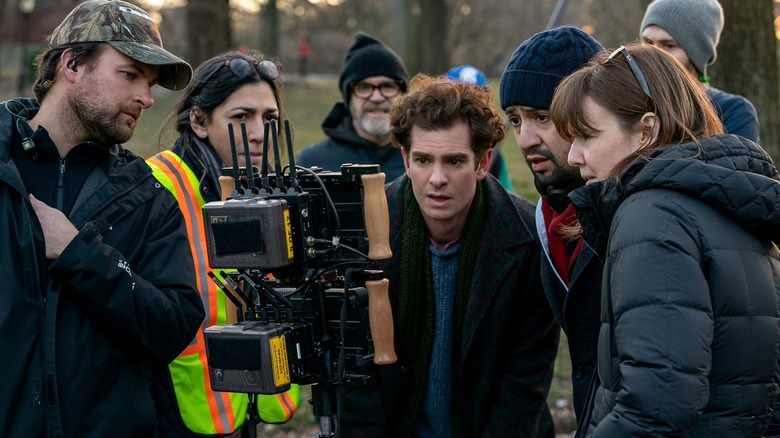 Macall Polay/Netflix
In addition to mastering an American accent and his native British sound throughout his film career, Garfield has also impressed with his ability to pick up on some very specific regional and national accents. For his game-changing superhero role as Peter Parker in "The Amazing Spider-Man" films, for example, he and his dialect coach, Liz Himelstein, consulted with some high school students in Queens, New York, to become even more familiar with the local lingo in both tone and delivery.
Meanwhile, Garfield's gift for gabbing in a Southern accent is also well-documented, tracing back to some of his earliest screen moments guest-starring in "Doctor Who," all the way up to his Academy Award-nominated portrayal of Virginia-born war hero Desmond Doss in "Hacksaw Ridge." In his Golden Globe-nominated performance in "The Social Network," Garfield plays Eduardo Saverin with an American accent, albeit one tinged with a bit of Brazilian. Audiences have also heard him take on a Portuguese tone in Martin Scorsese's searing religious drama "Silence," a film for which he also immersed himself in a year-long study with a real-life Jesuit priest and experienced his own spiritual awakening in the process. His commitment to character study comes through in every inch of his screen presence, right alongside his convincing sound.
Most recently, Garfield took on the challenge of portraying famous televangelist Jim Bakker in the new biopic drama "The Eyes of Tammy Faye." In a conversation hosted by Facebook, Garfield revealed that capturing Bakker's sound was a unique challenge for him, saying, "I knew it would be a long road to get to it feeling natural. And not just the accent, which is very, very specific and tricky — this Michigander, kind of Midwestern with a slight hint of Southern Baptist minister chucked in occasionally — but then his voice on top of that is placed very different to mine. It's much more nasal and higher pitched, and his mouth does incredibly different things to mine, so I knew that that would be a long road to make that natural." Once again, Garfield turned to his long-time dialect coach, Himelstein, for assistance in preparing for that role, with great results.
Finding a new voice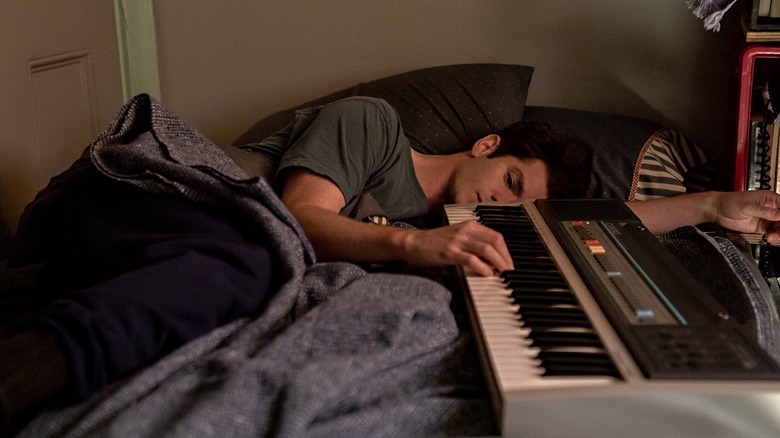 Macall Polay/Netflix
When Garfield was preparing to bring Jonathan Larson's highly personal and very entertaining story to life in "Tick, Tick... Boom!" he might've already been familiar with a New York accent thanks to his blockbuster turn as Peter Parker and his celebrated work on Broadway. However, he still needed a very different type of vocal training before the filming could begin — learning to sing.
Garfield admitted in an interview on "The Late Show with Stephen Colbert" that his casting for the part of Jonathan Larson hinged on his ability to sing, which he only claimed to be able to do after knowing he had a year to prepare. However, he subsequently trained with a vocal coach, and he took enough piano lessons to make the shots of him composing and performing with the instrument just as melodic as the rest of the movie. As a result, not only does Garfield's New York accent come through perfectly in his speaking moments, but his tones are pitch-perfect in his many singing numbers as well.
No doubt, we'll hear a lot more from Garfield as his career continues to flourish, but considering all he's accomplished already, it's clear that this is one actor who's absolutely found his voice.